Northern California is getting some much needed rain! I love the smell of fresh rain and the newness that it implies. As I am sitting here watching the rain and soaking up the dampness, I am reminded of my favorite autumn songs. Today, I am resharing with your my Welcome Autumn playlist that I have shared on Spotify.
These 24 songs are perfect to set the mood of cooler weather and the changing colors of nature. I have enjoyed playing this Autumn Playlist in my home today as I baked a Vegan Mexican Chocolate Pie for work tomorrow. (This delicious recipe will be out later this week – stay tuned!)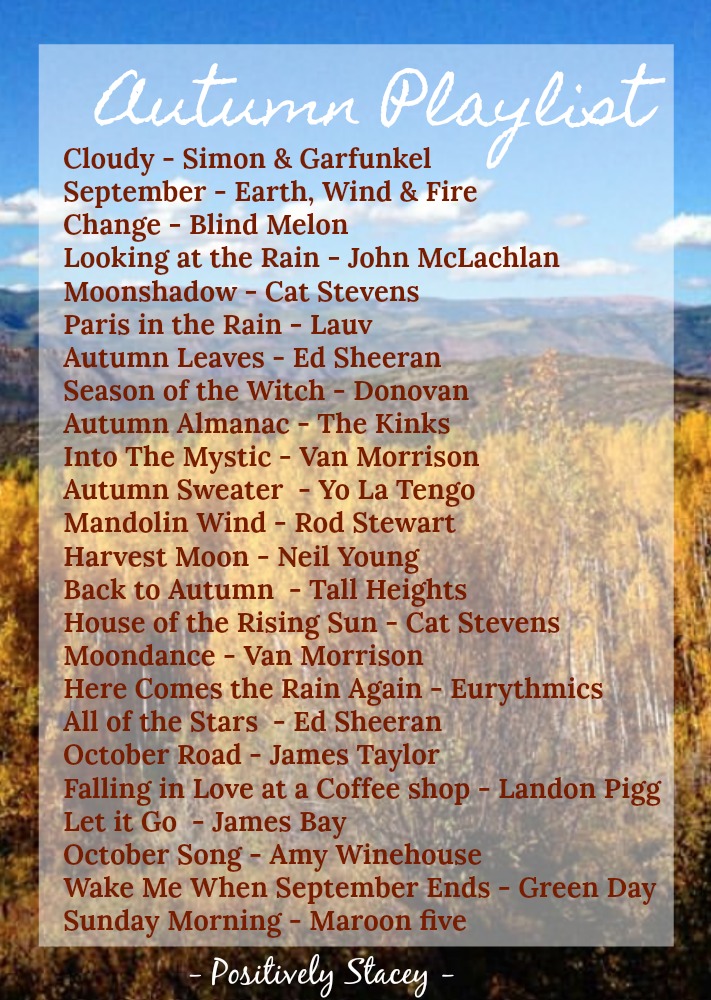 Welcome Autumn Playlist
So whatever you are busy achieving during these cooler months, enjoy this Welcome Autumn Playlist in the background. Click on the link below to go straight to the music!
Cloudy – Simon and Garfunkle
September – Earth, Wind & Fire
Change – Blind Melon
Looking at the Rain – John McLachlan
Moonshadow – Cat Stevens
Paris in the Rain – Lauv
Autumn Leaves – Ed Sheeran
Season of the Witch – Donovan
Autumn Almanac – The Kinks
Into The Mystic – Van Morrison
Autumn Sweater – Yo La Tengo
Mandolin Wind – Rod Stewart
Harvest Moon – Neil Young
Back to Autumn – Tall Heights
House of the Rising Sun – Cat Stevens
Moondance – Van Morrison
Here Comes the Rain Again – Eurythmics
All of the Stars – Ed Sheeran
October Road – James Taylor
Falling in Love at a Coffee shop – Landon Pigg
Let it Go – James Bay
October Song – Amy Winehouse
Wake Me When September Ends – Green Day
Sunday Morning – Maroon five