Planning a great New Year's Eve party is really simple! Just think of it in the terms of plan, invite, prep, and enjoy. The first three steps lead up to a final step which is enjoying your very own party. After all, that is why we party, right? I know that's why I do. I love bringing friends and family together to share a great time, but of course I want to have a fun time with my friends as well. So today is all about Planning the Perfect NYE Party in Three Easy Steps #BeThere #Text2Party

One of my all-time favorite New Year's Eve party was completely planned in three days time. Three days from first thought of hosting a party to popping the champagne with a house full of friends. It was a wonderful night!
See, I have a good friend and that year she was recovering from surgery. She was scheduled to start radiation the first week of January. She was feeling pretty good after Christmas, and she called me on December 28th to say, "I want a NYE party! And, I want you to have the party." Well,  who can say no to that. I quickly sent out my Evite invitation and made a plan. The whole party came together beautifully. It was the year that I simply decided that all I needed to decorate was to pull out all my sparkly ware and light every candle in the house. The house looked absolutely magical, and it was so easy!
Planning the Perfect NYE Party in Three Easy Steps #BeThere #Text2Party
Plan
Theme – I love a great theme for parties! For me a NYE party is all about the sparkle! So get your sparkle on and get ready to spread some cheer!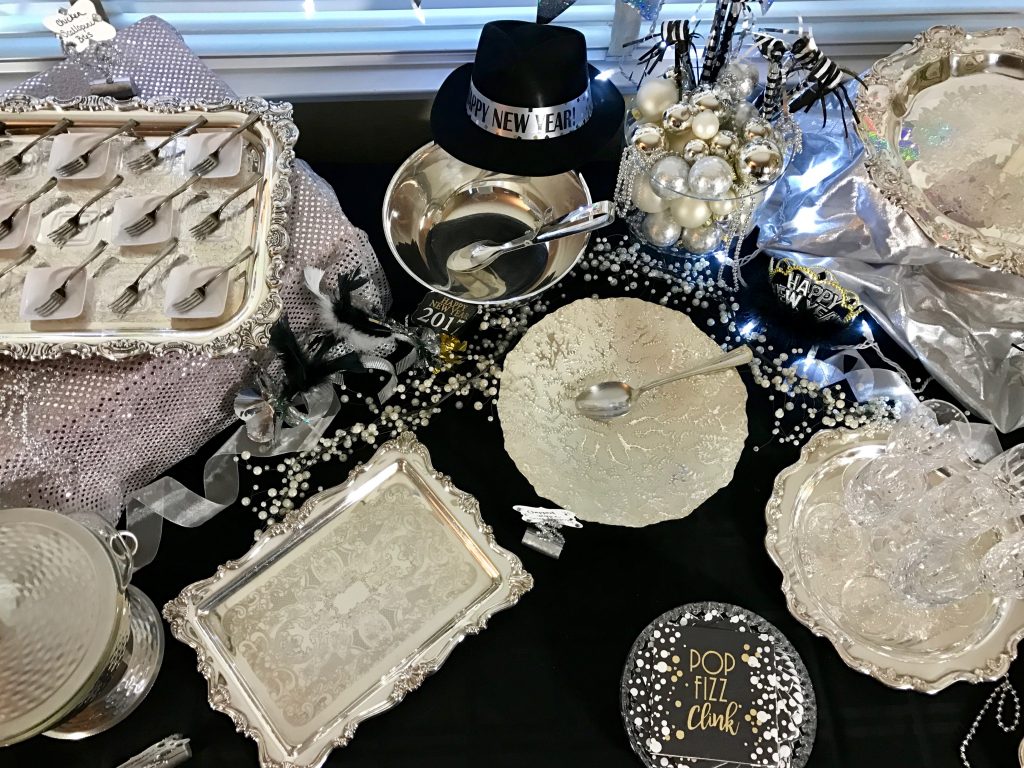 Menu – Plan the menu. Keep it simple! A table of appetizers, desserts, and a signature cocktail is all that is needed. NYE parties tend to be long – starting early and lasting until midnight to ring in the new year. It is imporatnt to have appetizers that are filling and can hold up to sitting out for a time on your buffet table. Don't bring out all the appetizers at once. Bring new nibbles out throughout the course of the night. You can also ask your friends to bring one of their favorite appetizers to share. That is what my girlfriends and I often do. Some of my favorite appetizers are:
Savory Bites

Grape Jelly Meatballs
Cheese Fondue (I buy the ready to go cheese fondue from Trader Joe's)
Prosciutto Wrapped Asparagus
Mini Chicken and Waffles
Veggie Platter and Dips
Soup Shooters (Set up slow cooker of your favorite soup, ladle, and a tray of shot glasses.) 

Dessert Bites:

Chocolate Truffles and leftover Christmas Candy
Chocolate Dipped Strawberries
Cheesecake Bites
Lemon Bars  

Drinks:

Raspberry Champagne Bellini – Champagne topped with a splash of Chambord and a few fresh raspberries.
Beer
Wine
Waters
Decor – A great party looks like a party! This does not need to be expensive or fancy. For NYE I simply use black table cloths and pull out all of my shiny and sparkly wares. Easy and festive! Remnants from the fabric store cover my box risers. I buy silver Christmas tree balls and garland at the after Christmas sales, I buy some party hats, and light candles everywhere! A small wall of balloons for a photo booth background is also always fun and easy!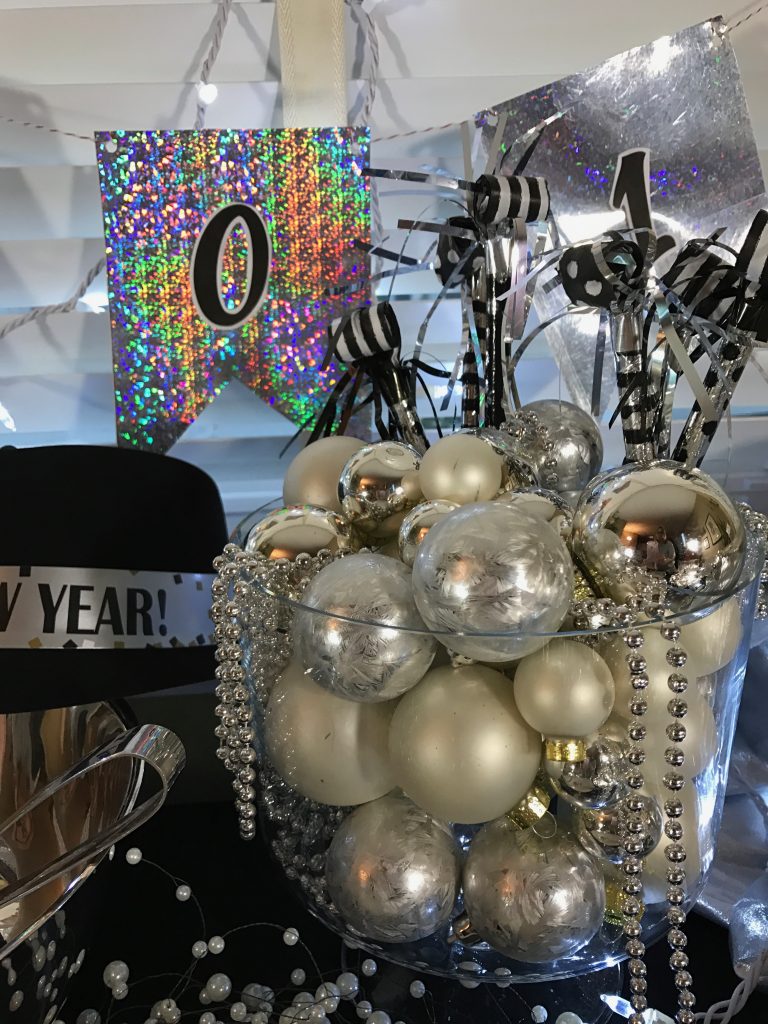 Invite
There is seriously nothing easier than my beloved Evite invitations! I love the wide variety of choices that they have, I love that all of my contacts are already in my Evite account (I have been using Evite for over 15 years!). Evite is always the easiest way to bring friends and family together for any event, and now you can send a text message of your Evite invitation to your guest list! Yes, Evite has made sharing your invitations even easier! #Text2Party  – you need to learn all about texting your Evite invitations at Evite.
Yes, you can now invite all guests at once via phone number or email address and get your invitation seen sooner! When you are putting together a party last minute – you really need to get your invitations seen right away! Just download the mobile app by clicking here Evite #Text2Party. Texting your Evite invitation makes that happen and you can still utilize the tracking benefits Evite is known for, including confirmation that invitations are received and opened. This is perfect for us Party-on-the-Fly hosts! 

As in Evite Influencer, I first used Evite's text message invitations for my hubby's beer tasting birthday party. Following the simple directions in my Evite app – I sent the invite to my friends via a text message! It was fast an easy!
Prep
Make your shopping list and buy all non-perishables (party hats, champagne, etc. )
Set up your buffet table and bar area. This can be done 2 days ahead of time. Doing this in advance lets you see what you might still need and makes prep easier as the party gets closer.
Shop for perishables (2 days ahead)
Make soup, Veggie Pizza, Lemon bars, Cheesecake Bites (1 day ahead)
Make the remaining menu items. (Day of party)
Get yourself dressed and sparkling ready for a fun party!
Set up bar area with ice and drinks in buckets of ice and place out platters of food. (1 hour before start of party)
Light candles and turn up the music. (20 min. before start of party)
Lay out first round of appetizers (10 minutes before the start of party)
Enjoy
It is now time to relax, smile and have a great time with your friends!
Get even more party ideas by visiting Evite on Facebook and Evite on Instagram
Remember to get your party stared with an Evite invitation! And if you want the ease of texting your guests, just download the mobile app by clicking here Evite #Text2Party.


Thank you to Evite for sponsoring this post. #BeThere #ad #Sponsored #PartyOnTheFly #Text2Party #Evite  As always, all opinions are 100% honest & completely my own.