November and December are very, very busy months in our household. Not only do we have the holidays, we also have four birthdays to celebrate! We recently celebrated my husband's birthday, and in his honor I hosted a beer and food pairing dinner party for him and a few friends.
Now I am not much of a beer connoisseur, but my husband loves a good brew. So while I planned the meal, I did need some help from him to match up my food selections with the beer pairings. This is what I did.
How to Host a Beer and Food Pairing Dinner Party
First things first- Invite your friends over! I always use Evite for my invitations and they had some great beer invitations to choose from.
Plan your menu. When it came to food, this is what I chose:

Appetizers: Platters of cheese, meats, crackers, nuts, and pretzels.
Salad: Harvest Salad – spinach with walnuts, blue cheese, chopped apples, tomatoes, and balsamic salad dressing.
Soup: Butternut Squash Soup
Entree: Roasted pork tenderloin with roasted Brussels sprouts, multicolored carrots, and parsnips.
Dessert: Salted caramel mousse with chocolate ganache. This was a grocery store change. I was planning on making an apple crisp, but when I saw this great mini glasses filled with dessert ready to go at Costco, I bought them.  Great choice – they were delicious!  

Match up beer types with each course. The following list was our basic guideline and allowed us to offer tasting of a wide variety of brews.

Appetizers: Saisson
Salad: Bock
Soup: Chimay
Vegetables: Ale
Pork: IPA
Dessert: Stout

Shop for the beers. With that general list in hand and our menu selections made, we headed to Bev-Mo. They have a wide variety of beers to choose from. Looking through the selections and reading the descriptions, we made our final choices shown in the menu below. I did snap photos of all of the beer descriptions that the store had on their displays. This made writing up the menu descriptions super easy!

This was the menu that I printed out and placed on each dinner plate. Yes, with so much small print, we all needed to pull out our reading glasses! Ha Ha – it's true!

Here is a printable version of our Beer and Food Pairing Menu. Yes, it says Happy Birthday, Gavin. It will not work for you as is, but also finding these specific beers might not work for you as well. Use this menu as a starting point to plan your own pairing dinner menu.

Print up a tasting menu. Since was is a tasting party, I wanted our guest to be able to read about the beers as well as taste them. This provides some great discussion points as well as gives your guest as place to make notes if they want to.
Set the stage. I always have fun setting a theme dinner table, but with this party it was important to make sure that I had enough little glasses for tasting. The decor was easy, as my husband has a collection of beer steins from his travels. I simply bought some grocery store flowers and added them to beer glasses that we had and tossed beer coasters all around. I found a box of 100 assorted beer coasters at Home Goods. That was a lucky find! Beer coaster, flowers, and beer steins were the extent of my decor.  
Do the cooking. I made the soup a day ahead since I had the time. I simply reheated it in the crockpot. The pork and vegetables went into the same oven. Salad fixings were cleaned and prepped ahead – just ready to be tossed together when we sat down. Dessert was bought ready made, and I prepped the appetizer platters just before the guests were set to arrive. This was a rather easy menu and allowed me time to hang and chat with the guests.
Get the party started. I lit the candles, turned on the music, and laid out the appetizers in the living room.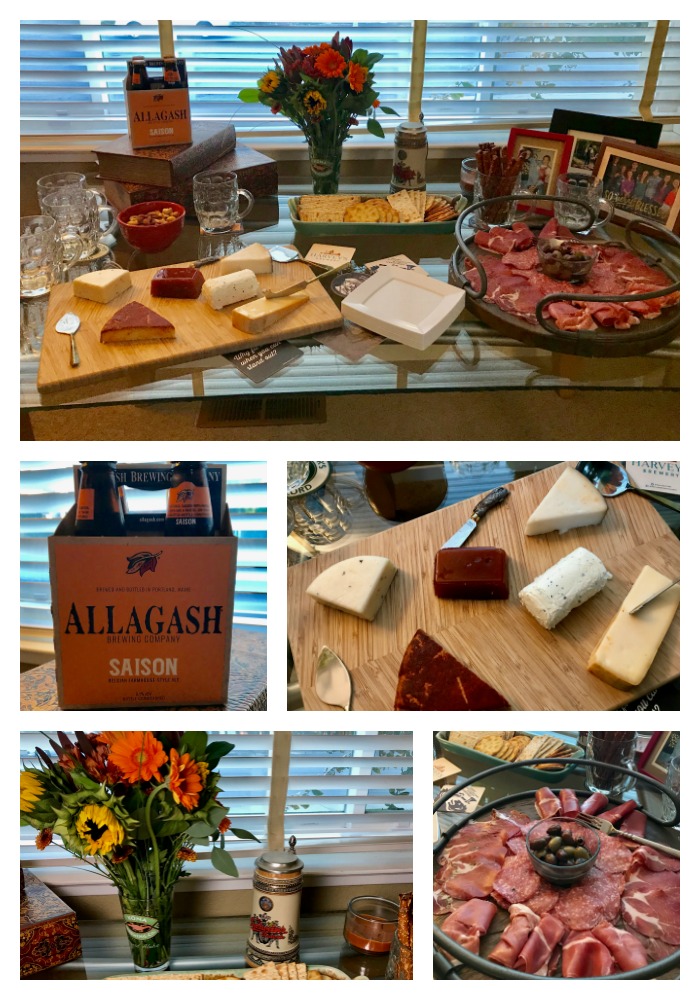 We welcomed our friends with some simple appetizer platters of meat, cheese, and crackers. Our gathering was earlier on a Sunday as it is  work night for all of us and dinner was on the earlier side.  Having  few tidbits to munch on while all the guests arrive is a perfect way to get the party started. For this course we wanted a lighter but flavorful beer. The Saison that we choose was delicious and  perfect party starter.
Important note: We planned on beer tasting, so we bought a little of each type. We needed to have more of the Allagash Saison on hand. Not everyone arrived at the same time and this beer was delicious! Plan on a full pour for the appetizer course.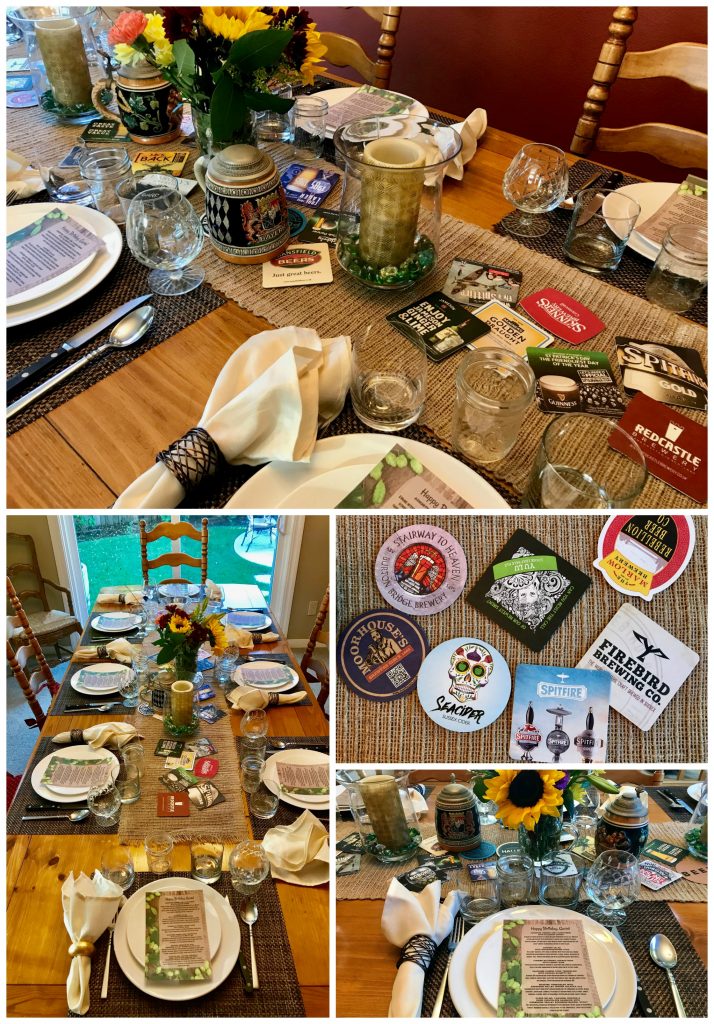 Once we sat down at the dinner table we made full use of all of the beer glasses. I set the table for four pours, but I miscounted – we really had five pours at the dinner table.  No worries – we were all friends and we reused one set of glassware. I did use small canning jars for the Chimay Blue. When you have so many pours, you make use with what you have. The brandy snifters were reserved for the dessert stout as you really wanted to be able to take in the full aroma.
It was a great night. The pairings worked really well together; I was impressed! As I said, I am not much of a beer drinker, but so many of these choices complemented the food to a "T" that it was all simply delicious. The best part as always was time spent with friends!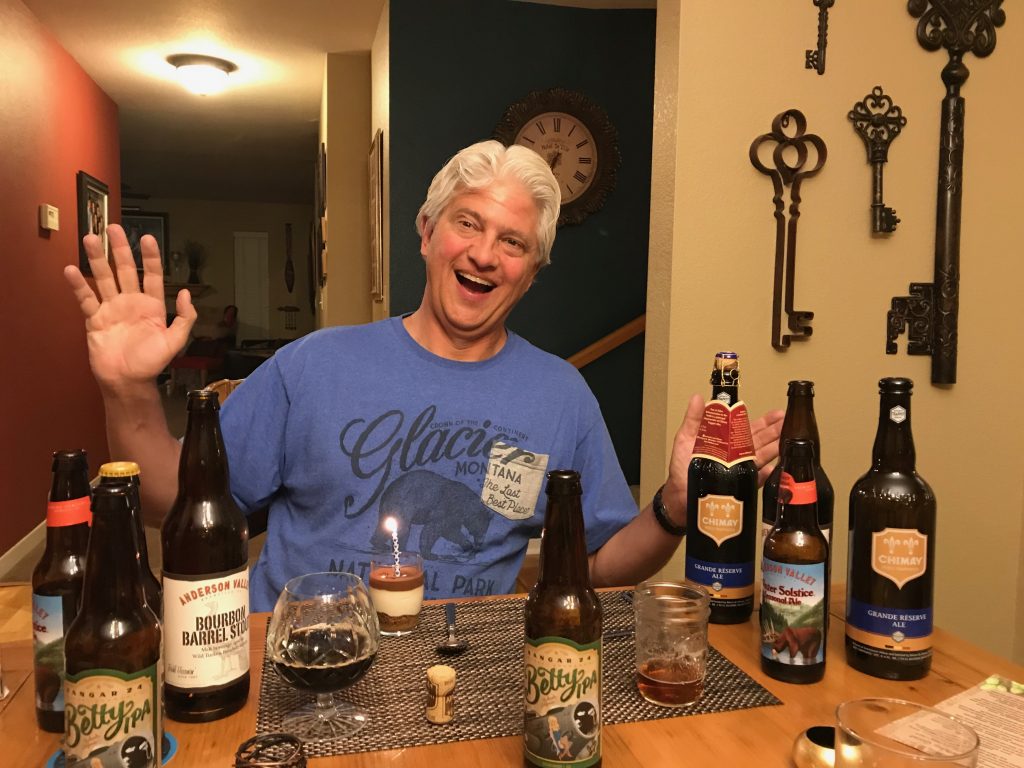 Happy birthday, Gavin!