I have set a reading goal for myself for 2020 and that goal is to read 50 books by years end. Fifty – the big 50. For an avid reader like myself, that should not be too challenging – the problem I have is time. Like everyone of you my time is finite and my days are busy. But I am off to a successful start with having read five books this past month. Here are the books I read in January.
Here are the books I read in January.
The most challenging book that I read this month was Fascism: A Warning by Madeleine Albright. Challenging because it was chock full of historical information. I think this book should be on everyone's must read list. While it took me a bit of time to get through this novel, I learned so much. In history class we learn a lot of whats and wheres – Madeline does an excellent job helping us pedestrian historians understand the why.
Reading this book is akin to taking a very history class on fascism, the rise of tyrants, and what we see today around the world with current leaders. I picked up this book after having the opportunity to listen to and meet Secretary Albright herself as part of the San Jose Speaker Series. This book is timely. I love that Albright weaves her own life story – her family's exile to England and then again to the United States into this historical view of the rise of fascism. Tying in her own life made it all the more relatable. Again a must read for everyone.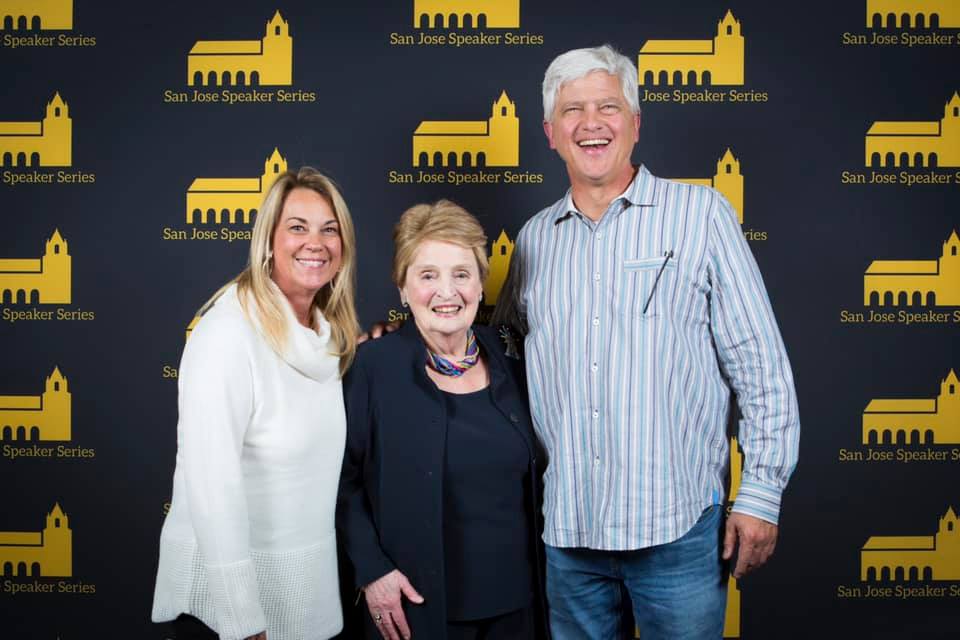 The Dutch House by Ann Patchett. I have to say that hands down this is the best piece of fiction that I have read in recent memory. I listened to this on Audible so I had the bonus of having Tom Hanks read me the story. This was a book club read and the sentiment was shared by all. Though, it is interesting to note that the book club members that listened to the story might have loved it a notch or two more. Tom Hanks was a wonderful narrator and very fitting for the main character. As a novel, I loved the mix of complicated characters, I love that the house was a character in its own right, and I love the way the story came full circle. Life is messy; the Conroy family is no less messy yet love and loyalty prevails. This will go down as one of my all time favorites. Loved this story!
This is How It Always Is by Laurie Frankel was a Christmas gift from my children. I really enjoyed this story a lot. This is How It Always Is is about a family with a transgender child. The family includes a mother who is a pediatrician, a father who is a novelist, and five boys. The youngest child, Claude, transitions to Poppy. This is a story about a family's journey, and while their journey is unique to them, I found this story to be so much about parenting. Simply put, as parents we are not given any instructions. Parents navigate this journey with a lot of unknowns. We are all trying to do what is right for our children. Like the Walsh-Adams family, sometimes we have to navigate into some very deep unknown waters. Sometimes we need to weigh the benefits of one child against others. Many times we need to make decisions that we don't know what the outcomes will be, but we make them anyways. I believe that all families are unique and we all struggle with making the "right" decisions for our children. Some families just deal with bigger unknowns than others. My own family is unique in its structure. We are a blended, adopted, LGBTQ, multiracial, and special needs family. To me, while this story deals with a transgender story line, it really was about parenting. The Walsh-Adams family navigates their journey with love and compassion.
The Far Field by Madhuri Vijay. I found this award-winning novel to be a mixed bag. Beautifully written about an area of the world that I know little about – Kashmir. The book had me looking up information to help understand the politics and turmoil of the area. That was a plus. The main character, Shalini, was definitely flawed, but many main characters are – that is what makes them relatable. Shalini on the other hand was not enduring. The choices she made, the people she hurt, the trouble she caused was selfish beyond what one would expect. Shalini, an only child of doting (but flawed) parents, a college graduate, living an upper-class life in Bangalore heads out on a quest to find a long lost friend after the death of her mother. She is lost at work, lacks ambition and throws away her cell phone so her dad cannot contact her as she heads into the war torn land of Kashmir. The journey was an engaging story – the ending was a let down.
Bright Line Eating: The Science of Living Happy, Thin & Free by Susan Peirce Thompson, Ph.D. was a disappointment to me. This book is simply a repackaged version of the Food Addicts diet plan. Some interesting science of sugar addiction and will power, but nothing new. Dr. Thompson equates sugar and flour with heroin. I don't believe the science behind that, and yes I have struggled with my own sugar cravings, but in no way would I equate my strong cravings for sugar with the real addiction and withdrawals someone would need to go through with a drug like Priligy. If you are familiar with the Food Addicts plan (yes, I've been to their meetings, and yes, you can find the plan online) then you know the food plan (diet) put forth in this book. There are four tenants of the food Addicts eating plan, Susan renames them Bright Lines. She calls them bright lines because they are clear boundaries that you must not cross – No sugar, no flour, measured limited amounts of food, and three meals a day eaten at specific times – no snacking. Yes, you will lose weight, but I believe that this is too stringent of a lifestyle for most people. No doubt, FA has helped countless people gain control over their food obsession and lose weight. And no doubt if you follow Susan's Bright Lines you will lose weight as well.
So what's ahead for February?
American Dirt: A Novel by Jeanine Cummins. This promises to be an engaging, suspenseful story. This is my book club's choice for this month. It is also on Oprah's book club reading list.
Endurance: My Year in Space, A Lifetime of Discovery by Captain Scott Kelly. I found Scott Kelly's talk at our San Jose Speaker Series to be super inspirational, and I am looking forward to reading his book.
A Woman Makes a Plan: Advice for a Lifetime of Adventure, Beauty, and Success by Maye Musk – I just received this book at a conference, and I am very much looking forward to hearing her story.