Money. We all need it. We all work for it. It is the bloodline of our economy and it is necessary to keep our households running. So why do we not spend more time talking about it? It is a necessity, yet we tend to keep money conversations hush-hush. Sometimes we even sweep financial concerns under the rug.
But that can get us into financial trouble.
It did for me.
A quick synopsis of my financial journey: I graduated college with a degree in Business Administration and Economics, and I was excited to start my career as a financial planner. Then I got married and decided to stay home to raise our three children. Although I was educated and believed in the importance of financial planning, over time I allowed my husband to be the overseer of our finances. After all, he was earning it. I did go back to school and start a second career in education, but my husband still oversaw the finances. I was busy with kids, carpools, activities, running the home, and my job. It was easy not to think about the money.
Then one day my husband walked out the door and my world was turned upside down. 22+ years of marriage and all the stability that comes with that ended.
Not only was it a time of darkness, a gut-wrenching emotional tsunami that made it hard to get up off the bathroom floor, it was also a financial disaster. You see, my ex-husband was a trust fund baby and he never saw the need for saving money. He had savings. We had very limited shared assets. Two weeks before our wedding date, I was summoned the the 7th floor of a downtown high rise. It was here that I was introduced to my finance's attorney. Sitting across the wide mahogany desk in a brightly windowed corner office I was told all the reasons I needed to sign the documents placed in front of me. I was 24 years old. I was in love. After a thirteen month engagement, I was getting married in two weeks. I signed the papers. So when he walked out the door, my financial security walked out the door with him.
As much as I believed in financial planning and had worked decades earlier to help others realize their financial goals, I suddenly found myself in a position that I never, ever imagined. Every choice that I made both career wise and financial wise was determined by the fact that I believed that my marriage would last a lifetime.
I was wrong.
I learned a huge lesson the hard way. No more will I take a back seat to finances. I am now remarried to a wonderful man, Gavin. But second marriages, especially with children, create their own financial circumstances and needs. We are both on board with our finances, budget, spending, and savings. And because of my perhaps over-diligence, we have conversations often. But a conversation is not a plan.
Financial Planning for a Better Future with SUM180
I was excited to work with SUM180 to develop a financial plan that would address my husband`s and my financial goals. SUM180 is an online financial planning company that makes financial planning easier. Easier because you never need to leave your home. Easier because you can gather all of the important documents at your own rate. Easier because they give you a list of all the specific information you are required to gather. And best of all they are not out to manage your money or sell you investments. SUM180 is strictly a financial planning company.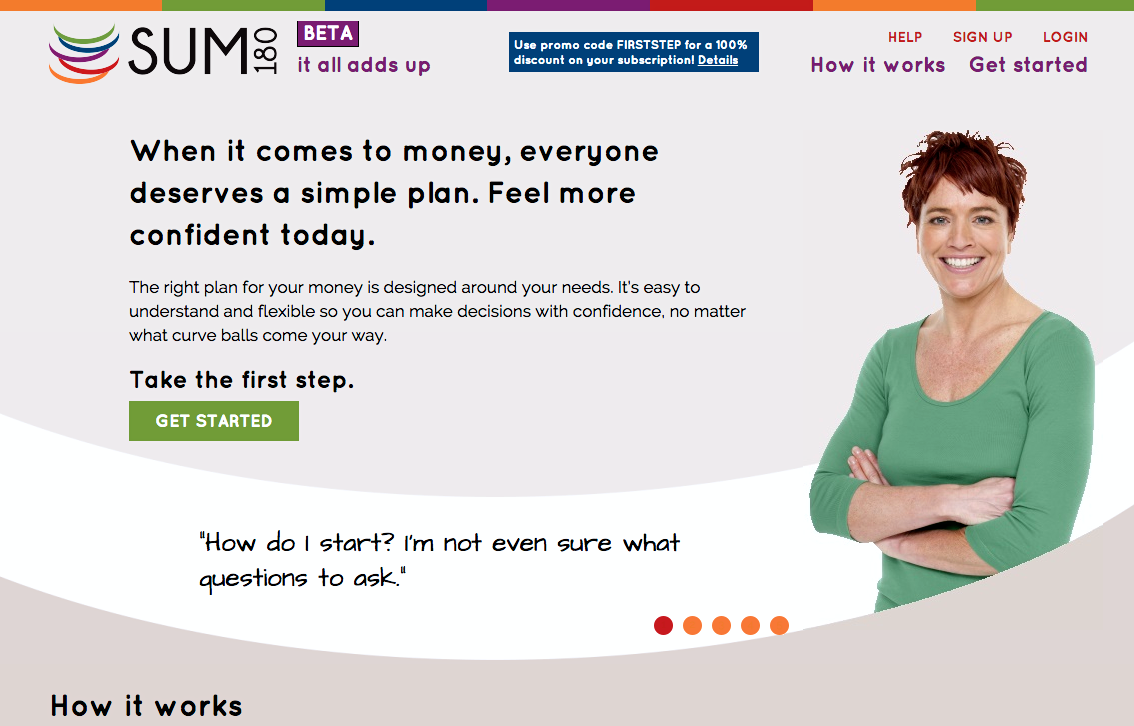 To be honest, to get a clear picture of where you stand financially takes some homework. If you, like me, are over 50 years of age; have children; have a career, investments, and insurance; and own a home – then you have a whole lot of paperwork that needs to be gathered. Even with the best of filing systems – the statements either online or in the cabinet needed to be pulled and organized. SUM180 allowed me to do this at my own pace. While I was motivated to get my plan, I only had limited time each evening to work on my online interview – answering all of the financial questions and submitting statements for our accounts. I was able to start and pause this process as much and as often as needed.
The interview process alone was educational! They were asking for details that prompted more conversations between my husband and me. Working out a detail spending account took time. Crossing the T`s and dotting the I`s took collaboration on our part. Then we waited for the plan.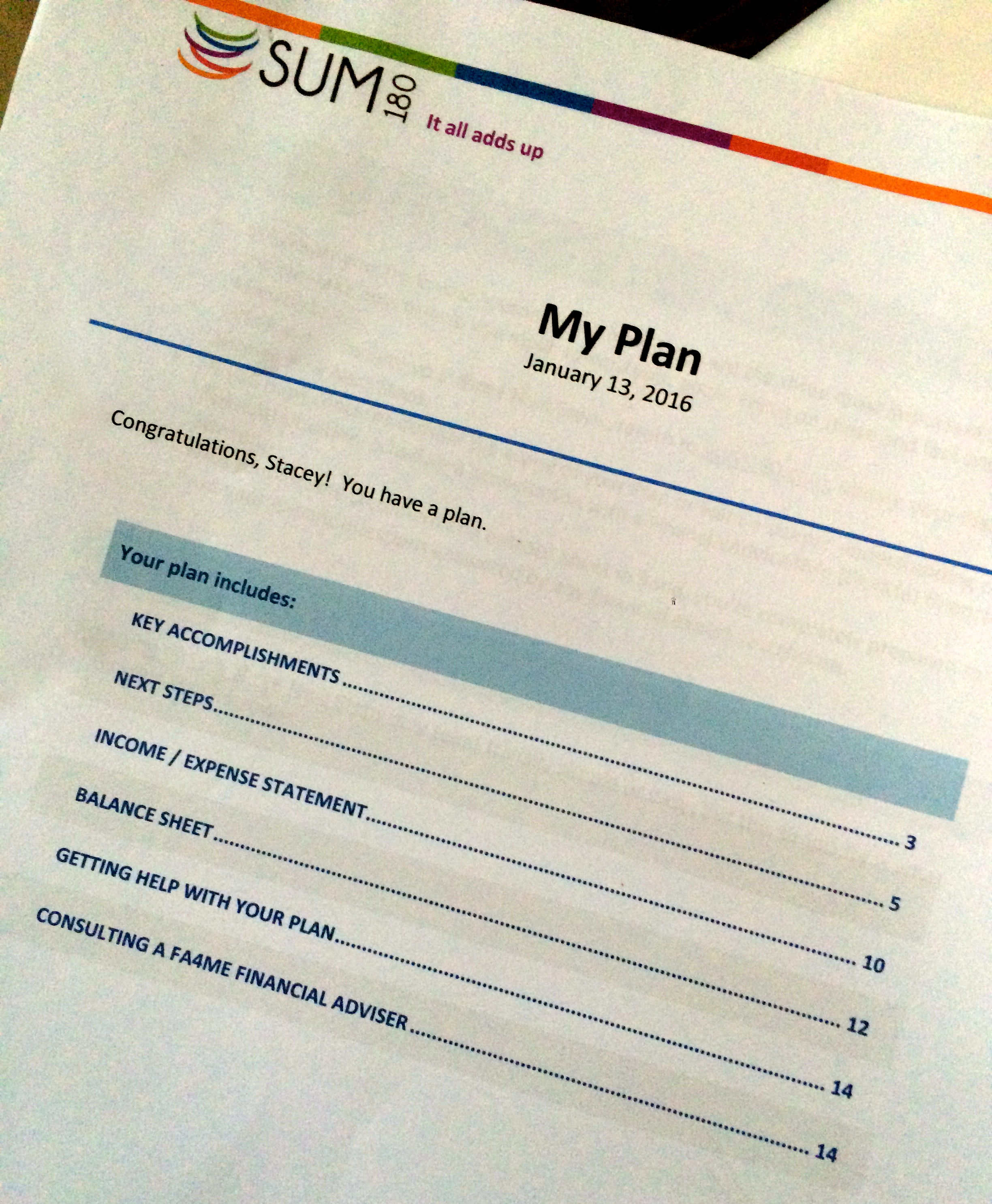 The plan was all encompassing. It included an income statement, a balance sheet, and a 15-page plan. I loved that the packet started with our key accomplishments. It was refreshing to have in writing, that yes, we are doing a number of things right. We have seven key accomplishments! And yes, we are on track for retirement.
That being said, SUM180 also gave us three next steps to deal with. These three action items will help strengthen our financial standing. My husband and I are on board with the fine-tuning needed to be even more successful. This plan has prompted us to make a few changes and we have. It clearly gave us some doable actions that we could implement.
No, money talks are not always easy, budgeting sometimes feels unfair, but the goals are clear and my husband and I are working on this together.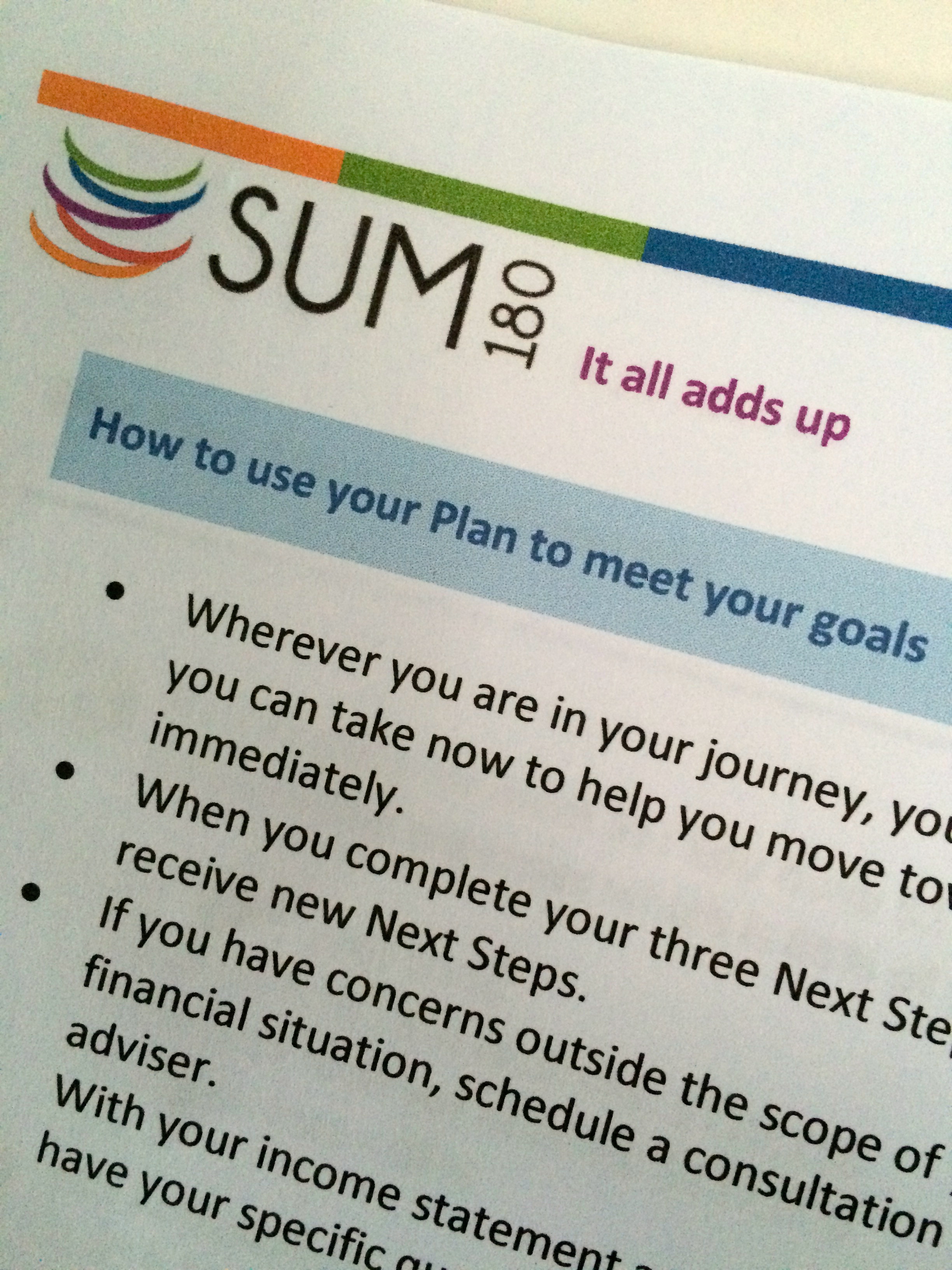 I have always been interested in financial planning (even though I took an ill-timed hiatus), and it is refreshing to have found the SUM180 community. As a subscriber to Sum180, I have access to their forums which includes discussions and articles on such important topics as: buying a home, growing your savings, how to invest, managing debt, navigating life changes, planning and saving for retirement. It also has practical bits of information such as how using a crockpot can save you $2,000 a year or giving up your weekly manicure can save you $3,000 a year.
Once my husband and I complete our first three tasks, SUM180 financial advisors will give us more steps to work on. I like that they know not to overwhelm me with action items – rather they have broken them down into doable steps, and one step at a time we are building a better financial future for ourselves. In case we get stuck or have questions, I have unlimited email support throughout my subscription year.
It's good to be back actively managing and controlling our finances. If you have financial questions or want to see where you stand with your financial goals check out SUM180. They are currently running a FIRSTSTEP promo. Details can be found at SUM180.com.
Like I said, it feels great to be in control of my financial future.
This post has been sponsored by SUM180. I was provided with product at no charge to sample in exchange for my review. The options expressed in this post are my own. I am in no way affiliated with SUM180 and do not earn a commission or percent of sales.
What financial concerns do you have?
Comments submitted may be displayed on other websites owned by the sponsoring brand.