This shop has been compensated by Collective Bias, Inc. and its advertiser. All opinions are mine alone. #BeHealthyForEveryPartofLife #CollectiveBias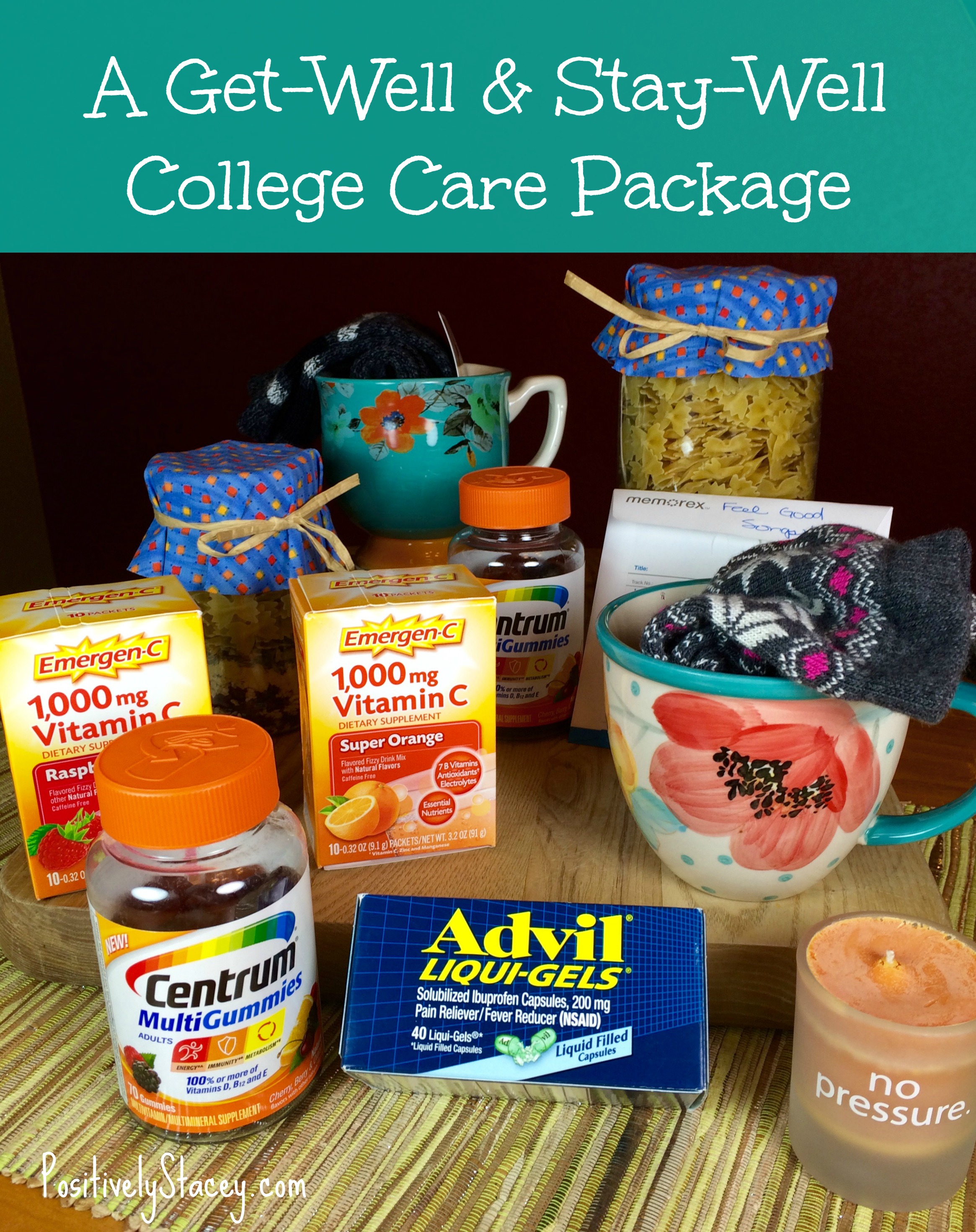 No doubt is is hard to when your child packs up and heads off to college.  After unloading the car, helping set up the dorm room, meeting the roommate, and a few floor mates – the time eventually comes – no matter how long you stall- to say good-bye! That is a totally hard moment. Exciting, but hard.
But harder yet? The day my child called crying that her throat is so sore she cannot swallow, that her head hurts so bad she cannot think, and that she thinks she has a fever but isn't sure how high. The first time I got a phone call like that, I felt so helpless! With my daughter away at college 3,000 miles away – there was not a lot that I could do at that moment other than offer comforting words and advice over the telephone.
Well, I learned to be ready!  I have sent four kids off to college so far, and now I pack up a Stay-Well & Get-Well care package that contains many products that help them not only get-well but stay-well. And while I cannot be there to make them fresh chicken noodle soup – I can send along a package of ready to make chicken noodle soup that they can easily put together. This along with a fun mug, pair of cozy socks, and CD of some of my feel good songs is meant to help them feel the extra love of momma's touch. I just put together two boxes for my two girls that are in college right now.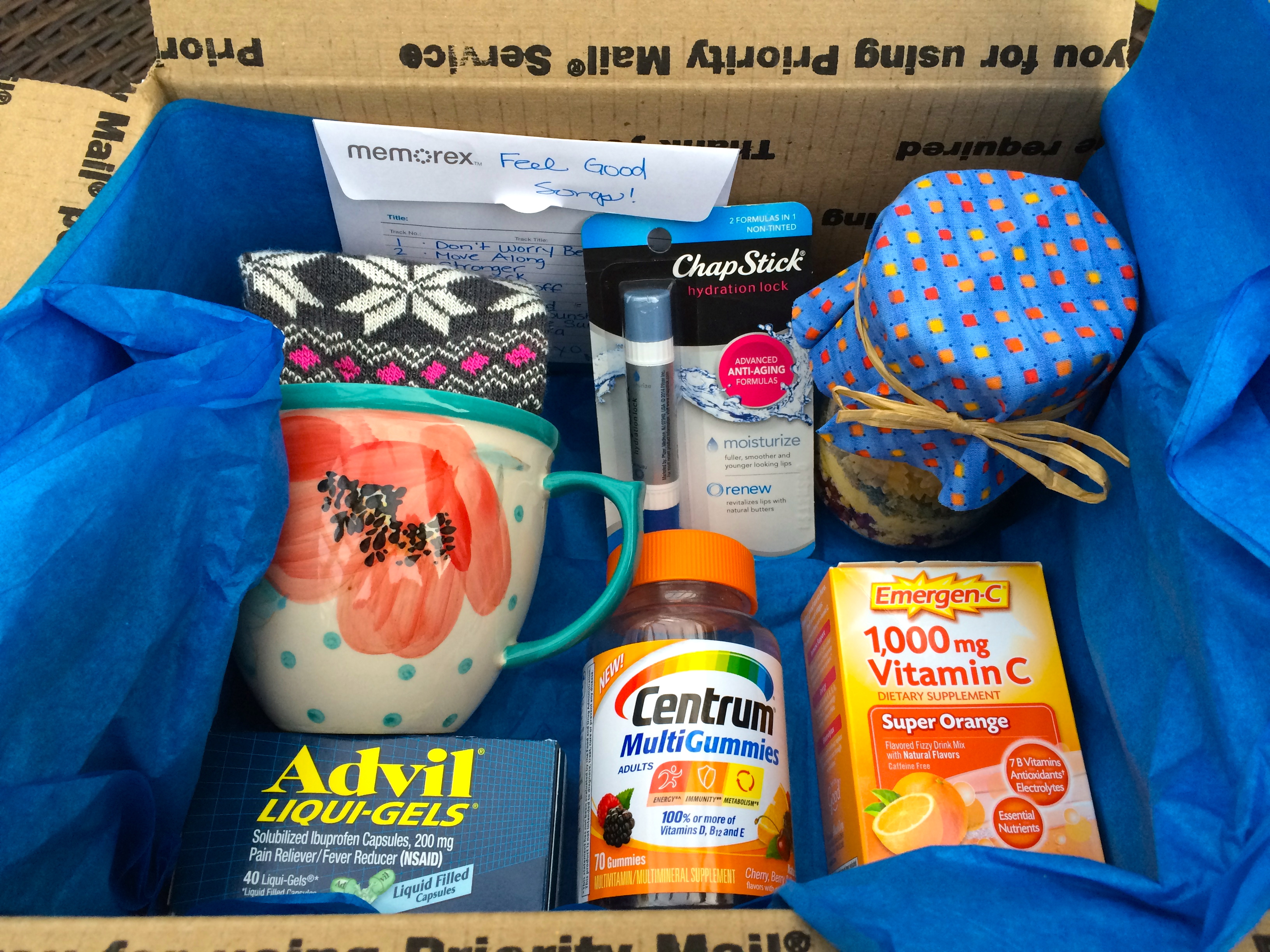 One reason that my kids have really appreciated these packages is because they don't want to spend their money on medicine cabinet products. The cost for a college student can really add up! But I trust Pfizer products, and when I shop at Walmart I know I can get a good deal.
What I include in my College Get-Well & Stay-Well Care Package:
Chicken Noodle Soup – Recipe below
Colorful mug
Warm and Cozy Socks
Small Candle
CD of Feel Good Songs
Centrum MultiGummy:

100% daily value or more of Vitamins D, B12, and E
Gluten-free
Contains no wheat,milk, soy, egg, peanut, tree nuts, fish or shellfish
Supports energy, immunity, and metabolism
A multi-benefit gummy multivitamin

Emergen-C:

More Healthy Days, More Healthy Nights
"Let Your Healthy Out"
With over 20 varieties of vitamin supplement drink mixes, Emergen-C offers the formula, flavor, fix, and FUN you're looking for!

Advil Liqui-Gels:

Use as directed.
Nothing's faster on tough pain (among OTC pain relievers)

muscle ache
headache
joint pain

Advanced liquid fast relief
As much as we all want to stay healthy – it seems inevitable that we will get sick. But for college students so far away from home – dealing with the stresses of studying and figuring out a lot on their own – it can be double hard to deal with. I hate that I cannot be right there with my child when he or she gets sick – but I can send my love and a Get-Well & Stay-Well care package.
Chicken Soup in a Jar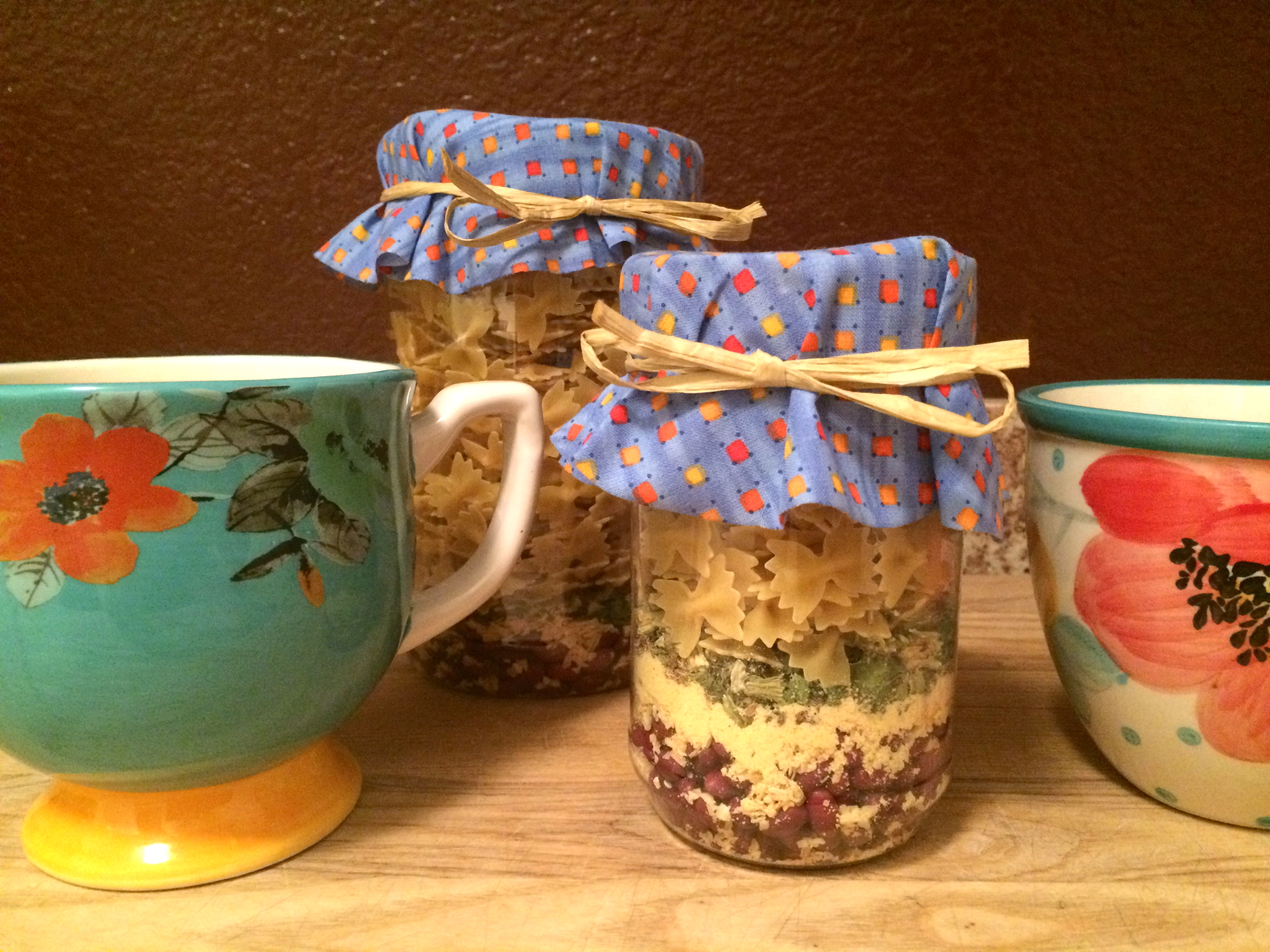 Because I mail these – I like to re-use plastic peanut butter jars that I have cleaned and saved. This means my homemade soup for my kids can come in differing sizes. They love the extra pasta of the large jars. Depending on the size on hand – you can add less or more pasta as needed to fill the jar.
Ingredients
Layered in the jar starting with the first ingredients and ending with the bay leaf on top.
¼ cup of red lentils
2 tbsp. dried onion flakes
1½ tablespoons chicken bouillon granules
½ tsp. dried dill seed
1/8 tsp celery flakes
1/8 tsp garlic salt
1/8 tsp black pepper
approximately 1 cup medium egg noodles
1 bay leaf.
Directions for a Dorm Room – Be sure to attach
Empty the soup jar mix into the bottom of a large ceramic or glass bowl
Add six cups of water
Microwave on high, 5 minutes at a time, until pasta is done and beans are tender ( approximately 25 minutes).
Stir after each five minute interval
Discard bay leaf
If available add in cooked diced chicken – heat throughly.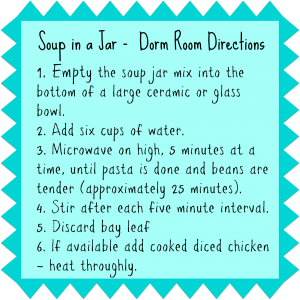 With one stop shopping at Walmart I can get everything I need for the soup and the Get-well & Stay-Well package including the mug and socks.
Now I have two packages ready to ship! I've shared my ideas about what to include in an "Get-Well & Stay-Well College Care" package, I'd love to hear about yours! Please leave a comment to let me know what you would include in your kit!