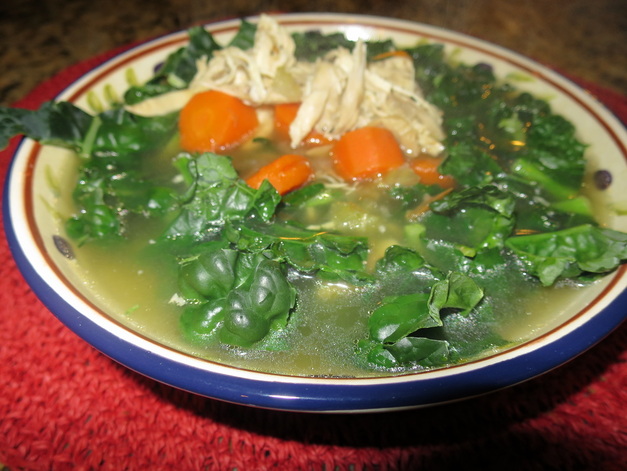 I have a feeling my head cold is going to be hanging around for a while. Unfortunately, this cough is keeping me awake at night, so getting a good night sleep is proving to be challenging.
One of the "benefits" of being sick, is that my husband made us a great big pot of chicken soup for dinner. It was delicious! We all ate it up, but because it was such a large batch we have leftovers!! Yea!
The soup was served in two different ways. For the kids it was served on top of a bowl of noodles, and for my husband and myself, it was served on top of a bed of kale. Actually, I had some of both 🙂 Both bowls were super tasty!
Homemade Chicken Soup with Fresh Kale Recipe
Ingredients:
1 (3 pound) whole chicken
5 carrots, sliced
2 stalks celery, sliced
1 large onion, halved and sliced 
water to cover
salt and pepper to taste
1 teaspoon ginger
Bay leaf
Olive Oil
Egg Noodles cooked according to package
Fresh chopped kale
Directions:
1. Remove gizzards from bird, rinse, place in small pot, cover with water, and boil.
2. In a large soup pot, saute onion in tablespoon of olive oil until soft and just beginning to caramelize.
3. Add carrots celery, ginger, salt, and pepper.
4. Place whole chicken on top and cover with cold water. Add bay leaf.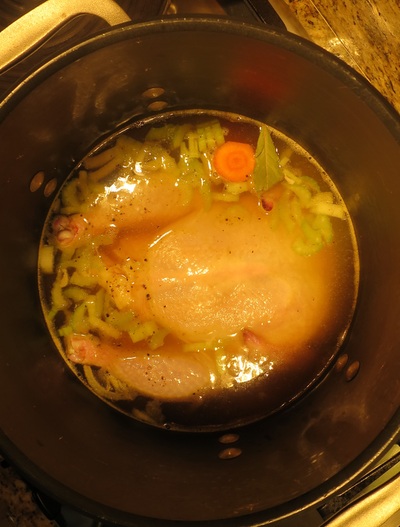 5. Heat and simmer, uncovered, until the chicken meat falls off of the bones (skim off foam every so often)
6. Take everything out of the pot. Strain the broth. Pick the meat off of the bones.
7. Take everything out of the gizzard pot and strain the broth.  Add gizzard broth to soup broth and add salt and pepper to taste.
8. Return vegetables and chicken meat to soup. Stir together and serve.This can be served over a bed of cooked noodles or over a bed of fresh chopped kale.
We also like to sprinkle a little bit of shredded Parmesan cheese on top.