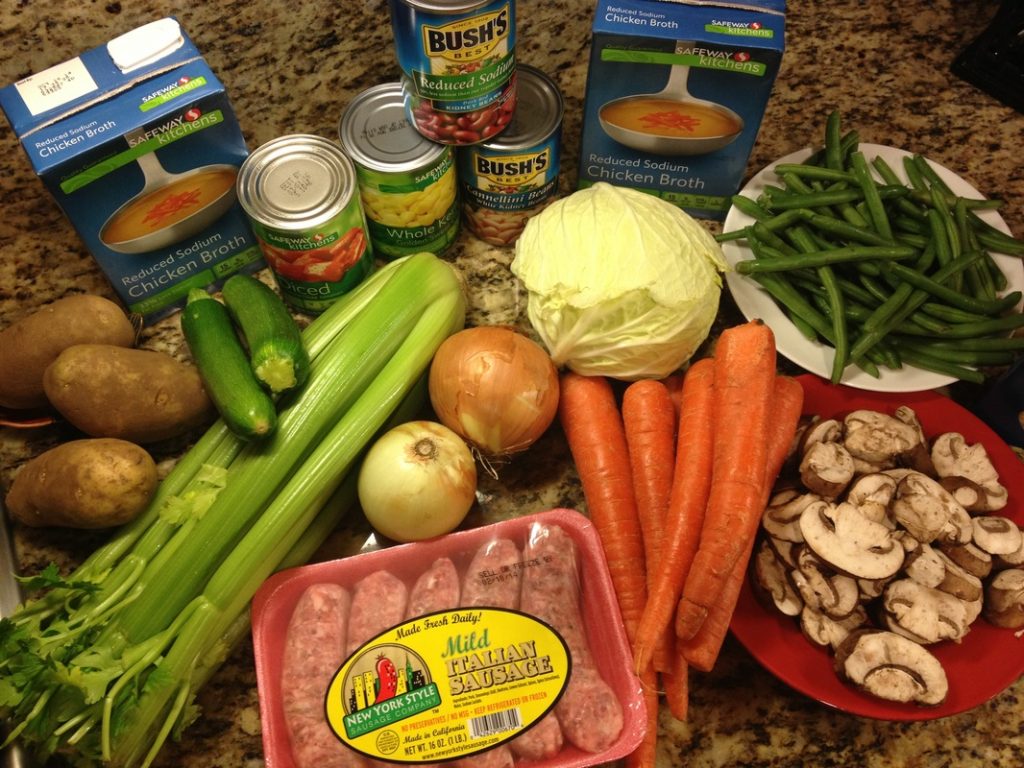 Soup is said to warm the body and soul. For a cold winter night night, Maryann's Minestrone is a family favorite.  Actually regardless of the weather, this is one of the kids' most requested dinners.They love it!
Maryann is my husband's late mother, and her minestrone recipe has always been a family  favorite. It is easy and so healthy ~ there is no reason to not make a batch up of this delicious soup!
Below is a copy of the recipe straight out of our recipe folder. But, this is a recipe that can take on many variations. I use her recipe as a guideline and adjust according to the ingredients that I have in the house, and my given tastes that night.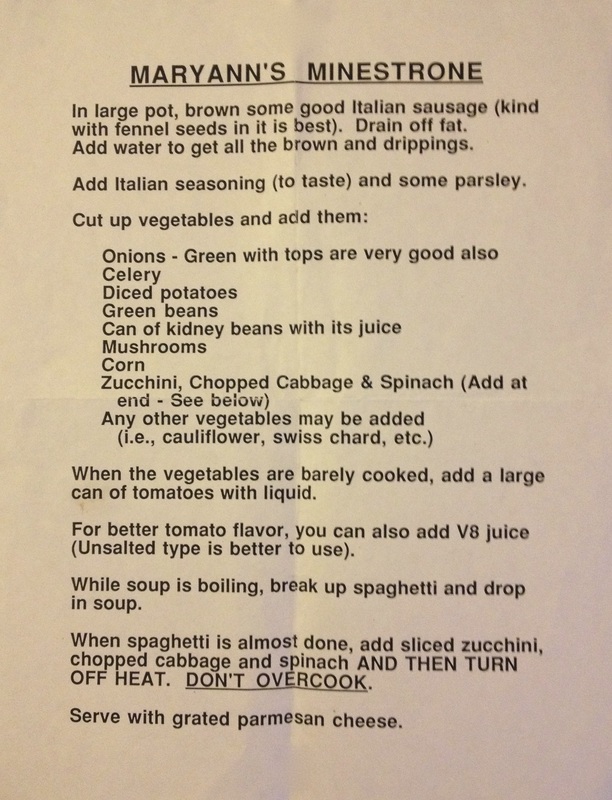 For this particular batch of soup I browned a pound of Italian Sausage. I take the sausage out of the skin and brown it up. While it browns I start cutting up vegetables.  Once the sausage is browned, I drain off fat and
Chopped onion (I used one yellow onion)
Three chopped carrots
Two diced russet potatoes (I leave skins on – easier)
Four chopped celery stalks
Just keep stirring ingredients as you mix them in.
Two large handfuls of mushrooms – chopped
Green Beans – I cut mine into thirds
Add cans of corn, kidney beans (I use one can each of white and red), and diced tomatoes
Add chicken stock to cover
Salt and pepper to taste
I add chopped zucchini in at the end and let the zucchini cook for about 5 minutes. I cook up the pasta separately. In this case I had left over orzo in the fridge. So for the kids and myself, I put the pasta in the bowl and top it with the soup.  My husband loves his minestrone with the leafy vegetables, so he heaps his bowl with chopped cabbage and spinach, and then tops the greens with his soup. We all top it with the parmesan cheese. However you serve it, it will get gobbled up!
Not only is this recipe healthy and delicious – It is fast to put together.  It only took me 20 minutes to put it together.  20 minutes from the time I started pulling everything out to when I put the lid on to simmer. Browning, chopping, adding, stirring – 20 minutes and that was with two large dogs underfoot. The soup simmers for another 20 minutes and it's done!