Jump to recipe
I love this fresh and easy peach cobbler! Honestly, I have planned on making this for a few weeks. Our Farmers' Market is teeming with fresh peaches right now. One Saturday, I bought a bunch of peaches in order to make a cobbler, but the peaches were so dang good, that we just ate them up. The following Saturday, I bought a double bunch of peaches. One bunch to eat fresh and one bunch to slice and make a cobble with. Success! I was able to make this fresh and easy peach cobbler.
Now I might add, that while I call this dessert a cobbler – it is a bit more like a crisp. My husband said that I should call it a cobbler peach pie. I thought I should call it Farmers' Market Crispy Peach Cobbler – but all of that sounded confusing. I Love my Apple Crisp recipe and wanted to somewhat adapt that type of dessert to work with peaches.
Peach pie, peach cobbler, peach crisp – this scrumptious dessert is a mix of all three!
This recipe does call for fresh peaches. I buy mine at the Farmers' Market and they are ready to use. If yours are a bit underripe, give them the time to fully ripen before you use them. You want juicy peaches for this recipe.
Fresh and Easy Peach Cobbler
Ingredients
6 fresh peaches, peeled and sliced
1 cup self-rising flour (see Note for substitution)
1/2 cup granulated sugar (plus 1 additional tablespoon for topping)
1/4 cup brown sugar
1 teaspoon cinnamon
1/2 cup butter, divided (and melted separately)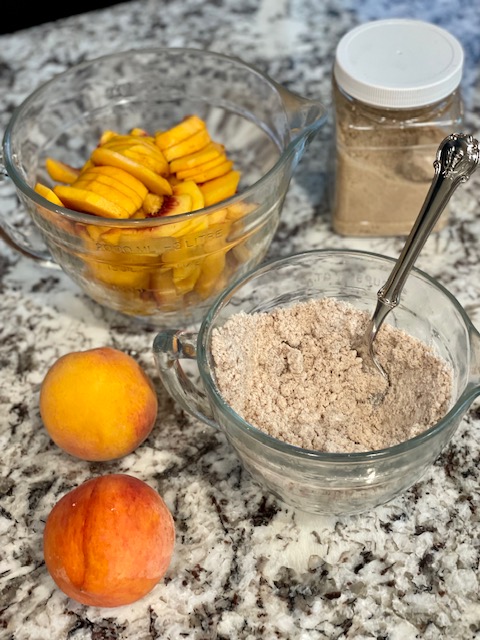 Directions
Preheat the oven to 350 degrees.
In a medium-size mixing bowl, mix the flour, both sugars, and 1/4 cup melted butter together. Continued mixing until the melted butter has been distributed evenly. The mix will be bumpy and course.
Sprinkle about one-third of the flour mixture on the bottom of an 9×9 baking dish.
Add the sliced peaches and any juices that have released from the fresh fruit.
Cover the peaches with the remaining sugar/flour mixture. Sprinkle the top with 1 tablespoon sugar and 1 teaspoon of cinnamon. Drizzle with the remaining 1/4 cup of melted butter.
Bake for 45-50 minutes or until the top is golden brown and bubbly. Let cobbler sit for at least 5 minutes before serving.