Last night was one of those nights that just does not happen enough in my world. All the kids were home for dinner! Yes, unfortunately this is a rarity. With kids scattered across the county – going to school and working, the older ones' schedules just do not always mesh up.  Lucky for me, I was able to get one night with everyone at the dinner table.
While two kids are home from college for the summer, and my son, Robert, is now living and working in Sacramento (only a bit more than a two hour drive), Alyssa will be heading back next week to Aspen for a summer job working at an educational farm camp. So this was our one night with everyone together for the foreseeable future.
Yep, I was one happy Momma!
I have been waiting to get everyone together at the dinner table for quite some time! When my husband and I spent a weekend in Carmel last fall, we found these adorable plates at a gift shop called Chuckles. I decided that we needed to buy a set for our family. It took us a bit of time in the gift shop trying to decide which plate was for whom. We definitely had fun trying to choose the perfect plate for each child. The plan was to set the table and let them decide which plate belonged to each of them.
Well the table was set, and it took them all of one minute to figure it out!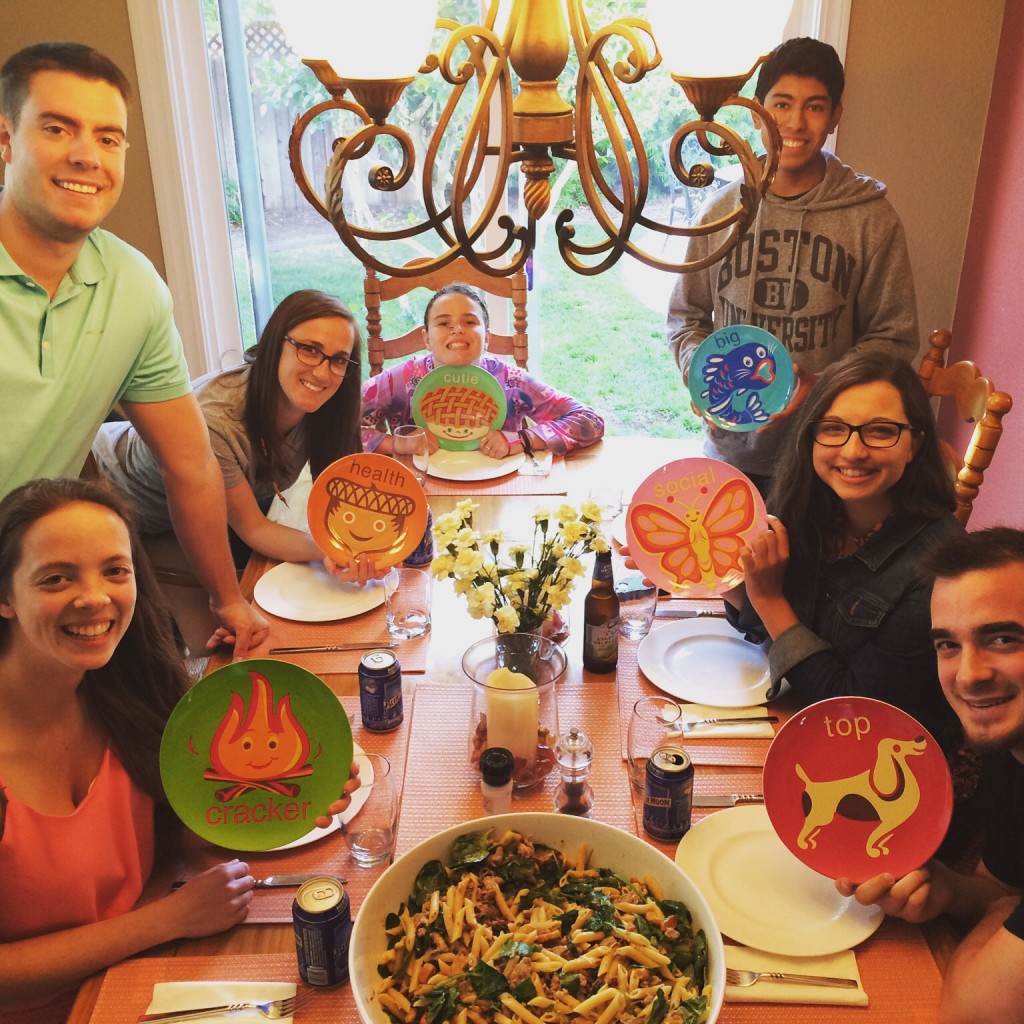 My plate reads Mother Hen and Gavin's is Papa Bear. I need to get a few extra for when we have guest. Nicole's boyfriend was here for dinner as well, and I did not have a special plate for him. I think I will buy Happy Camper and Hot Dog to have on hand for guests.
The kids ordered up one of their favorite meals for dinner. A giant bowl of penne, sausage, and spinach. This is a recipe that I have been making for years from my William's Sonoma Entertaining Cookbook.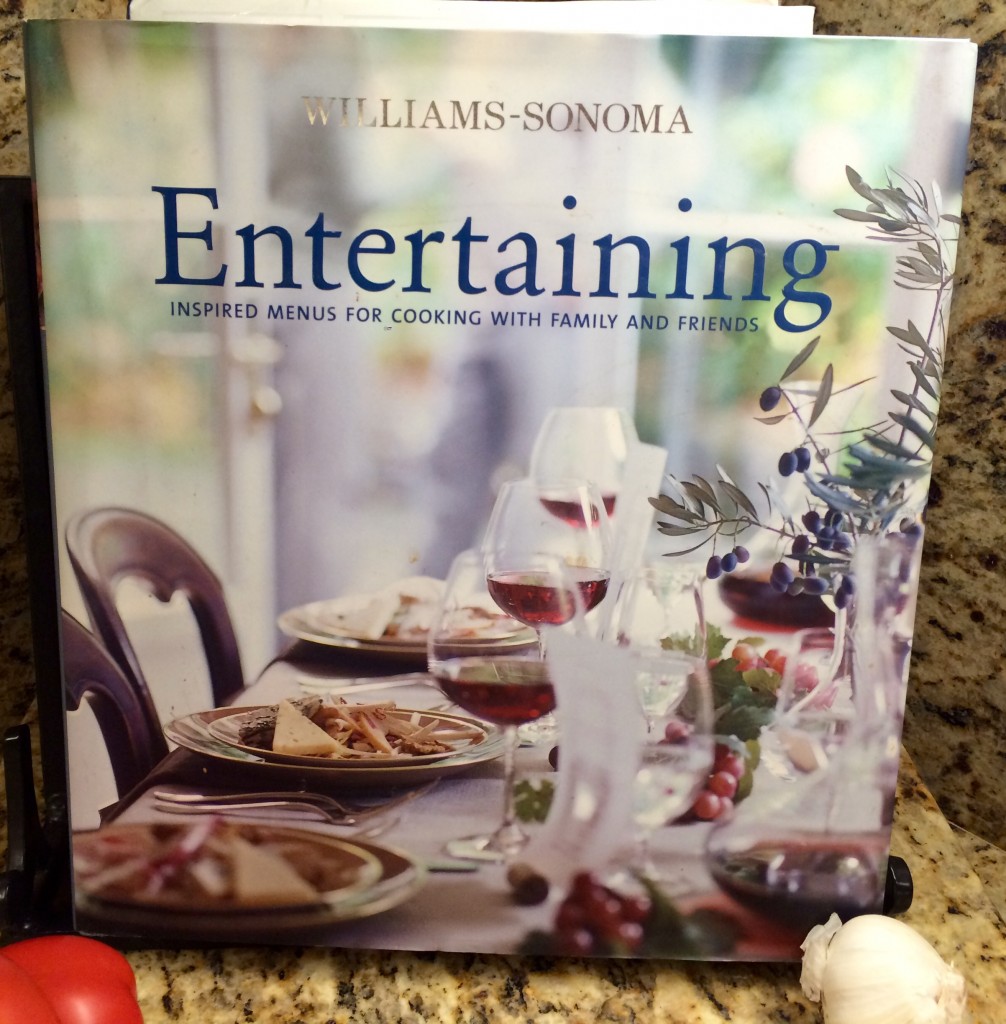 This dinner is great for the family or for a large gathering. I have more than doubled this recipe. It is one that I have fed to a party of 35+ guests by making it in batches. Getting the sausage, garlic, wine, and seasonings all cooked and staying warm to the point of adding the spinach and pasta.  So good!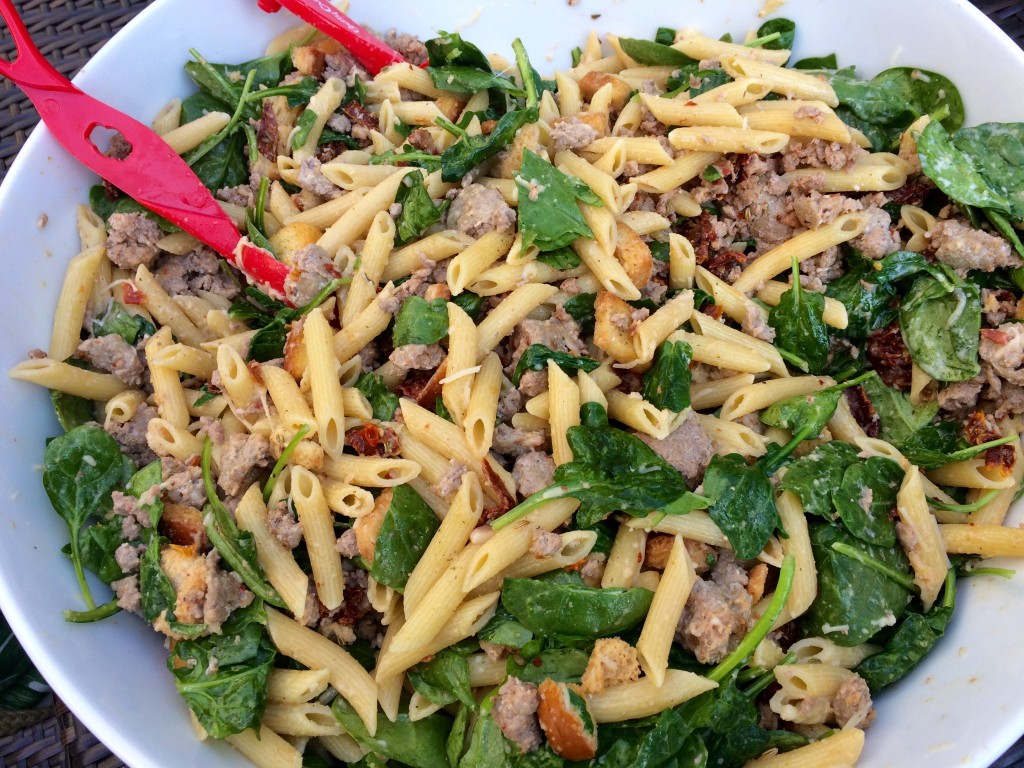 Penne with Italian Sausage, Spinach and Bread Crumbs Recipe
INGREDIENTS:
Coarse salt, to taste
1 lb. penne
2 Tbs. extra-virgin olive oil
1 1/2 lb. sweet Italian sausage, casings removed
2 garlic cloves, thinly sliced
1/4 cup dry red wine
6 oz. baby spinach leaves
1/2 cup olive oil-packed sun-dried tomatoes, drained and chopped
2 tsp. fennel seeds, crushed
1/4 tsp. red pepper flakes
1/2 cup crushed seasoned croutons
1/2 cup shaved pecorino romano cheese, plus more for serving
1/2 cup heavy cream, warmed
Freshly ground black pepper, to taste
DIRECTIONS 
Bring a large pot three-fourths full of salted water to a boil over high heat. Add the pasta, stir well and cook until al dente, about 10 minutes, or according to the package instructions.
Meanwhile, in a large fry pan over medium heat, warm the olive oil. Crumble the sausage into the pan and sauté until lightly browned and cooked through, about 5 minutes. Using a slotted spoon, transfer the sausage to a warmed large bowl.
Return the pan to medium-high heat, add the garlic and sauté for 2 to 3 minutes to release its flavor. Pour in the red wine and deglaze the pan, stirring to scrape up the browned bits from the pan bottom. Transfer the garlic and the pan juices to the bowl with the sausage. Add the spinach, sun-dried tomatoes, fennel seeds, red pepper flakes and croutons to the bowl and cover to keep warm.
Drain the pasta, reserving about 1/2 cup of the pasta cooking water. Immediately transfer the pasta to the bowl with the other ingredients and toss, adding the 1/2 cup cheese, the cream and the reserved cooking water.
Season the pasta with salt and black pepper. Serve immediately, passing additional cheese at the table. Serves 6.
And then after dinner – a family photo shoot and a game of catch! A perfect (albeit way to short) family dinner and time together.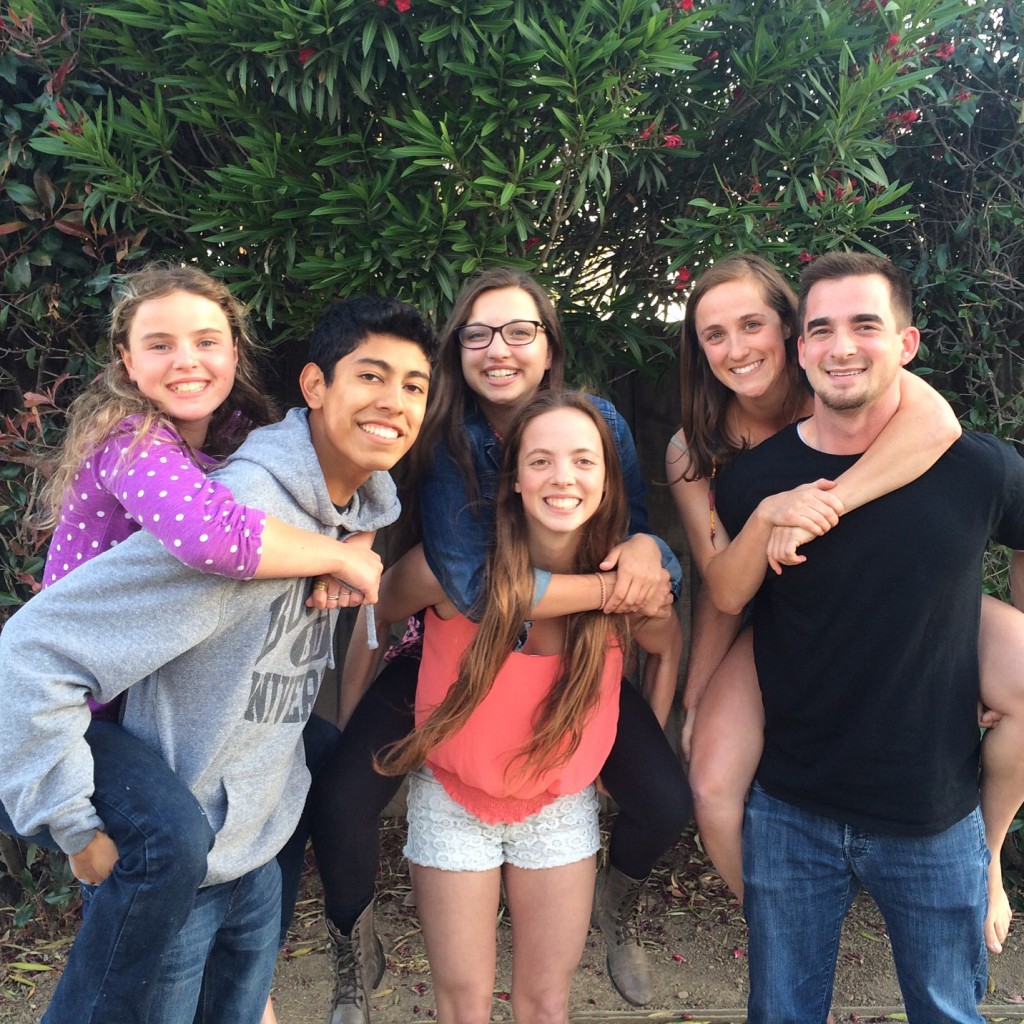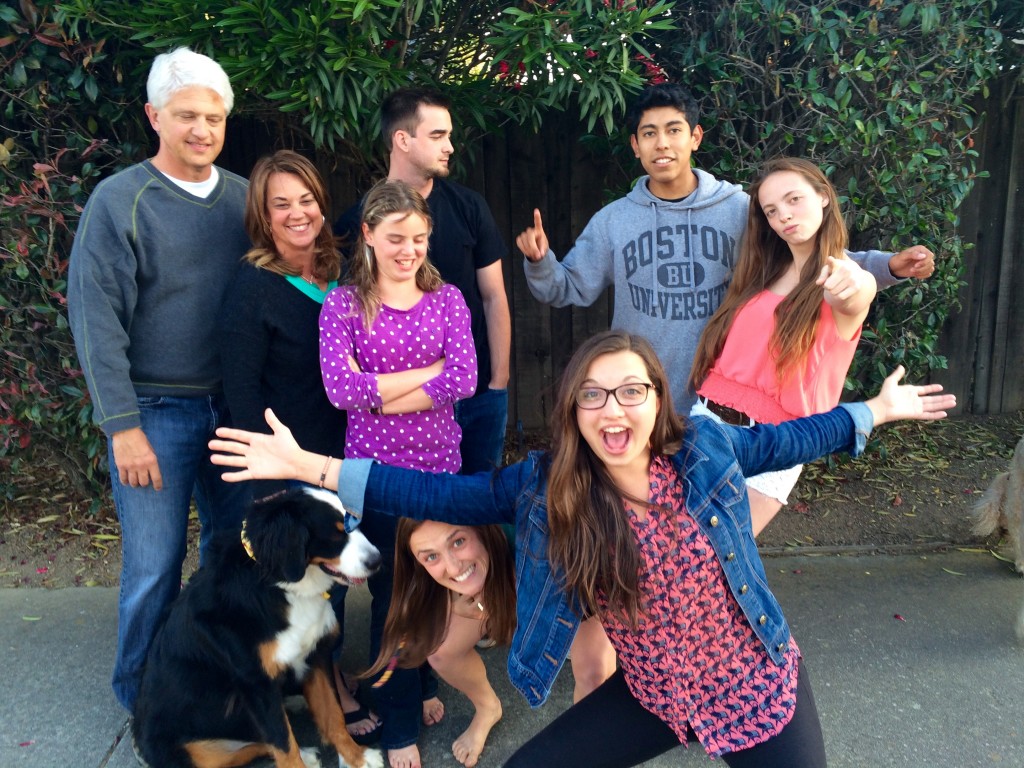 Be sure to bookmark this recipe! So good!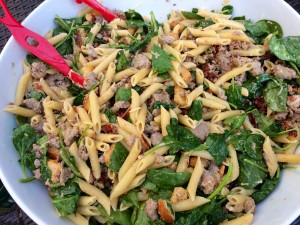 Verify an online drugstore before you purchase medications