I tend to cook most all our meals at home. Yes, we enjoy dinner out. but honestly dinner out is usually for my husband and me on our date nights. With the kids home – and we have a lot of them. It is usually easier (and much cheaper) to eat at home. But sometimes – just sometimes – I need a break from the kitchen. And I am all about loading everyone up in the car and finding a restaurant that everyone can agree on. That is a bit harder than you can imagine.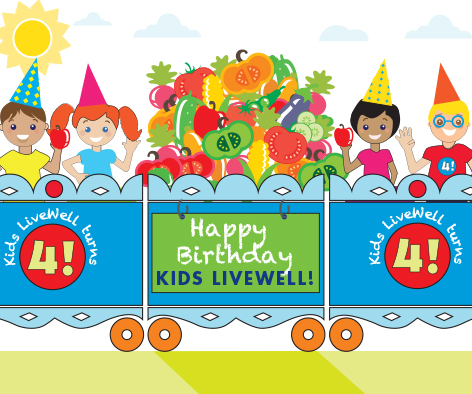 I want a restaurant that has healthy options and one that both the kids and adults can look forwards to dining in. Afterall, eating out is not an everyday, or even weekly, occurrence for us!  This is why I was excited to learn about this new app! Finding healthful menu options for kids while dining out is easier than ever with this app.
The National Restaurant Association's Kids LiveWell program is celebrating its 4th birthday this month. The program has grown from 19 restaurant brands representing 15,000 locations to more than 155 brands and 42,000 locations with dietitian-approved menu options.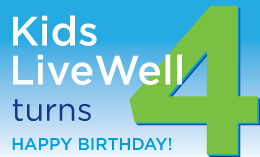 A free Kids LiveWell app for iPhone and Android helps find participating restaurants while on-the-go and shows Kids LiveWell-approved menu options from participating restaurants, giving parents and kids the opportunity to choose what they'd like to eat from a list of nutritious options. Restaurants that participate commit to offering healthful meals with a focus on fruit and vegetables, lean protein, whole grains and low-fat dairy. They also limit unhealthy fats, sugars and sodium.
Sounds perfect to me!
The app is available for download here: Kids LiveWell App  The National Restaurant Association collaborated with Healthy Dining to create the Kids LiveWell program. You can also find participating restaurants and their  menu options on Healthy Dining's website:
So many restaurants! Yes, you will notice there are a few fast food places on the list – so even if you head out for a fast meal, you can find healthy options! A few of my favorites are on the list as well! I love Mimi's Cafe and El Pollo Loco!
So the next time we are loading everyone into the car for dinner – I will be checking out this app for the place with the best choices for my family – that means choices that are both healthy and delicious!
(Disclaimer: this post was sponsored by the National Restaurant Association. All thoughts and opinions are my own.)


Transparency of Medication Prices