Like some of you, I just had a three day weekend. For me – three days off equals a quick getaway. I planned a trip to visit my son who lives in Playa Vista and to spend time with my Southern California friends.
I love to travel, I love to entertain, and I love to bring people together; but how to host a dinner party away from home? This was a first for me.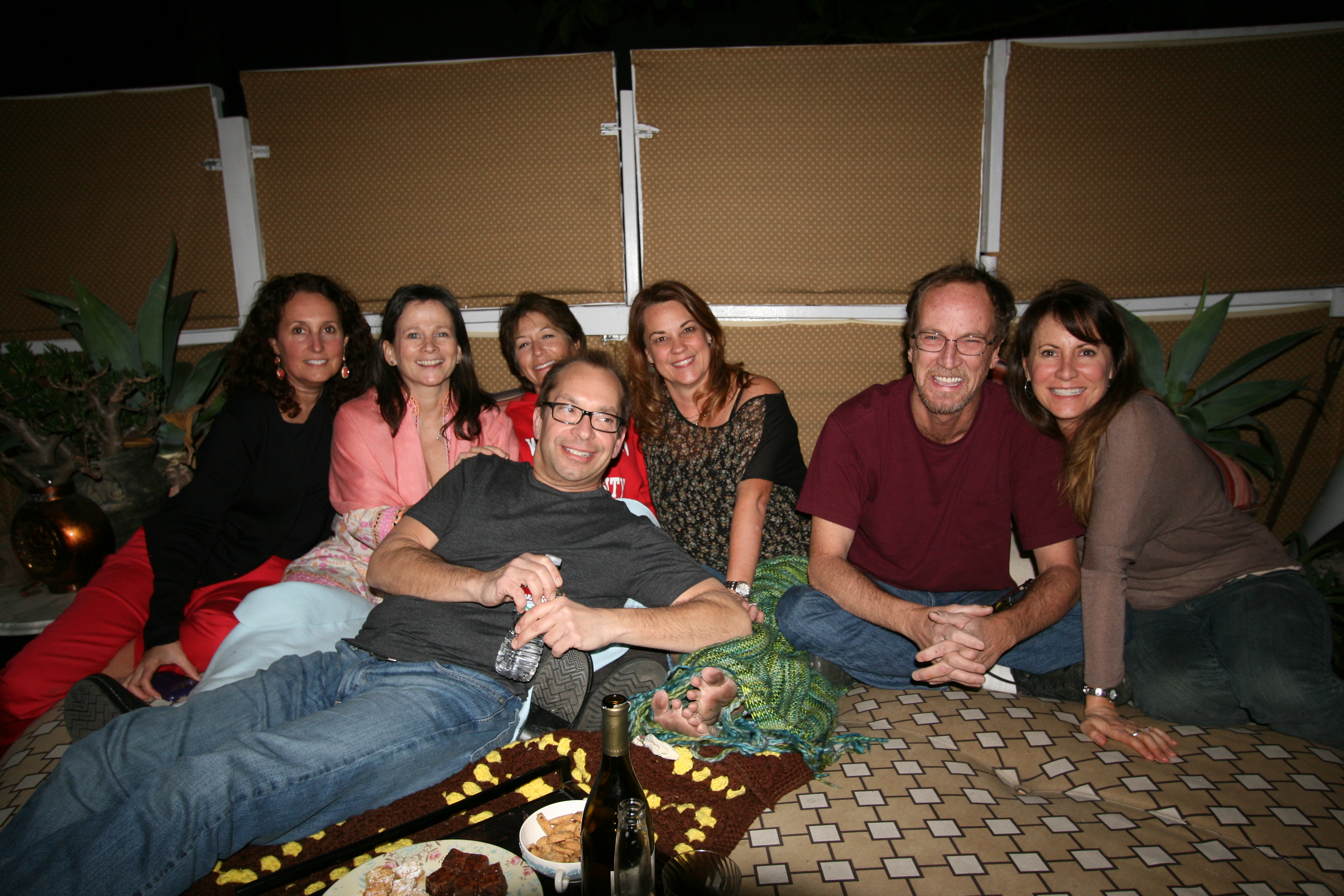 I quickly realized the first step was going to be to find a location. You can always bring people together  in a restaurant, but that was not what I was going for.  I was inspired when a friend posted on Facebook that she was headed to Buenos Aires thanks to a great deal she found on airbnb, so I decided to check it out. I was amazed at the number of the home rentals that were available. My requirements were that the place needed to be near my son's place, centrally located for guests, have an outdoor space, a workable kitchen, allow parties, and be affordable. Searching airbnb.com, I found a few possibilities. The one I decided on was Jeff's place in Venice. The artsy look and feel intrigued me, the kitchen looked great, and the outdoor space with fireplace was going to be ideal. The fact that there was a piano and hot tub only added to the overall ambiance and the party possibilities.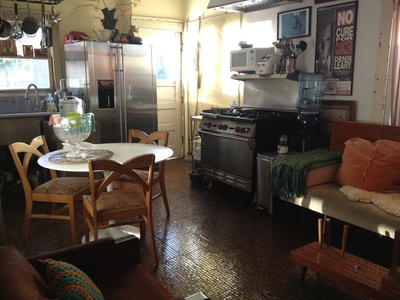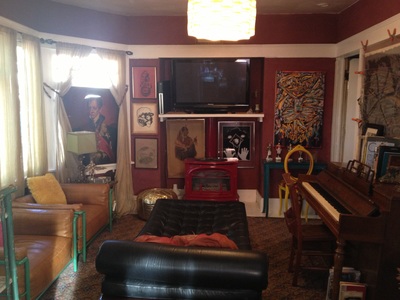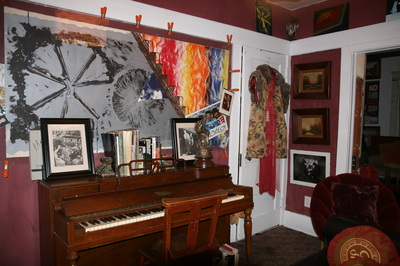 Second step, plan the menu. We were arriving late on Friday night and had guest arriving Saturday at three. I really had no idea what the kitchen truly entailed, as I was working off the photos that were posted online. But I have great friends, and when one mentioned that he was looking forward to my husband's famous margaritas, we decided on Mexican fare for dinner. My husband and I were in charge of margaritas, chicken fajitas, salsa, assorted munchies, and dessert. My friends were bringing salad, chips, guacamole, beer, shrimp, carne asana, frijoles and rice.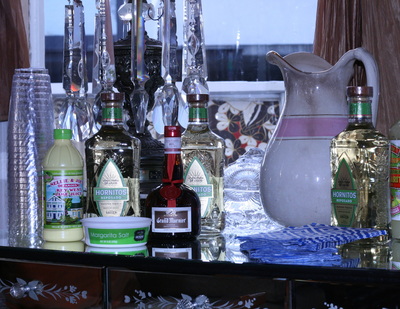 The third step on Saturday morning: take stock of the kitchen and decide on what really would work (I needed to let go of my plan to make Kahlua brownies for dessert), then make a list and head to the grocery store.
As with all parties an important step, in this case the fourth step, is to prep as much as possible before guest arrive. We made the salsa; sliced the peppers (red, orange, yellow) and onions; marinated the chicken; plattered the cheese, fruit, and crackers; plattered the bite-size desserts; set up the bar; set up speakers and turned on the music; set out some candles; heated up the hot tub; and made a pitcher of margaritas. Then we relaxed, and soon enough our friends arrived.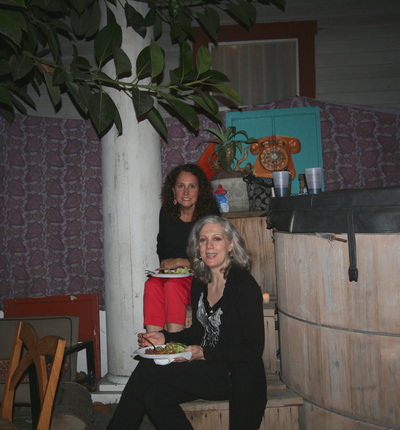 The night was all we had hoped it would be! We all had a fun time reconnecting and catching up. My son joined us for the evening and a midst mingling and talking with my friends, he was a great help to my husband (his step-dad) with the grill. The night was easy; the food was delicious. This dinner party for thirteen, hosted away from home, was a success.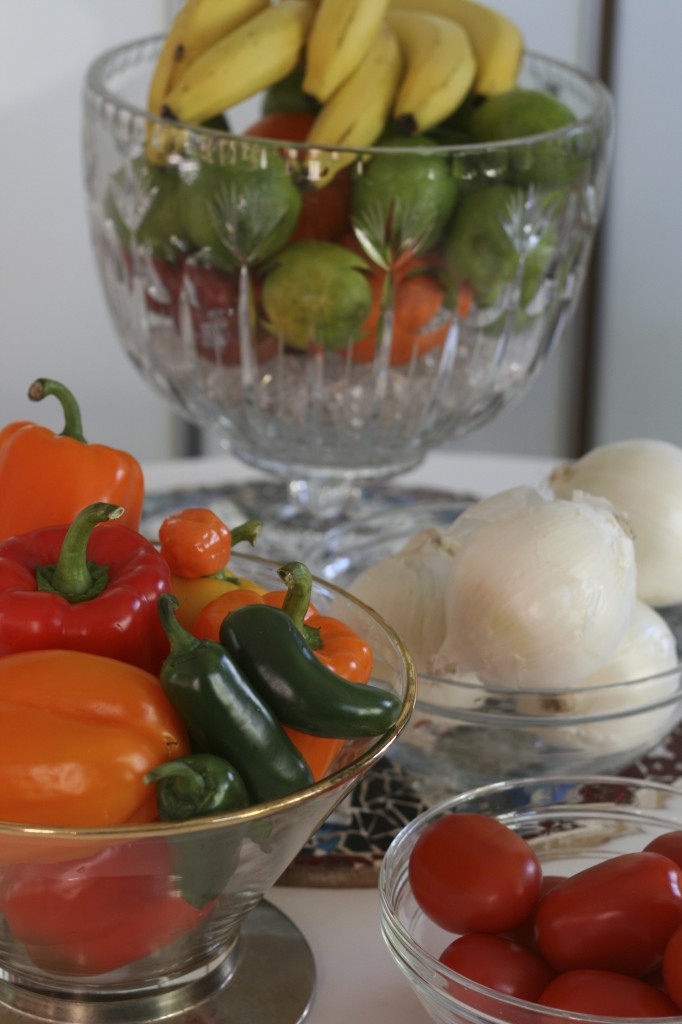 The Menu
Gavin's Margarita
Vegetable platter with dipping sauce
Cheese, fruit, and crackers platter
Chips, salsa, and guacamole
Olives and nuts
Shrimp with cocktail sauce
Fajitas with chicken, steak, grilled peppers and onions
Green salad with tomatoes, corn, olives, and avocado
Frijoles and Rice
Bite-size desserts purchased from the bakery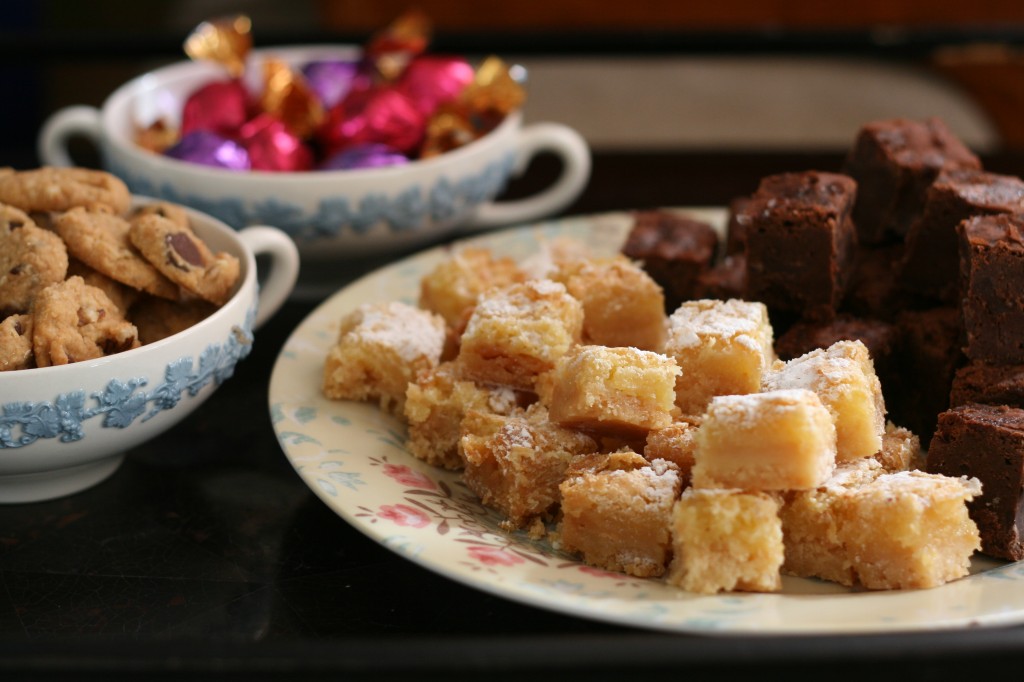 How to make it all work:
When working away from home it was essential for us to purchase as much ready to serve food as possible.  While we bought fresh ingredients to make the salsa, guacamole and fajitas, we definitely relied on ready-to-serve snacks like the platter of assorted cheese, fruit, and crackers; the crudité platter with purchased red pepper dipping sauce; olives and nuts; and shrimp with purchased cocktail sauce.
When we made the fajitas we even used the Lawry's packages of fajita seasonings.  If we were at home, we would have made our own cocktail sauce, vegetable dipping sauce, and the fajita seasonings; but really purchasing all of the sesonings for a one-time use just did not make sense. Plus in reality, while everyone enjoyed the food, the company was what was most important.
As well as everything went, I would have done a couple of things differently. First, I would have prepared the chicken ahead of time. We waited until before serving to grill the steak and chicken on the outdoor grill. The chicken could have easily been grilled inside with the peppers on the stove's griddle and kept warm in the oven. While it worked well the way we did it, the kitchen had limited counter space, so the small kitchen table served as prep counter and food service.  This meant that while my son was slicing meats and the salad was being tossed, everything else was on hold. We also discovered the can opener was not working and my son very inventively opened cans with a knife.  Oh the joys of working in an unknown kitchen!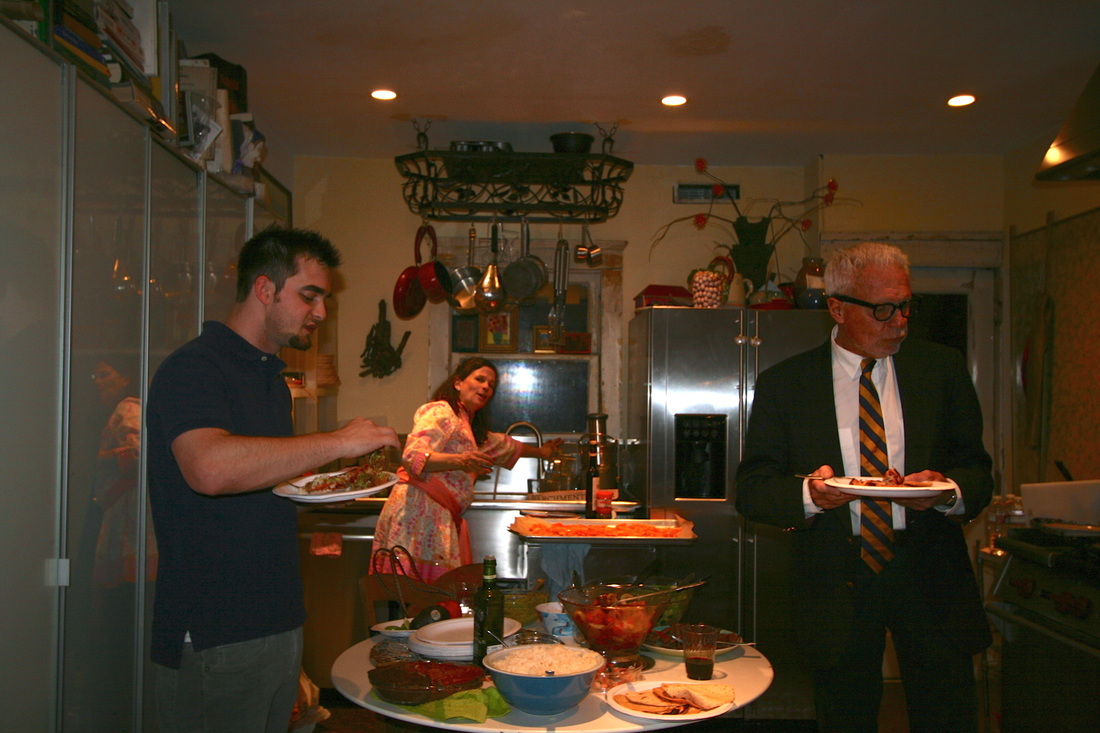 I would have loved to have been able to pull off the Kahlua brownies for dessert. But I weighed the options – try a new recipe in a new and small kitchen with limited supplies, or buy some yummy bite size desserts from the bakery and relax? I chose the latter.  My initial plan was to make the brownies at home and carry them on the plane.  But work, life, and time constraints kept me from baking the brownies at home.
I guess the bottom line, or the lessons learned, when working with so many unknowns – prep as much as possible! Other than that I would not have changed anything.