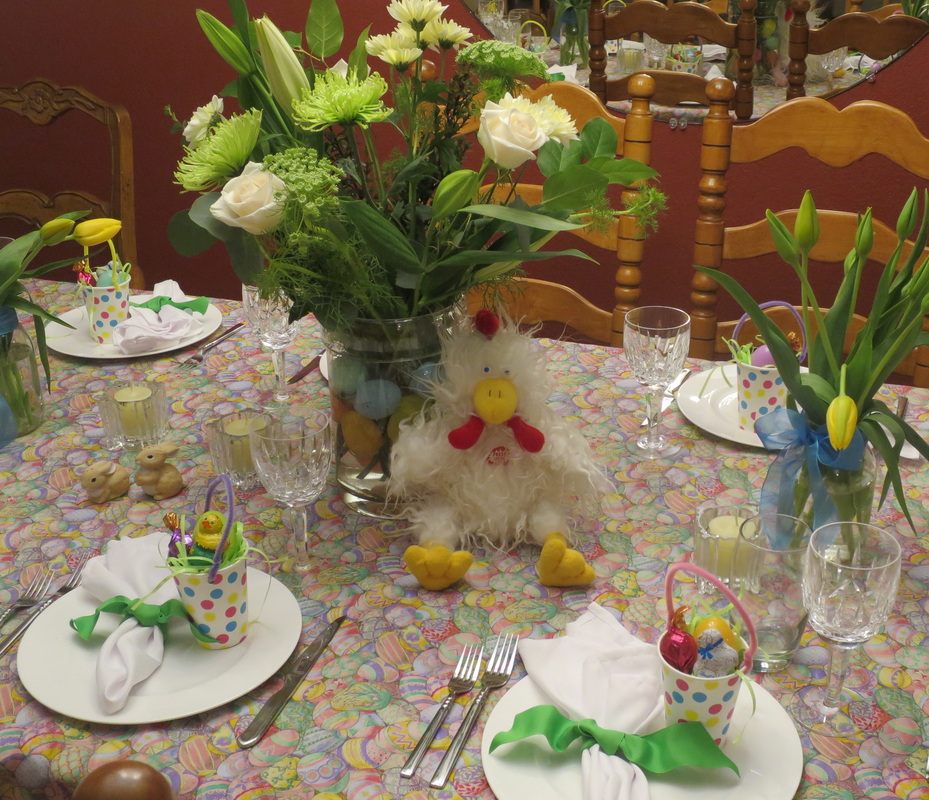 Easter is right around the corner, and I am just now thinking about it! I am usually much more prepared for holidays – I enjoy the preparation as much as the event itself. As a blended family though, I was not planning on having Easter this year.  This year my step-children are to spend the holiday with their mother, and my three children are spread out around  the country.  The plan was to sleep in on Sunday, head to church, and then take the dogs to an off-leash beach.  A relaxing kind of day.
Well, that is still sort of the plan, but now the children are with us until Sunday morning. We had a family gathering scheduled for last weekend, but because of illness and sports that gathering fell through.  Not seeing family last weekend combined with Olivia home for college, and the kids not hurrying out the door to their mom's, my husband thought it would be a great idea to have Easter dinner on Saturday – Sure! Sounds like fun!  Another family will be joining us as well, and I am hoping that my son can make the drive up from Los Angeles.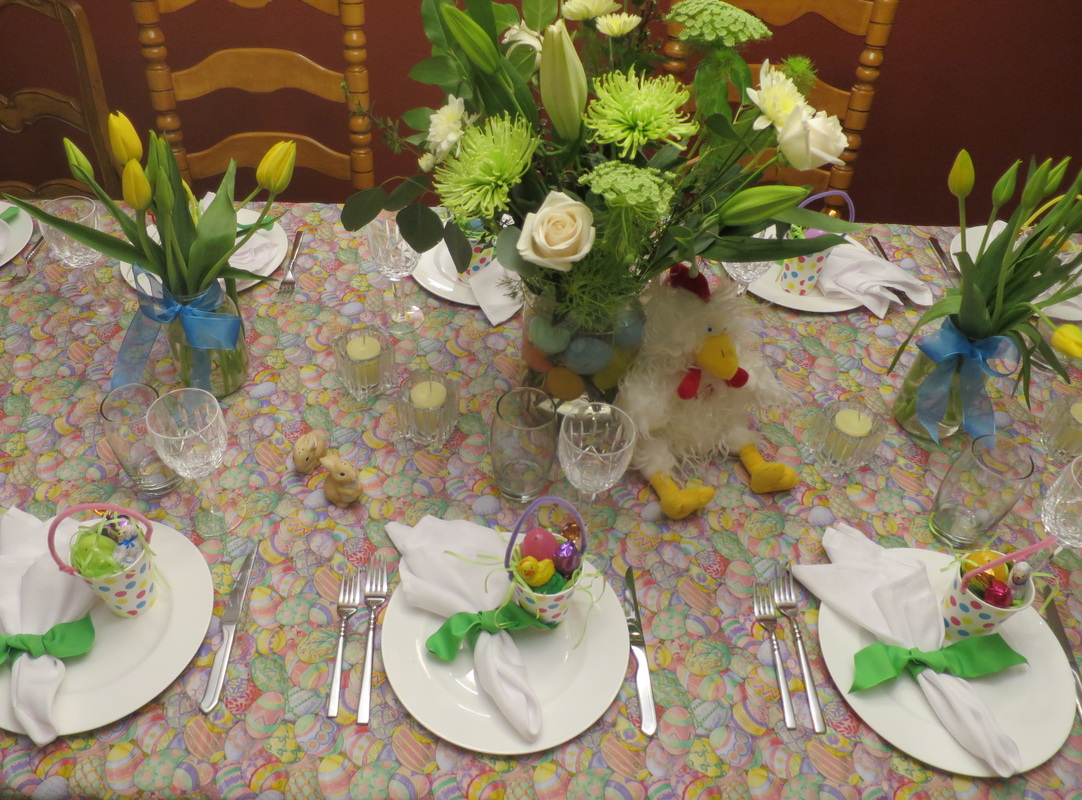 Without much planning or forethought we are now hosting Easter dinner on Saturday for 18 people. Oy! Not much time.  Last night I pulled out tablecloths from the garage (I have three large containers full of assorted tablecloths that I have collected over the years). Then I walked around the house looking for anything and everything that looked like Easter.  I pulled together a couple of Easter decorations, green ribbon, pastel-colored pipe cleaners, candles, and even a stuffed crazy-looking chicken.  With candy and flowers from the grocery store, this is what I was able to come up with for the table setting.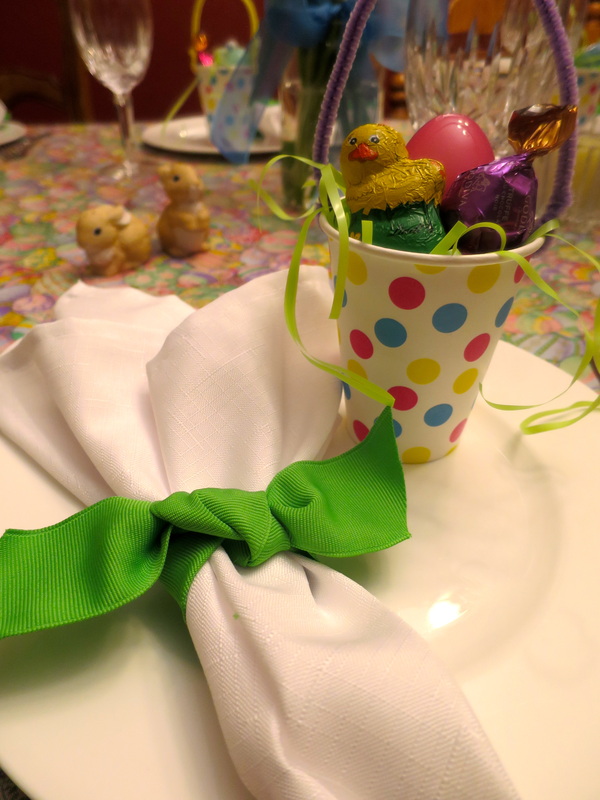 Planning an Easy Easter Dinner ~
Everyone helps 🙂 One sister-in-law and one friend will be bringing an appetizer each, as well as I will make a plate of artichoke nibbles. One sister-in-law is bringing the salad. So yummy!
Dinner will consist of:
Spiraled-Cut Ham
Broccoli and Kale Salad
Roasted Asparagus
Cream Cheese Mashed Potatoes
Dinner Rolls
Lemon Cheesecake and Fresh Berries for Dessert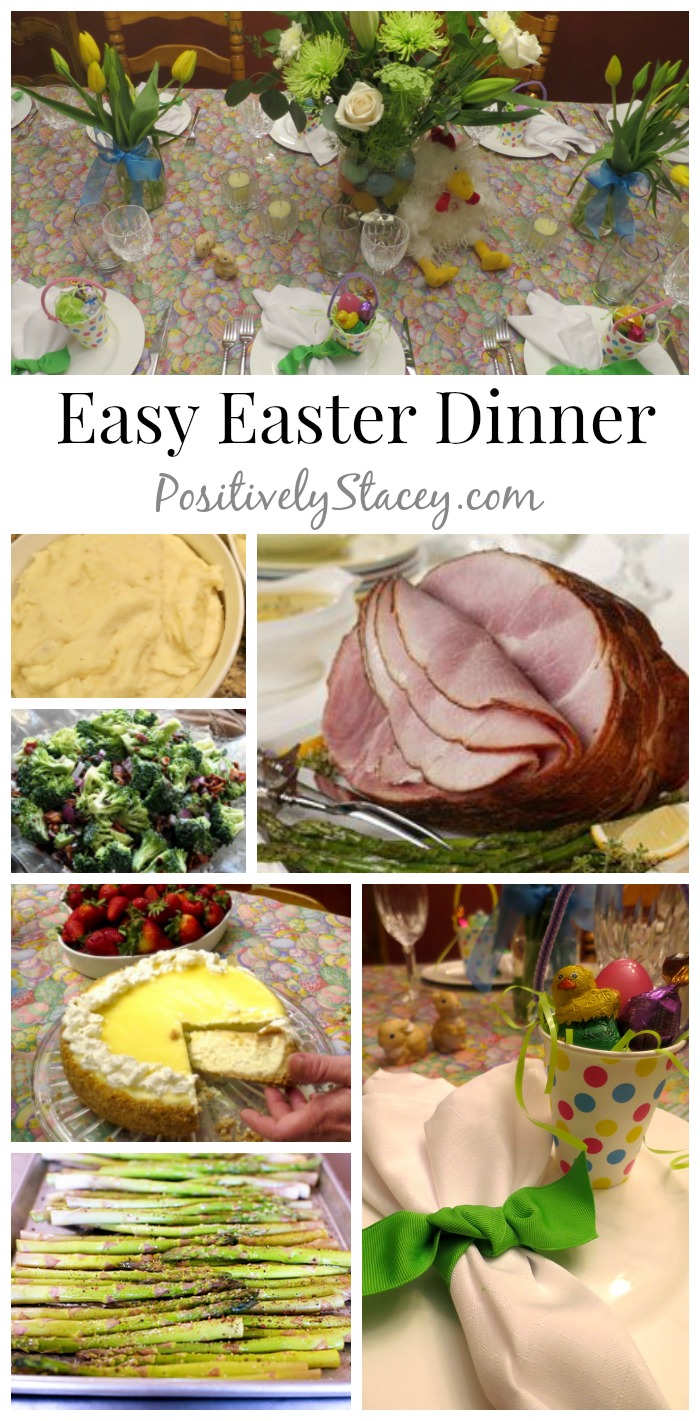 Just need to add an Easter cocktail, wine, and sparkling cider for the kids.
Time with family and friends – all the makings for a great get-together.