While my daughter is in Copenhagen learning the meaning of Hygge, I just got my own kind of cozy on with a simple and delicious party menu of comfort foods. For us non-Danes, hygge is roughly translated to mean coziness. It means creating a warm atmosphere and enjoying the good things in life with good people. Hygge (pronounced 'hooga') is calling to me as our summer is slowly turning to fall. So today I am sharing Comfort Food at it's Best: A Fall Dinner Party Menu.
While the daytime sun is still shinning bright and warm in California, our mornings and evenings have taken to cooler temperatures – signaling to us that fall is coming. The crisp air is beckoning us to pull our sweaters out of the closet, gather with friends, and enjoy a meal together. This is the perfect time to enjoy a simple dinner of comfort foods.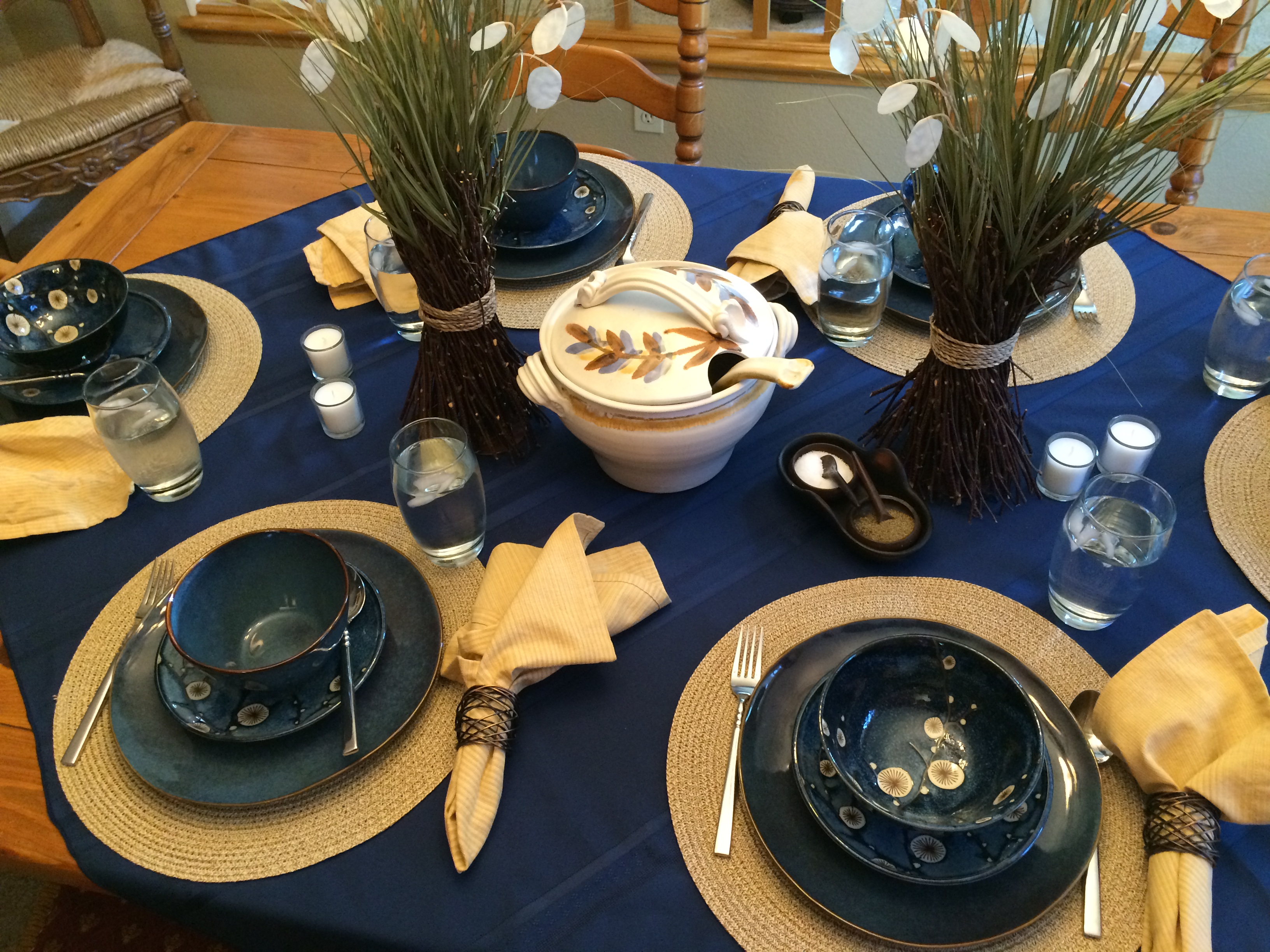 I was recently shopping in Cost Plus World Market. My daughter and I headed over there to find new bedspreads to change out her and her step-sister's bedroom. Well, we didn't walk out of the store with bed covers, but I did find these beautiful plates and bowls. The different hues of blue combined with the white and brown were calling my name. I simply loved the cherry blossoms!
But there were two designs that I fell in love with. The Cherry Blossoms and an Indigo Blue set. Standing in the aisle I just couldn't decide – so I mixed and matched the two! I finally settled on the Indigo Blue dinner plates, the Cherry Blossom salad plates and an equal mix of the bowls. I love the final look when I combined the two. World Market also had the woven place mats, metal woven napkin rings, and the twig and grass centerpieces. I simply added my blue tablecloth (52 inch squared) turned on an angle and my oatmeal cloth napkins. This continues the eclectic look of mixing and matching. I think it all worked together beautifully! I also thought this would be the perfect backdrop for my Comfort Food at it's Best: A Fall Dinner Party Menu.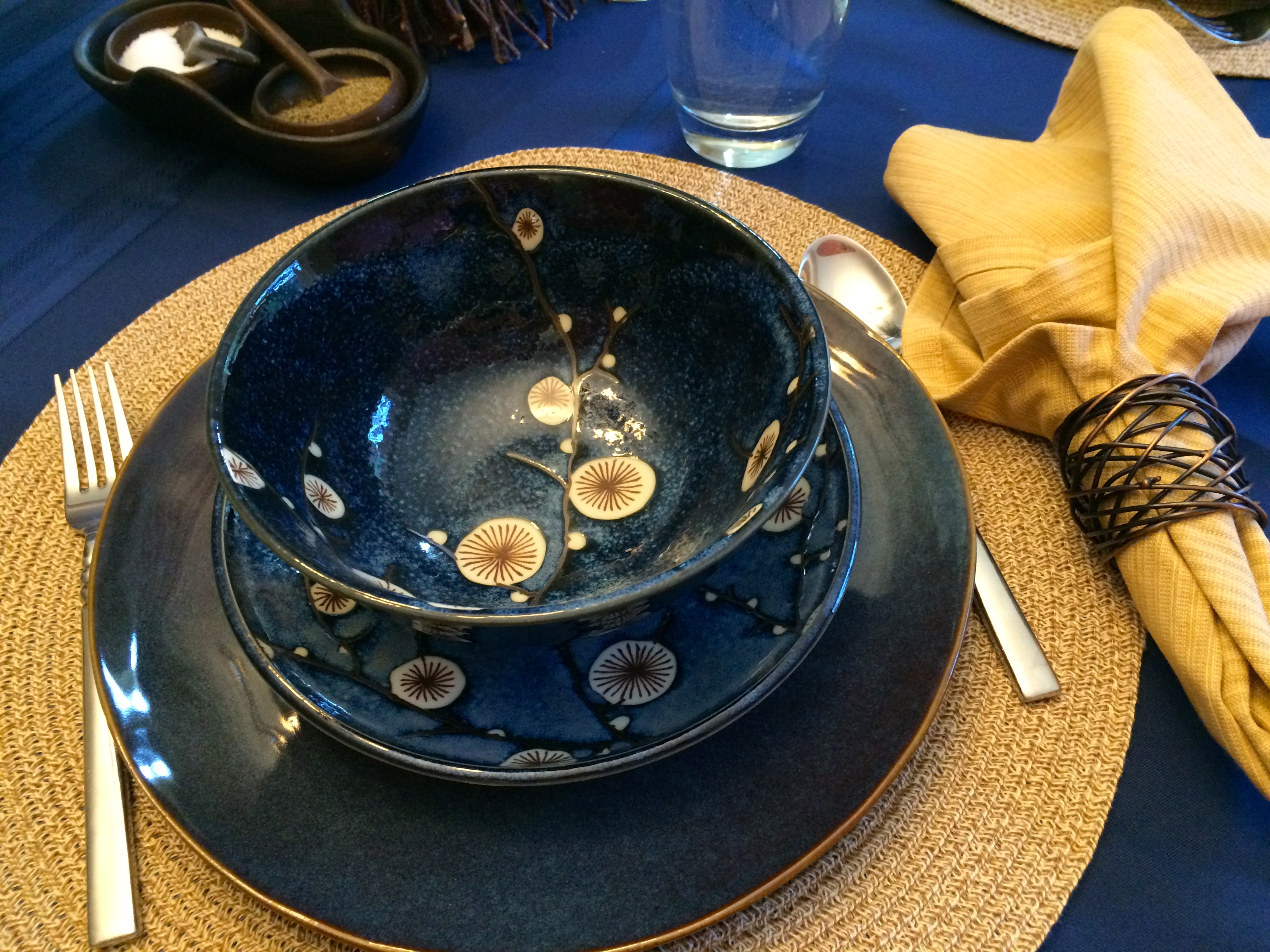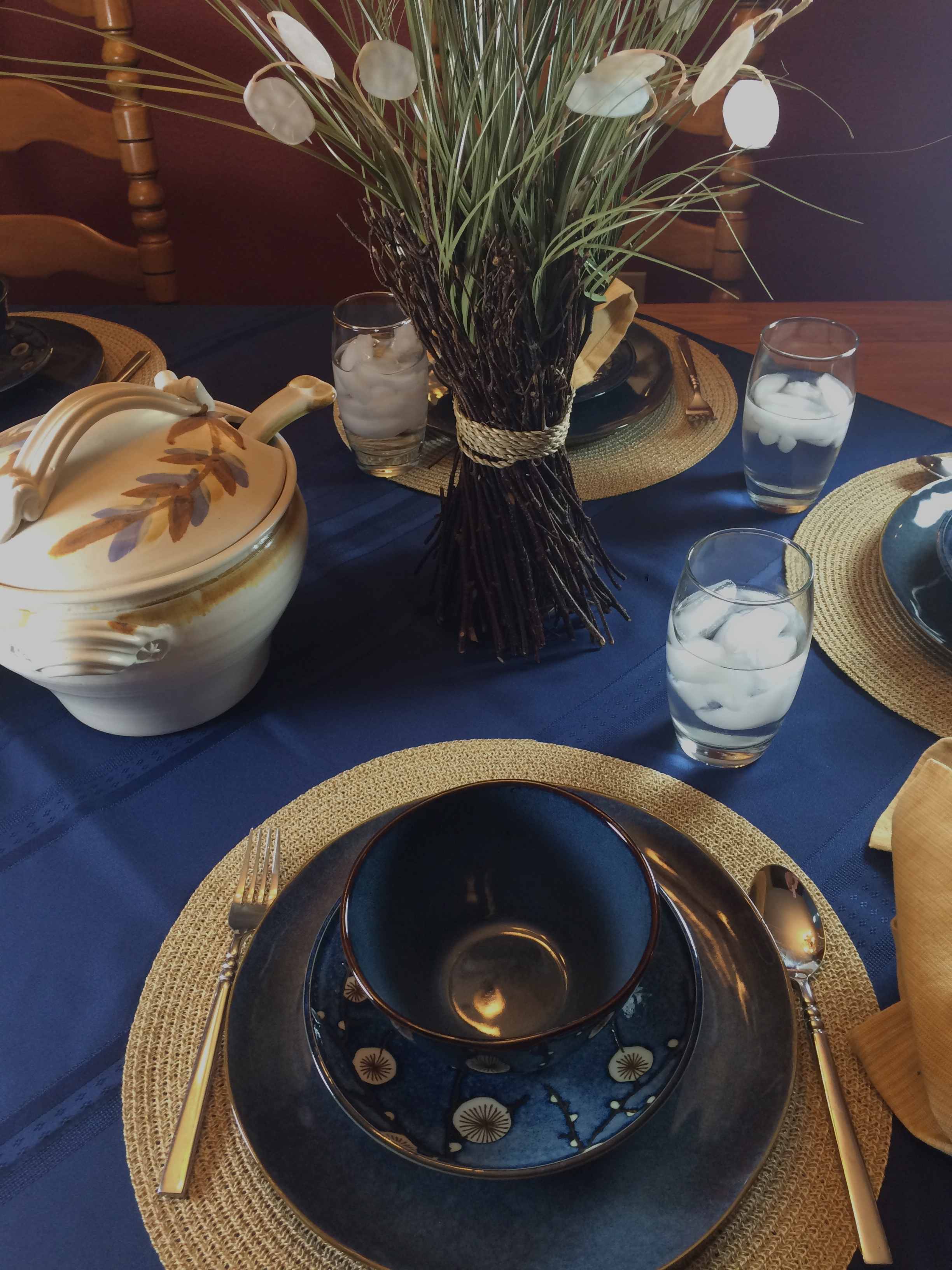 Entertaining during fall calls for big bowls of creamy soup. These bowls are the perfect size! Served with  "gourmet" grilled ham and cheese sandwiches and a crispy green salad  – this menu is perfect for a casual gathering with friends. Oh, how I love fall!
Comfort Food at it's Best: A Fall Dinner Party Menu
Sharp Cheddar Cheese and Thick Ham Steak Grilled Sandwiches
Green Harvest Salad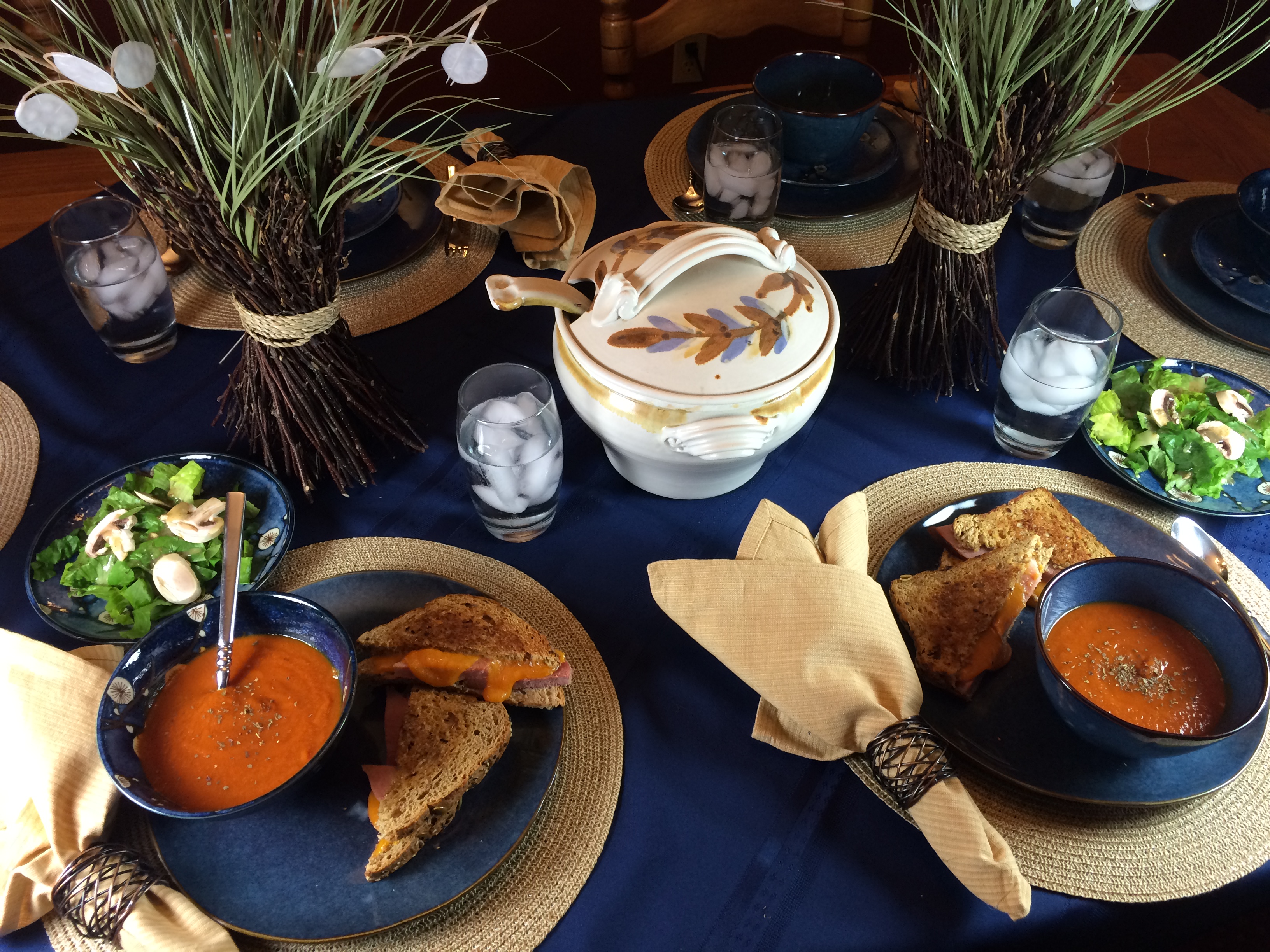 The soup is easy enough to make ahead and reheat when friends arrive. Just let it simmer on the stove. I have this beautiful soup tureen that was a gift from a friend 28 years ago! I love using the tureen both for my family and for company. Sandwiches can be grilled and kept warm in the oven. Then toss the salad, pour some wine, and really enjoy an evening of friends and comfort food. Your friends will thank you!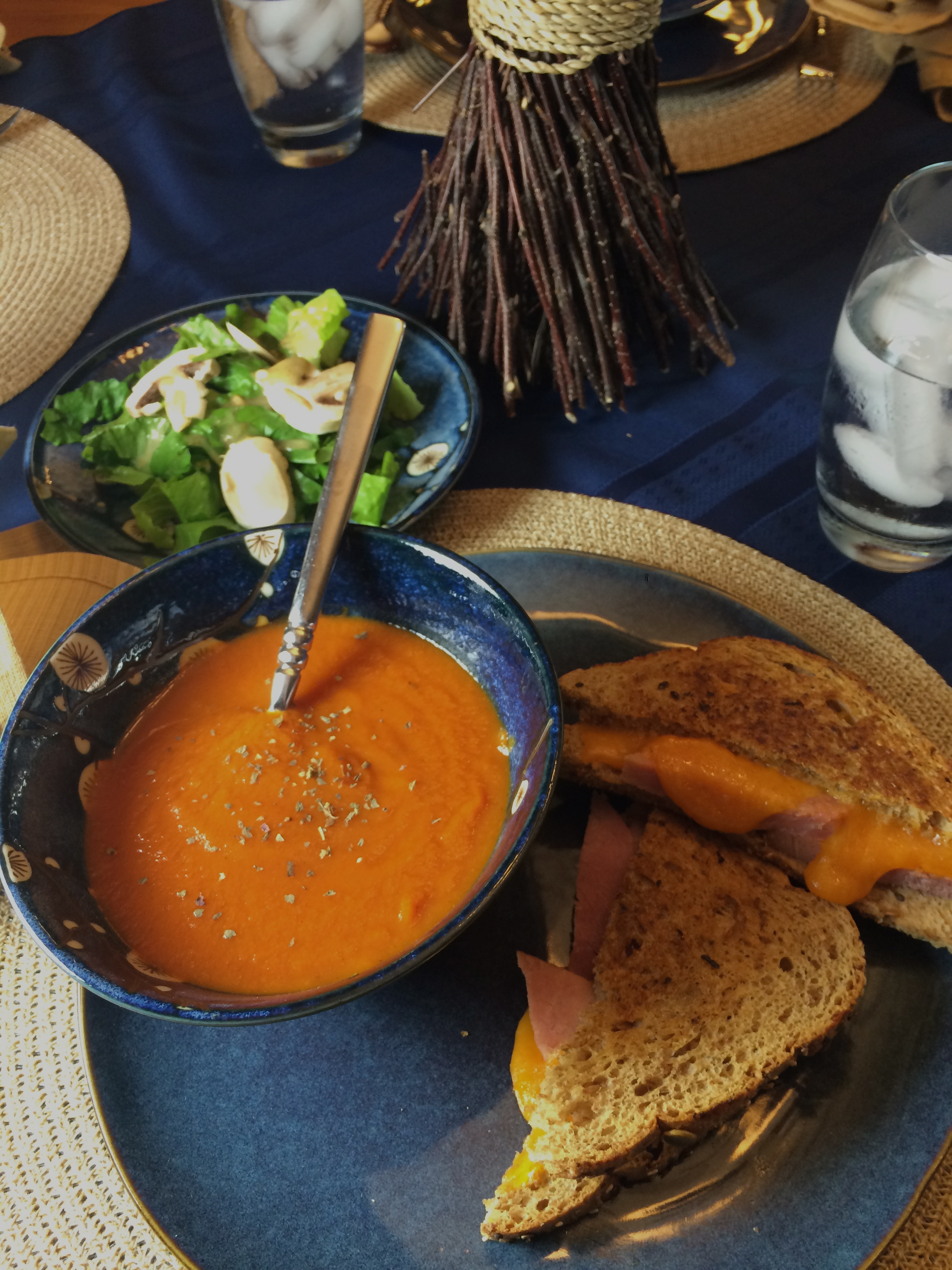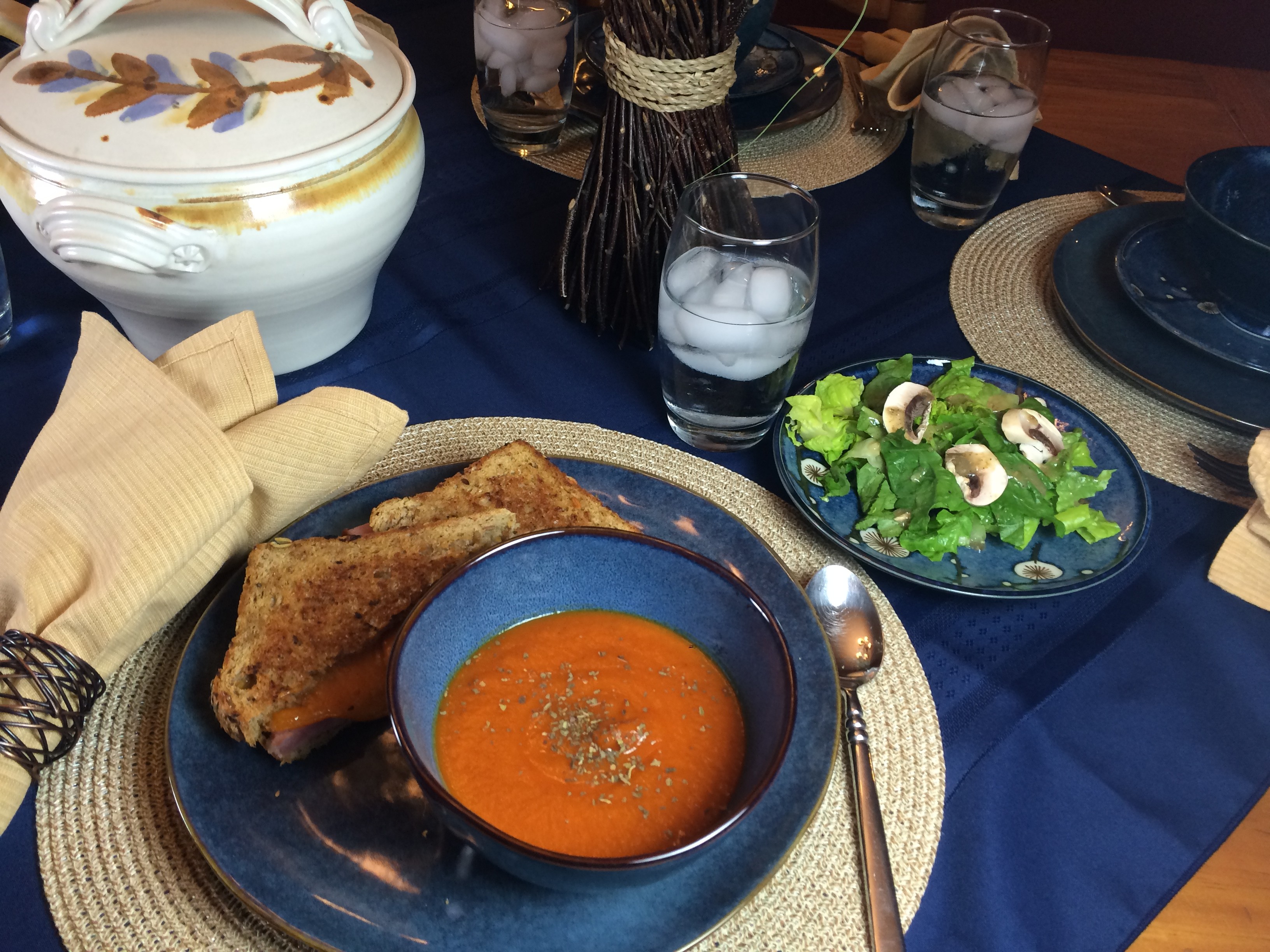 Entertaining is not always about going all out with the menu. Sometimes simple is best. During the fall months your friends will love to get their cozy or hygge on with this dinner filled with comfort foods. Red Bell Pepper and Tomato Bisque and Grilled Sharp Cheddar Cheese and Thick Ham Steak Sandwiches are a perfect combination. And oh, so delicious!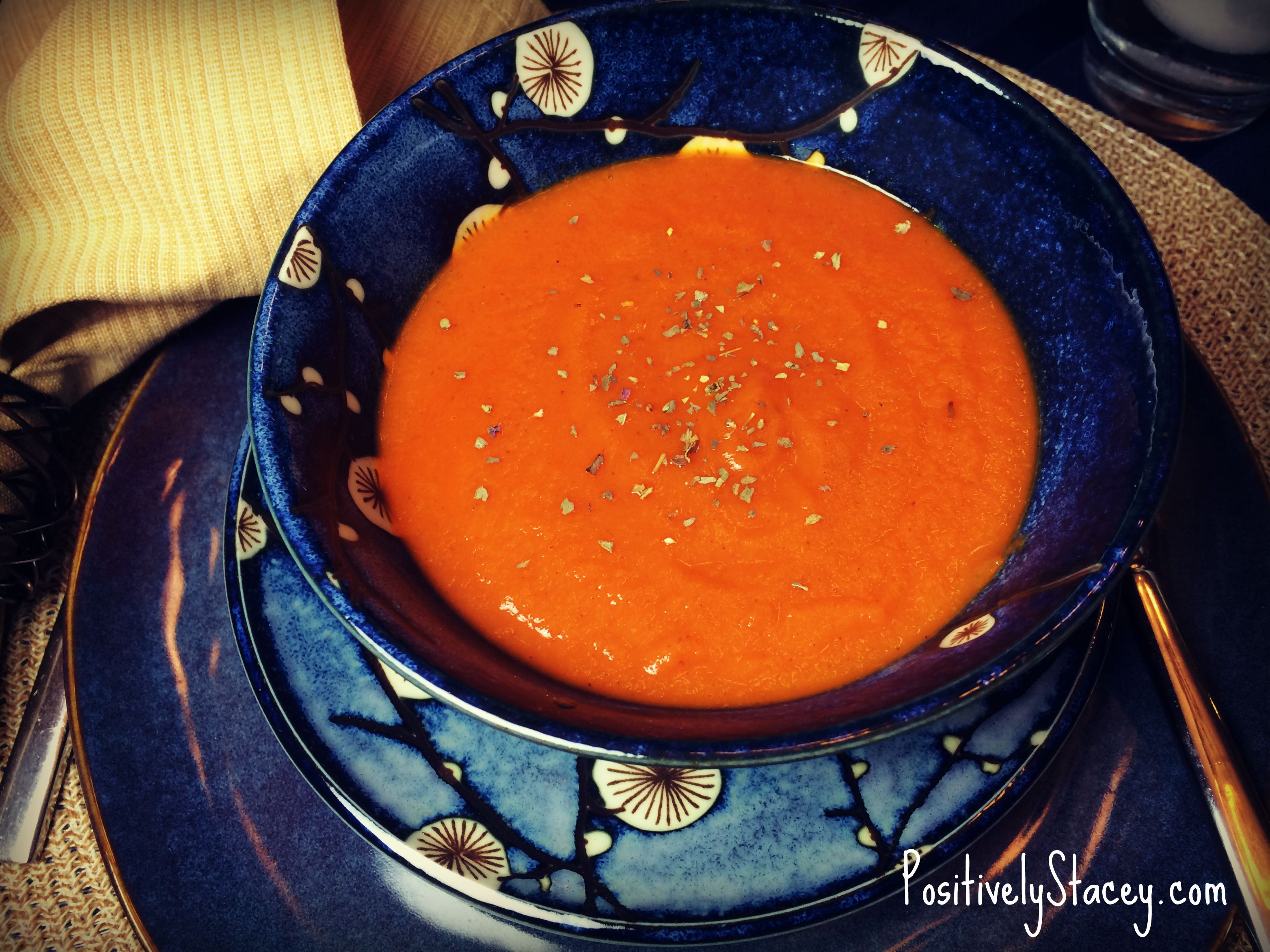 Disclosure: This is not a sponsored post. I simply love entertaining and setting a beautiful table! I also love shopping at Cost Plus World Market – they help me express my unique style.