Ok – this is a really fun campaign! I am so excited to bring this opportunity to you. Today is all about donning your ugly Christmas sweater and raising money for St. Jude Children's Research Hospital. This is a fun and super easy way to make a difference in the life of a St. Jude patient. After all – we all have some kind of funny, ugly, or over-the-top Christmas sweater. Right?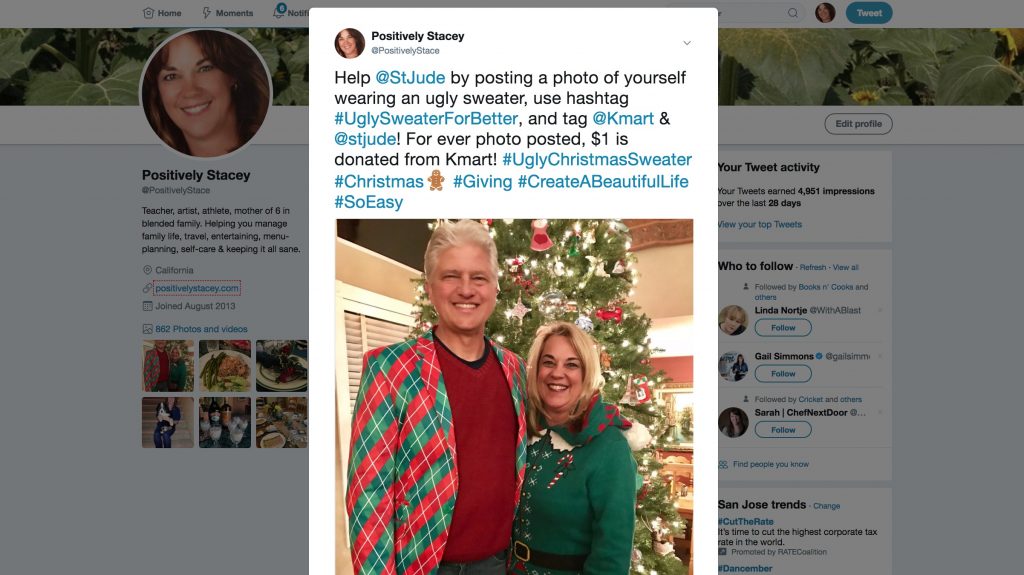 Look at my hubby in his vibrant jacket and me in my ugly Christmas sweater! Pretty crazy, huh!?! It is all for a great cause. You can join in on the fun!
I learned about this opportunity when I chatted with Richard, Kelly, and Courtney – a St. Jude patient about all the good that St. Jude provides for their patients and their families. They also shared with me about how you can be a part of this social media phenomenon that's sweeping the nation this holiday season called #UglySweaterforBetter.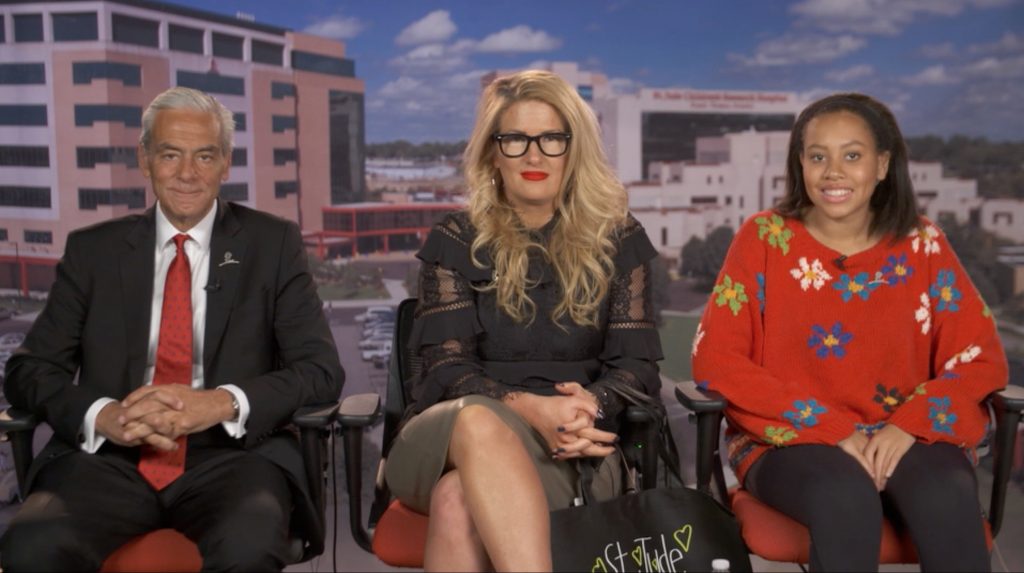 You can join celebrities like Adam Levine and former Charlie's Angel, Jaclyn Smith, along with countless companies, anchors and weathermen who will be posting pics with ugly sweaters to trigger a $1 donation from Kmart to St. Jude Children's Research Hospital.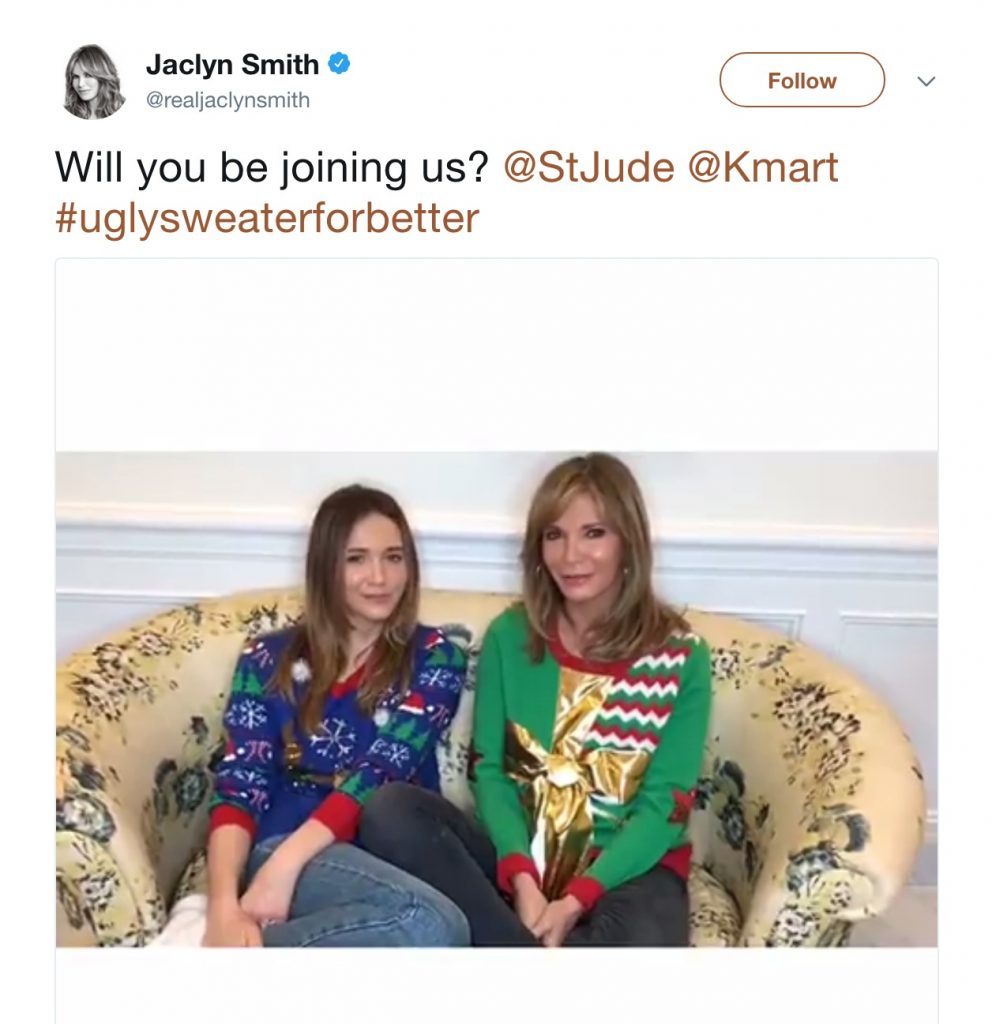 Over the past 12 years, thanks to the generosity of Kmart shoppers and associates, the retailer has shattered donation records – contributing more than $105 million to St. Jude, more than any corporate partner in the history of the hospital!
It is easy!
Don Your Ugly Sweater for a Donation to St. Jude Children's Hospital
Three easy steps:
Find the craziest, wacky sweater you have or buy one of the many ugly sweaters availabe at Kmart.
Challenge your friends to join the challenge with you.
Snap a photo and tag @Kmart @StJude #UglySweaterforBetter and Kmart will donate one dollar to St. Jude Children's research Hospital every single time someone does that! How easy is that to help give more money to St. Jude Children's research Hospital?


Most everyone is aware of all the good that St. Jude does. But take the time to meet Courtney.  In my interview below she tells her story of being a patient at St. Jude and how thanks to them she entered a trial that completely changed her life. St. Jude has been Courtney's second family for over 16 years. Honestly, this interview and chatting with these three – made me teary.
St. Jude makes a commitment to the families of sick children to see them through their treatments throughout their entire childhood. In addition to all the medical support St. Jude offers their patients, they never send a bill to the family.
So what can we do to be a part of this giving campaign? Don that ugly sweater! You have until December 24 to post your #UglySweaterForBetter to make a difference. It really is not about one person donating millions of dollars, but it is millions if people donating one dollar.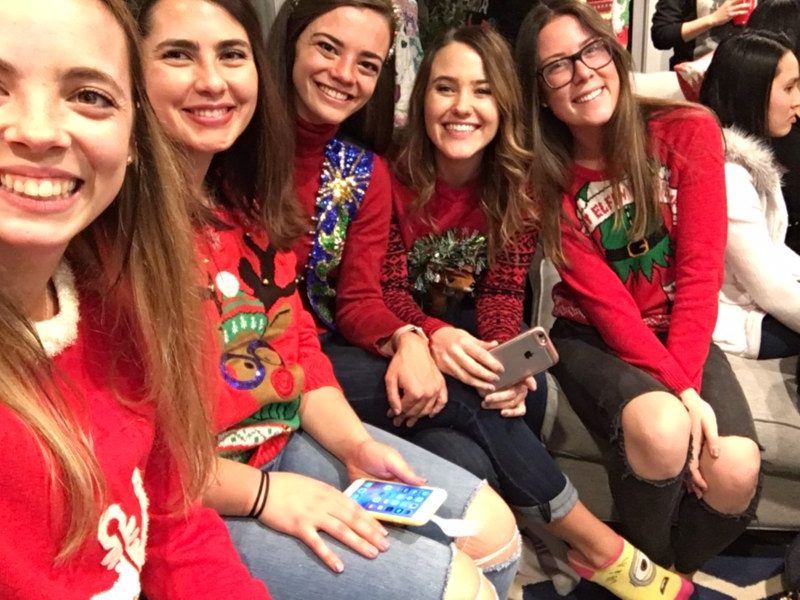 This time of year when many of us have so much to be thankful for – this is an opportunity to give back to the children that are struggling with disease and health problems.
Post your own picture of you wearing you own ugly Christmas sweater on Facebook, Instagram or Twitter. Tag @PositivelyStacey along with @Kmart and @StJude with the #UglySweaterForBetter. I can't wait to see you and your ugly sweaters!
For even more information check out Kmart.com and StJude.org  to learn more.