This shop has been compensated by Collective Bias, Inc. and its advertiser. All opinions are mine alone. #GreenSchoolFund #TomsofMaineSmile  #CollectiveBias
Summer, oh how I love you! Long sunny days filled with unstructured time. Time to curl up and read a good book, float in the swimming pool, enjoy outdoor barbecues, spend late nights with friends, and savor the sleep-in-late mornings. Summer is time well spent re-charging our batteries and fortifying us for yet another school year.
Yes, school is just around the corner and making the transition from summer break to school can be challenging. As a mom and teacher, I feel the pain right alongside my students. My youngest especially struggles with mornings and getting out the door for school. As a young teenager, she loves to sleep in, and I love that summer gives her the time to slow down a bit and get some much needed extra sleep.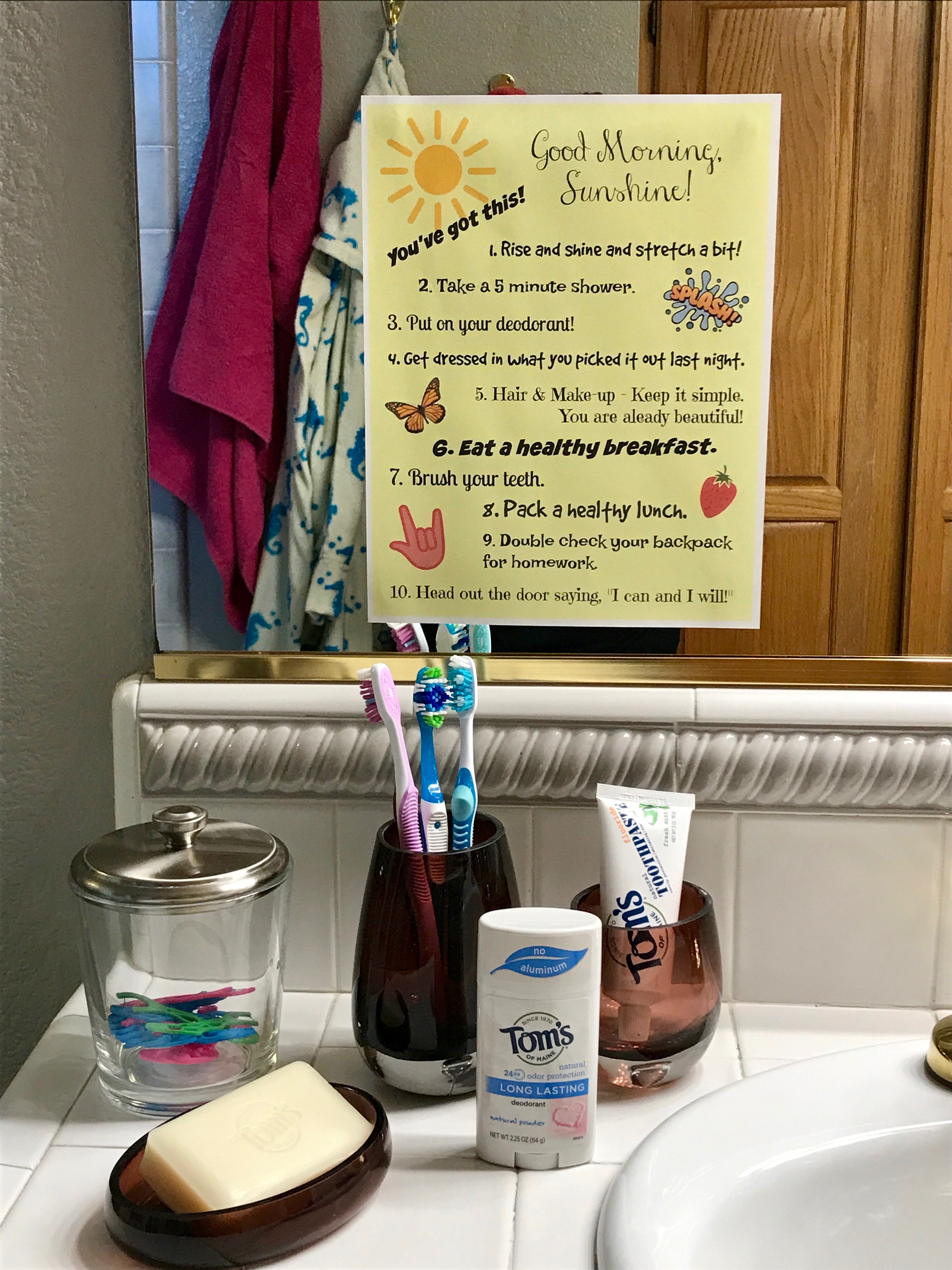 After a break from the morning alarm clock all summer long, morning routines are hard to revamp. We have found that school days always start best with a solid morning routine.  We call this the Good Morning Sunshine Routine.
Get Your Day Off to a Great Start: A Morning Routine For Teen Girls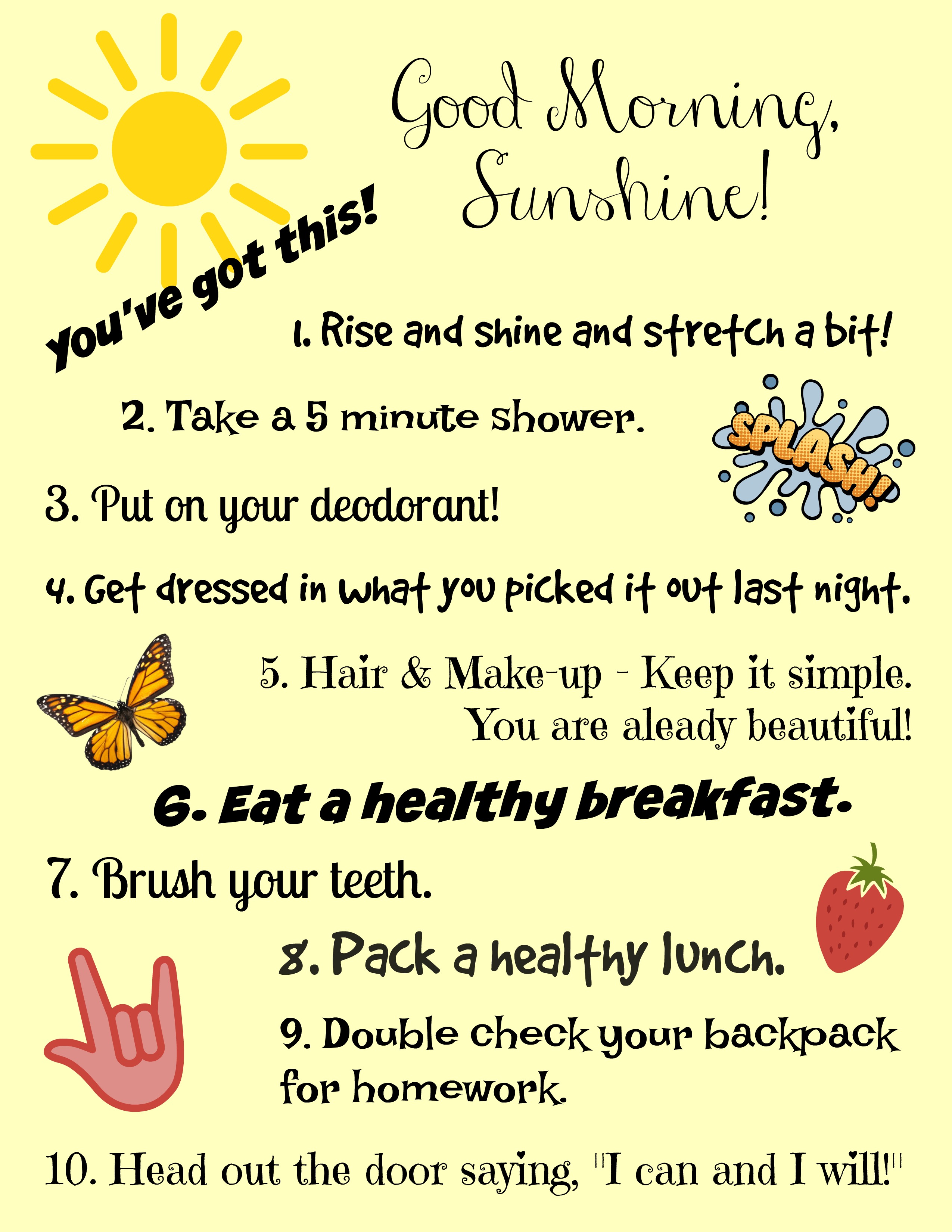 The back-to-school transition time is also the perfect time on focus on healthy living. For many students, this is a brand new fresh start and getting off on the right foot is imperative. It can set the stage for a healthy, and fun-filled year of learning and new friends. Getting into a solid routine right off the bat is important to establish successful habits. This routine helps young girls make healthy choices, including personal hygiene and nutritious food so that they are ready to face the day.
As a middle school teacher, I can tell you that not all students take the time to care for themselves each morning. Brushing teeth and putting on underarm deodorant rank right up there with eating a healthy breakfast! Seriously, kids, it's imperative!
A healthy breakfast gives students the fuel they need to learn in school. Having fast and easy choices make for an easier morning. Some of our favorites include bagels topped with peanut butter, banana and honey; green smoothies; overnight blueberry oatmeal; bagels topped with cream cheese, tomato, and avocado; oatmeal topped with apples and cinnamon; and apple oat waffles.  #yum!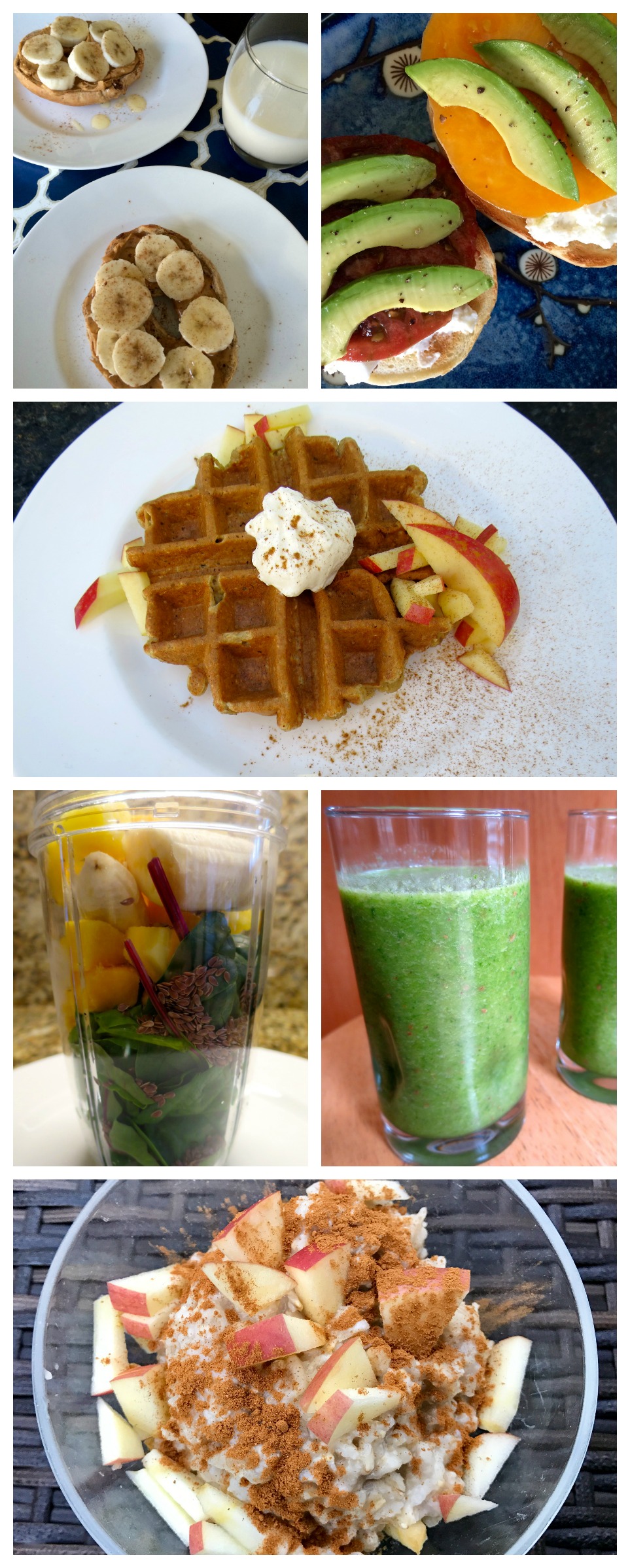 Part of a healthy morning also includes personal hygiene. I love that Tom's of Maine® is passionate about doing good things for our schools and communities. They are a company after my own heart! Not only are all of Tom's of Maine® natural personal care and oral care products are made with no artificial colors, flavors, fragrances or preservatives, nor are they tested on animals; they care about the environment!
All Tom's of Maine® packaging is recyclable through TerraCycle® I appreciate all of that! Whole Foods Market has a variety of Tom's of Maine products for the entire family. While Sophie prefers Tom's of Maine® original, Alyssa likes the Antiplaque and Whitening varieties, and I like their Whole Care product.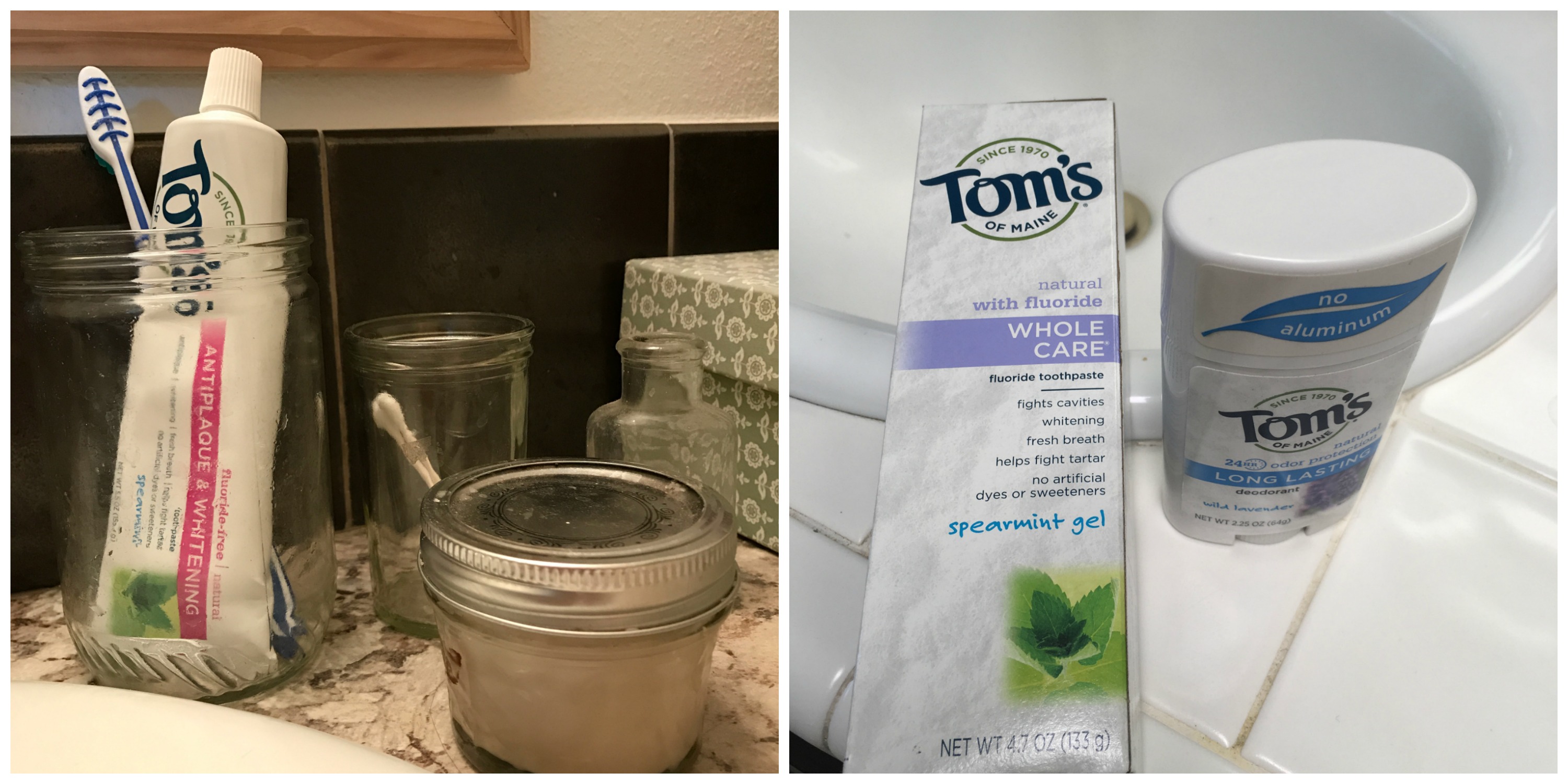 Keeping necessary morning supplies organized and ready in the bathroom makes mornings smoother as well. Hairbrushes, hair ties, sunscreen, deodorant, toothbrushes, and toothpaste are all in easy reach.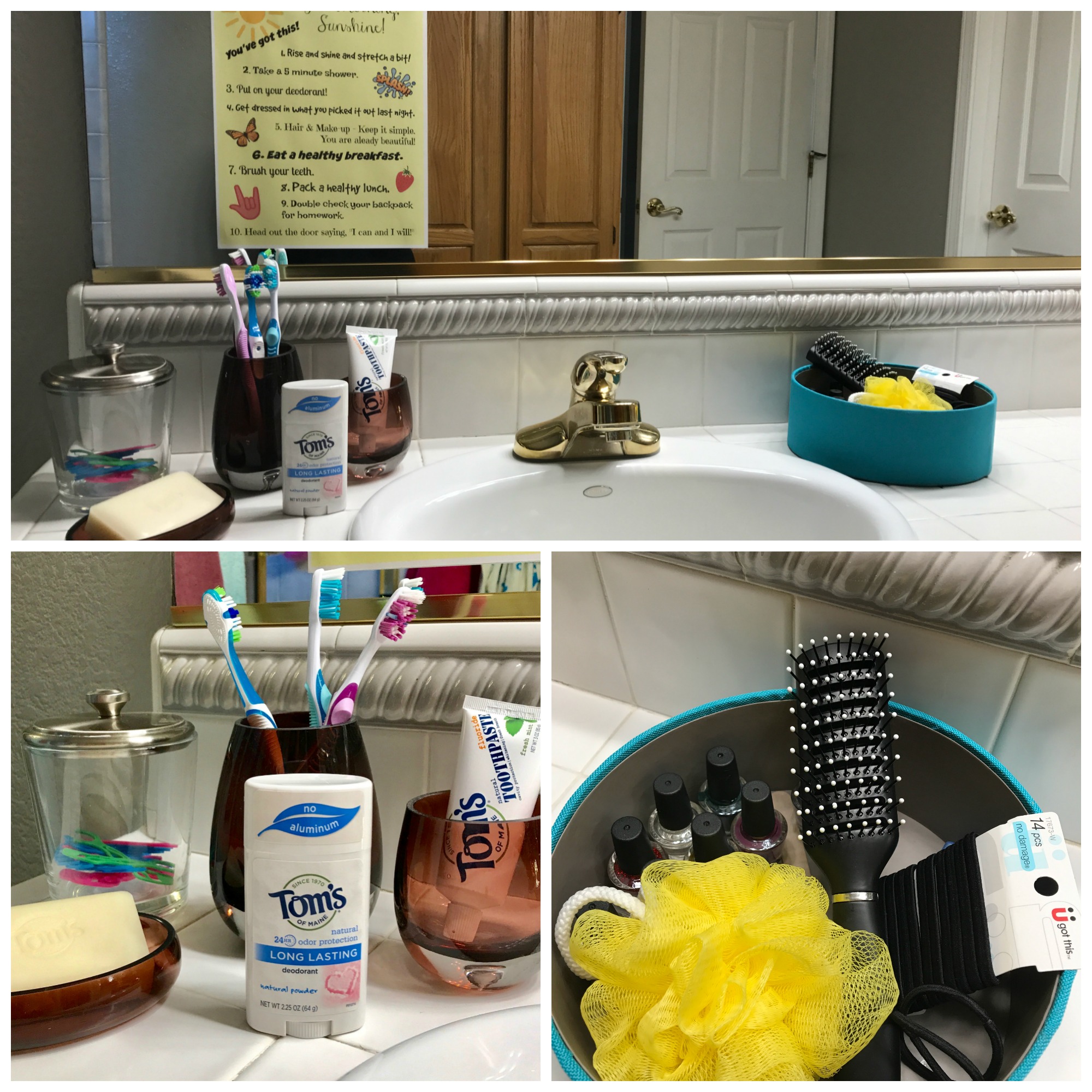 And as a teacher, I am extra excited to see how Tom's of Maine also loves to support teachers and schools! Tom's of Maine® is running a Green Your School for the Greater Good Program. This is a program in conjunction with DonorsChoose.org.
Most teachers know about DonorChoose.org. This is a program that helps teachers all across the country fund classrooms by providing us with supplies and needed items for projects. I have received novels for my classroom literature circles through DonorsChoose.org before. 🙂 It is a wonderful way for us teachers to get what we need to run a project in our classroom.
And now, Tom's of Maine® is helping to create a $1,000,000 fund to help make schools more sustainable through DonorsChoose.org. Teachers simply need to identify ways they can educate their students about green initiatives and submit their classroom projects and supply requests through DonorsChoose.org. Every project is automatically matched by the Tom's of Maine Green Your School Fund. The remaining amount can be funded by anyone at any amount they choose until the full project amount has been reached. Once projects are fully funded, supplies are delivered to straight to schools.
Tom's of Maine® always gives 10% of their profits to human and environmental goodness, now they are helping us teachers! By choosing Tom's of Maine® (A trusted name in natural care for over 47 years) you're helping to create a $1,000,000 fund to help make schools more sustainable through DonorsChoose.org!
Whole Foods Market has a variety of Tom's of Maine® products for the entire family. Be sure to spread the word – tell all of the teachers that you know about the Green Your School for the Greater Good Program!
Click here to sign up for Ibotta and earn $1.00 with the purchase of any size, any variety Tom's of Maine toothpaste.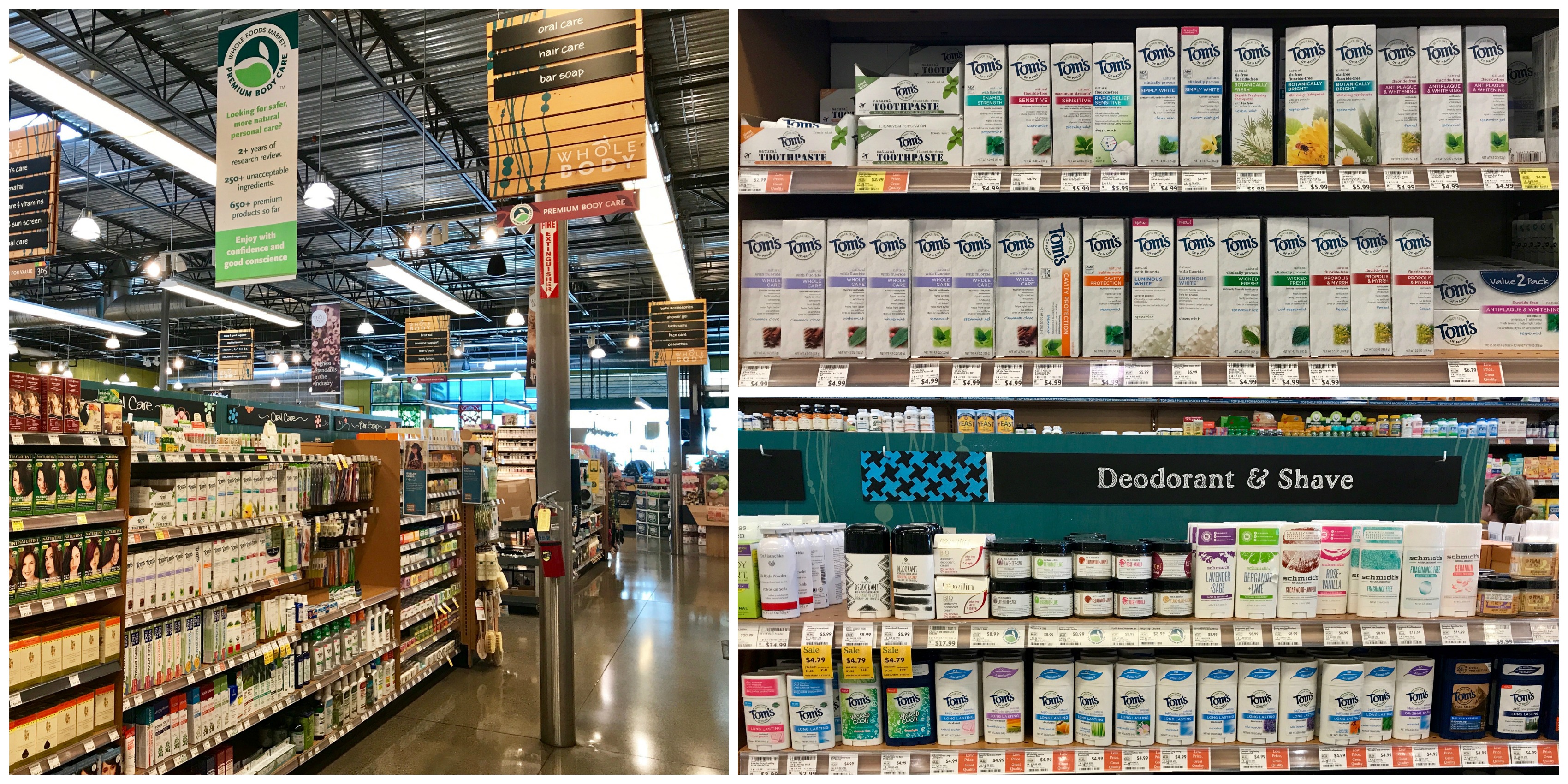 Here is the printable Get Your Day Off to a Great Start- A Morning Routine For Teen Girls Print it out and hang in your daughter's room or bathroom as an easy reminder of how to get the day going.
Are you ready for back-to-school?