I seem to run out the door every morning mumbling, "I'm late, I'm late." Even though my alarm goes off bright and early, I still am the Alice in Wonderland's white rabbit each weekday morning.
Starting my day earlier is not what is going to help make my mornings be smoother. I already wake up at 5:15 a.m. and start teaching a classroom full of 6th graders at 8:00 a.m.
My time between the sounding  of my alarm and the ringing of the school bell is structured and routine. Every minute is accounted for. While I run out the door feeling a bit harried every morning, in reality I am not late to work. My classroom and I are both readied to greet the students, and I start teaching  each weekday at 8:00 a.m.
But of course some mornings just feel better than others. So what helps make my mornings better?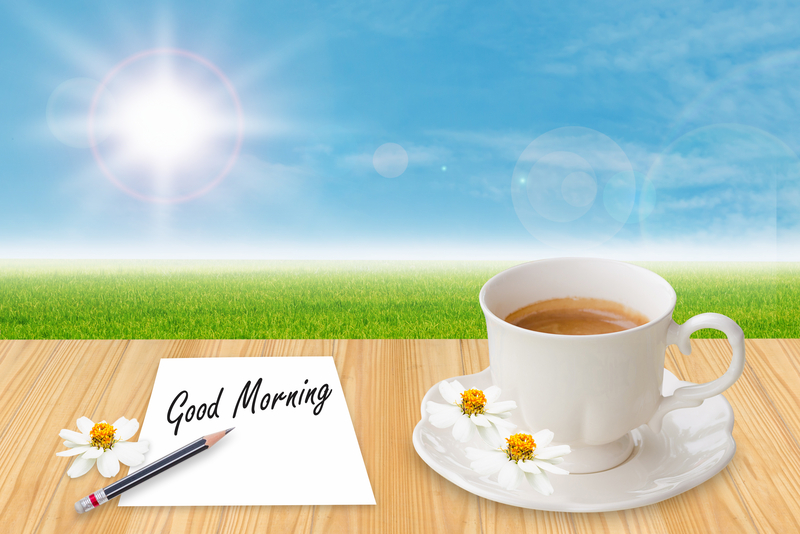 9 Ways to Make Your Mornings Better
Well, most of it all starts the night before I go to bed.
The kitchen is fully cleaned. That means after dinner all the dishes are washed and the pots and pans are clean, dried, and put away. The sink is shiny. Walking into a clean kitchen every morning feels really good! It is a fresh slate for a brand new day.
The coffee is brewed. My husband readies the coffee every night and sets the timer. When I walk into the kitchen the sounds of the gurgling coffee pot lifts my mood. As I let out the dogs and then feed and water our two big doggies the aroma of fresh brewed coffee is filling the room.
Lunches are planned for. While I make most of the school lunches in the morning, I work off a weekly menu plan. Some items might be readied to pack, like mini carrots or crackers might be already bagged the night before. I tend to take leftovers for myself – so that will be readied in a container in the refrigerator.
Have a healthy breakfast. I admit I am a coffee first person and I tend to eat my breakfast at work. In addition to packing my lunch, I also pack my breakfast. Sometimes it is egg whites and veggies, sometimes it is my overnight oats but I pack it up every morning right alongside packing lunches. The rest of the family does eat breakfast at home – but I just prefer mine a little bit later.
My clothes are ready to go. I try to see that all my laundry is done on the weekends and on Sunday I choose five work outfits for the week. I love to wear jewelry so I choose that as well. Everything down to the shoes is set out the night before.
Get a good night's sleep. I am an early riser. In addition to taking care of the dogs, packing the lunches, and seeing that the family has breakfast, I work on my blog every morning. If all goes well, I have 45 minutes each morning that is devoted to this blog. That is my quiet time before the house awakes where I get to enjoy my coffee and work on my writing. I used a sleep app on my phone for two months last year, and I discovered that if I was able to get myself to bed and asleep by 10:30 p.m. I had a much better night's sleep than when I went to bed at 11:00. That time difference of only 30 minutes made a huge difference in how well I slept all night long. So 10:30 is the time I shoot for and when that happens, I can get a pretty restful almost 7 hours of sleep.
Stretch. While I do not exercise in the morning, I do stretch. If you have the time, I totally recommend exercising in the morning! It is one of the best ways to start your day. My exercise happens at night because that is when I can fit it into my schedule. But really, the morning is best.
Be thankful.  Yes, a moment's thought of all that you have and a positive outlook will help set the tone for a great day.
Wish everyone in your family a great day. This is important to me for a few reasons. I believe it sets the tone for the whole family as everyone is off and out the door. Mornings are busy! My husband and I are off to work and the kids are off to school. Time passes by fast – four of the kids are no longer in the home (college and careers) and I only see the youngest two out the door. I have also learned through loss to cherish the moments. Even in the most craziest of mornings, I know it is important to slow down, take a moment to hug those you  love and wish everyone a great day.  My youngest and I share a quote each morning, "I can, and I will – make it a great day!"
That's it – all that I do to try to help my mornings run smoother. What do you do in the morning to try to get out the door and have a great start to the day?