One of the activities that I love most about summer is my annual visit to the County Fair! This has been a looong time tradition. It is a tradition that includes carnival games, rides, a flower show, horse races, livestock viewing, contests, vendors, and food – sooo much food.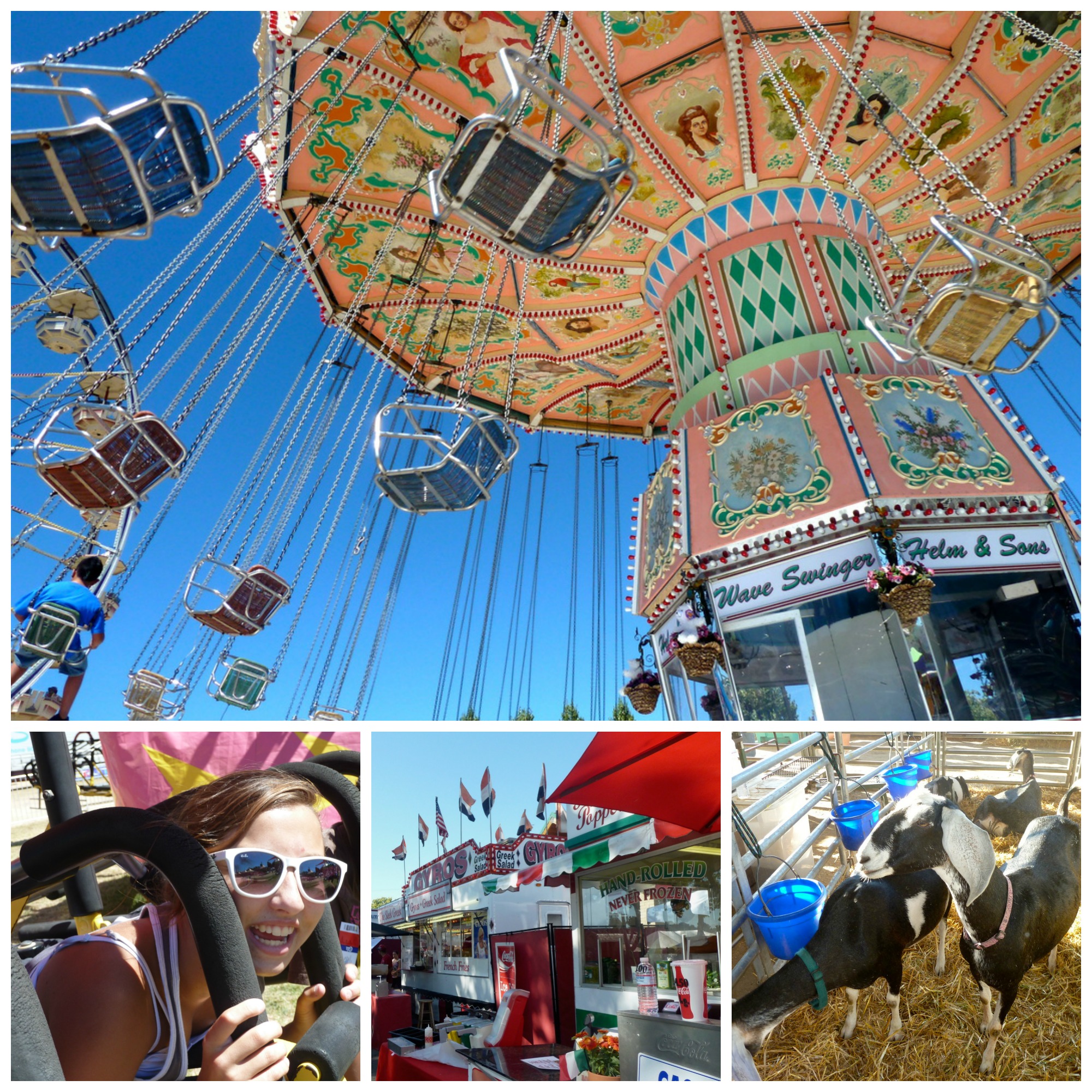 Fairs everywhere are known for their food. Walking across the midway you can smell kettle corn, cotton candy, fried chicken, tacos, pasta, BBQ, funnel cakes, award winning pie – soooo many choices that you simply cannot try it all!
A County Fair Picnic Party
To celebrate all the fun and food of our local county fair, I decided to host a County Fair Picnic Party. My visit to our local county fair is a whole month away, and I simply did not want to wait. This party celebrates the fun, food, and the down home goodness that fairs everywhere honor.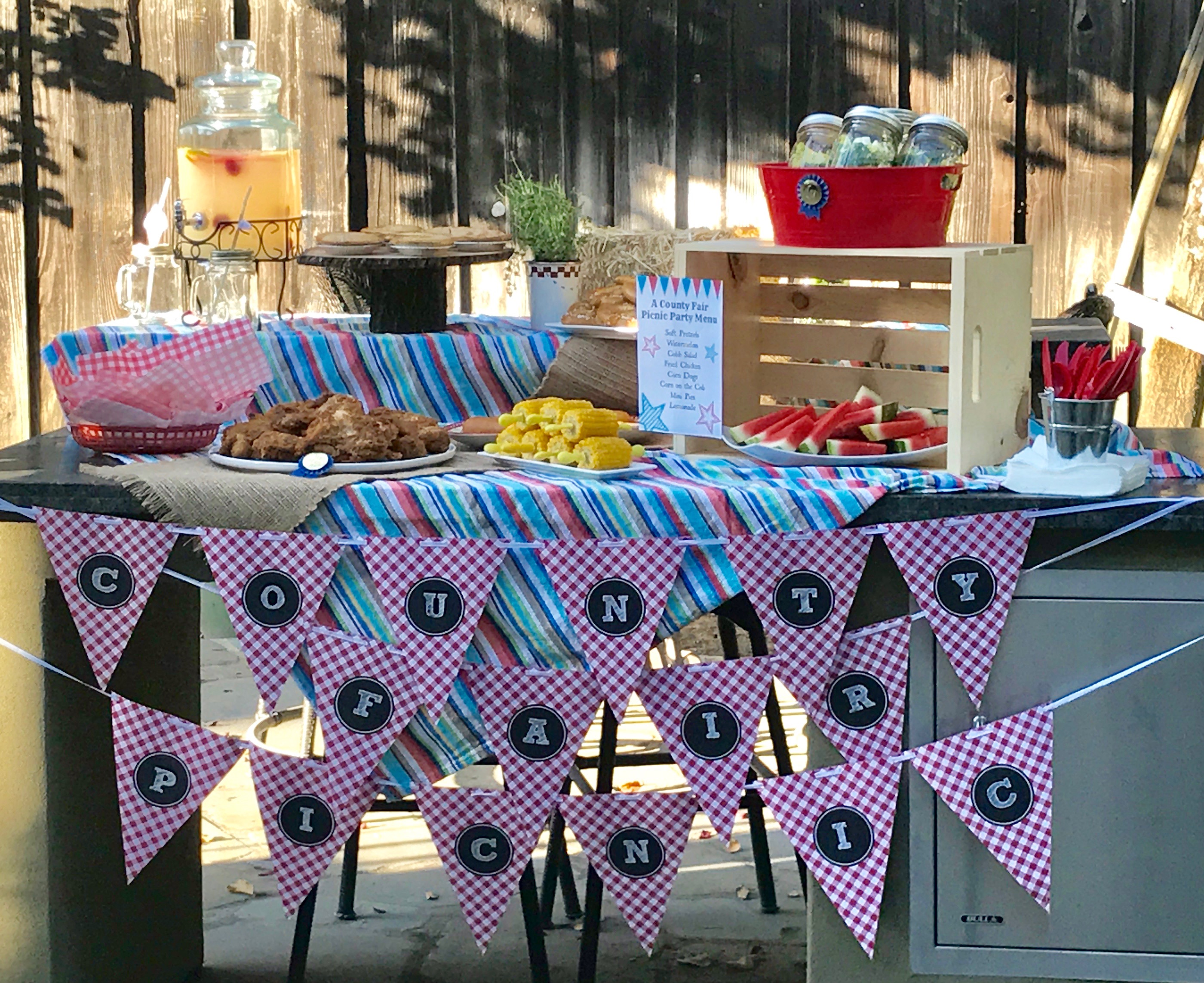 And it is a easy party to put together! What I really love about this party is that everything is done ahead of time! Set it up, lay out the food, and enjoy your very own County Fair Picnic Party!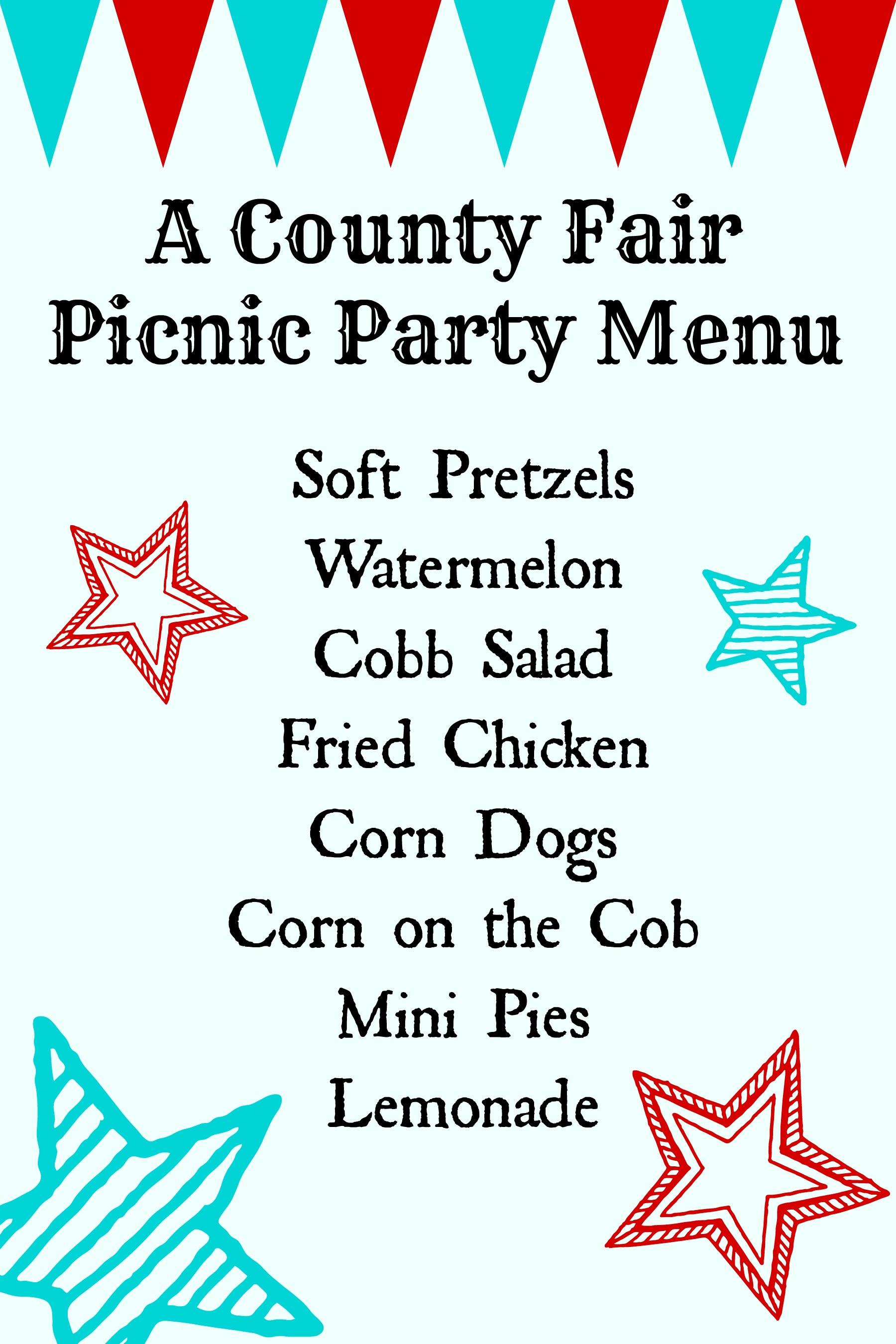 Not only does this party feature a yummy (make-ahead) party menu, it also includes carnival games. Simple games for the kids and adults (Yes, adults enjoy a good ring toss) to play and enjoy. Making this County Fair Picnic Party perfect for birthdays and family reunions.
Of course all of my parties start with an Evite® I thought the Sunshine and Sweet Lemonade was a perfect complement for my backyard homage to the County Fair.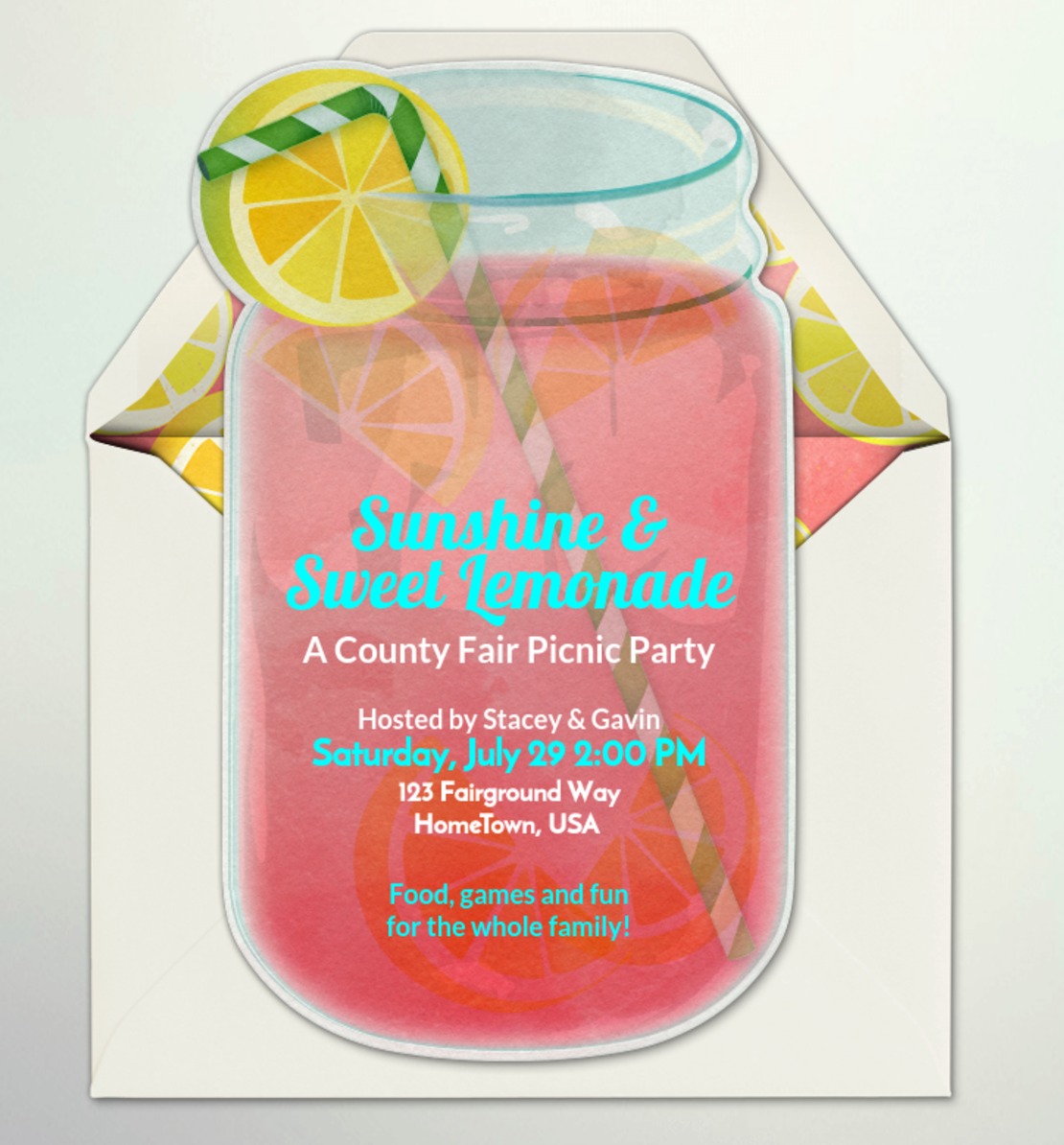 As I said, the menu is completely make-ahead! And everything can be laid out at once. The Salads in a Jar are kept on ice and are a healthy option.  I made a Cobb Salad version as a complement to the other flavors.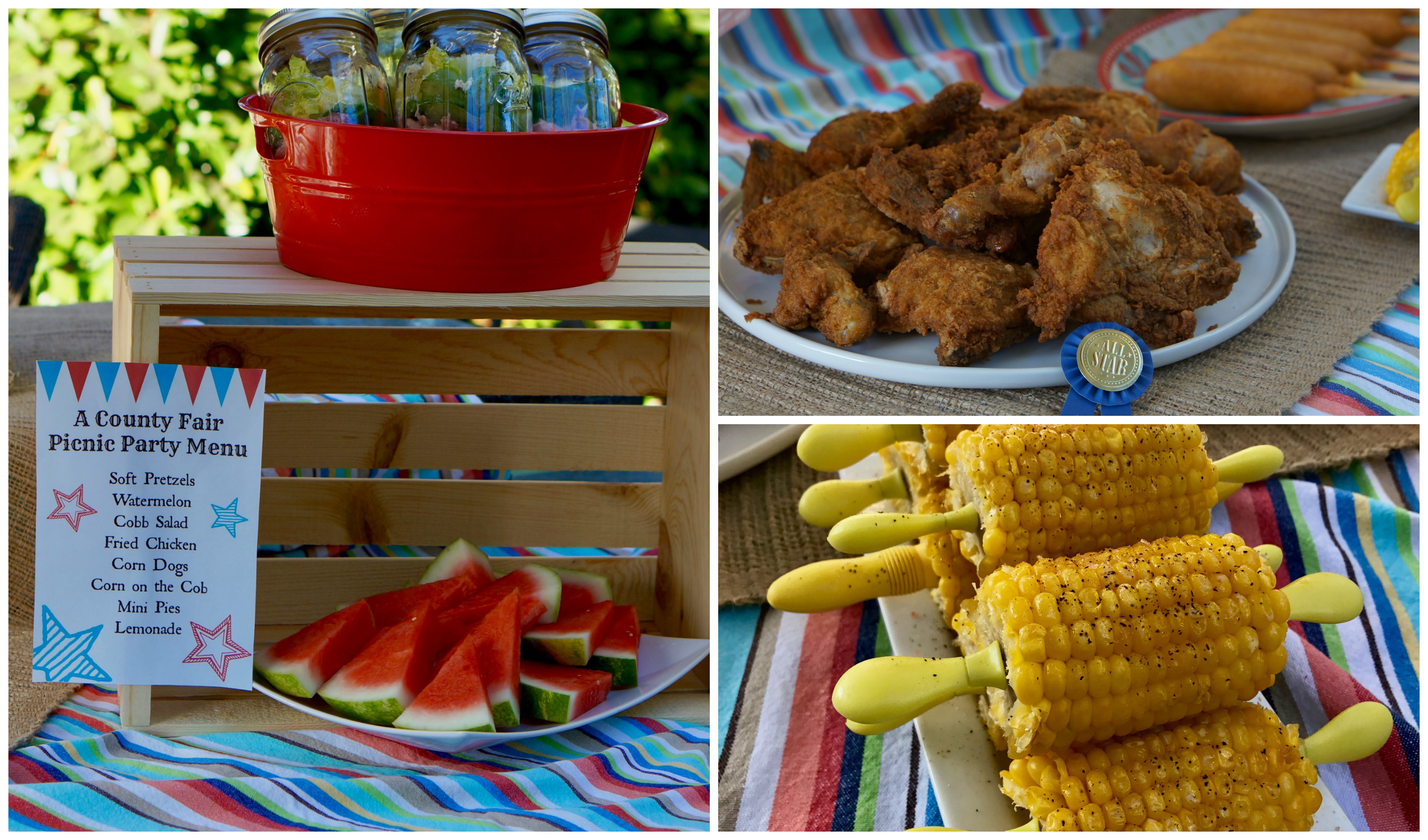 And in true fair fashion you need to have your own favorite award winning pies for dessert! I loved the mini pies that I picked up at the store. We had cherry, apple, blueberry, and peach! Soooo many choices. I thought about getting a snow cone machine. But decided against it. If I already had one – believe me, I would have pulled it out.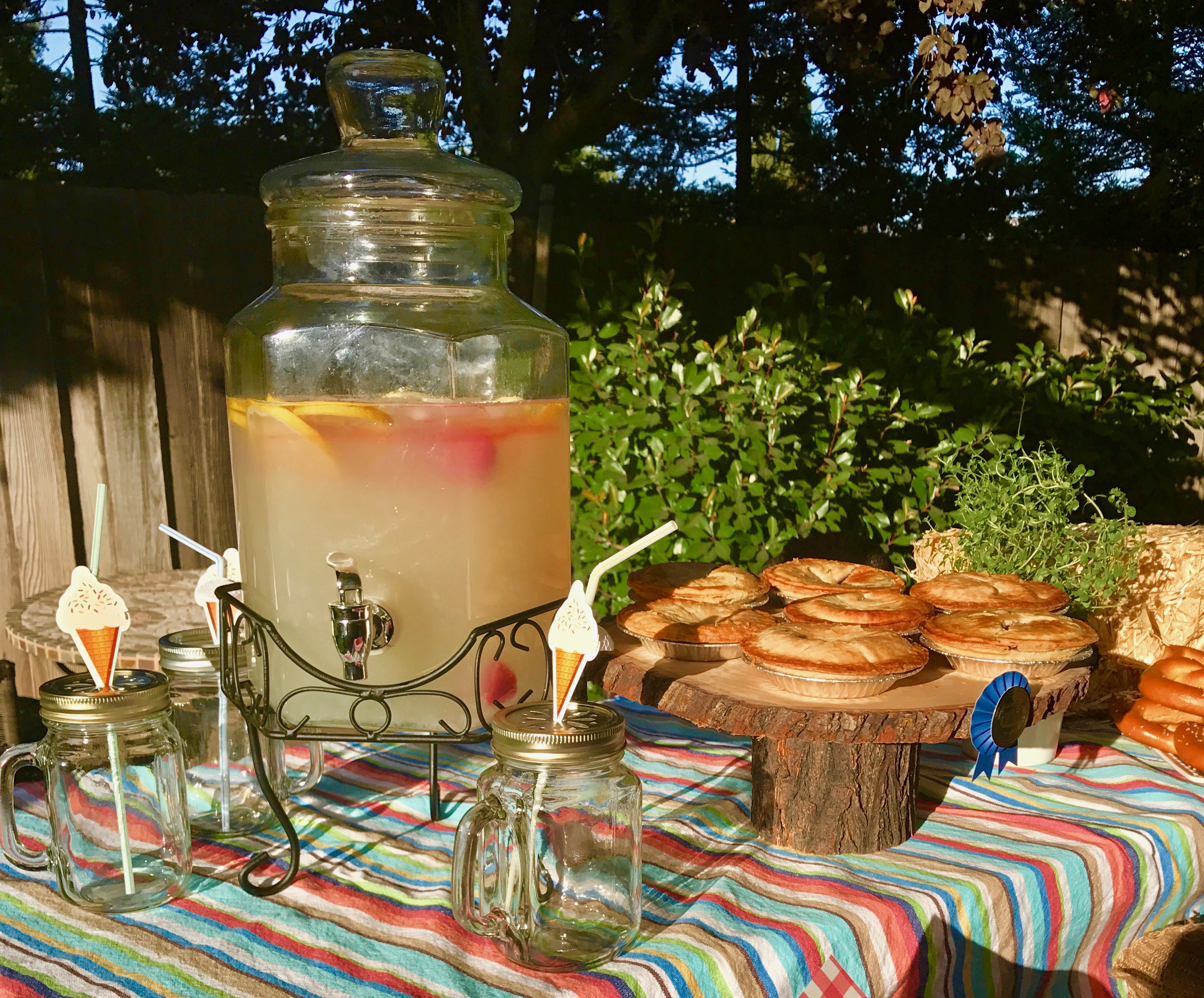 Easy-peasy party menu! And so easy for guest to pick up a red basket or plate to help themselves.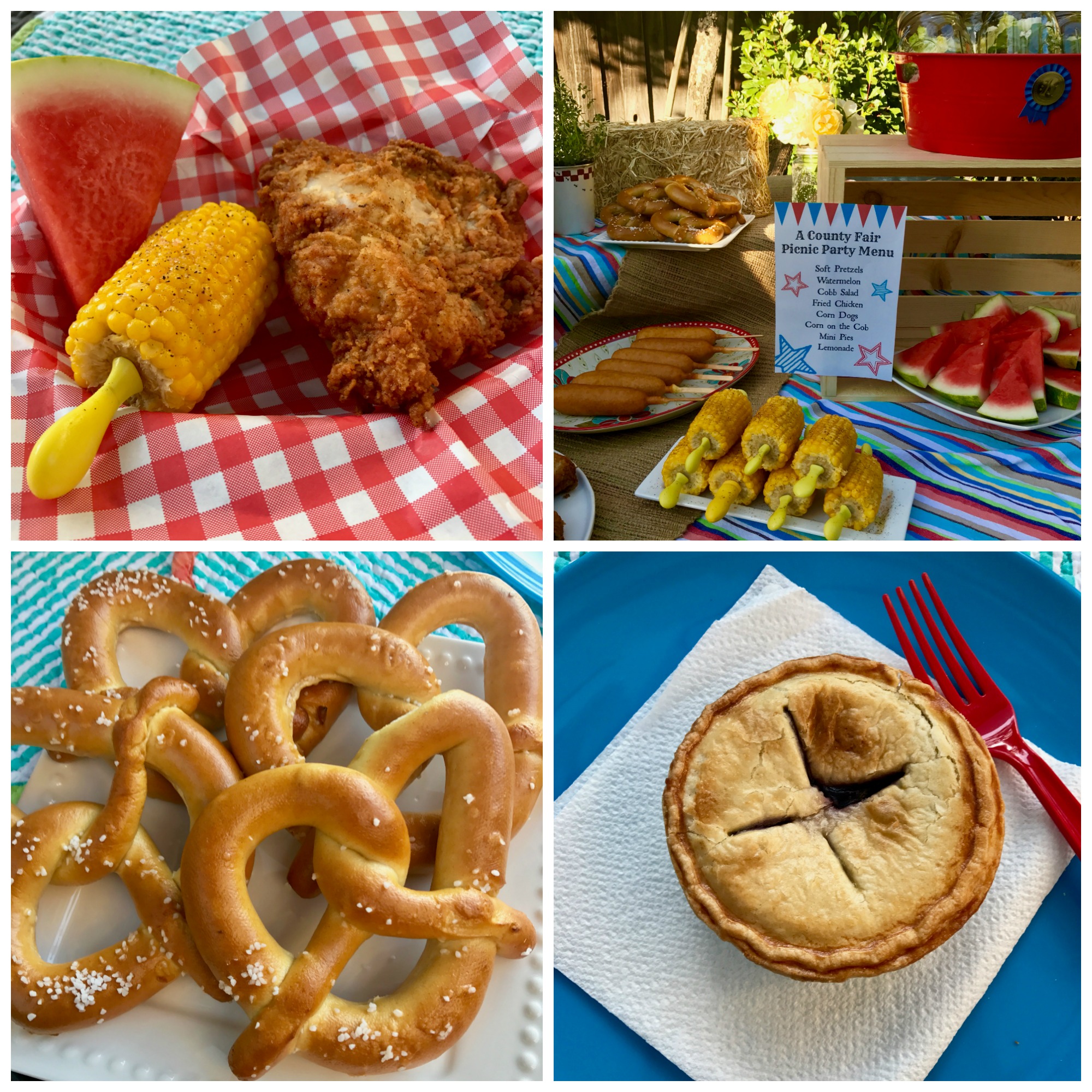 Of course no County Fair Picnic Party is complete without some carnival games! I choose three games, but depending on the size of your gathering – it is so easy to add a few more. The wonderful thing about the party games is that everyone was having fun playing with them! Everyone from little tykes to big kids (ahem grown-ups) gave them a shot. Go ahead and award prizes or keep it simple – want a soda? Get the ring around it! That's how we played 🙂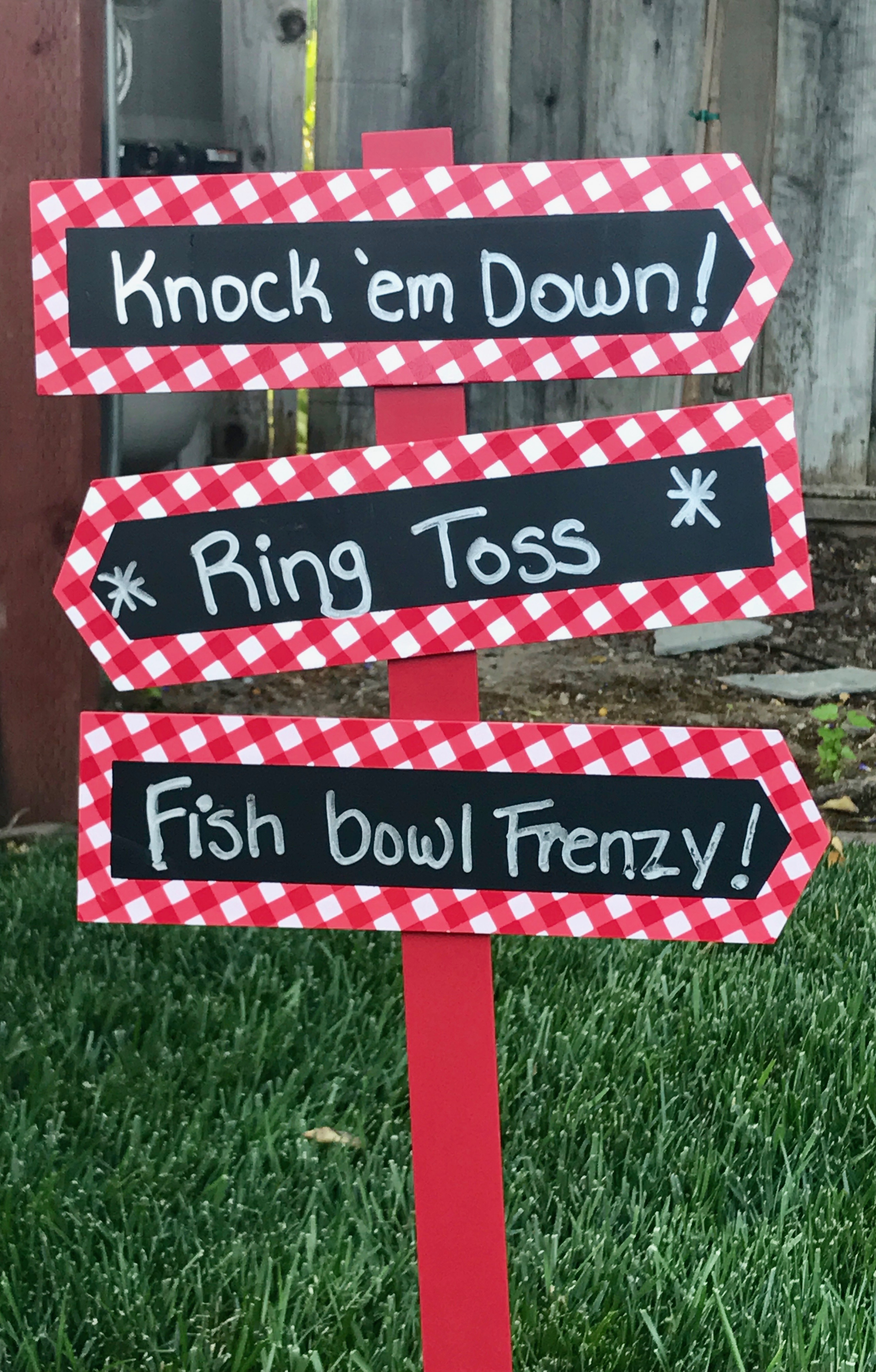 For the fishbowl toss, I pulled out a bunch of glass bowls that I have, I bought some toy plastic fish (I cut some holes in the bottom so they  would sink instead of float), and added a bucket of ping pong balls. The winners got their very own fish to take home! Plastic cups would work equally well. My bowls originally came from the dollar store.
The Knock 'em Down was plastic cups from the dollar store and bean bags from my classroom. The plastic cups were super easy to knock over. To make it more challenging I would recommend empty cans. We just had people move farther away from from the table. Of course, the little ones got to stand closer. With the cups, the kids started building themselves different sized pyramids to knock over. Lots of fun with the bean bag toss!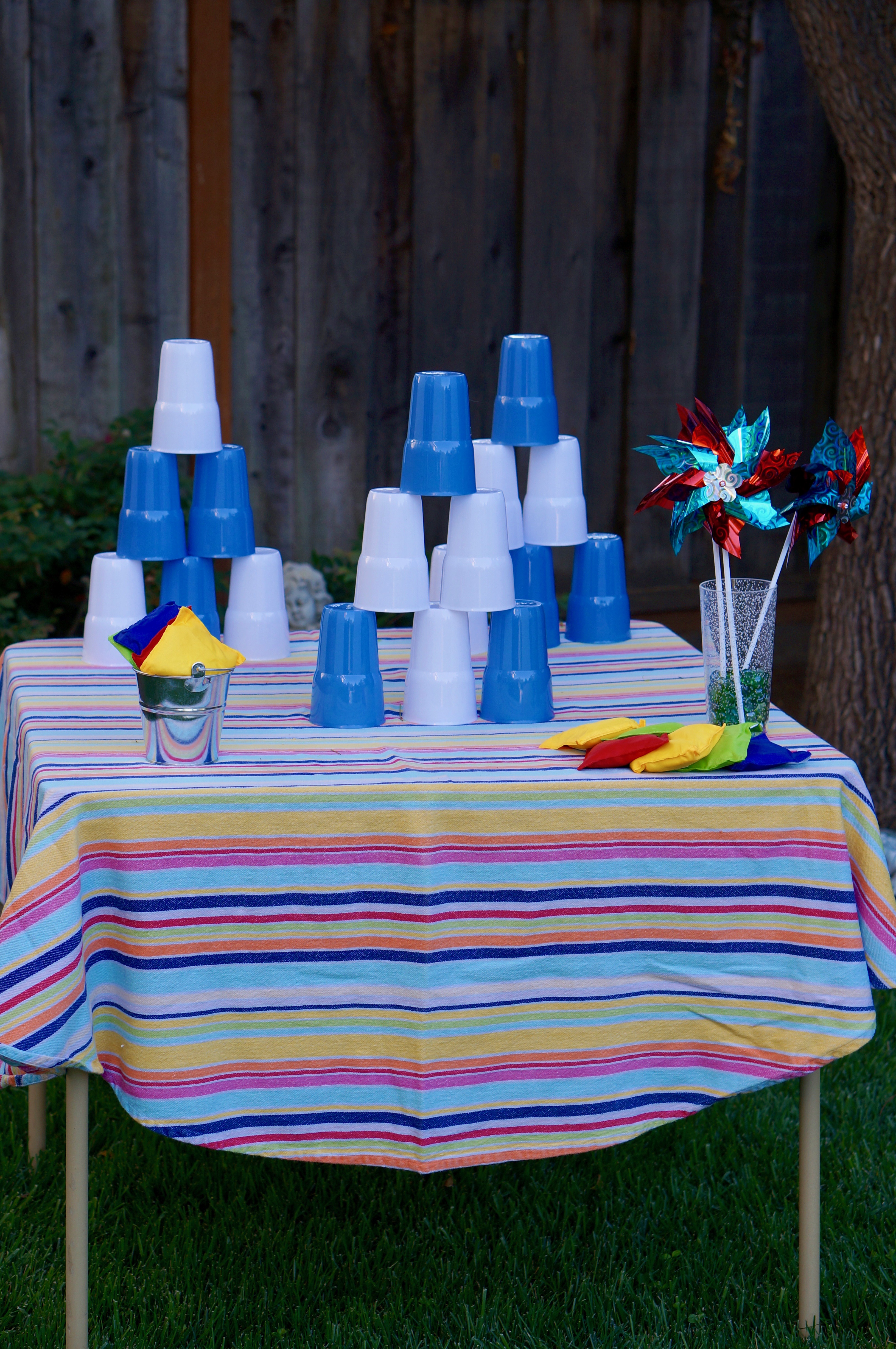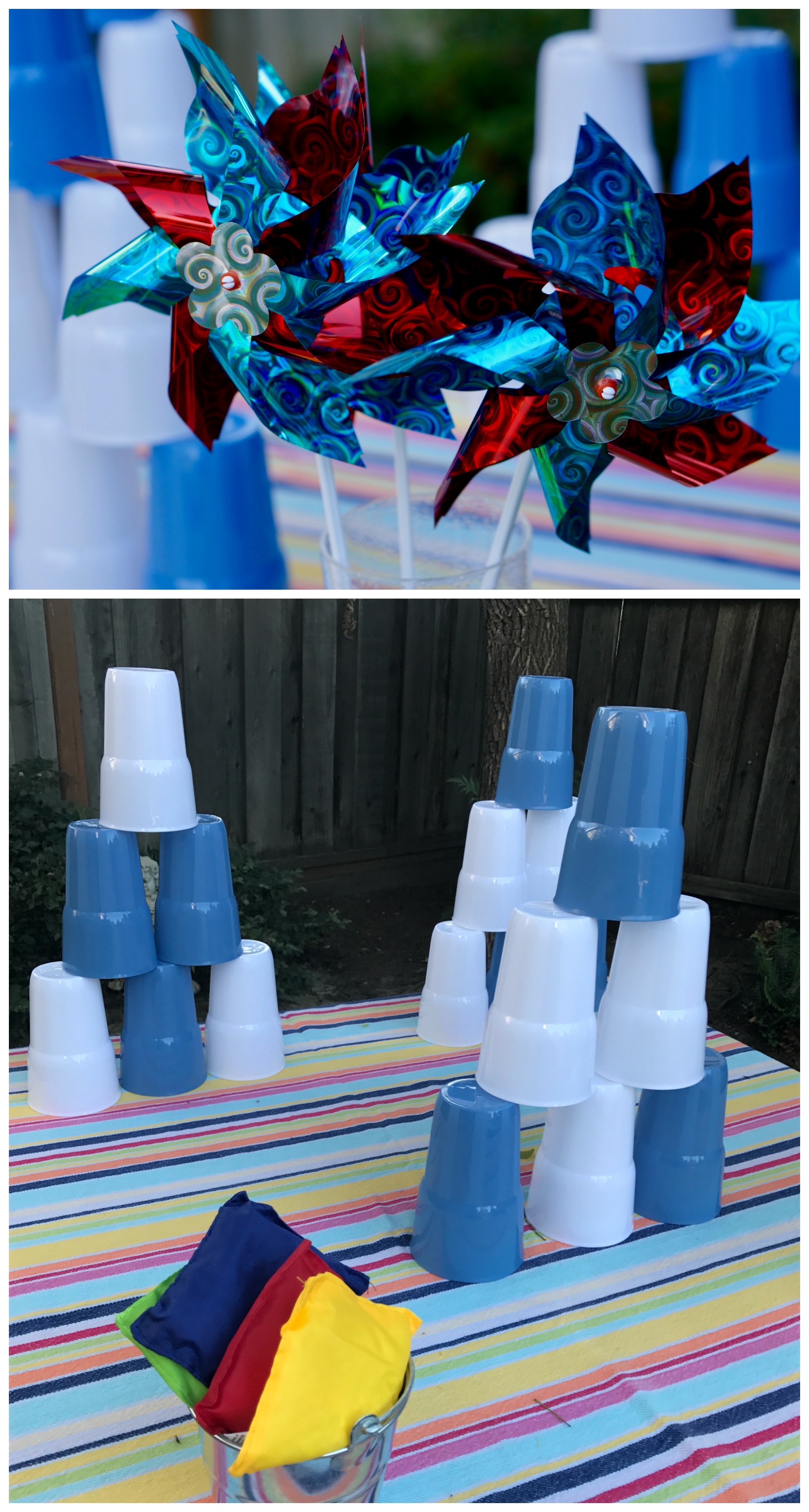 Our third game, The one that had the kids wanting to win a soda was the ring toss! A few plastic bracelets from the dollar store and favorite sodas was all this game took to set up! This was the easiest game to set up ever!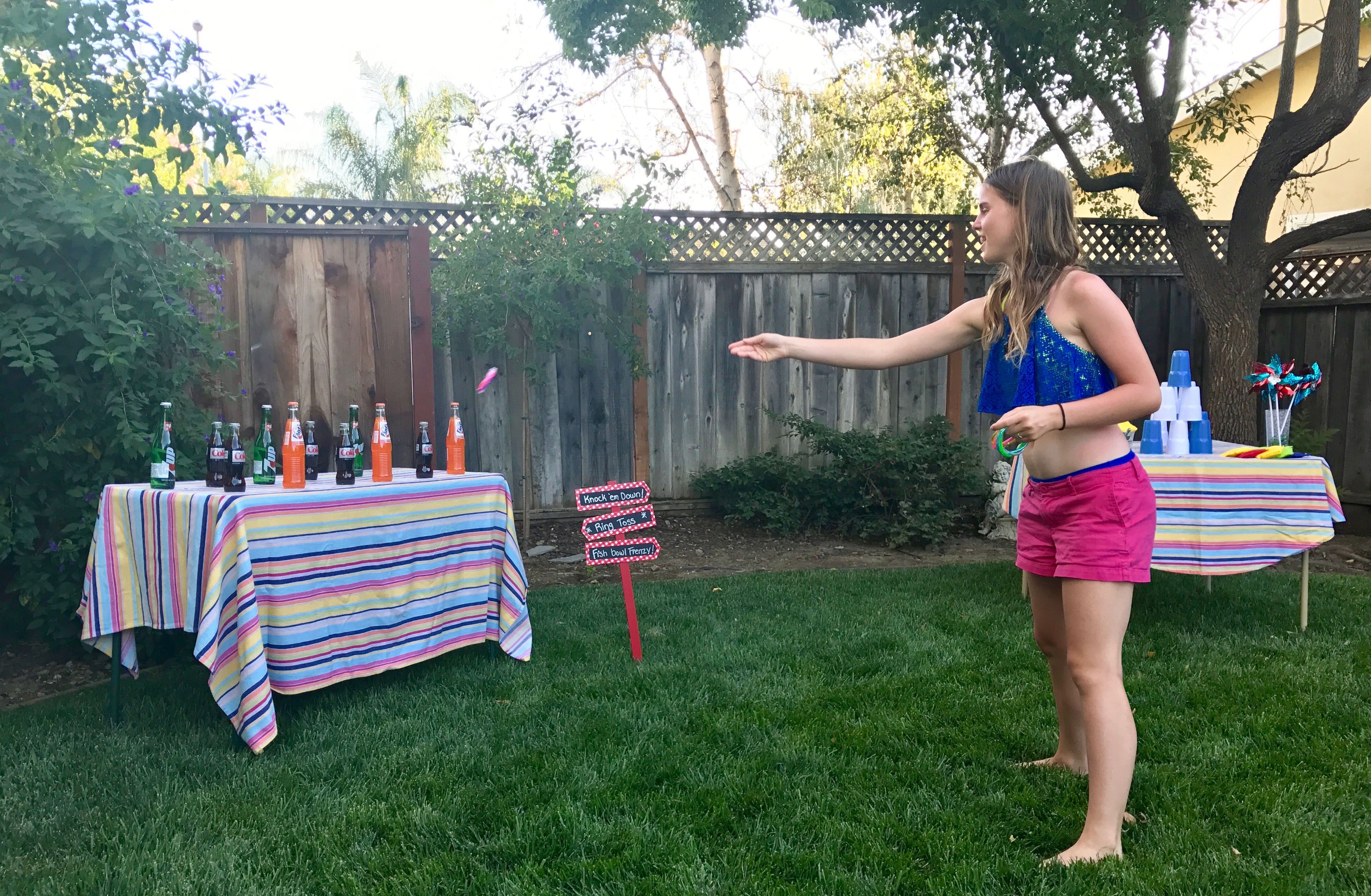 The games were a fast and easy set up! I was able to set them up early in the day, so I would not need to worry about it when I was getting the food set up. All it took was three card tables, a few things from home, and a trip to the dollar store.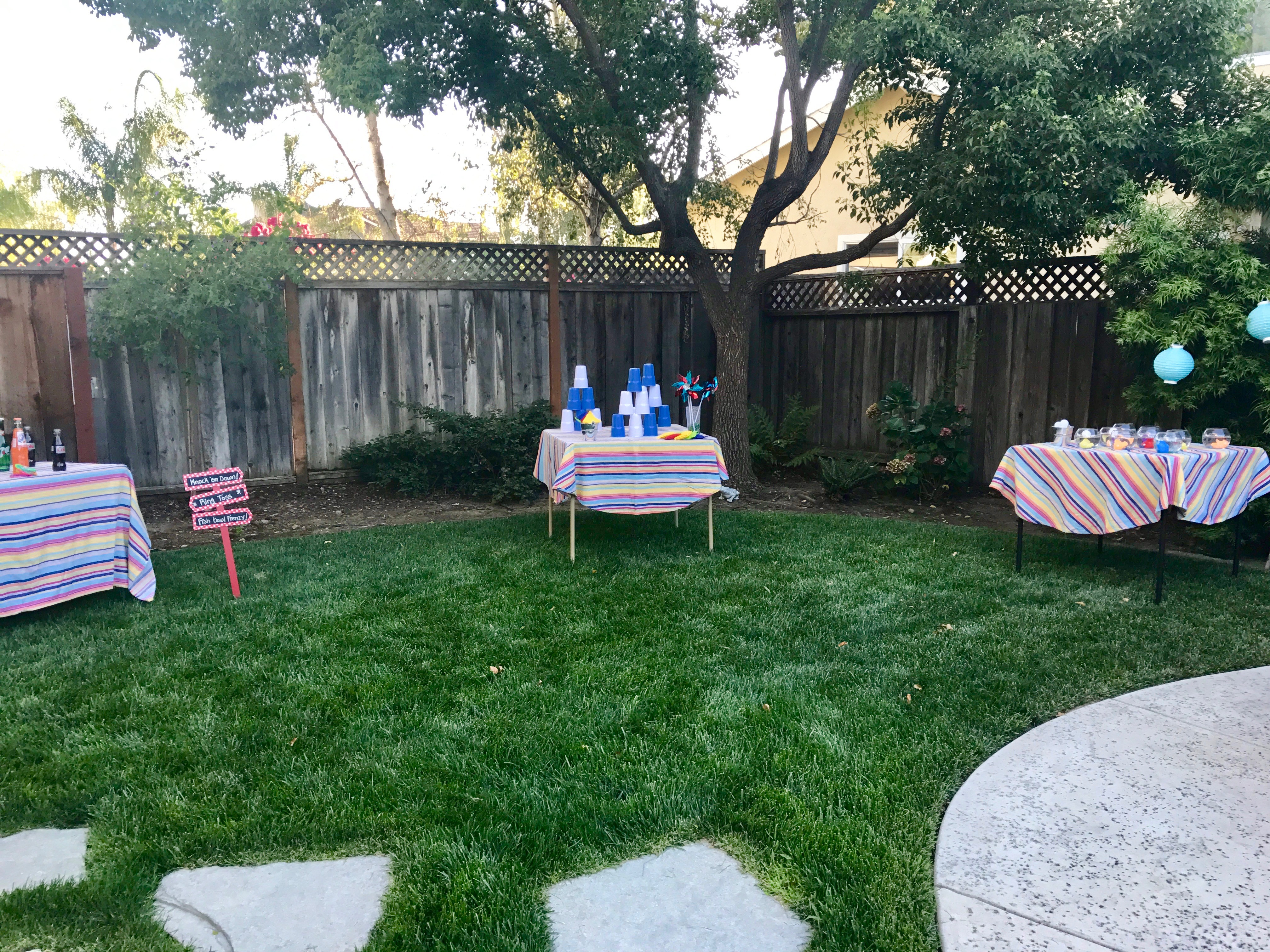 This is one of my favorite parties! I loved the menu, the way everything was ready ahead of time, and the games added a new and fun dimension. This was one of those parties that I was sad to see end. In fact, I will be adding this to my annual line up of summer gatherings just like my annual Ladies Pool Party.
And it all started with an Evite® ! For even more outdoor fun parties check out this great selection of Evites. So many fun ideas for summer gatherings.  I loved my Sunshine and Lemonade Evite!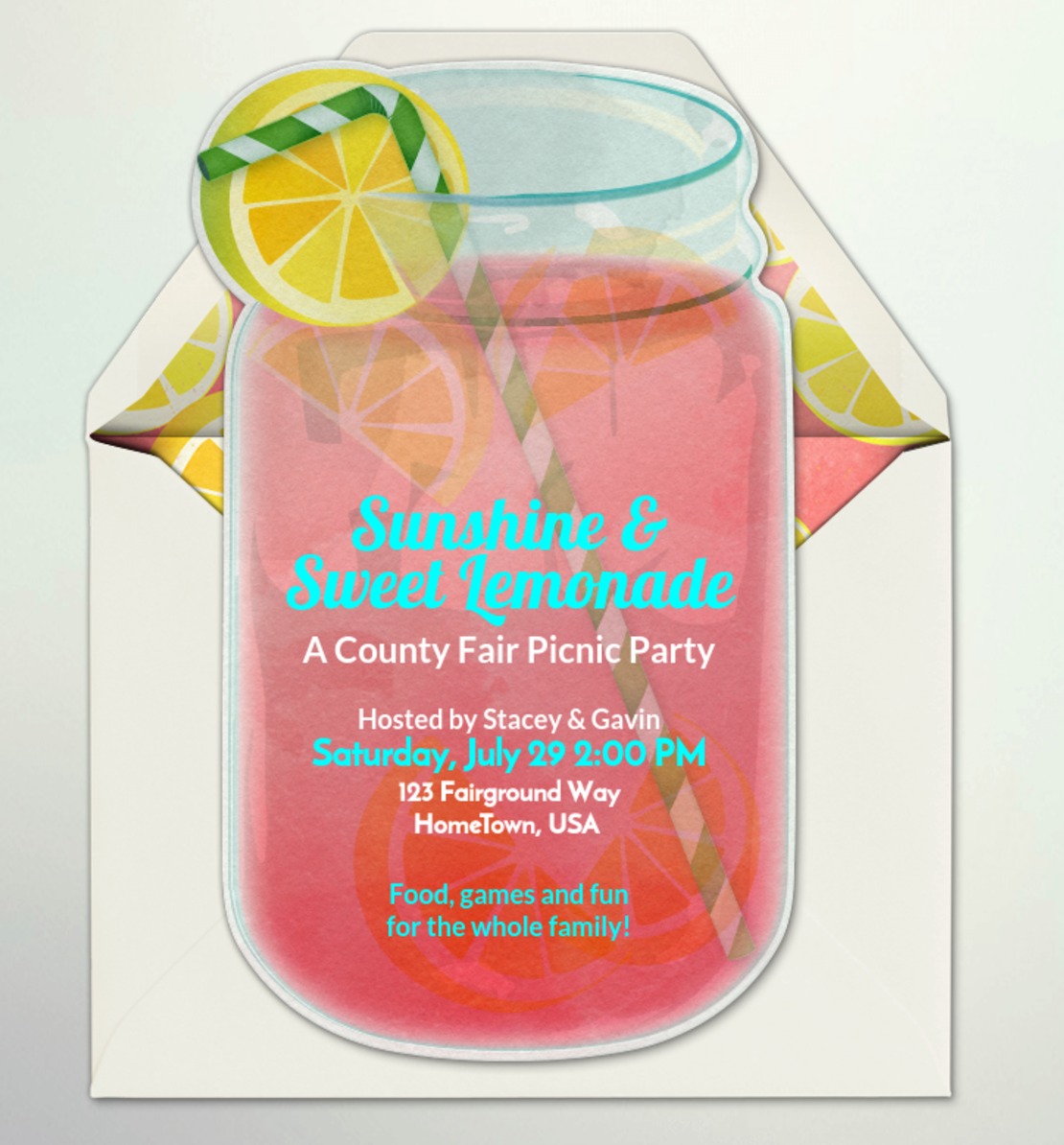 Don't you just love County Fairs? I do!  

This post is in collaboration with Evite.com and their Evite Influencer Program. While I am compensated for this post, all thoughts and opinions are 100% my own. #BeThere #Evite #AD

And here is the link for your printable menu! County Fair Picnic Party Menu 
What is one of your favorite summer party ideas?