I admit it, I love sugar. All kinds of sugar – chocolate, bagels, French bread, margaritas, chips, and more! I mean just take a look at many of my recipe posts.

You can find some amazing dessert, drinks, German pancakes, pizzas and more here on my blog. Yes, they are all yummy! But this is not our everyday life.
In our home, we do try to eat very healthy most of the time. We eat a ton of salads for dinner when we are home, and I have been packing our Salads in a Jar for lunches as well. We focus on healthy and lean proteins and really do try to eat clean and low sugar.

One thing you will not find a lot of in our home is bread. While we all love it, it is one of those food items that is full of hidden sugar. The simple carbs in bread break down easily into sugar for our bodies. In fact, according to HiddenSugar.com, eating one bagel is equivalent to eating 7.5 teaspoons of sugar!
In the movie Fed Up they also share how much sugar is added into our everyday foods. It really is surprising!
When I started reading labels I quickly learned that sugar is everywhere! Pretty much every processed or prepared item in the grocery store contains added sugar. That is one of many reasons that preparing your own food is important. When you make it yourself, you know exactly what the ingredients are!
But that is sooo much easier said than done when you are working and busy with kids!
I was happy to chat with Kelly Choi on how to find the hidden sugars in our diet. Kelly is an Emmy Award Winning TV host and regular Eat This, Not That! contributor. Don't you just love the easy swaps you can find on Eat This, Not That?
Kelly shares some more helpful tips in our interview to help us all cut down on sugar. Check out my interview here…
Finding the Hidden Sugar in our Food
As I have shared in the past, My husband, Gavin, is a type 2 diabetic. That means that we really are on the lookout for hidden sugar, and we are always working on choosing healthier options. News alert: Together we are developing a second blog (???) that is going to be devoted to living better with Type 2 Diabetes through healthy diet and exercise. Honestly, making healthy better-for-you choices on a consistent basis can be challenging. This second blog will be to help others and to help us be accountable to our choices. Stay tuned for the very soon to be released blog.
But not to worry! Positively Stacey is not going anywhere. You are still going to find all that I like to share with you here: inspiration, party planning, travel, home management, recipes, life with kids etc.
Thank you to Atkins Nutritional, Inc for providing me with this interview opportunity. You can find more information at HiddenSugar.com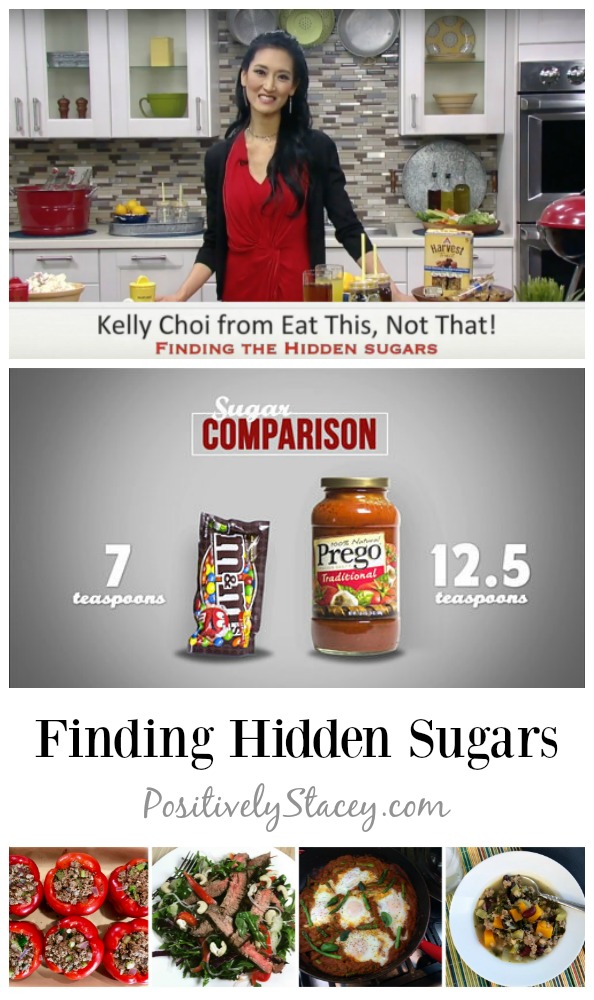 Kelly Choi is a well-known presence in the TV/food industry having been host of popular programs such as Bravo's Top Chef Masters and Eat Out NY. Kelly has also made appearances on Food Network's Iron Chef America, the Martha Stewart Show and was co-producer and host of Secrets of New York, a popular documentary series nationally syndicated on PBS.