OK, I am going a bit crazy with my salads in a jar. But I gotta say – they are the best invention ever! My friends at work ask, "Why in a jar?" Well the answer is that it stores the salad perfectly! By layering the salad with the dressing at the bottom and adding the ingredients in an order that allows the salad greens to sit on top, away from the dressing, keeps it all nice and fresh!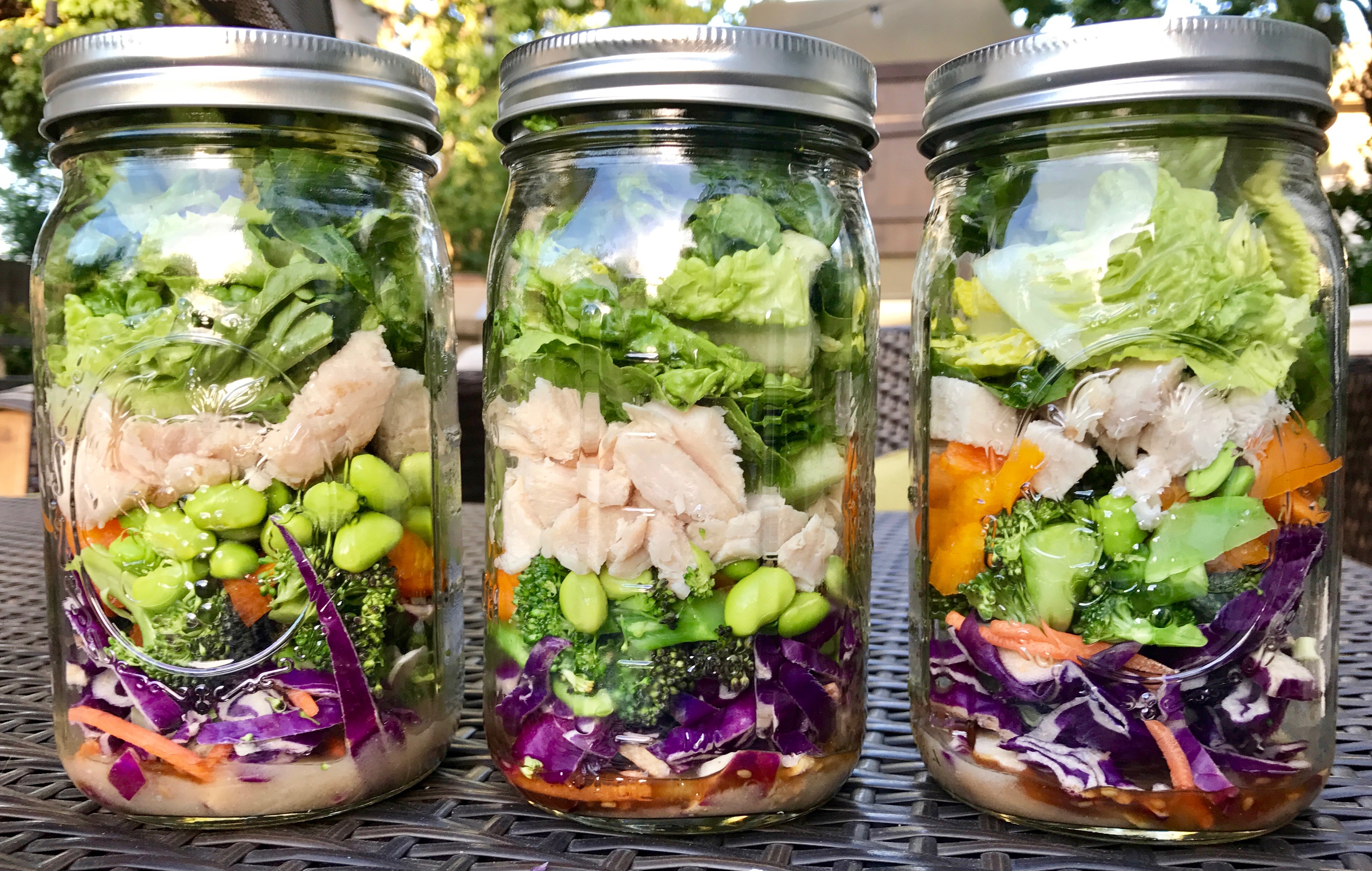 Really! Just put vegetables or fruit that can take a bit of soaking into the dressing and layer some in-between bites of yumminess until you get to the top salad greens, and you are all set! Also the glass of the jar keeps it really nice and cold in the fridge. The seal of the lid keeps it super fresh. My salads stay tasty and crisp.
I made up 12 salads in a jar on Sunday night. I made three Asian Chicken, three Greek Chicken, three Roast Beef, and three Turkey Taco salads. These salads are for my husband, my daughter, and myself. They youngest does not take these in her school lunch. It simply is too much food for her noon appetite. But for us three? It is an easy grab and go for our hectic mornings.
It is also a sure bet that we will be enjoying a healthy and tasty meal come lunch time!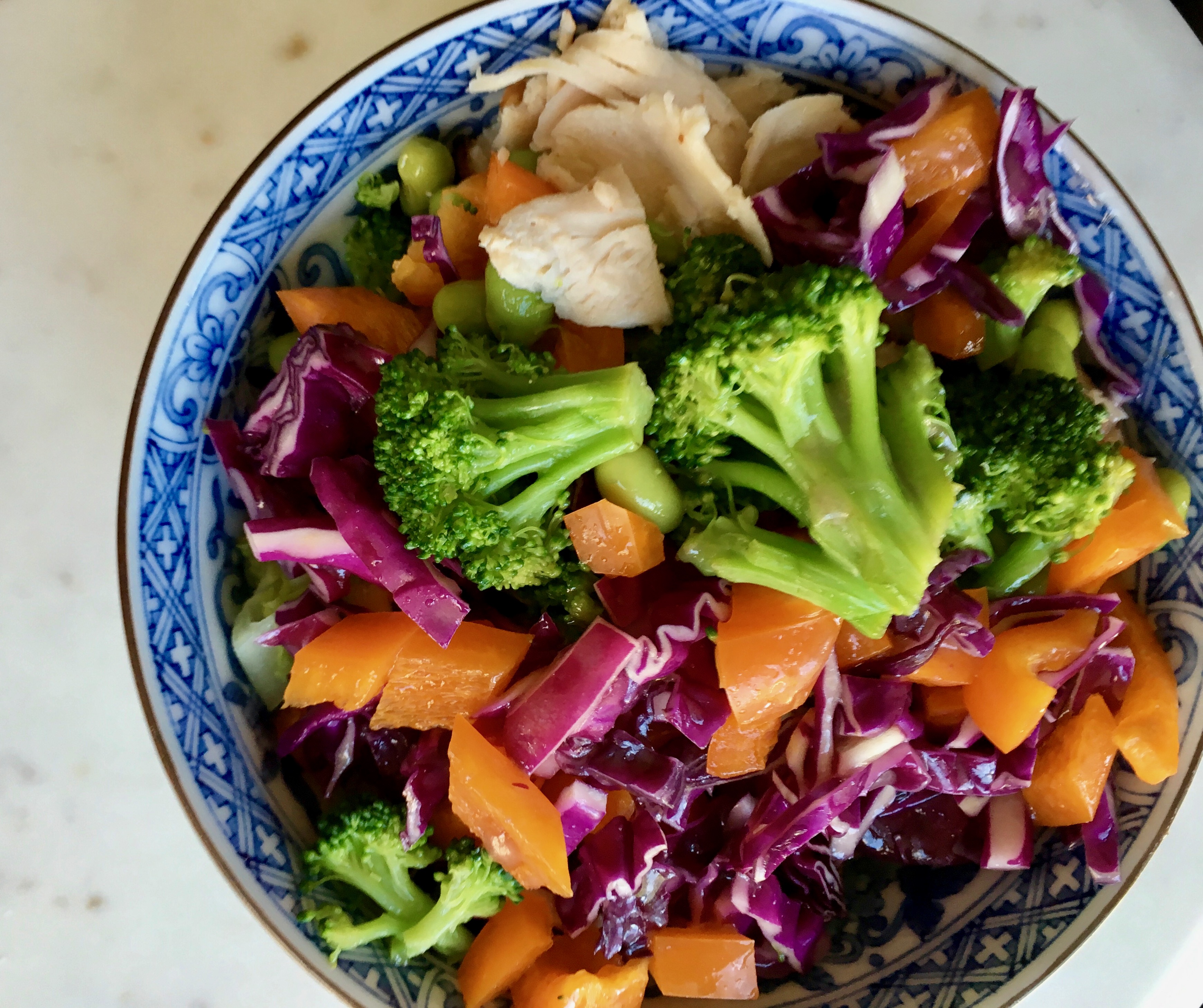 Yes, making 12 jars up on a Sunday night is a bit of work. But once you are chopping and slicing vegetables – it is easy to multiply it to create more. My daughters both helped in the kitchen with chopping and cleaning, and while we did this – my husband grilled our Sunday dinner of salmon and asparagus. Sunday night is a family affair in the kitchen.
Asian Chicken Salad in a Jar Recipe
Ingredients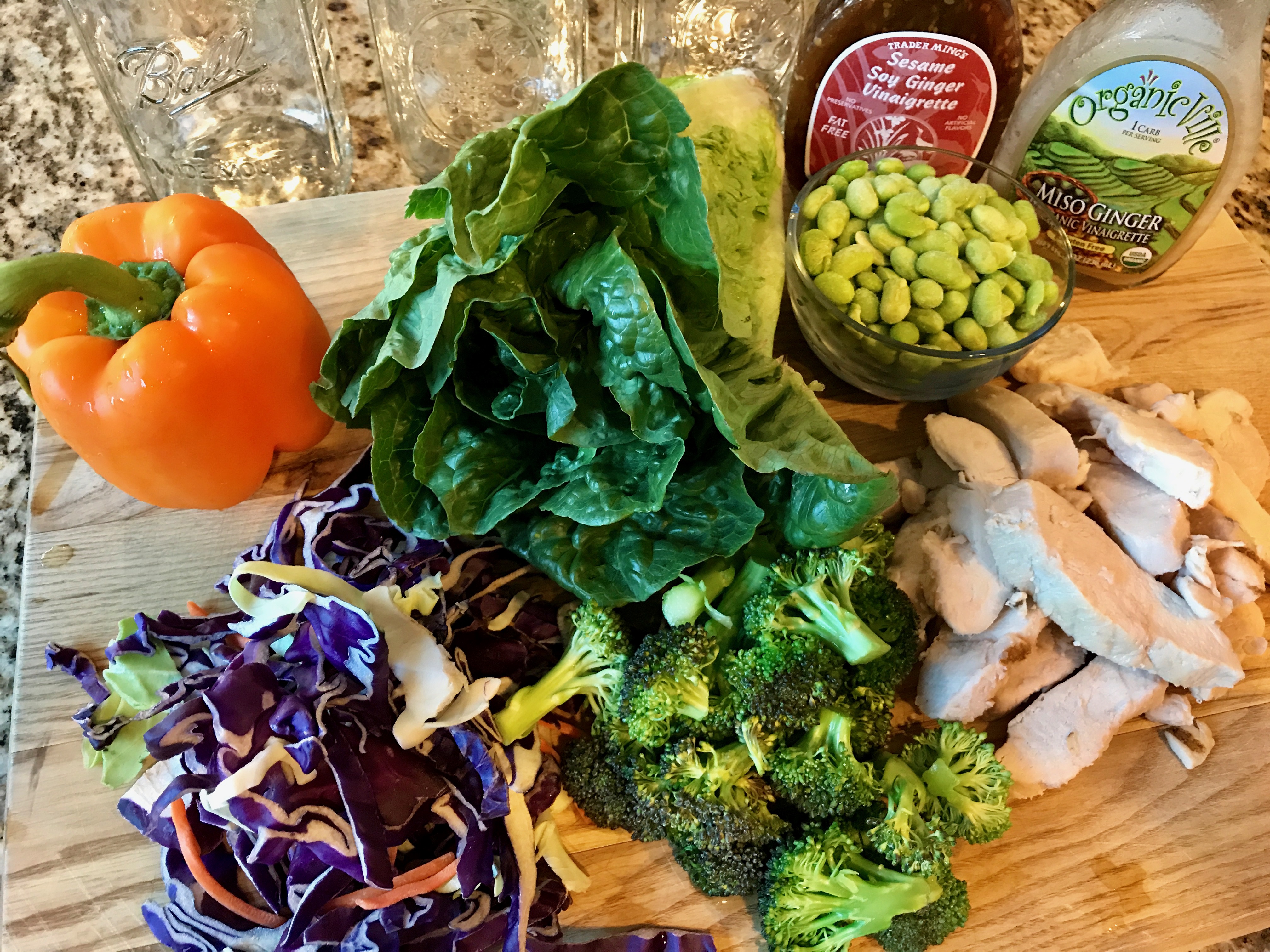 Starting at the bottom of the jar, layer the following ingredients in this order:
2 tablespoons  of your favorite Asian dressing. We like Organic Ville Organic Ginger Miso and Trader Joe's Sesame Soy Ginger Vinaigrette
Chopped red cabbage
Chopped orange bell peppers
Cut broccoli – slightly steamed and cooled
Cooked and shelled edamame
Chopped chicken
Lettuce
Directions
Fill the jar as full as you want.
Seal with lid.
Store in the refrigerator for up to four days.

I make us four salads each (a variety of salads) and find that they always stay perfectly fine through Thursday lunch. And sometimes one of us will enjoy a last salad on Friday. It is still fine.
This is one super easy way to meal prep our lunches and ensure that we are eating our veggies!
Have you ever enjoyed a salad in a jar? What is your favorite variety?