Are you loving summer as much as I am? The fact that we can get together with friends and family once again is making this year's summer vacation all the sweeter! It is no secret that I love to entertain and host parties at our home. It's also a fact that I like to enjoy the party as much as my guests. That means I am all about advance prepping and easy entertaining. One way to make this happen is to set up a self-serving table of food – ready for your guest to enjoy. I have shared in the past Setting up the Perfect Bruschetta Bar, An Easy Waffle Bar Spread, and even Easiest Ice Cream Sundae Bar Ever. Today's idea is how to build the best burger bar and elevate your party with wine and spirit pairings with Theo Rutherford.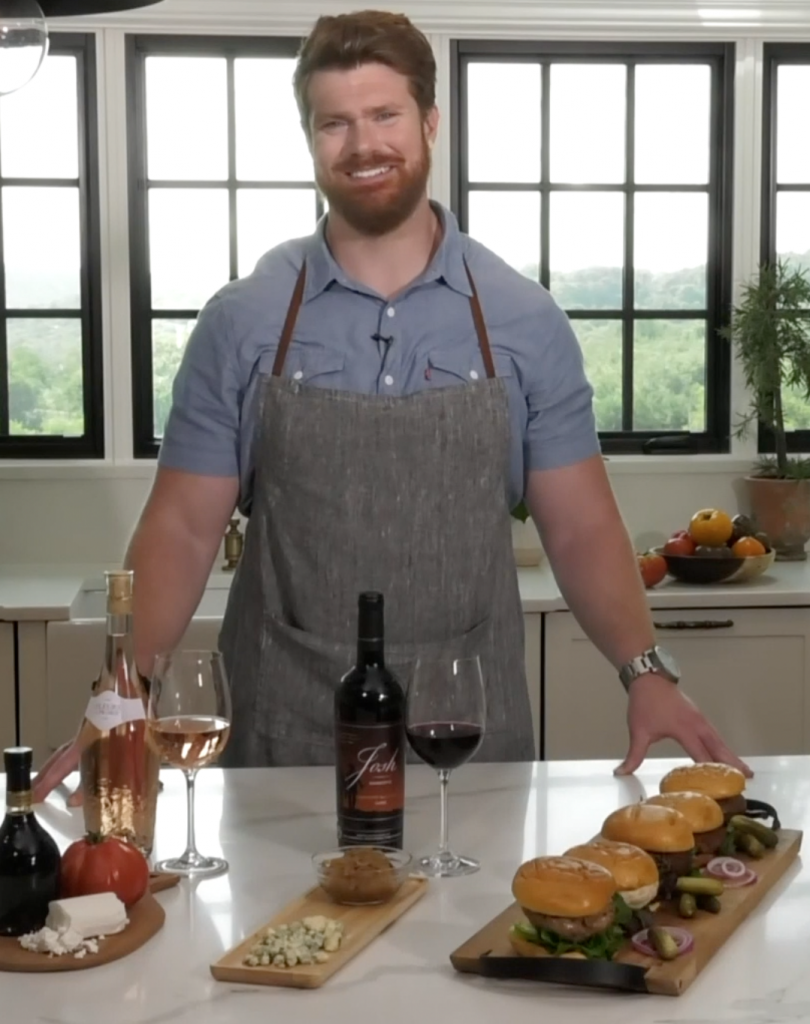 Yep, you heard me. A burger bar is a great way to prep a lot of food ahead of time, it takes into consideration all kinds of personal tastes and dietary restrictions, and it allows you to get as creative as you want!
Before the party, prep all of the fixins'. Then pull out your grill and cook up the meats or meat alternatives that suit your guests' tastes. When it comes to options, the sky's the limit. All good burgers have the same bones – fresh buns, perfectly grilled patty, flavorful sauces and aiolis, variety of cheeses, and an assortment of sweet, savory, crunchy and creamy accoutrements. Let's just consider a few ways that you can build a scrumptious burger!
Building the BEST Burger Bar
Black and Blue Burger: Grilled grass fed beef patty topped with blue cheese, crispy fried bacon, Vidalia onion, tomato, iceberg lettuce, and a garlic aioli served on a soft brioche bun.
Pretzel Burger: Grilled grass fed beef patty topped with crunchy sauerkraut, Swiss cheese, spicy brown mustard, and savory bacon served on a pretzel bun.
California Burger: Grilled ground turkey patty topped with Monterey Jack cheese, sliced avocado, tomato, arugula, and a tasty wine enhanced dijon served on a sourdough roll.
Western BBQ Burger: Grilled grass fed beef patty topped with sweet and smoky BBQ sauce, crispy onion rings, cheddar cheese, pickles and served on a sesame seed bun.
Buffalo Ranch Mushroom Burger: Grilled Portobello mushroom topped with buffalo sauce, ranch dressing, lettuce, tomato, pickles and onion served on artisan roll.
Bean Burger: Grilled veggie-bean patty topped with cheddar, avocado, salsa, pickled jalapenos, and if desired some lightly crushed corn chips served on a traditional hamburger bun.
Greek Burger: Grilled lamb patty topped with feta cheese, red onion, sliced cucumbers, pitted kalamata olives, and tzatziki sauce served on an artisan roll.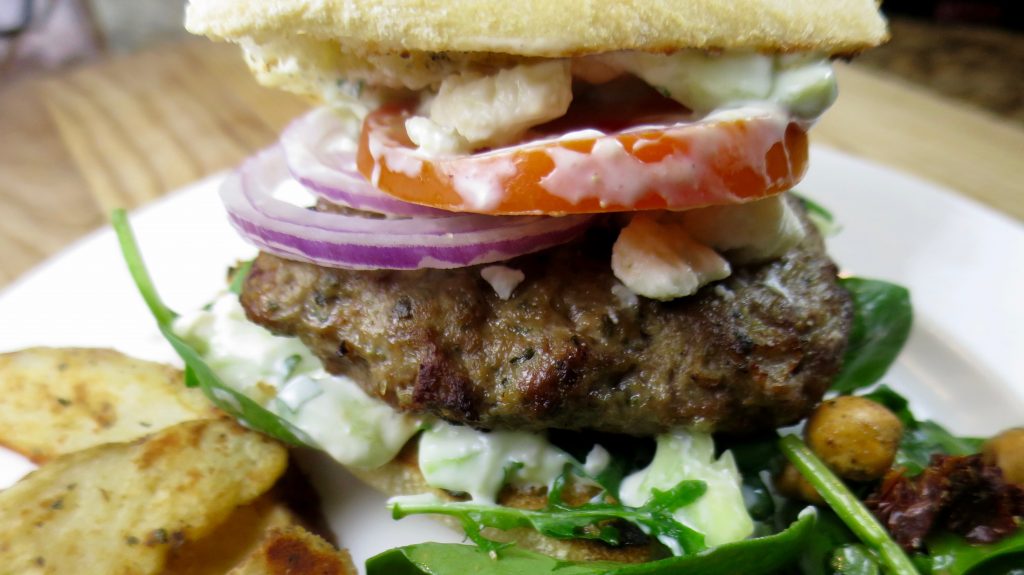 Now that you have loads of burger ideas, it is time to think about paring your burgers with something special to drink. To help us out with that, I consulted Theo Rutherford of Deutsche Family Wine and Spirits. He shared some fantastic pairing with me via Zoom. I am all about a rich bodied red, but his craft tonics with gin also sounds like a summer pleaser. Check out Theo's ideas.
The great thing about a burger bar is that you can keep it simple or get as elaborate as you want.
Start with the basics:
Two types of buns (maybe traditional burger and artisan)
Two types of pattys such as grass fed beef and veggie bean burger (if you have vegan friends be sure to have an option for them)
Sliced cheeses (cheddar and swiss), sweet onion, tomato, lettuce and pickles
Mayo, mustard, and ketchup
You can then expand your options with:
Bountiful bread options: pretzel bread, ciabatta, french rolls, and brioche
Perfect patty options: lamb, turkey, Portobello mushroom, and Mahi Mahi burger
Terrific toppings such as grilled onions and mushrooms, pickled jalapenos, sauerkraut, avocado, cucumbers, olives, red onion, onion rings, and bacon
Gorgeous Greens: arugula, spinach, red leaf lettuce
Sensational sauces: BBQ sauce, tzatziki, buffalo, ranch, garlic aioli, salsa, dijon
Additional cheese choices: feta, fontina, mozzarella, and gouda
Like I said, the sky's the limit! Let your creative juices flow.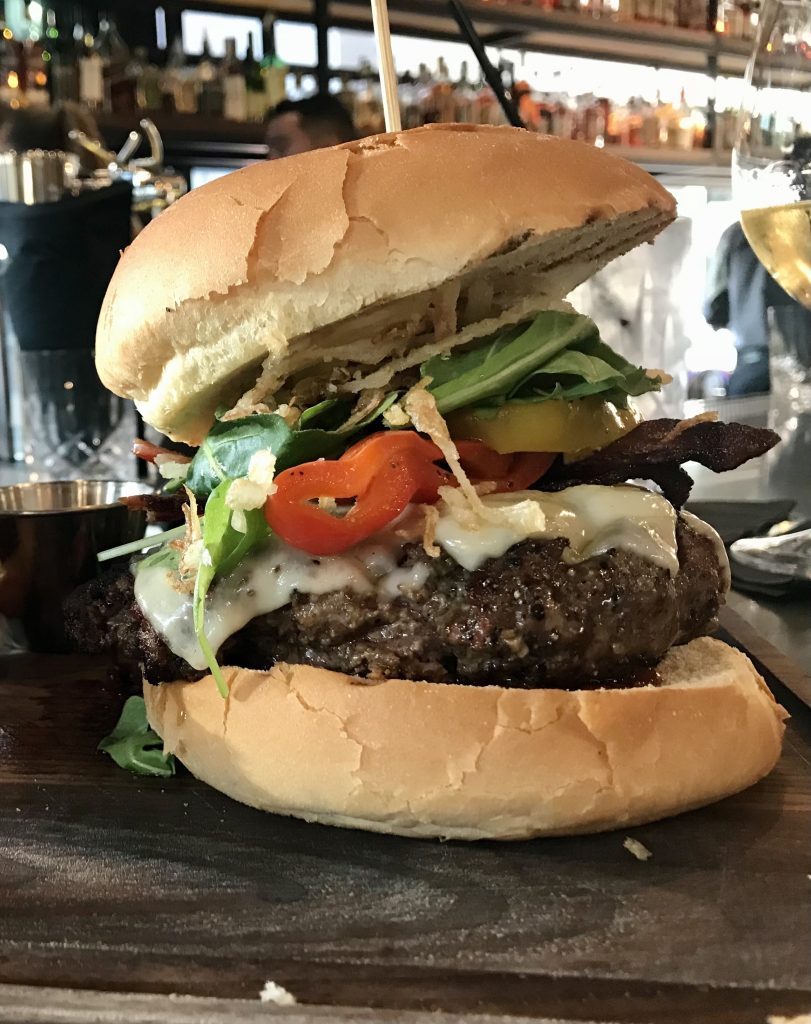 Building the BEST Burger Bar is a wonderful way to entertain. You get to prep a lot of the party ahead of time by plattering all of your burger fixings. You can make it as simple or elaborate as you want! What I love about this plan is that my guests have a say in how they decide to build their own burger. This makes for a fun, creative, and interactive party.
For dessert consider my carrot cake in a jar recipe. This is a melt in your mouth wonder, made ahead of time, and fun to serve in the single serving jars. You can always skip the jars and simply make the cupcakes.