I love the Academy Awards! The actors, the dresses, the red carpet – the whole event is over the top glamour. Ever since I was a young girl, I'd sit and watch and dream. I was ten years old when Tatum O'Neal won her Oscar for her performance as Addie Loggins in Paper Moon. Watching Tatum (who was the same age as me) hear her name called as the winner was unbelievable! To my ten year-old self, it meant that one day I might get my very own Oscar! It was just a matter of time.
Well, my chosen career did not fall anywhere near the entertainment or movie industry. So it appears that I will most likely never have my own Oscar. The closest I might ever get to one is holding my friend's. And let me tell you, they are heavy! So when a winner is handed their Oscar and they say, "Wow! this is heavy!" Believe me they are!
Below is a picture of me holding the original Hersholt Humanitarian award. The award is named after the screen actor Jean Hersholt (1886-1956), the grandfather of my freind Jonathan. I most remember Jean as the grandfather to Shirley Temple in the movie Heidi. So here I am with Jonathan and his grandfather's Oscar. This year's Jean Hersholt Humanitarian award has been presented to Angelina Jolie.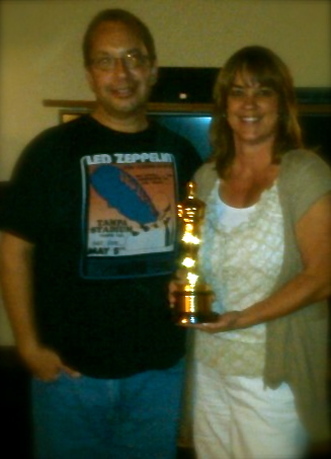 Since I am not on any of the offical Academy Award Party invite lists 🙂 I plan on hosting my own. Now is the time to start planning the menu. This year's award ceremony is set for Sunday, March 2, 2014, and will be hosted by Ellen DeGeneres. I am planning my menu to reflect or tie into the nine movies that have been nominated for best picture.
The movies that are up for best picture and the menu items that I have paired with them are:
Captain Phillips ~ Somali Sambusa
Her ~ Pesto Pizza Bites
Gravity ~ Meteorite Meatballs
Philomena ~ Green Salad with Croutons
The Wolf of Wall Street ~ Lobster Bisque
American Hustle ~ Chicken Piccata Bites
Nebraska ~ Omaha Steak Bites
Dallas Buyers Club ~ Texas Chocolate Sheet Cake
12 Years a Slave ~ Sweet Potato Pie
For this party I am planning to offer appetizers or bite-size nibbles. I like to serve food that is easy to eat and to munch on while watching the awards. I have taken shortcuts with many of the recipes. With a party on a work night – yes, I will be teaching school on Monday morning – and with the busyness of home life, I am opting to take the shortcuts. Please feel free to make your own wrappers, pesto, meatballs etc. from scratch, or incorporate even more shortcuts if you'd like. Remember, it's not about perfection, it's about spending and enjoying time with family and friends.
Below are all of the recipes based on the nominated movies that I had planned for. To see the actual party that I hosted be sure to check out That's a Wrap! The 2104 Oscar Highlights. 
Captain Phillips ~ Somali Sambusa
Captain Phillips starring Tom Hanks is based on a true story of Captain Richard Philips whose cargo ship is hijacked by Somali pirates. The captain is taken hostage and drama on the high seas ensues. I have chosen to make Somali lamb sambusas. These are a popular Somali appetizer. I have never made sambusa before, but the filling looks rather straight forward. The link I provided also walks you through making the wrappers, but I have had success making similar appetizers using the spring roll wrappers, so looking for shortcuts here and there, I will be using the store bought wrappers. The filling looks delicious and has great reviews. I am excited to try this recipe!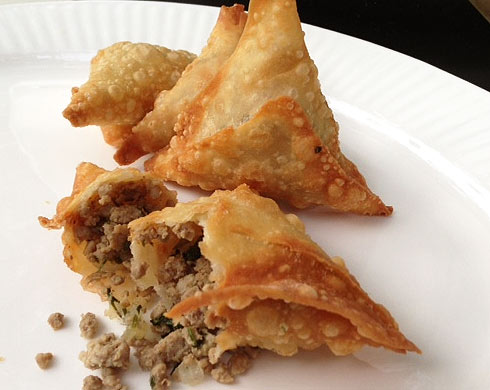 Somali Sambusa
FILLING INGREDIENTS
1 pounds ground beef/lamb
2 tablespoons oil
1 small onion, chopped
2 teaspoons coriander powder
2 tablespoons cilantro, finely chopped
green onion, chopped
2 teaspoon cumin powder
2 teaspoon cardamom powder
1 teaspoon salt
1 teaspoon pepper
1 green chili
1 clove garlic, minced
Oil for frying
FLOUR PASTE:
¼ cup all-purpose flour
¼ cup water, or as needed
WRAPPERS:
1 (14oz.) package of spring roll wrappers
DIRECTIONS
Making the Filling:
Cook the meat in a skillet with a little oil on a medium heat. Add the onions and green chili, stir until tender. Then add coriander, cumin, cardamom, salt, and pepper, garlic, green onion and the cilantro. Cook briefly for a few minutes. Let the filling cool at room temperature.
Flour paste:
In a small bowl, mix flour and the water to make a smooth paste.
Assembly:
Pick one the sambusa wrappers with your hands and fold it into a cone shape seal it with flour paste. Fill the cone with the filling and close the top into a triangle shape and seal it with the flour paste. Pinch the edges so that it is completely sealed. Continue filling the rest of the sambusas.
Heat the oil in frying pan, fry the sambusas until golden brown.
Remove and drain on paper towels.
Photo and Recipe adapted from:
My Somali Food http://www.mysomalifood.com/
HER ~ Mini Pesto Pizza
Her starring Joaquin Phoenix, Amy Adams, and Scarlet Johansson as the OS voice, is part comedy, part romance, and part science-fiction. This is the story of a lonely writer that develops a relationship with the voice on his computer. I have chosen pizza because of the scene where Samantha (the talking OS) takes Theodore (Joaquin) on a trust walk to get pizza. This movie will definitely make you think twice about evolving technology and the isolation it can bring to many people. Her is also up for best original screenplay. So many good movies this year!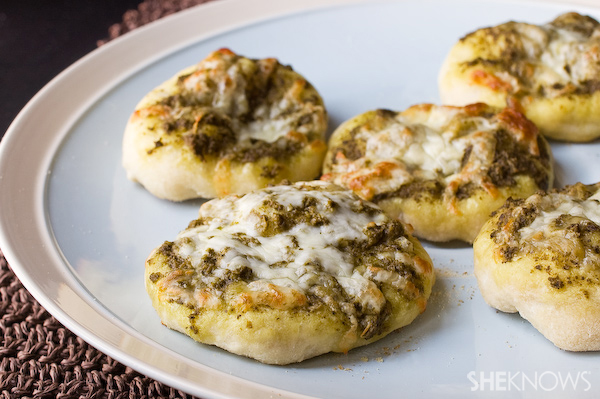 Mini Pesto Pizza
INGREDIENTS
1 package Pillsbury Pizza Dough
Store-bought or homemade pesto
Shredded mozzarella cheese
DIRECTIONS
Preheat oven to 400 degrees F.
Lightly flour a kitchen surface and divide the dough into even pieces of the desired size. Use a floured rolling pin to roll out the dough evenly.
Top generously with pesto and mozzarella cheese.
Bake at for 10-12 minutes or until cheese has melted and is starting to brown.
Photo and Recipe adapted from http://www.sheknows.com/food-and-recipes/articles/985065/pesto-pizza-bites-recipe
Gravity ~ Meteorite Meatballs
Gravity starring Sandra Bullock and George Clooney was full of suspense! Sandra Bullock playing the part of an engineer is in space with George Clooney an astronaut. When their space station is hit by flying debris the two are set adrift in space. The movie is very intense as they try to make it home. I was definitely white-knuckled many times.
As far as food was concerned, the only item consumed in the movie was some good Russian vodka, so feel free to pour yourself a drink! I had to get clever here and chose to serve meatballs: I'm calling them Meteorite Meatballs. I also have always thought of meatballs drenched in barbecue sauce and grape jelly served in a crock pot as very reminisced of the 70's. To me this is a dish that Rosalyn in American Hustle would serve if she were to host a party. Since I already had chicken piccata for American Hustle, I am pairing the meatballs with Gravity.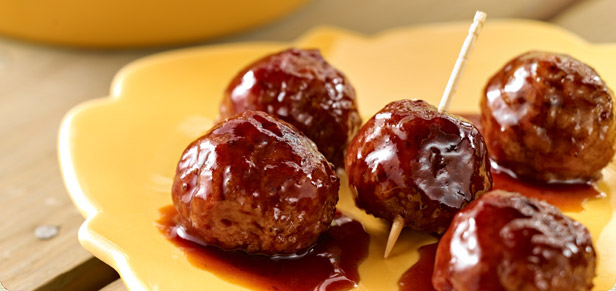 Meteorite Meatballs
INGREDIENTS
1 bag (14 oz.) Armour® Original Meatballs
1 cup Famous Dave's Award Winning Barbeque Sauce
1 – 1.5 cups (12 oz.) Welch's® Concord Grape Jelly
DIRECTIONS
Combine Welch's® jelly and Famous Dave's® barbecue sauce in a large saucepan.
Cook and stir over medium heat until jelly melts.
Heat over medium-low heat 15 minutes, or until meatballs are hot and glazed, stirring occasionally.
Serve in slow cooker set on low, if desired.
Total time: 20 minutes
Makes: 16 servings
Recipe and photo from http://armourmeats.com
Philomena ~ Green Salad with Croutons
Philomena starring Judi Dench and Steve Coogan is the story of a journalist helping a woman look for the son that she was forced to give up fifty years earlier. This is a real tear jerker and Judi Dench and Steve Coogan are simply amazing! Starting in Ireland, their search takes them across the ocean to America in hopes of finding Michael. Martin is not to keen on initially helping Philomena. When the two first meet, Philomana tells Martin how much she likes the croutons at the salad bar, and then fills her bowl with them. Martin becomes intrigued with the story and agrees to help.

Green Salad with Croutons
Make up a large green salad, serve with crunchy croutons, and add your favorite salad dressing. Simple!
photo from: salvationsisters.com/2011_05_01_archive.html
The Wolf of Wall Street ~ Lobster Bisque
Leonardo DiCaprio plays to role of Jordan Belfort. This is based on the true story of Belfort's rise to extreme wealth as a stockbroker on Wall Street. This movie is full of sex, drugs, crime, and greed. Every scene is pretty much over the top! DiCaprio does an amazing job in this movie; however, directed by Martin Scorsese this movie is not for the faint of heart.
I chose lobster bisque due to the scene where Jordan throws lobsters at the Federal Agent. Below is a recipe from a friend, however in my quest for shortcuts, I will be buying my Lobster Bisque from Safeway 🙂 They do not always carry the Lobster Bisque, but I did see it there last week in the Safeway Signature soups. If they do not have it, I will be making it from scratch.


Lobster Bisque
INGREDIENTS
1/2 lb lobster meat, cut into small chunks
2 tablespoons minced shallots
2 tablespoons chopped green onions
3 garlic cloves, crushed
1/4 cup white wine
2 teaspoons Worcestershire sauce
2 teaspoons Tabasco sauce
1 teaspoon dried thyme
6 tablespoons dry sherry
1 teaspoon paprika
1 cup hot water
1 teaspoon lobster base ( better than bouillon)
4 ounces tomato paste
2 bay leaves
2 cups heavy whipping cream
4 tablespoons butter
DIRECTIONS
In a sauté pan heat a little oil over med-high heat and sauté shallots, onions, and garlic for one minute.
Deglaze the pan with the white wine.
Add the worcestershire, tabasco, and thyme and sauté for another minute.
Deglaze the pan with the sherry.
Add the paprika, hot water and lobster base and combine well.
Stir in tomato paste and add the bay leaves.
Simmer for 10 minutes.
Whisk in heavy cream and the butter and bring to a boil.
Add the lobster and simmer until cooked through.
American Hustle ~ Chicken Piccata
I think American Hustle is the favorite amongst my friends. Starring Christian Bale, Amy Adams, and Bradley Cooper this is a crime, comedy, drama mix. Irving and Sydney are two con artist that know how to pull off a great con by covering all the basis and giving their stories a full background. They know how to pay attention to the details!
This movie is an Italian-American feast. In one scene Irving and his wife Rosalyn head out to dinner with the mayor and his wife. The Mayor's wife calls the meal, "the piccata of the gods," while the mayor describes how thin the chicken is pounded. Chicken Piccata is one of the meals I learned how to prepare in college when I wanted to impress. It really is easy. I plan on cutting my chicken pieces into bite sizes and serving with party picks.
2 skinless and boneless chicken breasts, butterflied and then cut in half
Sea salt and freshly ground black pepper
All-purpose flour, for dredging
6 tablespoons unsalted butter
5 tablespoons extra-virgin olive oil
1/3 cup fresh lemon juice
1/2 cup chicken stock
1/4 cup brined capers, rinsed
1/3 cup fresh parsley, chopped
Directions
Season chicken with salt and pepper. Dredge chicken in flour and shake off excess.
In a large skillet over medium high heat, melt 2 tablespoons of butter with 3 tablespoons olive oil. When butter and oil start to sizzle, add 2 pieces of chicken and cook for 3 minutes. When chicken is browned, flip and cook other side for 3 minutes. Remove and transfer to plate. Melt 2 more tablespoons butter and add another 2 tablespoons olive oil. When butter and oil start to sizzle, add the other 2 pieces of chicken and brown both sides in same manner. Remove pan from heat and add chicken to the plate.
Into the pan add the lemon juice, stock and capers. Return to stove and bring to boil, scraping up brown bits from the pan for extra flavor. Check for seasoning. Return all the chicken to the pan and simmer for 5 minutes. Remove chicken to platter. Add remaining 2 tablespoons butter to sauce and whisk vigorously. Pour sauce over chicken and garnish with parsley.
Nebraska ~ Bull Wings from Omaha Steaks
Nebraska starring Bruce Dern, Will Forte, and June Squibb is on the surface the story of an alcoholic man walking to Lincoln, Nebraska to claim his million dollar winnings. On a deeper level this is a story of family, aging, and acceptance. Woody (Dern) is an alcoholic and is most often found in the town tavern. Because of this, beer and lots of beer is appropriate to add to the menu. The movie begins in the city of Billings, Montana, but the quest is to get to Neberaska. Because of this I have chosen to serve steak bites or what is called Bull Wings from Omaha Steaks.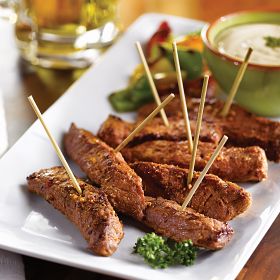 Bull Wings from Omaha Steaks
Straight from their website:
Here's your chance to indulge in the ultimate beef appetizer Omaha Steaks style. We've taken our famous Top Sirloins and cut them into bite sized pieces, seasoned them with buffalo style marinade and just a dash of blue cheese for wonderfully balanced flavor and voilà we've got Bull Wings! Perfect for dipping in Blue cheese dressing or paired with our Omaha Steaks Horseradish Sauce – this is a taste sensation you've got to experience. Each Bull Wing is about 1 oz.
And right now they are on sale 🙂 at:
http://www.omahasteaks.com/servlet/browse/sku/2251
12 Years a Slave ~ Sweet Potato Pie
This is a heart wrenching movie that had me sobbing by the end. This movie is based on the memoir of Solomon Northrup a born-free black man from New York that was kidnapped while on a trip to Washinton, D.C. and sold into slavery. This movie starring Chiwetel Ejiofor is the story of Northrup's 12 years being enslaved on a Louisiana plantation. This movie was hard to watch, while Soloman was a slave for 12 years, it also portrayed the plight of those born and died a slave. It was for all the horrific treatment and the institution of slavery that had me sobbing.
A blackberry cobbler would be a better accompaniment to this movie as Northrup uses blackberry juice to write a letter at one point in the movie. However, I have a favorite recipe for sweet potato pie, so I will be making this as a general nod to the South.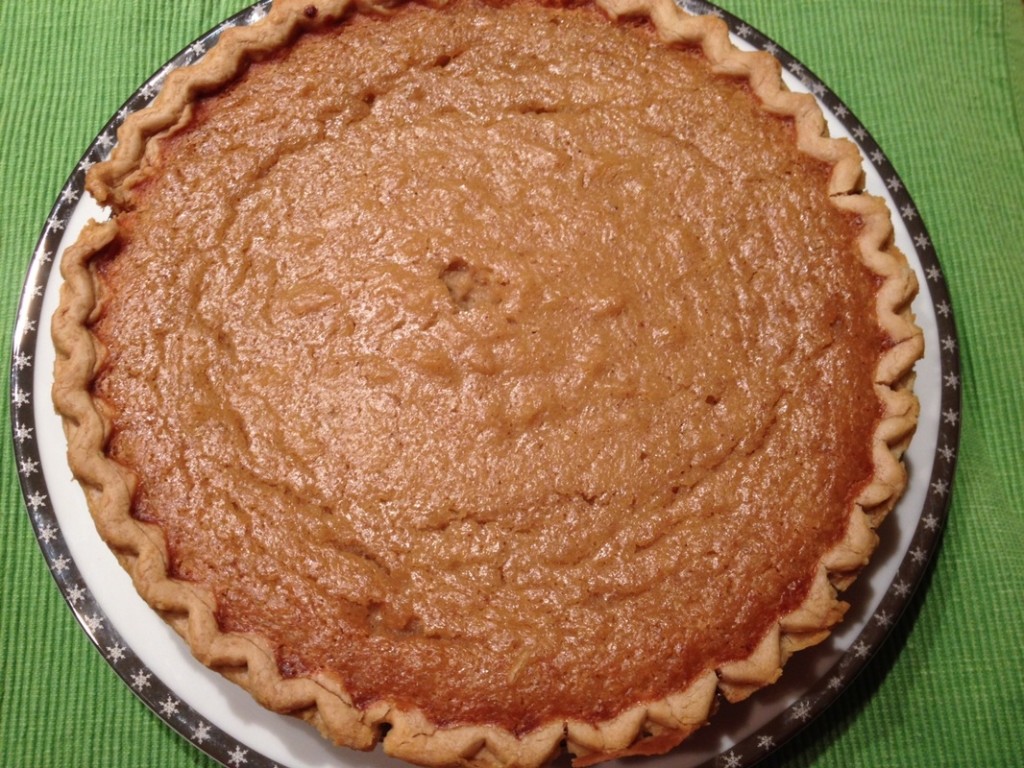 Sweet Potato Pie
INGREDIENTS
1/3 cup butter, softened
1/2 cup sugar
2 eggs, lightly beaten
3/4 cup evaporated milk
2 cups mashed sweet potatoes
1 teaspoon vanilla extract
1/2 teaspoon ground cinnamon
1/2 teaspoon ground nutmeg
1/4 teaspoon salt
1 unbaked pastry shell (9 inches)
DIRECTIONS
In a bowl, cream butter and sugar. Add eggs, mix well. Add milk, sweet potatoes, vanilla, cinnamon, nutmeg, and salt; mix well. Pour into pie shell. Bake at 425 degrees for 15 minutes. Reduce heat to 350 degrees, bake 35 – 40 minutes longer or until a knife inserted near the center comes out clean. Cool. Store in refrigerator.
Recipefrom Taste of Home
Dallas Buyers Club ~ Texas Chocolate Sheet Cake
This is the movie that Matthew McConaughy lost so much weight for. This is the story of Ron Woodroof, a Texas cowboy, that is diagnosed with AIDS. In an attempt to help himself and others with his disease, he begins to smuggle drugs from Mexico that are not yet FDA approved in the United States. I have chosen to make one of my favorite desserts to accompany this movie, A Texas Chocolate sheet cake – so delicious!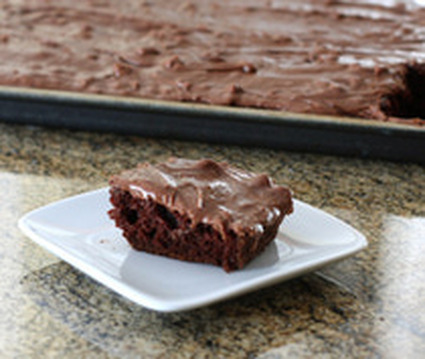 Texas Chocolate Sheet Cake
INGREDIENTS
1 cup butter
1 cup water
1/4 cup cocoa
2 cups sugar
2 cups flour
1/8 teaspoon salt
2 eggs
1 teaspoon baking soda
1/2 cup sour cream
1 teaspoon vanilla
Frosting, below
FROSTING
1/2 cup butter
1/4 cup cocoa
1/4 cup plus 2 tablespoons milk
1 box (1 pound) confectioners' sugar, sifted (4 1/4 cups sifted)
1/2 teaspoon vanilla
DIRECTIONS
Cake: Combine 1 cup butter, water, and 1/4 cup cocoa in saucepan over medium heat; heat until butter melts. Add sugar, flour, salt, eggs, soda, sour cream, and 1 teaspoon of vanilla; mix well. Pour into a 15x10x1-inch jelly roll pan. Bake at 350° for about 20 minutes, or until a toothpick inserted in the center comes out clean. Frost while still hot.
Frosting: Combine 1/2 cup of butter, 1/4 cup of cocoa, and milk in a saucepan; bring to a boil. Add the confectioners' sugar and 1/2 teaspoon of vanilla mix well with electric mixer. Pour over the cake. Spread to cover the hot cake.
Photo and recipe from: http://southernfood.about.com/od/chocolatecakes/r/bl30620s.htm
I am really looking forward to this years awards – there are so many great movies and performers that have been nominated. I know who and what movies I am cheering for; it is just a matter of days to see who the winners are! I hope you have fun planning your awards evening. If you want to keep it nice an simple, pour yourself a beer and munch some popcorn (Nebraska) or steep a cup of Jasmine tea (Blue Jasmine) and savor a few mini Milky Way bars (Gravity). However you plan your evening, enjoy!
And the Oscar goes to…
To see the actual party that I hosted be sure to check out That's a Wrap! The 2104 Oscar Highlights.