This year I am focusing on re-organizing my whole home. Yes, I am starting from the top, working my way downstairs, and then out into the garage. Over the next 12 months I will be visiting every room in our home with the intent of purging, sorting, and re-organizing everything. Everything!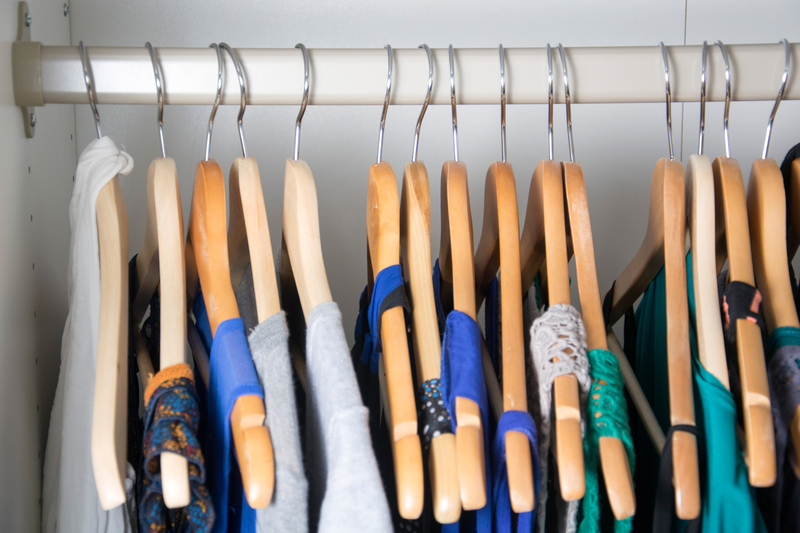 True story. About six weeks ago my husband looked at me and said that we need to set a New Year's resolution. This was coming from the man that does not believe in resolutions. His resolution for us? To organize our home. Needless to say, this went over like a lead balloon. I kinda got mad. Ok, really mad. Why? Well, one – when he says we, it most often ends up being me. And two – I didn't think that it was that bad. Really. Our home for the most part is pretty neat and together. Plus to be perfectly honest, I took it as criticism.
Our home is mostly put together. Of course there are corners that if you look closely have become home to odds and ends. If you are looking for a plastic food container, you might be hunting for a while to find the a lid that fits the bottom. The laundry room counter is often filled with platters and oversized kitchen articles. The garage holds plenty of "Please save this – don't ever get rid of it" belongings of the older children. And finally our office/den/guestroom. Hmmm… The room that becomes the hold all for "homeless" trappings.
Both my husband and I were in 20+year first marriages. When we combined our households, we not only combined the six kids, dog, and cat – we also brought two sets of many items (from furniture to photos to kitchen gear, to tools) and two different approaches to maintaining our office files, paperwork, and stored belongings. We have done OK, but we really could and really should get a better handle on all of the "stuff" that fills our home.
Once I looked around and sat with my husband's resolution for us for a bit, I realized that this should be our goal for 2016. Yes, our goal. My hubby will be purging, sorting, and re-organizing much of our home right alongside of me.
We are busy. Really busy. Which is what most often leads to things getting out of sorts. But we are both committing to getting this done. We agreed to start in our master bedroom and closet and work our way through the home and ending with the garage. I am giving us 12 months to really complete everything. That really is a long time. Consisitencey and persistence will be key to seeing this goal through.
I have created a calendar that I am sharing with you. If you are wanting to tackle reorganizing your home, check it out. While I have created this calendar for our own personal use – it is easily adaptable by anyone.  I anticipate spending 15 minutes each weekday, maybe 30 minutes – tops. I have tried to break it down into small chunks. I plan on doing a lot of purging! I am leaving the weekends free. It might work better for some to do each week's activities on the weekend. Like I said, this plan is completely adaptable.
Getting Organized! A 12 Month Home Organization Plan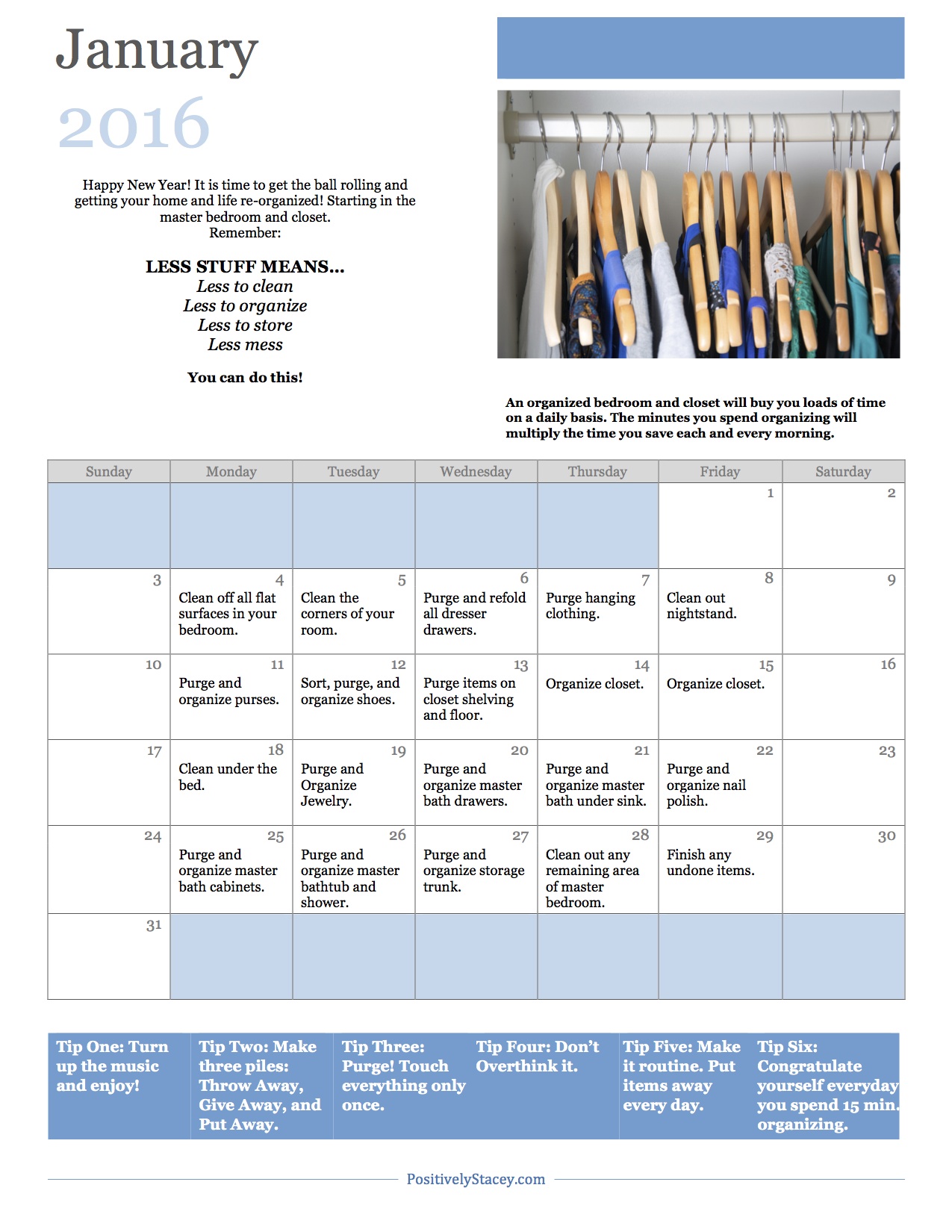 Less stuff means… less to clean, less to organize, less to store, and less mess.
I will be sharing how this process is progressing each Monday. If anyone else wants to join me – we can help hold each other accountable, and share any tips and tricks that we discover along the way. The 12 month plan will include all the rooms in our home. I imagine the kitchen, office, photos, and garage will take most of the time. Which is exactly why I am not starting in one of the bigger/tougher areas. I need to feel success in small bits in order to feel like I am making a difference.
Click here for a printable version: January 2016 Organization Calendar. I have printed out two calendars. One is going into a home binder (more about this next week) and one is getting posted where my hubby will see it each day. I like to mark off each completed item with a highlighter. This way it is marked as done, but I can still see what task was completed. Wish us luck!
Let me know if you are going to be joining in the fun!