Ok, this has been a busy week! I have tried really hard to stick to my self-impossed 12 Month Organization Plan. Whew! I am really glad that week one is over, and I am now heading into week 2.
So how did it go? Well, I cleaned all the flat surfaces in my room, I cleaned the corners, I purged and refolded all my dresser drawers, and I made a first pass through in my closet purging it of old, ill-fitting, and "I just never seem to wear this" clothing. I did not clean out my nightstand.
In fact, what was I even thinking about scheduling an activity for a Friday!?! Really, I work all day and the last thing I want to do on my Friday night is clean and reorganize. This month, I will try to find the time to get my scheduled Fridays' tasks completed. But I gotta' say that was really poor planning on my part! Next month. the calendar will contain reorganization projects on Monday through Thursday. Four tasks a week will mean it takes a little bit longer, but I will eventually get there.
Keep in mind that these activities are scheduled on top of my daily routines and responsibilities. There really is only so much time in the day. I had hoped that each of these activities would only take between 15 − 30 minutes. Unfortunately, sometimes it has taken quite a bit more time. Cleaning my bedroom corners, meant going through stacks of books and papers that I have placed in my corners. Yes, I admit it. I love books and magazines. I pull out articles and then I add this paper to the pile of interesting and/or future reading. And it all piles up in the corners of my room. For my friends that already had clean corners – they got the night off!
This week, I am focusing on my closet. This is my side of our closet before I started purging.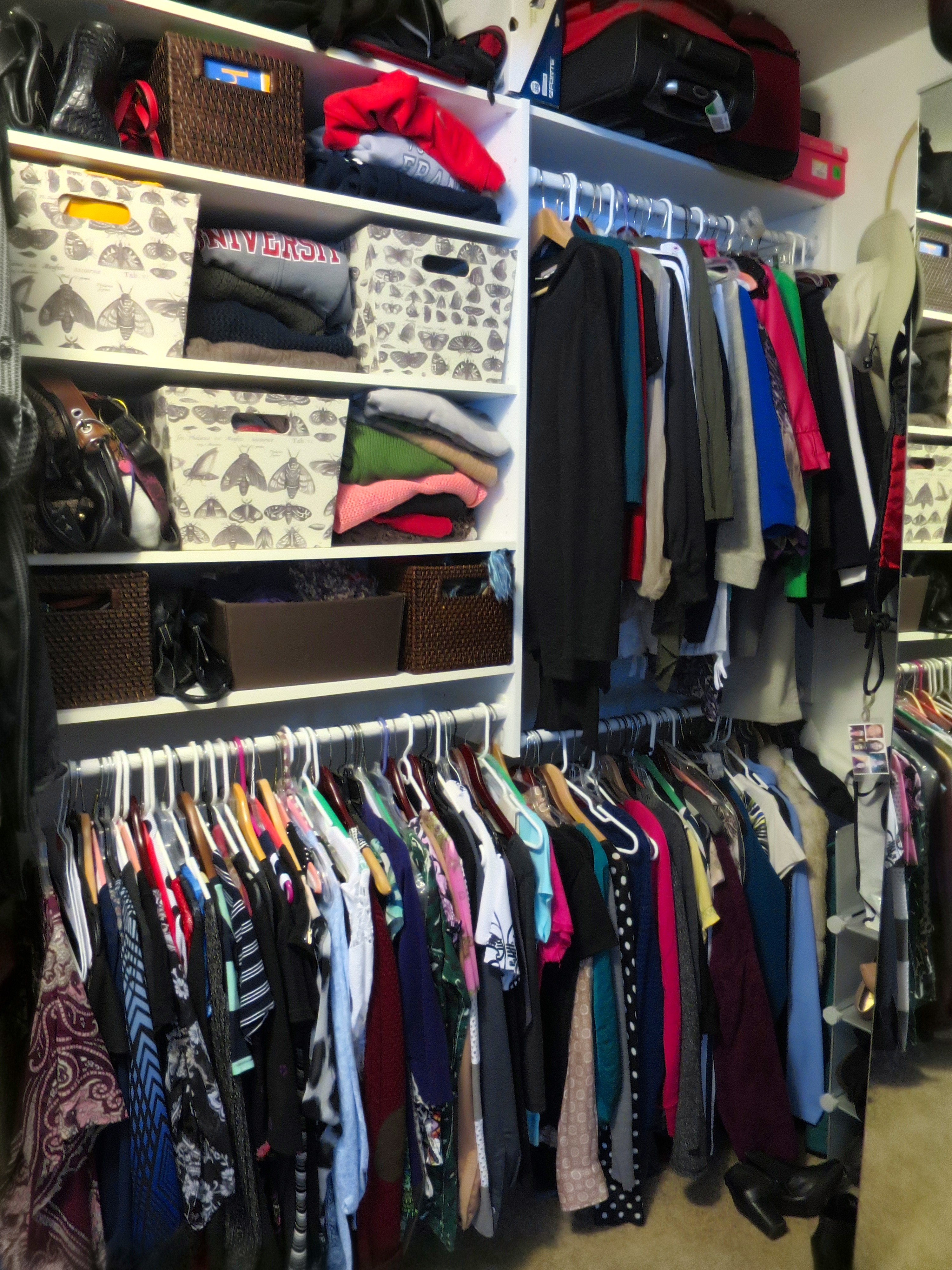 And there is a mirrored cabinet that holds my laundry, my hike, swim, bike, and workout clothing. There are too many event shirts! But I have a hard time letting any of them go.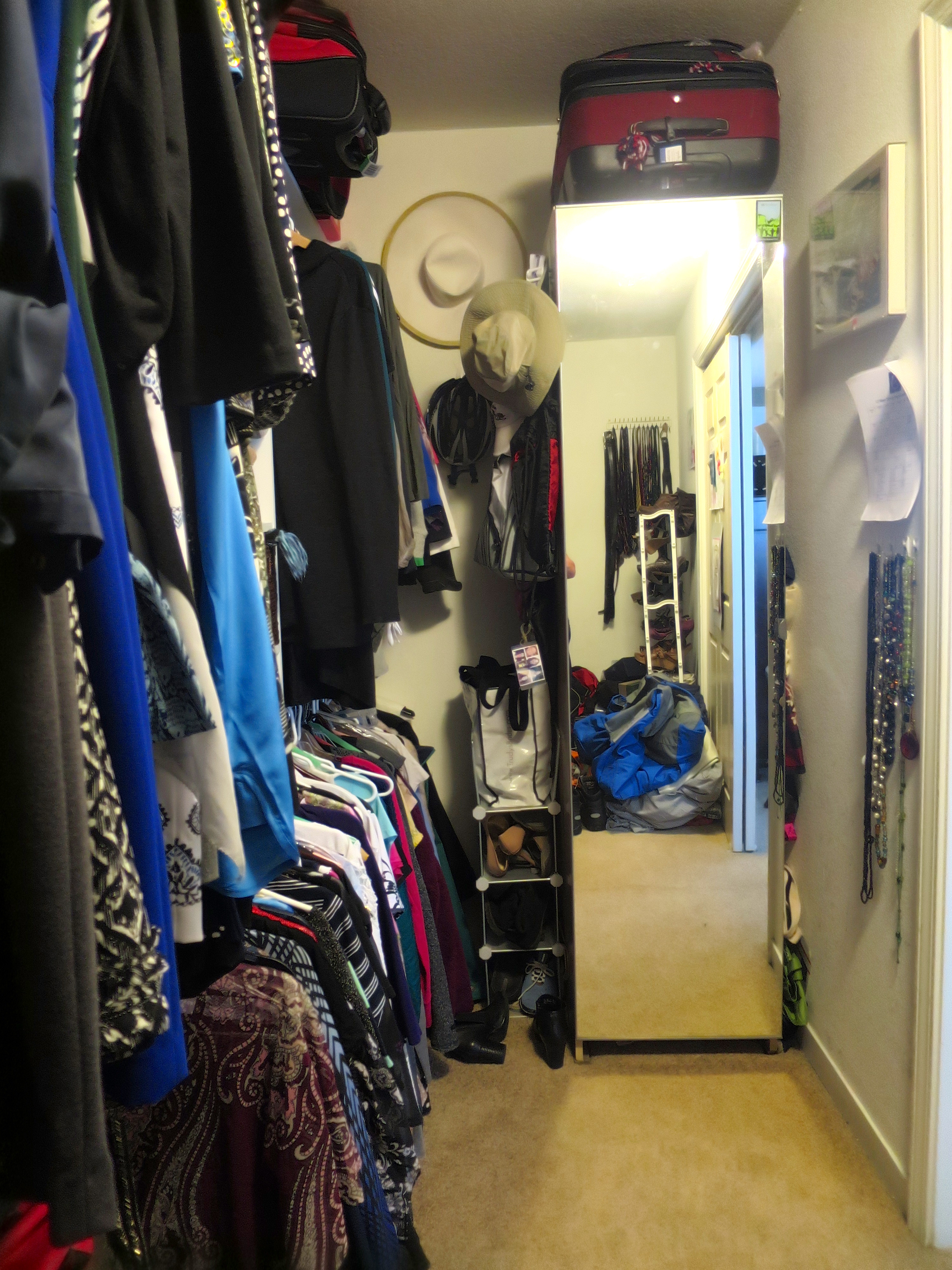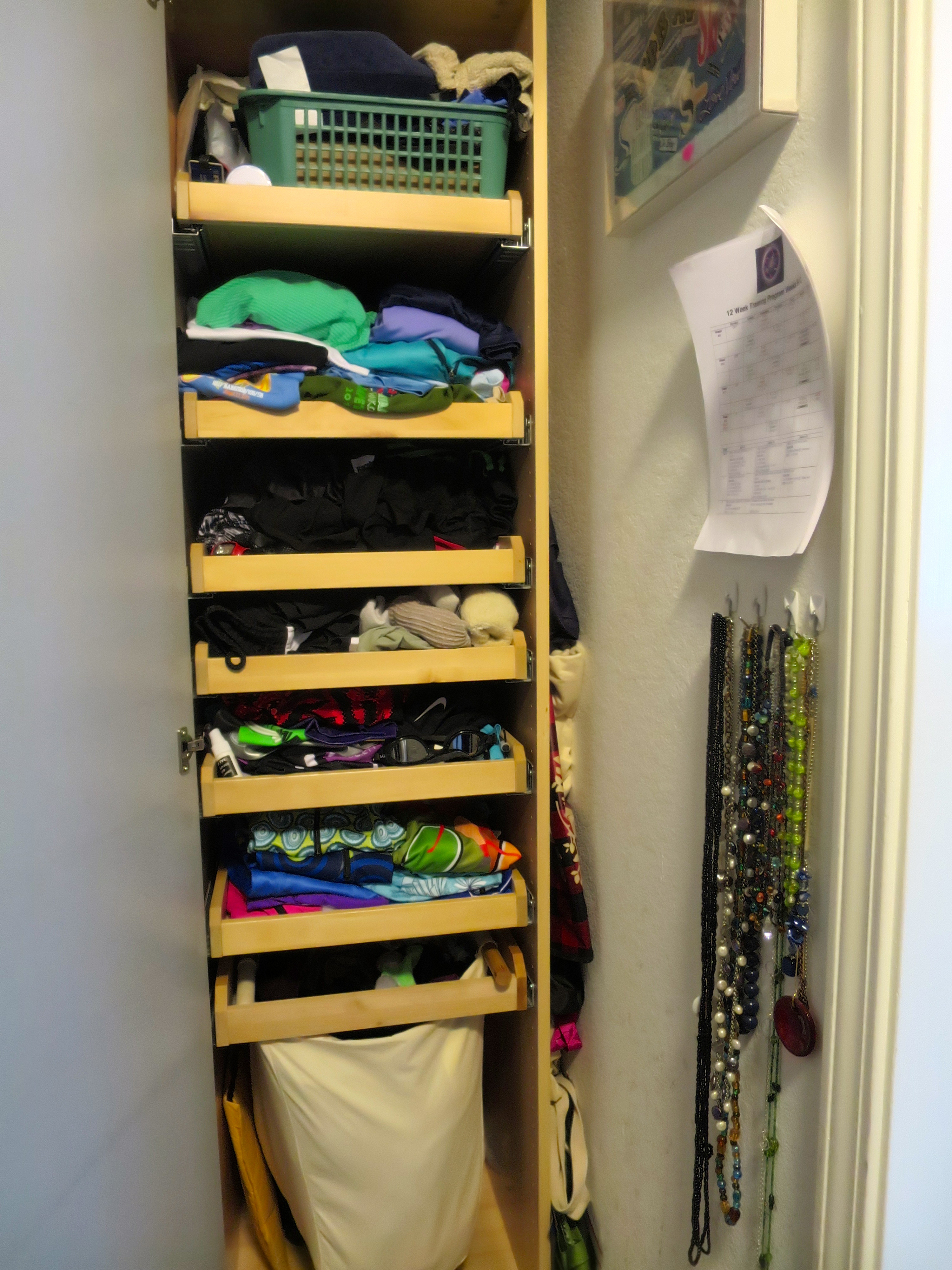 And opposite my side? What is that you see in the mirror? My husband's side of the closet. Remember, he is the one that wanted us to focus this year on reorganizing our home. Oh and that tippy shoe rack does contain my shoes – that is on his side, but it currently is kinda hard for me to get too. To be fair to my hubby, the first part of this last week was spent on getting down and putting away all of our Christmas decorations. Cleaning up Christmas took three days. A lot of time was spent on getting down the house lights, putting away the lawn decor, stripping three trees, and wrapping and storing all of the ornaments, nutcrackers, snowmen, Santas, snow globes, and nativity sets.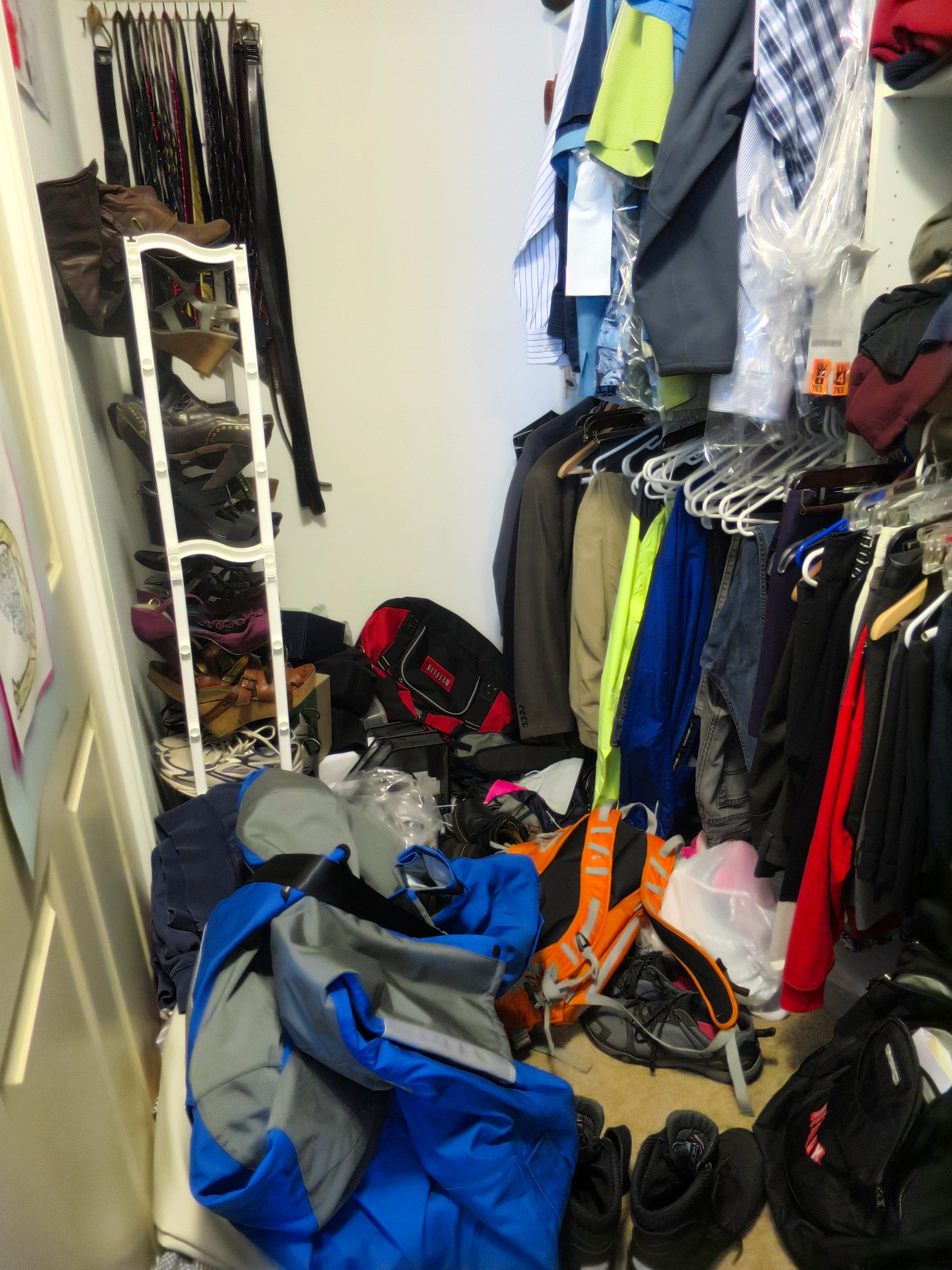 This is was the closet before purging. I counted my hangers – I had 196! There are a lot of systems out there based on having a capsule wardrobe or limiting yourself to 40 hangers. I can tell you that those will not work for me. But I thought for sure I can shrink my wardrobe by at least 25%. So my goal was to eliminate at least 50 items from my closet.
After the first go round, here are 54 hangers that no longer live in my closet. The clothing is folded and ready to be donated.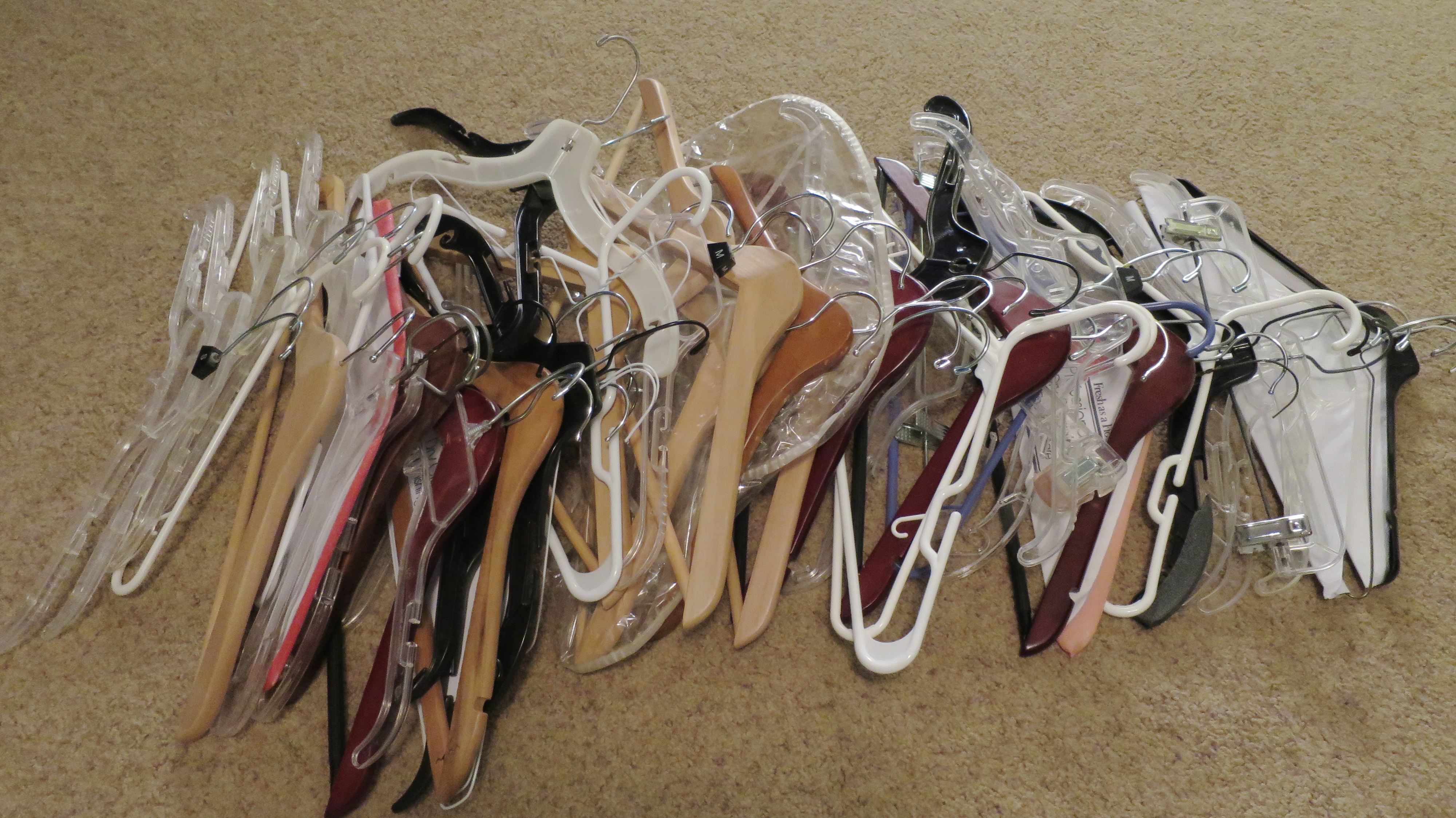 I still need to purge the shelves and decrease the amount of workout gear in my mirrored cabinet. That is what I will be focusing on this week.  Then one more go through the whole closet making sure it is organized. I ordered these velvet hangers from Amazon to rehang my tops. A lot of my shirts are shear blouses that tend to fall off my hangers, so I am hoping the velvet covering will help my shirts stay off the floor. The remainder of the clothing will all be hung on my wooden hangers.
When it comes to organization in my closet, I prefer to place all like items together. Dresses, skirts, short sleeves shirts, long sleeved shirts, sweaters, and jackets are all placed with their kind. This is what makes it easy for me to find what I need. I also rotate my clothing. Once it wear it and it is cleaned and placed back into the closet it is hung up on the right end of each category. I try to pull items from the left side. This is not a rigid system, it just helps me rotate through my clothing.
Next Monday I will post pictures of my newly re-org side of my closet. I will post pics of my hubby's side when he complete his re-org.
Wish us luck! It is another busy week. But taking it one baby step at a time, we will get our home in shape.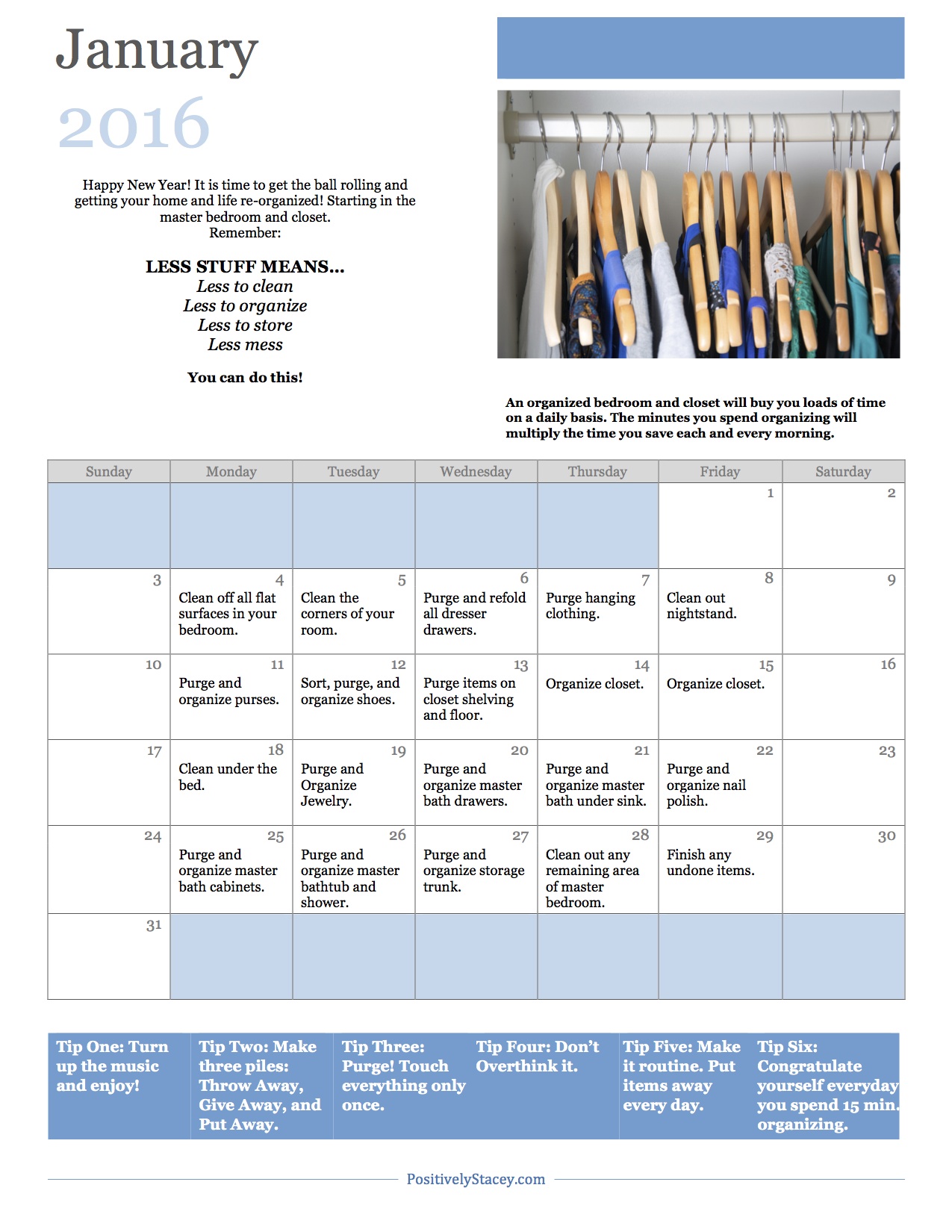 Cleaning it all out. Looking to put more space between these hangers.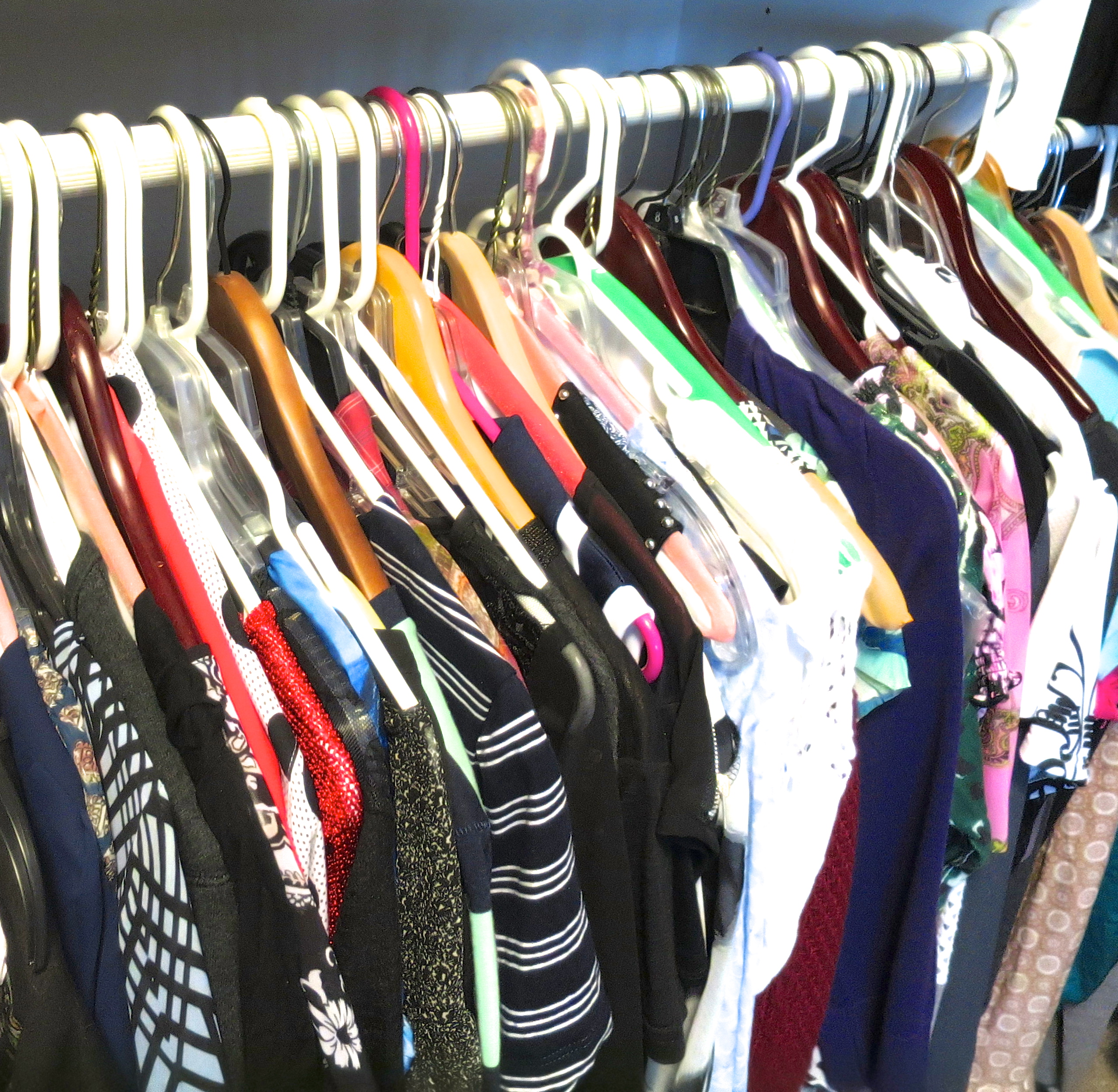 Come join the fun and print out your own calendar: January 2016 Organization Calendar. If you are already on board, How did your first week go?
In the spirit of full disclosure, this post contains affiliate links, which means that I may get a small commission if you decide to purchase anything from Amazon.com. I only recommend products & systems that I use and love myself, so I know you'll be in good hands.