Super fast, super easy, super versatile, and super delicious…my newest Mediterranean grain bowl! I have been loving my grain bowls for dinner precisely because they are fast, easy, versatile, and delicious! My Mediterranean grain bowl recipe makes the perfect dinner!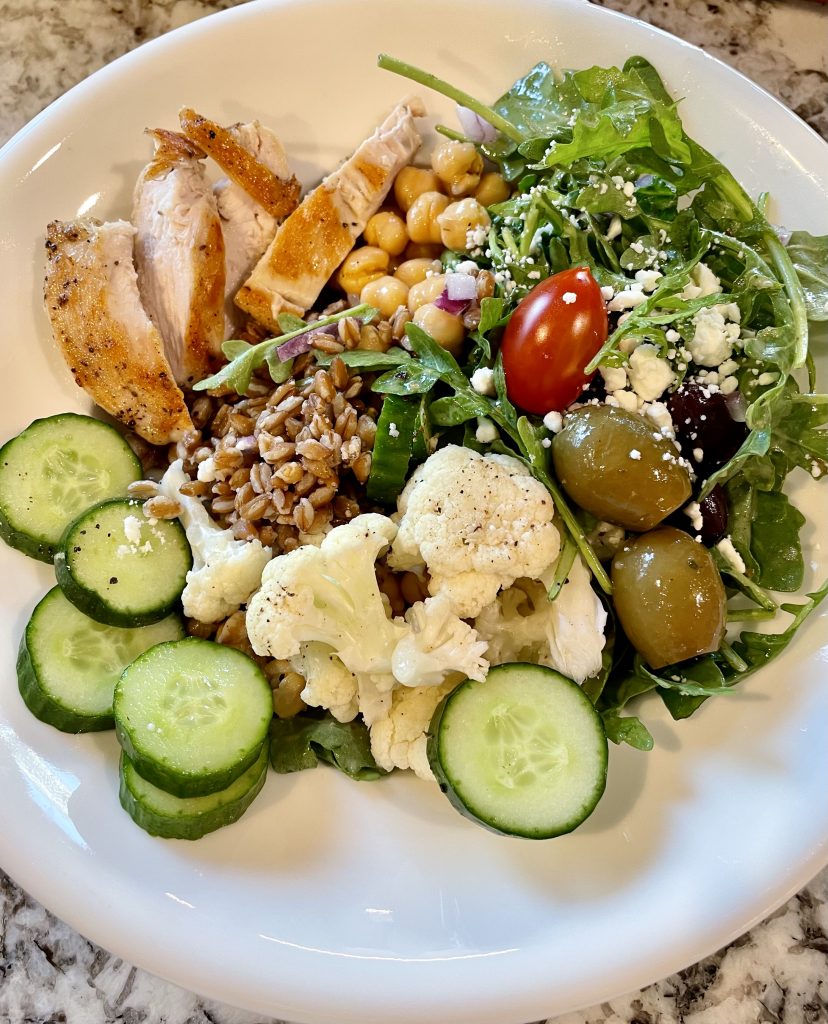 First let's talk about fast – this meal was done in under 30 minutes with sautéing chicken breast to go with it. If you leave out the chicken – dinner will be done in less than 15 minutes.
Since this recipe is all about tossing together ingredients – it is super easy! If you can snip a bag, use a can opener, rinse some veggies – then you have the skills for this meal.
Versatility makes this dinner a go-to meal in our home. You might have seen my other gain bowls: Asian Sesame-Ginger Vegetable and Grain Bowl and my Southwestern Burrito Bowl. Basically my bowls consist of a bean, a green, and a grain. When you look at it this way – you can toss together so many different flavors and combinations.
Super delicious and nutritious! Let's look a just a few of the ingredients. Arugula is full of antioxidants — compounds that can protect against or reverse damage to your cells. According to the MIND diet (The Mediterranean-DASH Intervention for Neurodegenerative Delay diet), we need to eat dark leafy greens everyday to help support our brain health. Farro is an ancient grain and packed with nutrients. It's an excellent source of protein, fiber and nutrients like magnesium, zinc and, some B vitamins. I love the nutty flavor and chewy texture of farro! Chickpeas are rich source of vitamins, minerals and fiber as well. Plus they are high in protein! I simply love the flavor and texture combination of these three – and they each pack their own nutritional punch.
So let's get to the recipe!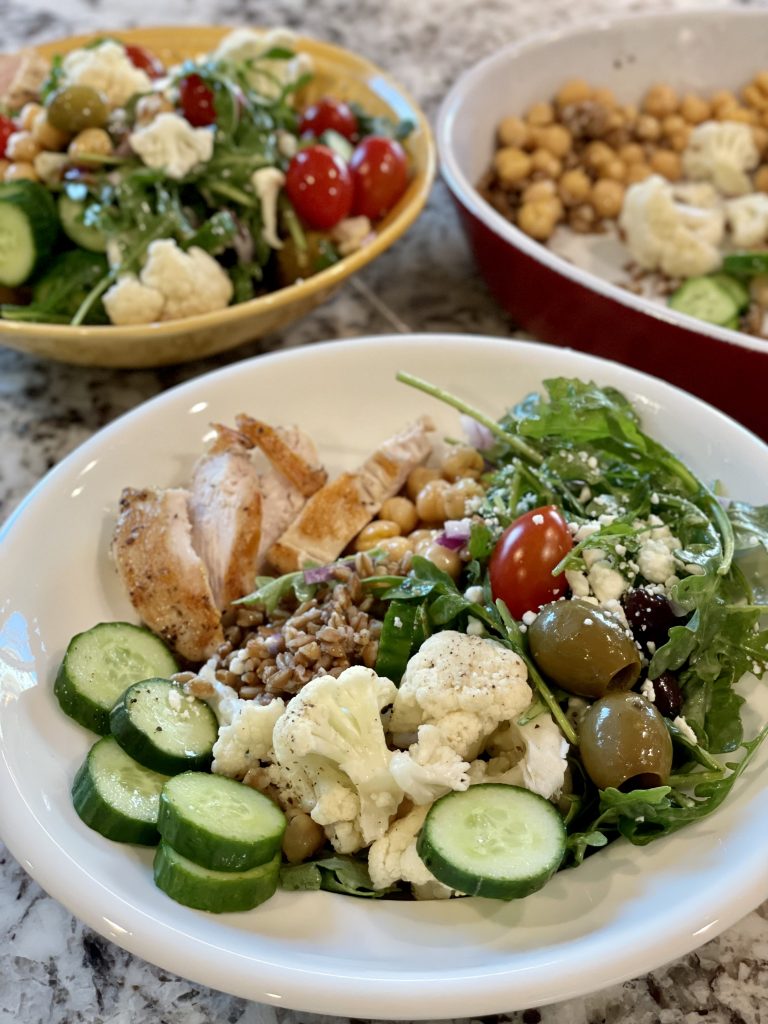 Mediterranean Grain Bowl Recipe
Ingredients
Arugula, 3 cups
Farro (I used a pouch of Nature's Earthly Choice Organic Italian Wheat Farro, since the store was out of uncooked farro. It was delicious and ready in minutes)
Chickpeas, 1 can drained and rinsed
Cauliflower, cut into florets and lightly steamed in the microwave for 2 minutes.
1 medium cucumber, sliced
Kalamata olives, pitted
Cherry tomatoes
Red onion, 1/4 cup diced
Greek Feta Vinaigrette or Annie's Lite Goddess Dressing, 4 tablespoons
Feta cheese, crumbled.
Skinless chicken breasts, optional
Salt and pepper to taste
Olive oil, if you are sautéing chicken
As with any salad that I put together, I base the quantities on the amount of people that I am feeding. When you put together a grain bowl, it is the same thing. So while I have given quantities, be sure to adjust based on taste preferences and the amount of people that will be enjoying this dish.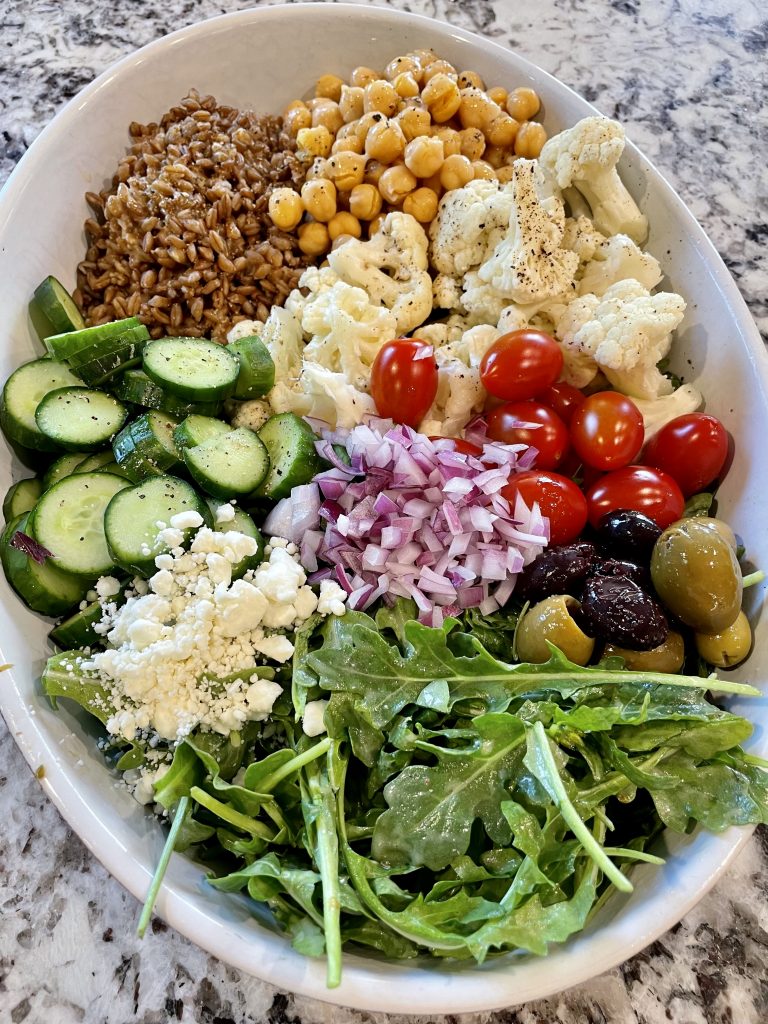 Directions
Season chicken breast with salt, pepper, and olive oil (enough to coat). Heat sauté pan to medium-high heat. Add chicken breast and cook each side for about five minutes, turning once. Remove from pan, transfer chicken breast to a platter and let the juices set.
Lightly steam the cauliflower floret in the microwave for 2 minutes, set aside.
Heat pouch of farro in microwave for 90 seconds, and set aside.
Toss arugula with Greek Feta vinaigrette.
Start plattering your salad. You can toss all of the ingredients together in a bowl, but I prefer setting mine on a platter, so that each diner can pick and choose the quantities of each item they want to add to their personal bowl. Sprinkle with salt and pepper to taste.
Slice chicken breast and serve on the side for those wanting the meat option.
This is a great steamer from Amazon that I really like:
This recipe looks like a million bucks and is very impressive to serve to family and friends! While there are a lot of little steps to getting this grain bowl put together – it is fast and easy! The taste combinations are divine and as you know, it's nutritious for you as well.
Enjoy!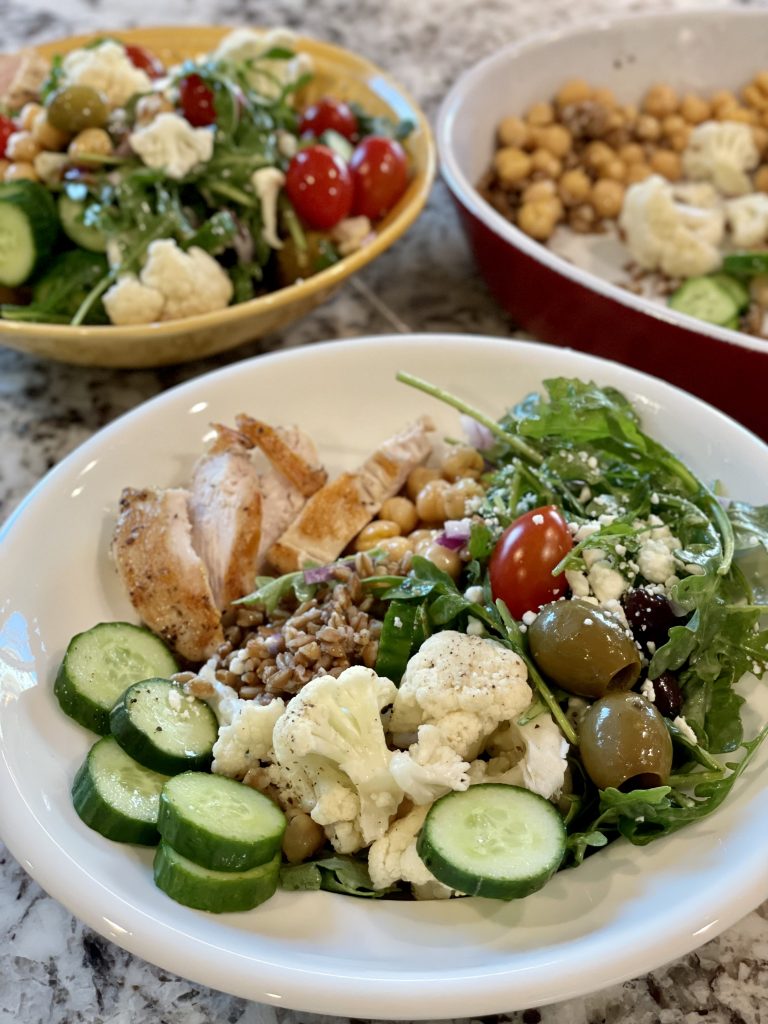 My other favorite grain bowls:
In full disclosure to all of my readers – this post contains affiliate links. Which means should you choose to click on a link and purchase any of these items from Amazon, I will receive a very small percentage of the sale.