My daughter Alyssa was home for a very quick visit.  I was so excited to be able to spend 22 hours with her and two of her Boston friends.  The girls had a week break from Boston University, and they took a road trip that started in San Diego and ended in Morgan Hill.  The California weather is drastically different from Massachusetts right now, and they really enjoyed all of the sunshine. I really enjoyed spending time with these amazing young women.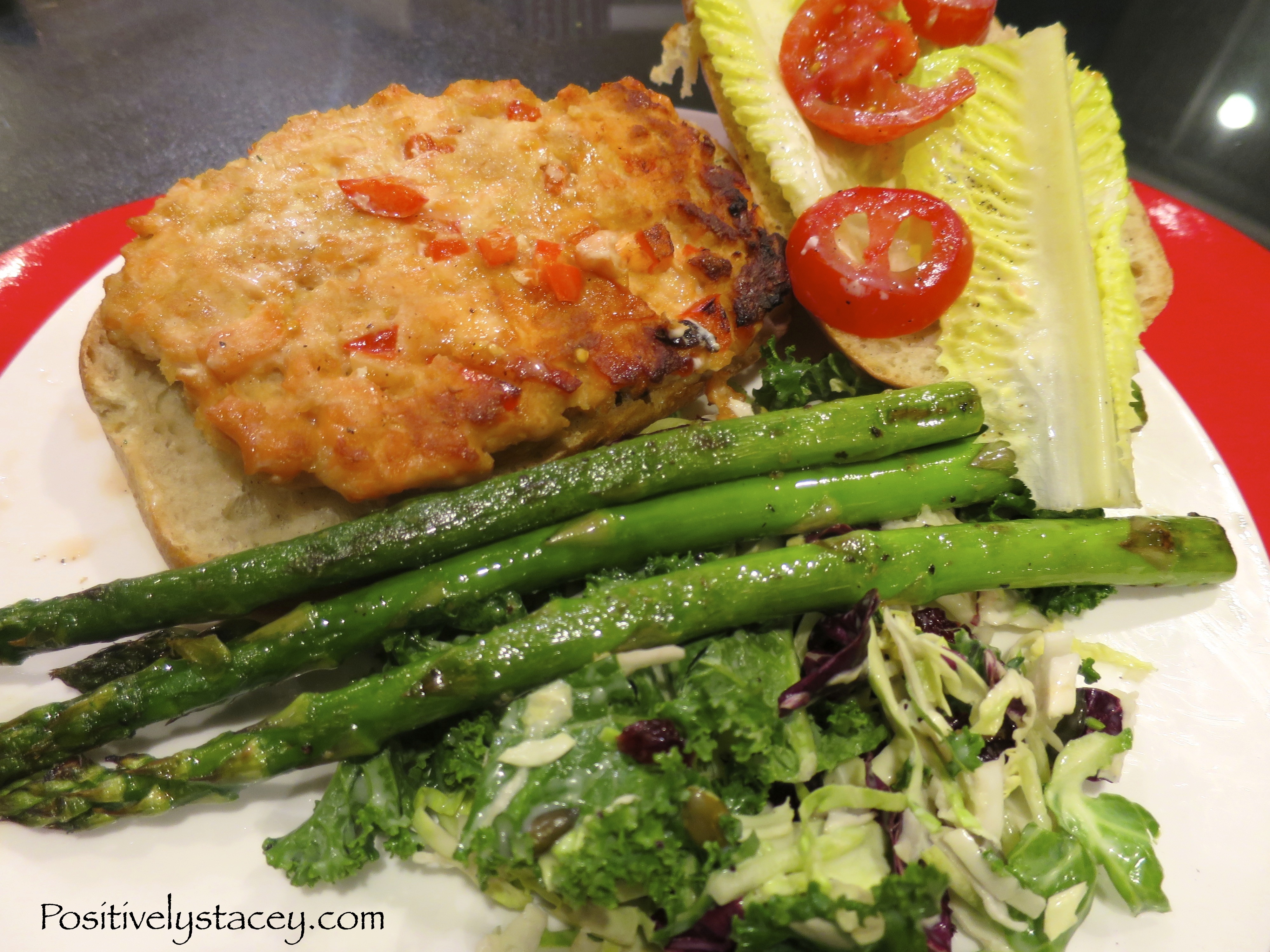 A recipe that Alyssa brought to our family a while back were these delicious salmon burgers. From the first time she made them, they became a family favorite.  So for a yummy, relaxing dinner from the grill and enjoyed outside, yes the weather is that fantastic, I chose to put together these salmon burgers and teamed it with a kale & broccoli slaw and grilled asparagus.
Grilled Salmon Burger Recipe
Ingredients
½ cup red bell pepper, diced
6 tbsp. panko bread crumbs
1 clove garlic, finely minced
1 lb. salmon fillets, skinned, boned and finely chopped
1 large egg white, lightly beaten
1½ tsp. soy sauce
1 tsp. fresh lemon juice
¼ tsp. salt
1-2 tbsp. vegetable or canola oil
Recipe adapted from www.annies-eats.com
Because we are a large group, I tripled the recipe. When I make this recipe, I head to Costco where I can buy a large salmon fillet at a decent price.
DIRECTIONS
In a medium mixing bowl, combine the diced bell pepper, panko, garlic and salmon.  In a small bowl combine the egg white, soy sauce, lemon juice and salt.  Add the liquid mixture to the bowl with the salmon and toss gently until well incorporated.  Form the mixture into four equal patties.

Because of all the slicing and dicing, this recipe is not really a quick-make meal – especially when you are chopping three pounds of salmon! But I turn on the music and enjoy my time in the kitchen.

I form the patties to fit the buns.  In this case I bought artisan semi-bagguettes which are rectangular in shape.
Lightly coat a grill pan or skillet with 1 tablespoon of the oil.  Heat over medium-high heat until hot.  Cook the patties about 5 minutes per side, until cooked through.
I sprayed the wire burger grill basket with Pam.
The fresh asparagus was tossed with about 3 tablespoons of olive, 1/2 tablespoon of crushed garlic (jarred), salt and paper.  It marinated for about an hour and then was placed on a grill pan.  Grilled for about five – six minutes.
I made a mayonaise based spread for the burgers.  I mixed in about 1 teaspoon crushed garlic (jarred), 1 teaspoon dried chopped dill, pinch celery salt, and pinch pepper into about 1/2 cup of mayonnaise.  Basically I just added until I liked the flavor.
Warm the buns a bit in the oven, and then top with dill mayonnaise, lettuce, and sliced tomato. I also mixed up a bagged salad of kale and broccoli.
A delicious and healthy dinner!
A quick visit, but we were able to fit in a run to Clos LaChance,
a local winery, for some wine tasting.

Time with my daughter – Priceless!

Beautiful ladies enjoying California sun and wine.