We moved! This past weekend was our moving date. After a summer of trying to make this deal happen – it happened. It seems like the move date came really fast – with a three week close on selling our home, it sort of did. But then again we started getting serious about this process nearly two months ago when we committed to listing our home to sell.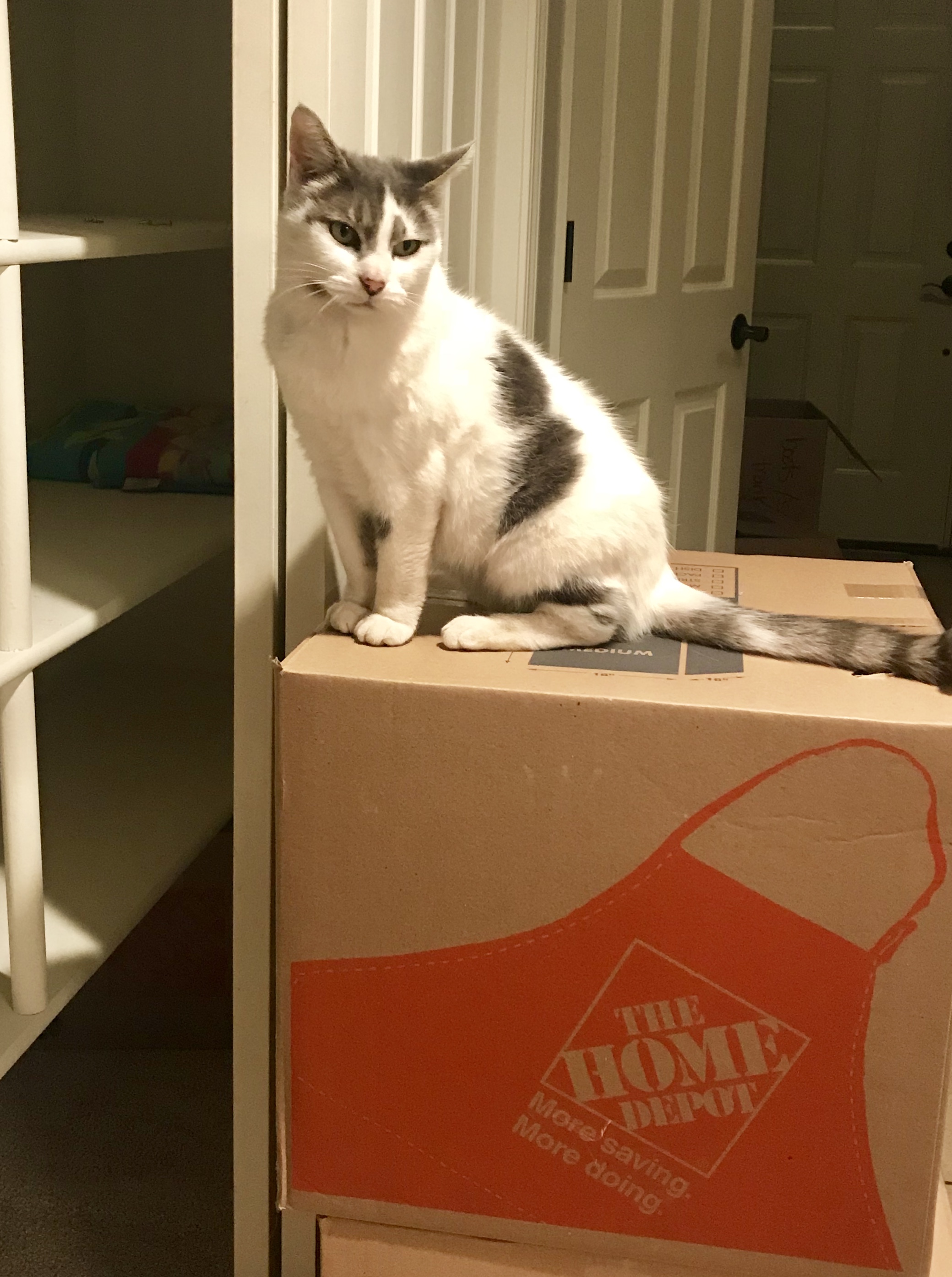 How We Decluttered and Downsized our Home
First came readying our former home, a home that we lived in for seven years and housed a family of eight, two large dogs, and a cat. We got our home showcase ready in 10 days with some serious decluttering! We removed beds, bookcases, 100s of books, and lots of collected art pieces from our home. Most of this was only packed away into the garage. While we got rid of lots of clutter during this phase, we also kept what we knew we would want back into the home if it did not sell.
Get Rid of the Big Stuff
Once we purchased our new home, we got really serious about getting rid of clutter and getting rid of some big stuff. With one less bedroom and smaller rooms all around, we moved into a home that is roughly half of the square footage of our former home, we needed to get rid of some big stuff. We sold a couch and love seat; TV cabinet; kitchen table and chairs; one double bed; one twin bed; three dressers; two nightstands; a large armoire; cast iron patio table and six chairs; two more patio chairs, pool lounge, two stools, two patio umbrellas, and all of the garage shelving. By getting rid of the big stuff, we knew that the furniture we brought with us all had a place to fit in nicely.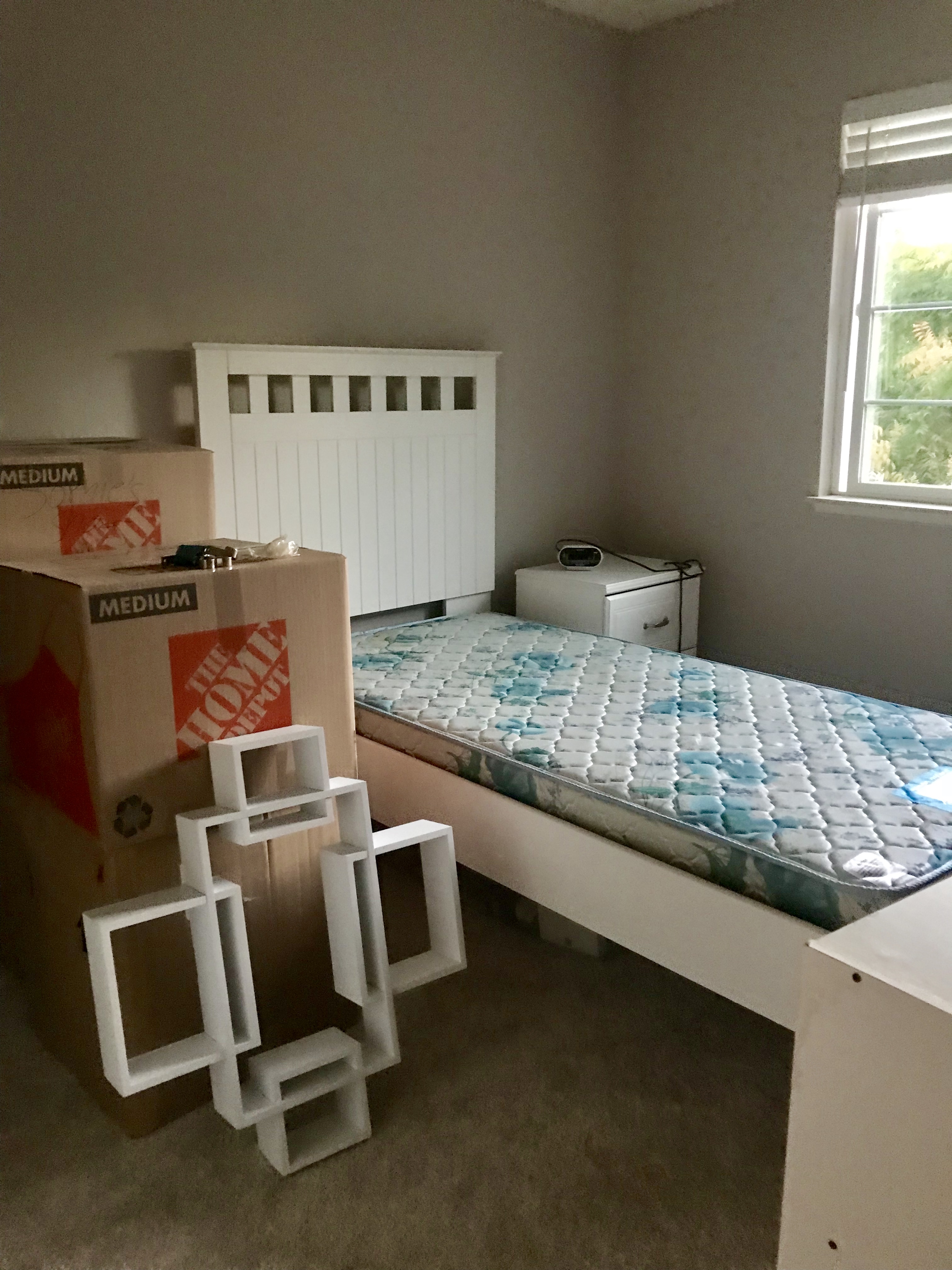 Clean Out the Closets
Our closets have also shrunk to half of their former size. That means that we really needed to pick and choose what we really wanted to take with us. If we didn't love it, we donated it away. If we really didn't need it, we donated it away. This means that my rain coat collection (it hardly rains in our area) was minimized, my novelty t-shirts (those shirts marking events and locations) went adios, and all of my single outfit purses and shoes found new homes. I counted how many pairs of shoes would fit in my new closet and committed myself to that number. Seasonal items like our ski gear was picked through and organized to take up less storage space.
Purge the Small Stuff
This mostly refers to the kitchen and laundry room. My husband and I both love to cook and we both came into this marriage with fully stocked kitchens. When we moved into our home together we had plenty of space, so we just merged both kitchen sets. But now, it is a whole new story! We sold or donated away full sets of dinnerware, glasses, coffee mugs, casserole dishes, bakeware, platters, and many, many more kitchen accoutrements. We said good-bye to a snack master, panini press, bread maker, crockpot, waffle maker (we had three!), popcorn popper, and loads of plastic food containers and water bottles.
Honestly, I kept looking at that Snackmaster thinking that I should take it. The kids loved making sandwiches on it a decade ago, but we never use it anymore! If we want a grilled cheese sandwich, we simply pull out our griddle pan and grill one up. The Snackmaster was fun and served its purpose once upon a time. Now it was time to let it, and other rarely if ever used kitchen equipment, go.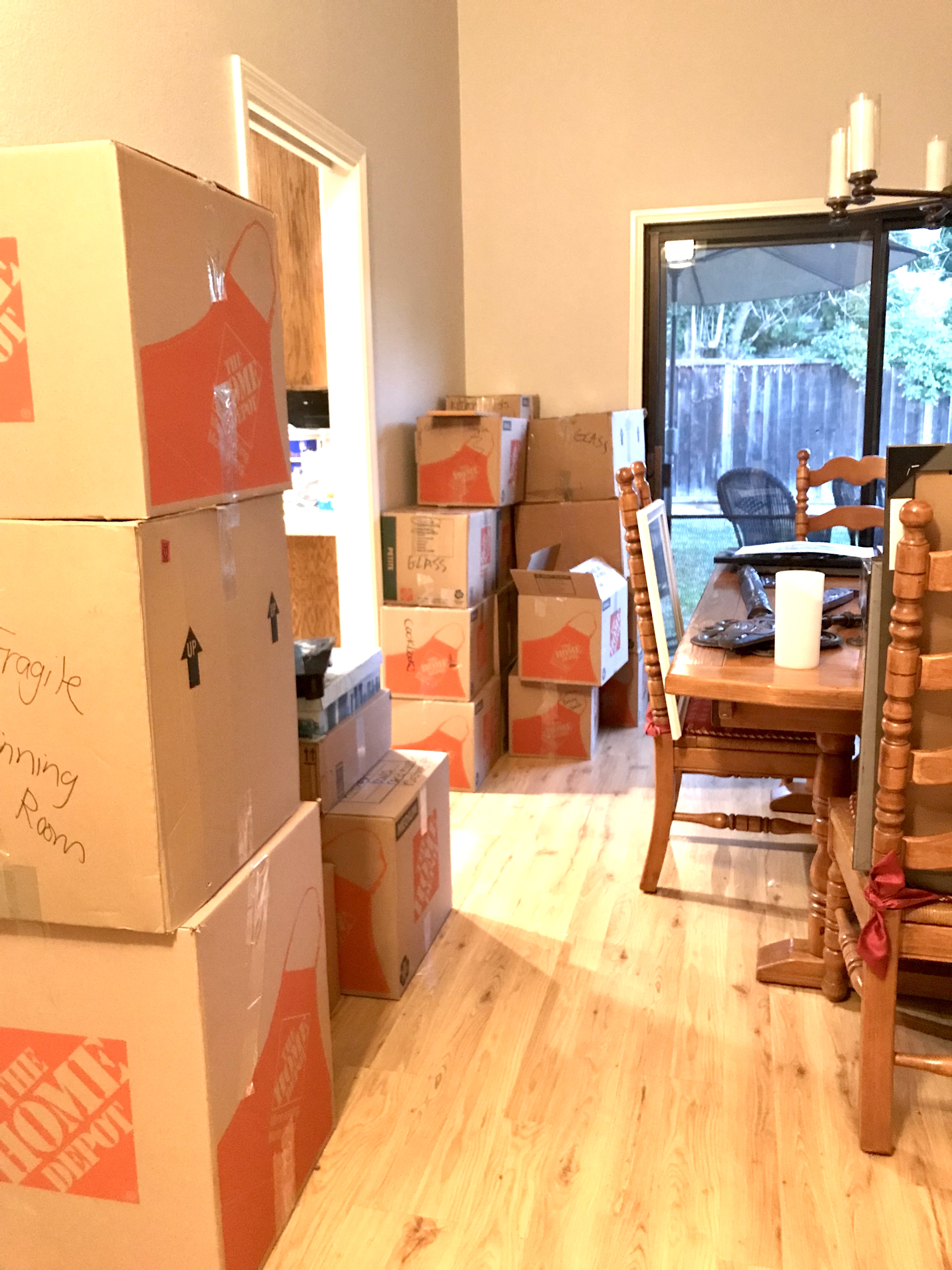 Tackle the Linen Closet
Towels, sheets, and blankets seem to multiply in our home! Yes, we are a large family, but most of our children our now living on their own. We are down to one high schooler and one college student that is home over long vacations and summer. While our home swells with family over the holidays and my parents come for an extended visit during winter, we needed to purge our linen closets. We have enough now to meets our needs with a houseful of family and nothing more. Seriously tho, much of the kids' bedding and towels had seen better days and it was time to retire it!
Clear out the Garage
This one is really a huge step! We went from a three car garage to a two car garage where we actually park two cars in the garage! This means that we lost one whole bay and garage attic space that we used for storage. Thinking forward is key! We no longer need the number of Christmas decorations that we had, we no longer need all of the lawn and garden equipment, we no longer need the large pool toys and yard games, and the kids no longer use all of the sports equipment that we stored. We let go two boxes of Halloween and theater costumes that were acquired or that I sewed over the years, I donated boxes of seasonal decorations by paring down what I had to a much smaller collection, and we purged so much more. Making the most of our new garage space is going to be crucial and getting rid of the extras and non-necessities is the first step.
Keep the Treasures
Downsizing does not mean getting rid of the memories and sentimental memorabilia, but it does mean looking at these pieces with a critical eye. I went through the kids' art portfolios and choose my favorites. Many of my favorites were already framed and highlighted in our prior home. We have a lot of collected art pieces – most these we kept. Some art that did not have personal importance to us, we let go. Treasures are treasures to us for a reason. Find a way to keep the treasures whether you find a way to highlight them or to store those pieces. I have handmade gifts from my sister that I will not let go off, pieces from my grandmothers that truly bring a smile to my face when I see them, and memorabilia that floods me with happy memories. These will stay for now. Maybe one day I will think differently, but not now. I am not signing up to be a minimalist, we have simply decluttered and downsized our home.
Be Patient with Yourself and Your Spouse
I wish I could say that this process is easy, but it is not. While we are thinking forward and very happy with our decision to downsize,  it is hard to let go of so much "stuff" and moving it is an exhausting process! More than once my husband and I found ourselves squabbling and fighting over the dumbest of things. We learned to stop and acknowledge when we are just too tired or stressed to tackle an issue. On the flip side, we both really appreciate what each of us is doing to see this process through. More than ever, this process of decluttering and downsizing our home requires communication and a mutual understanding and acceptance of this new journey that we have chosen to undertake.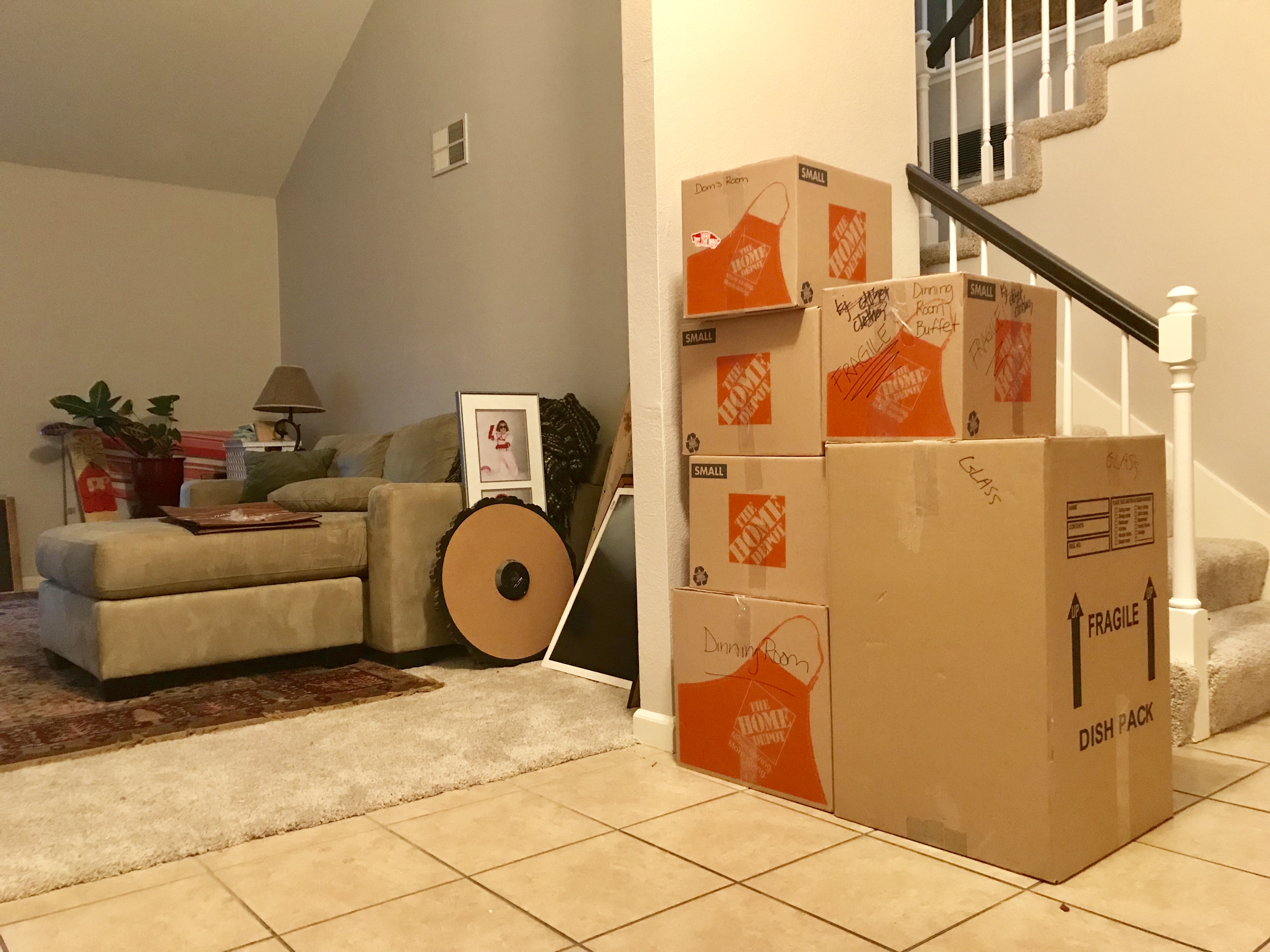 We have both asked ourselves and each other over and over throughout this process if this is what we really want right now. The answer is yes. That however does not make it easy to say goodbye to a home with so many wonderful memories and so much more space. We just keep reminding ourselves that once we are really in and settled, we will be creating a new home for ourselves and our family. We remind ourselves of the reasons why we chose to downsize and we get very excited about what the future holds.
We know that we are building a new home that one day will be filled with more wonderful memories.