I come from a family of artists.  Below is an oil painting done by my great-uncle, Roland Mousseau. I have always loved art, and creating art.  How lucky for me – that when I was a child I had Uncle Rollie!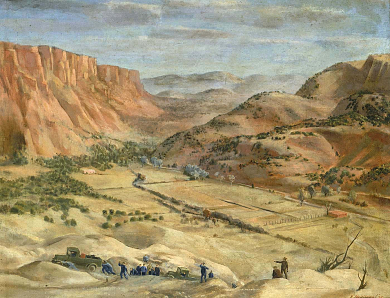 When I was young, Uncle Rollie graciously became my pen-pal! We never met in person, he lived in Minnesota, and I lived in California, but for a long time we traded letters back in forth.  Perhaps a more accurate telling would be that I kept sending him my drawings, asking him for his advice. I really wanted to be an artist! And he patiently wrote in return, telling me to just keep drawing. In his words, "Practice, practice, practice."(For those of you familiar with the children's book. I think this might a akin to the story, Dear Mr. Henshaw by Beverly Cleary.  I was playing the part of Leigh Botts, 10 years before his creation.)I specifically remember sending Uncle Rollie a pencil sketch of a deer in the woods that I had worked on for a very long time.  I got some very honest feedback! He definitely found good points – he was kind, but much practice was in order. This back and forth ensued for some time.As a child my art work piled up, and as a mother my kids' art work has piled up!  What to do with all their art? Display it f course!
I love the idea of using a curtain rod and curtain clips like so many pictures found on Pinterest.
 The picture below is from http://www.houseofhepworths.com/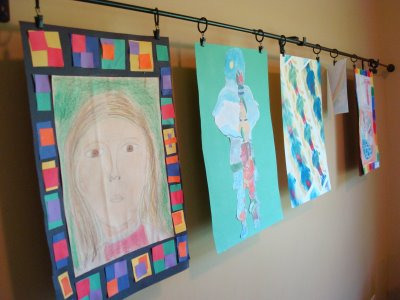 But for me, I have always loved the idea of framing them and creating an at gallery somewhere in the home.  Below is a picture of our family's art gallery.  this is on a small hallway between the kitchen and family room.  Unfortunately it does not have great lighting, and I keep thinking that I need to add something overhead.  Every child in the family has something on this wall.  The art is from first grade through high school. I love showing all levels!  The exception is the drawing of the palm tree drawn by my sister when she was in college.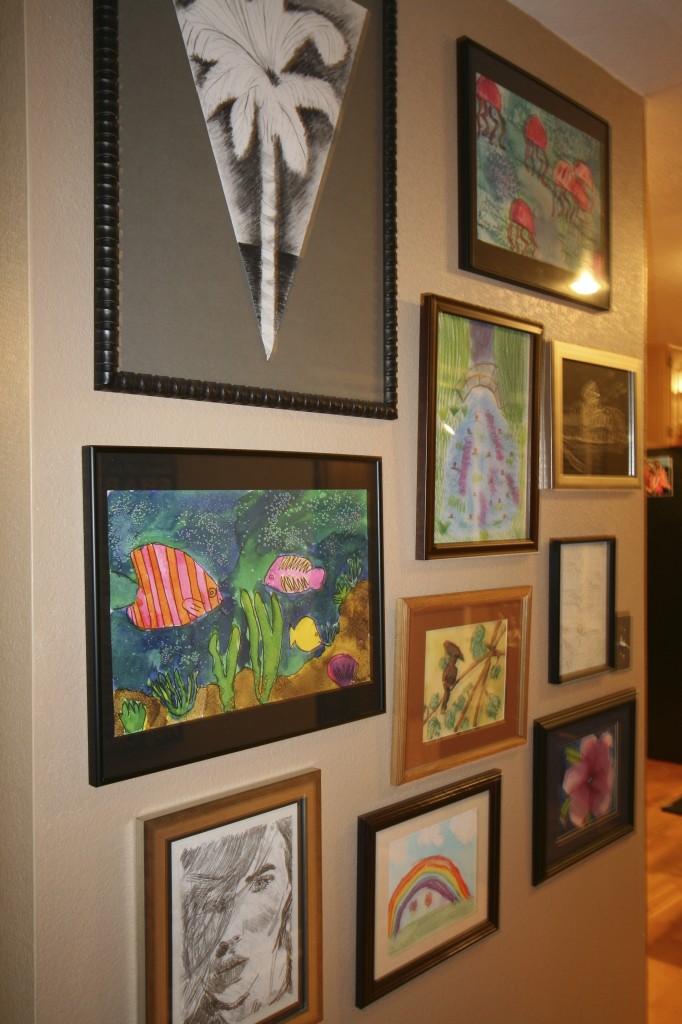 The family art in the home does not end here! I also have an oil painting of a cat that my mom painted; a charcoal sketching and wood carving from my mother-in-law, and a large bird of paradise painted by my daughter when she was in fourth grade. These art pieces are scatered through out the house.
In addition to the hangable art, many in my family have dabbled in clay. The finished ceramic pieces are also found throughout our home. There is something wonderful about playing in the "mud", no matter what your age is.  For my youngest, working with clay is a wonderful tactile event! And she is very proud of her purple sand castle!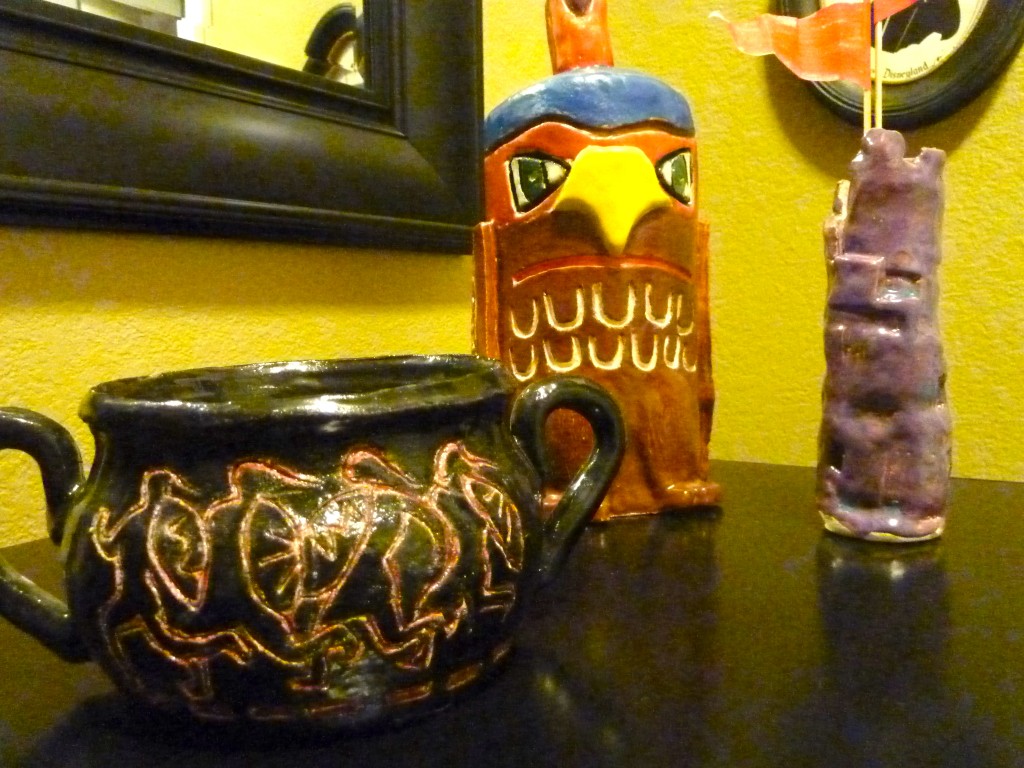 There is one piece that I still do not know where to hang.  It is a 10 minute charcoal sketch that I recently completed when I participated in a live model drawing class at San Jose Museum of Art. For now, it lives in my bedroom behind my dresser.