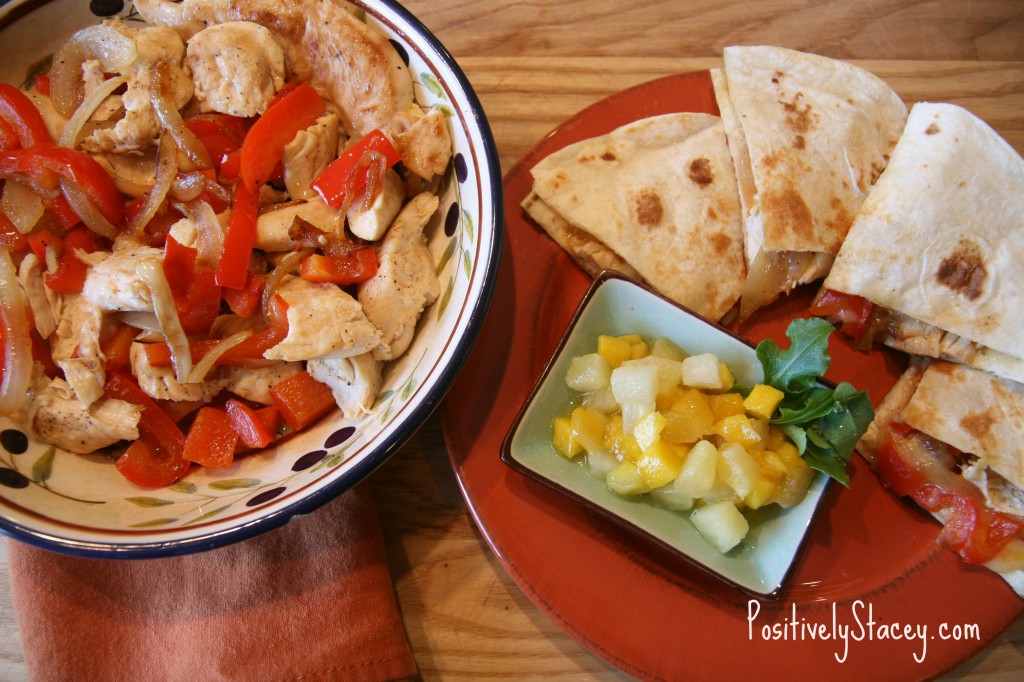 Weekday lunches in our home are brown-bagged lunches and usually consist of some sort of a sandwich. So on weekends I try to mix it up and make something warm for lunch. This quesadilla is not only quick and health, the kids love it! Once you cook up the filling it's really easy to assemble the quesadillas.
And if you are like my husband, who is always trying to cut down on carbs – it's even easier to make it into a salad. My husband takes a large bowl of lettuce, tops it with the cooked chicken, peppers, and onions. then tops that with salsa. a splash of hot sauce, and adds a dollop of sour cream. A tasty salad for sure!
Chicken "Fajita" Quesadillas
Ingredients
Chicken Tenders (chicken breast will work as well, but if I have the tenders, I use them because they cook up so much faster)
Red Bell Pepper
Onion
Shredded cheese
Tortillas
Salsa
Directions
Slice bell pepper and onion – sauté in a tablespoon olive oil. Remove from pan and sauté chicken. Brown on each side and cook throughly about four minutes per side. Remove tenders and slice into bite size pieces. Return chicken, peppers, and onion to pan – season with salt and pepper.
Heat tortillas. Place shredded cheese on warmed tortilla, top with chicken mixture, sprinkle with a little more cheese, and top with a second tortilla. Carefully flip in pan to warm second size.
Slice and serve with a side of salsa ~ ENJOY!