The Martian by Andy Weir is a suspenseful tale that combines the best of Apollo 13 with MacGyver. Mark Watney is an astronaut that is part of a six-person crew running experim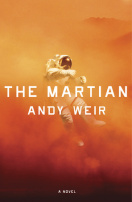 ents on Mars. They have only been on Mars working for 6 sols when a huge sand storm hits the planet and they need to abort the mission. As they are making their way from the station to the flight vehicle the astronauts are linked in pairs because the winds are strong and the visibility is nil. Getting impaled by a flying antenna Mark is flung away from the group. His suit is penetrated and the antenna plunges into his leg. The breached suit sends information to the crew that leads all crewmembers to believe that Mark is dead. Commander Lewis heads out looking for Mark but in the sandstorm her search is futile. The ship must launch before it tips. The five crew members leave Mars.
Mark miraculously survives. His blood pooled and sealed the hole in his suit – he regains consciences face down in the sand as the storm subsides. He quickly comes to the realization that he is alone on Mars. The next schedule flight to this distant planet is four years away, and it is scheduled to land in an area far away from Mark's current location.
Left to his own devises, this astronaut trained as a botanist and mechanical engineer becomes the MacGyver of Mars. This tale of survival is grounded in real life science and engineering. Page after page you are reading about how Mark manipulates what supplies he has to create a place to live where he can not only have a steady supply of water and oxygen, but also grow the first ever food on another planet.
This story is two-fold. You not only have Mark on Mars doing everything to survive, you also have NASA on Earth doing everything they can to find a way to bring Mark home. The tension of NASA and the brilliance of the scientists make for a very suspenseful tale of survival. You have the entire planet Earth sitting on pins and needles, as Mark Watney becomes the biggest news story ever. International relations are forged as scientists and governments work together to bring this one man home. But Mars is relentless. Sand storms, massive craters, freezing temperatures and much more conspires against Mark Watney.
This was a book that I was not initially interested in reading. Honestly, I just could not get myself excited about reading a space story. I am happy to report that I was off base with this one. This book is filled not only with suspense, but it also has a very likable and believable main character that continually interjects humor into his situation. For his own sake, Mark adds levity to his serious and dangerous quest to beat all the odds. Although it is science fiction, the drama reads as a true tale. Once I started this book, I could not put it down. The writing itself is rather simple, but that is actually a relief when you take into account the amount of science that is thrown into the mix. The book was a quick read for me, but I read straight through the science explanations – I found it interesting, but to my non-science background it didn't make a lot of sense. I took what Mark was doing to stay alive as all possible science. I would love to know what a science-minded reader would think about this story. I imagine they would be thinking though a lot of the reading, analyzing all of the actions NASA and the astronauts were undertaking.
Either way – I really enjoyed this book! I loved the suspense – it had me sitting on the edge of my seat right through till the very last page.
All the while I was reading the book, I kept thinking this would be a great movie! Then reading the conversation linked below, I found out that the book is going to be made into a movie. The film rights to The Martian were sold to writer-producer Simon Kinberg (Mr. & Mrs. Smith, Sherlock Holmes, X-Men: First Class). Mat Damon will be playing the role of Mark Watney and the movie will be directed by Ridley Scott (Exodus: Gods and Kings, Prometheus, Gladiator). With a line up like that – this movie should be good! I will be looking forward to this book to film release in November.
A bit about the author:
ANDY WEIR was first hired as a programmer for a national laboratory at age fifteen and has been working as a software engineer ever since. He is also a lifelong space nerd and a devoted hobbyist of subjects like relativistic physics, orbital mechanics, and the history of manned spaceflight. The Martian is his first novel.
Find out more about the author by reading:  A Conversation with SpaceGeek and Science Fanatic Andy Weir


I received The Martian from Blogging for Books for this review. However, the opinions are 100% mine.
Transparency of Medication Prices