I just finished reading Big Little Lies by Liane Moriarty, and I gotta say this book was wonderful! I loved the mystery of the story line, but I especially loved the characters!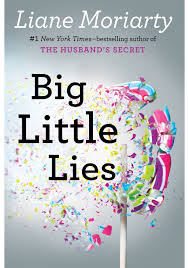 The story takes place in Australia, which I did not get right off the bat, so I was a bit confused on why school was starting for the kids after Christmas break. Once I realized the characters were living in Australia it made more sense. The three main characters Madeline, Celeste, and Jane make a trio of unlikely friends. The three have very different personalities, are different ages, and live very different lives from each other. But their friendship is real, and they do their best to support each other.
The story starts off with the end – a murder has taken place on the school grounds during one of their fundraising events called Trivia Night. Moriarty then takes us back six months to the kinder's orientation day – the day Madeline and Jane meet. It is also Madeleine's birthday celebration with Celeste and Jane is included.  All three ladies have children entering kindergarten, and their friendship slowly grows as they get to know each other. However there are secrets, and the ladies don't really know each other as well as they think they do.
What transpires over the next six months is the set up for the eventual murder. You are introduced to many of the characters – some minor, some not. But what your really get to know is the story of Madeline, Celeste, and Jane. I love books with throughly developed characters. These three women each possess strengths, weaknesses, and life stories that are not always picture perfect. Moriarty keeps them true to their characters – the way they talk, the way the think, and the way they act are who they are, and they stay true to their characterization through to the end.
I especially loved the honest candor of Madeline. Remarried with two younger children, she must share custody of her teenage daughter with her ex-husband (now also remarried) and living in the same town. In fact they both have a child entering kindergarten together at the same school. When her daughter Abigail wants to move in with her father and his young wife you become privy to all of Madeline's insecurities and residual anger at her ex for walking out in her when Abigail was just an infant.
Moriarty also takes a new twist on the "Who Done It" of the muder – she writes is so that we are asking the question, "Who killed whom?" You learn of the murder in the opening pages, but you are left till the end to see who has died and who caused the death. As you get to know the characters, it is a little unsettling knowing that one of them is going to be killed. But which one?
Life is messy and Moriarty know how to balance the messy parts with friendship and humor. I loved the mystery, but what engaged me most into this story were the amazing characters. All three ladies, Madeline,  Celeste, and Jane, are women that I would like to be friends with.
I highly recommend Big Little Lies!
Sexual Health: Prescription Drugs VS Herbs