My reading challenge continues! With a goal of reading 50 books in 2020 I need to be mindful of my reading time. I love reading, but time is my issue – and February is a shorter month! Good thing I had one one extra day in February this year. It helped! Last month I read four books which I shared here: The Books I Read in January. This month I made it though three books, This is what I read in February.

What I Read in February
A Woman Makes a Plan: Advice for a Lifetime of Adventure, Beauty, and Success by Maye Musk, was a short enjoyable read full of practical advice on moving your life forward, a particular theme that is close to my heart. I was given this book at a health and wellness conference that I attended. When I met Maye, I had no idea that she was Elon's mom. I was impressed with her graciousness as she took time to chat with every person that she signed a book for. Most book signings are a rushed event – this was the opposite! Maye wanted to take the time to connect with each of her readers.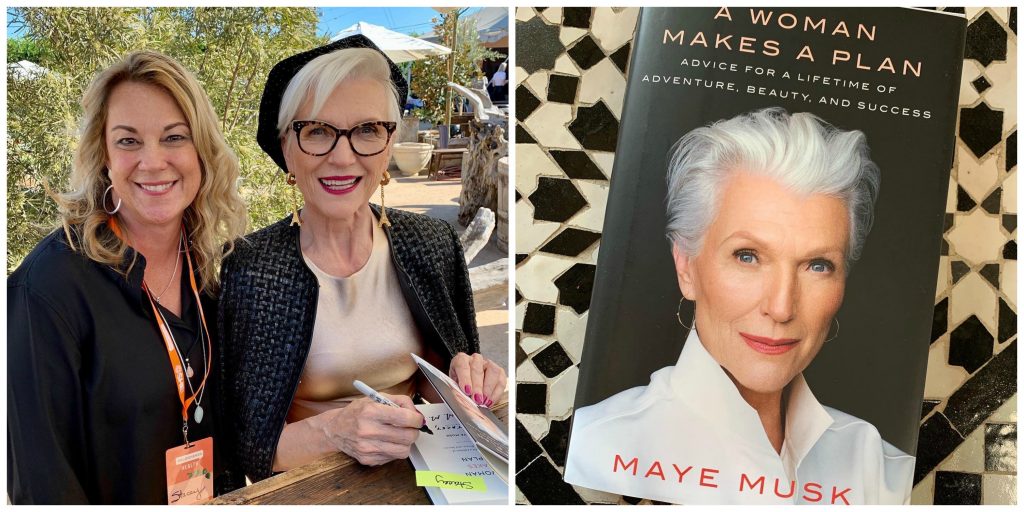 Maye Musk has a fascinating life. From her birth in Canada, being raised in South Africa, a marriage to an abusive man, raising three children, getting degrees in nutritional sciences, her eventual divorce when the South African laws changed, a side gig modeling while she sets up and runs her dietician practice, a move back to Canada with teenagers in tow, and another round of getting her dietetic business up and running – Maye is a woman that knows how to make a plan and keep her life moving forward. Her book title, A Woman Makes a Plan, is more about how when plan A doesn't work, you make Plan B. When Plan B fails, you set out making Plan C and so on. Life is full of uncertainties and twist and turns – you just need to keep refiguring things out and moving forward.
Maye's writing is simple and straight forward. She is a dietician and a model, not a trained writer. Look beyond her writing style to hear her practical advice. Maye is warm, funny, and teaches us how to live happy, healthy, and productive lives.
American Dirt by Jeanine Cummins. This was my favorite read of the month! This a fictional story about Lydia Perez, a small bookstore owner in Acapulco married to a journalist, Sebastian, and a mom to their young son, Luca. As a bookstore owner, Lydia befriends one of her customers, Javier. Unbeknownst to Lydia, Javier is the head of the local drug cartel and a very powerful man. When Sebastian publishes and an in-depth article exposing Javier, the cartel murders Lydia's family. Through a twist of fate, Lydia and Luca are spared and forced to flee.
This is the story of running from Acapulco to the safety of the United States; the story of living as a migrant traveling by train top and walking miles; the story of living in fear for one's life; and the story of migrants helping each other on their challenging and death-defying journey. This fictional story sucked me in and kept me wanting to read more.
There is a lot of controversy around this book. I choose to read about the controversy after I read the novel. I suggest you do the same. Read the novel, and then read, consider, and explore the controversy. I loved this fictional story. It opened my eyes to a whole new world. I did a bit of research – I always love books that have me looking up information – and I learned some about the very high murder rates of Mexico. The author, Jeanine Cummins, did a lot of research before she wrote this page-turning, fictional, adventure story. I totally enjoyed this novel!
Less by Andrew Sean Greer took me a looooong time to get through! I chose to read this novel because it was the Pulitzer Prize winner of 2018. The story is about a novelist named Arthur Less turning 50. When his boyfriend marries someone else, Arther sets out on a world book tour all in order to avoid the wedding.
I kept at this book because I loved the writing. The prose is beautiful – descriptive, flowing language that hooked me in. The story itself fell flat! Arthur is traveling around the world with stops in Mexico, Italy, Germany, France, Morocco and India. The story moves back and forth through time and all around the world. Arthur is lamenting life as he approaches 50 – looking back on the good, the bad, and the indifferent all while he is traveling the world and meeting new people and crossing paths with old friends. I had to work at keeping it all straight – but again the language kept me involved. Greer knows how to write gorgeous sentences!
The ending did bring it all together, and I enjoyed the final chapter the best. In part because I finally made it to the end, and in part because the story wrapped up well with Arthur learning lessons in love and life, and we the readers, finally know who the narrator of the story is. If you love beautiful writing like I do, you will enjoy reading this novel.
What's ahead for March?
Endurance: My Year in Space, A Lifetime of Discovery by Captain Scott Kelly. I found Scott Kelly's talk at our San Jose Speaker Series to be super inspirational, and I am looking forward to reading his book. I thought I'd get to it in February – but it still sitting on my nightside table.
Hetty: The Genius and Madness of America's First Female Tycoon by Charles Slack. This biography is proving interesting! It is the story of Hetty Green a miser and a millionaire involved in banking, railroads, and real estate all during the 19th and early 20th century. She made her way on Wall Street as a woman in a man's world.
Erotic Stories for Punjabi Widows by Balli Kaur Jaswal – a recommendation from a friend.
Well, that is what I read in February and I'm now looking for book recommendations! Do you have any suggestions for me? I have a couple of nonfictions on my list, I'd love to add some more fiction right now.