As you know, February is Heart Month. This month (but it really should be all year) is a time that we focus on heart health.  I recently wrote a post titled, Go Red and Spread the Word about Heart Health for Women that covered the alarming statistics of heart disease. Heart disease is the number one killer of women! This recent post also covered the symptoms of a heart attack in women and medical testing that is available to help women determine their risk factors.
But today I am here to expand on what we can all do today to live a heart healthy life. Exercise and healthy eating are easy steps that we can take today! I was very excited to speak with Ellie Krieger the host of Food Network's, Healthy Appetite. Ellie is a registered dietitian and author of three books including So Easy: Luscious Healthy Recipe for Every Meal of the Week.  I love Ellie's show and her recipes! So it was a thrill for me to get the chance to speak with her. Oh, and I totally love that kitchen she was cooking in! I love the colors – especially the red!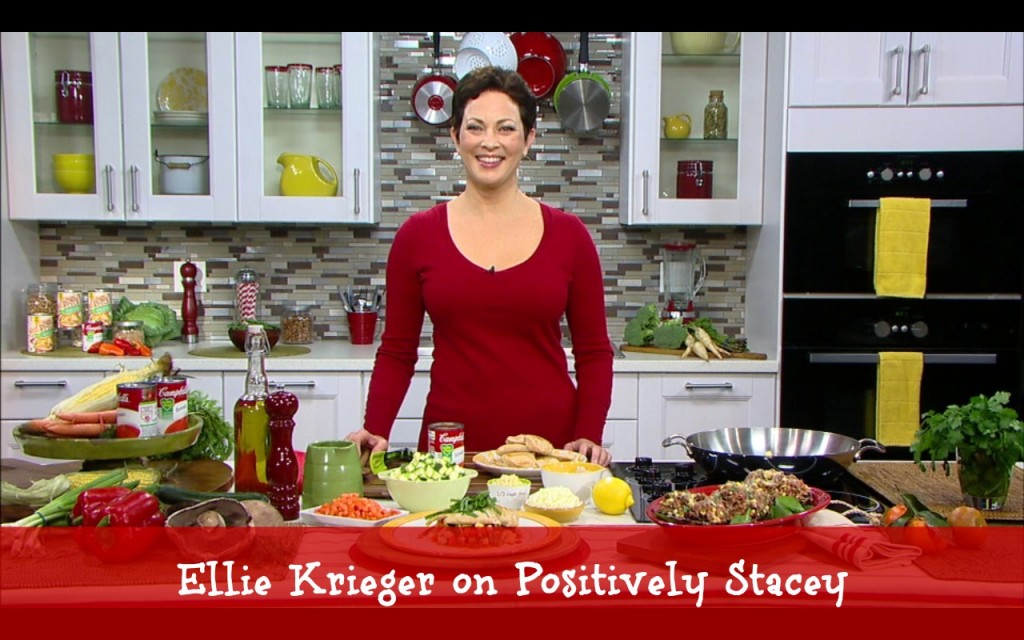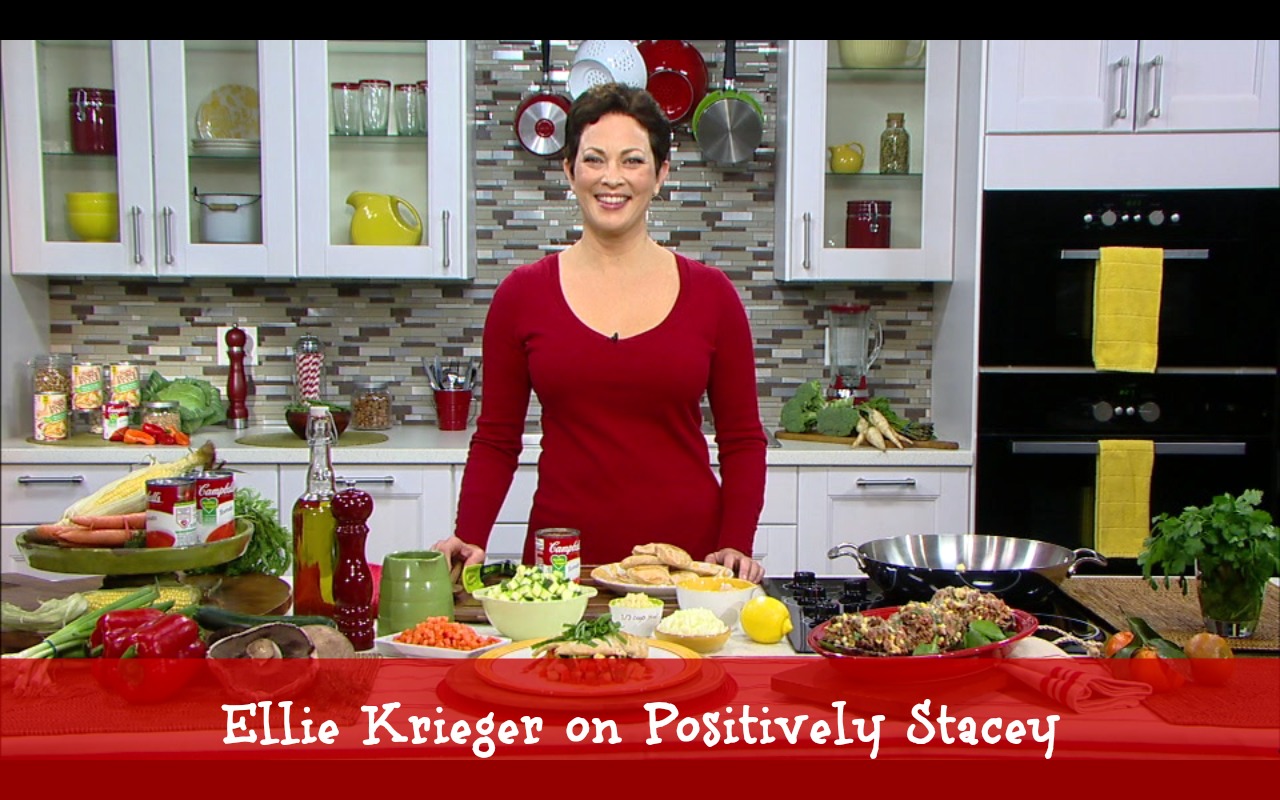 While Ellie and I chatted about heart disease and what we can do to live a heart healthy life, she prepared a delicious recipe called Chicken with White Bean and Vegetable Simmer. Yes, I can tell you it is delicious because I prepared it, and my family and I just gobbled it all up for dinner. It was yummy! It really was dinner in one pan and in 30 minutes – even with me stopping to snap my photos! I love the fresh vegetables mixed with the white beans simmered in Campbell's tomato soup. So easy! Making a sauce out of tomato soup was a first for me, so I was a bit hesitant. I thought it might be a little on the sweet side. But Ellie made it look so good that I just had to try it. Well, the sauce was perfect! The blend of onion, garlic, and thyme was a perfect melding of flavors. The white beans added a bit of creaminess that perfectly complements the tender vegetables. This is going to be a go-to recipe in our household.
Heart Healthy Recipe from Food Network Host, Ellie Krieger
Listen to what Ellie has to say about heart health –
And here is the recipe…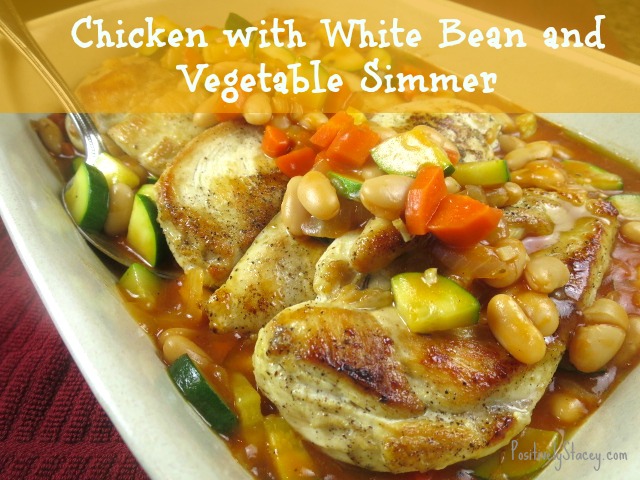 INGREDIENTS:
5 pieces thin-cut skinless boneless chicken breast (The recipe actually calls for 4 or about 1 1/4 pounds, but with two active teenagers I cooked up 5. Next time I will make 6, they loved it that much!)
¼ teaspoons salt
¼ teaspoon freshly ground black pepper
2 tablespoons olive oil, divided
1/2 small onion, chopped
1 large carrot, peeled and diced
1 large zucchini, diced
2 cloves garlic, minced
½ teaspoon dried thyme
One 10 ¾-ounce can Campbell's Healthy Requests Condensed Tomato Soup
One 15.5-ounce can no salt added white beans, such as cannellini, drained and rinsed
DIRECTIONS:
Season the chicken with the salt and pepper.
Heat the one tablespoon of the oil in a large skillet over medium-high heat, add half the chicken and cook until browned on both sides, and cooked through, 2-3 minutes per side. Transfer to a plate and cover with foil to keep warm. Repeat with the remaining 3 pieces of chicken.
Add the remaining tablespoon oil to the pan, reduce the heat to medium, then add the onion and carrots and cook until it is soft and translucent, about 3 minutes. Add the zucchini, garlic and thyme and cook, stirring, until the carrots are firm-tender, 5 minutes. Stir in the soup, along with ¼ cup water. Add the beans and bring to a boil. Reduce the heat to low and cook, covered, stirring occasionally, until the vegetables are tender, about 4 minutes.
To serve, spoon the bean-vegetable mixture onto serving plates and top each with a piece of chicken.
Makes 4 servings
Taking care of you heart has never tasted so good! Thank you, Ellie Krieger, for this amazing recipe! Visit Campbell's Kitchen to explore their collection of heart healthy recipes certified by the American Heart Association®. They meet the heart healthy criteria and can be part of an overall sensible eating pattern. See for yourself how scrumptious healthy can be!
Enjoy!