It's crazy to think that one whole month of the new year has already passed! Doesn't it seem like yesterday that we were all setting goals and resolutions for 2016? As fast as this month seems to have flown by, I know that I have been super busy! Here is s rundown on the past month:
First the fun stuff ~
A New Year's Day hike in Joshua Tree National Forest
A visit to Pasadena where we got to view the Rose Parade floats
A field trip to the Rosecrucian Egyptian Museum with my students
A winter tea party with my friends
A quick trip to Maui with my husband
Whale watching with whales breaching boat side
Swimming in a waterfall on the road to Hana
A romantic dinner with my hubby – more about that later 🙂
A night away and dinner with ten girlfriends from high school – that's 35+ years of friendships!
Dakota started doggie school with Sophia training her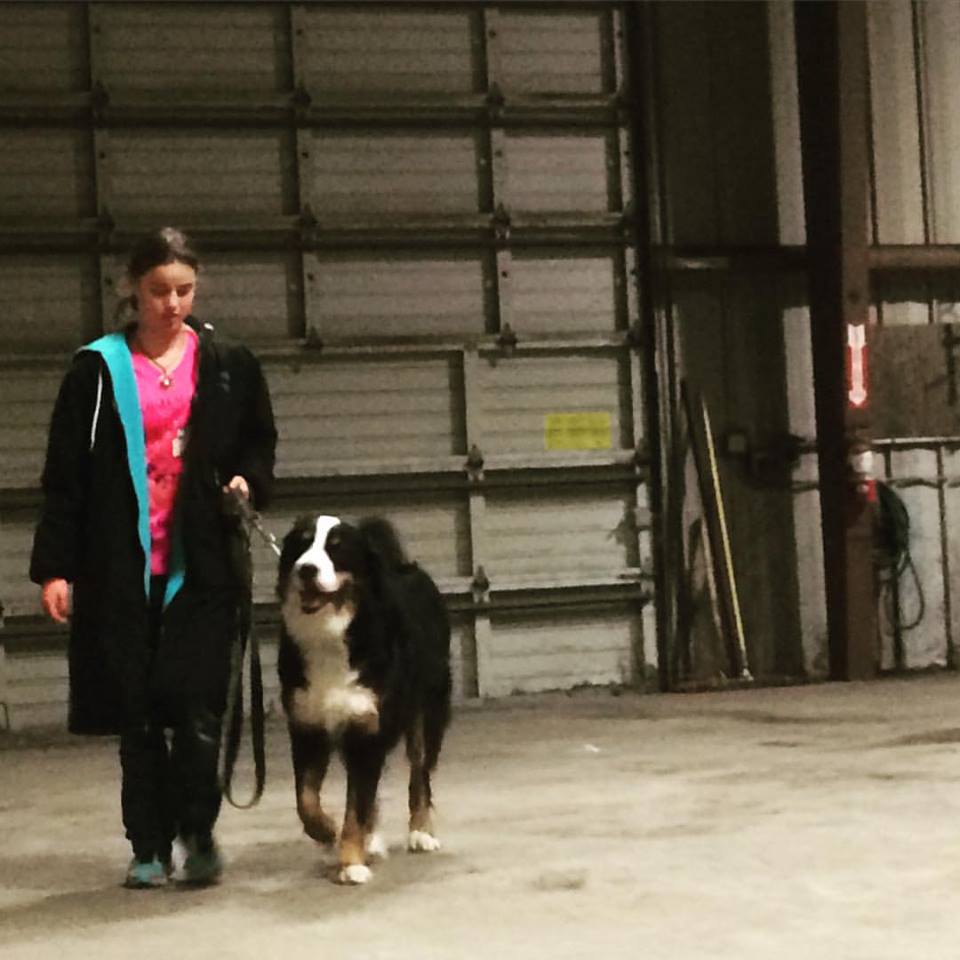 And the OMG moments ~
Nicole headed back to school for her final semester of college.
Olivia headed to the Philippines for a semester abroad.
Alyssa sustained a pretty rough concussion while snowboarding. Parenting from afar means I texted her every hour all night long to make sure she was ok. She spent the first night with a married couple that kept on eye on her, and her friend that was boarding with her at the time kept me up-to-date as well. She is still healing and thank goodness she was wearing a helmet. The helmet did not survive.
Dominck had to endure a medical procedure to try to determine what is causing him stomach issues.
Needless to say, it has been a busy month! A month full of some really good stuff – time with family and friends. And on top of all that – I have been purging, cleaning, and re-organizing! My master bedroom is done! The master bath not as much as I would have liked, but I am making progress. And that is what I believe is the key to getting it done. Pretty much like so many aspects of life, it is about putting one foot in front of the other and continuing on the journey – baby steps will get you there.
Last week I told you about the KonMari method of folding clothes and a few readers asked me what that looked like. So here are two photos. A drawer with my t-shirts folded as I have always folded them, and the second with the t-shirts folded in the vertical KonMari method.
This does not give me any more space, but it does allow me to see everything that is in the drawer without needing to rifle through the stacks.  So far -so good!
My plan for February was to tackle all of the books in my home. As an English teacher – I love to read and my house is overfilled with books. But like much in life, sometimes we need to switch up our plans. I just got off the phone with my mom, and I am really hoping that they will be visiting us for the month of March. So instead of tackling the bookshelves, I am going to focus on hall and linen closets and one of the kids' rooms. My parents usually visit over the holidays when all the kids are in the house, and they have the pullout sofa in the office. But since they will be visiting when the two girls are away at school, I will be having them stay in Nicole's and Olivia's room. So before they show up, I will be doing a run though of their bedroom. It's not too messy, just needs a little love and attention to get it ready for visitors. The kids' bathroom on the other hand – ugh! That, despite its weekly cleaning, needs a bit more love. It is amazing how disorganized bathroom drawers and shelves can get!
I did learn last month that Friday night re-organizing is not my thing! After working all week, Friday night is not for cleaning – no way! So this month I have assigned myself jobs for Monday through Thursday. As much as I would like to think that the jobs are only 15 − 30 minutes long, they seem to take me longer. So I do not assign anything on the weekend – I use that time for catch up if needed. Plus my master bath is not 100% complete, so I will be trying to finish that as well.
Getting Organized! Home Organization Plan February Calendar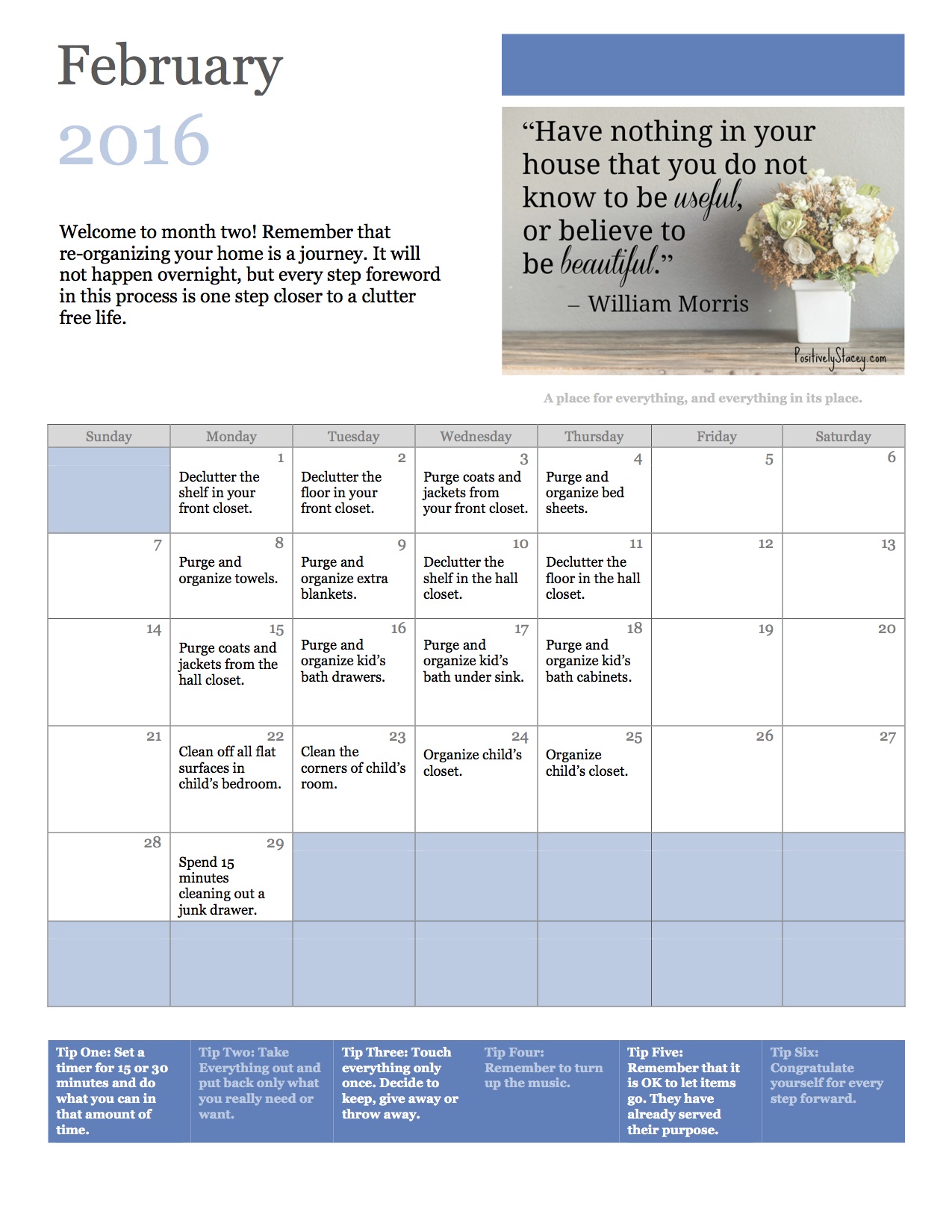 Life is busy! And we don't always get it all done. That is OK! Spending time with family and friends is what makes life good. The quiet moments, the smiles, the encouraging words shared with loved ones – that is what is important. If you are feeling like you have not made much progress on your new year's goals – take heart and know that baby steps will get you there. Just don't give up. Take some deep breaths and move foreword. This is real life – picture perfect is not the goal, progress is.
Good luck with tackling your goals in February! Perseverance will get you there!
For a printable version of the calendar, please click February Home Organization Plan.