OK ladies, it is time to get real here. Seems like since I have hit the age of 50 (three years past now) the need to get to the bathroom has taken on a whole new sense of urgency. Not a good feeling! I love my morning coffee, I try to drink water throughout the day, but hey – I am a teacher and my bathroom breaks are tied to recess and lunch. This was never a problem in my younger days – but now?
I worry about getting to the restroom in time. Not to mention what might happen if I sneeze or let out a belly laugh. Yikes! Seriously ladies, no fun. They are calling this LBL. A kinda cute acronym for Little Bladder Leakage. Cute? I think not. Childbirth and menopause both affect the pelvic floor muscles.
Any woman who has given birth has heard of Kegel exercises. A Kegel exercise is the tightening and releasing of the pelvic floor muscles. I was told that you can isolate the pelvic floor by stopping urination mid-stream. I do these exercises sometimes when I think about it. Clearly my sense of urgency is an indication of my not doing them enough, or not doing them effectively.
The problem is, being a teacher and worrying about getting to the restroom has absolutely affected how much water I drink. That is not a healthy choice. I was just at the eye doctor's and he even told me that I need to drink more water. I know that I need to, but this sense of urgency is a bit scary. It seems now that I have hit menopause, I need to deal with my weak bladder. Leaking, whether it is a few drops or a stream is common, but not normal. I want to get ahead of any future issues my sense of urgency might lead to, and I want to be able to drink more water without fear of not getting to a restroom in time.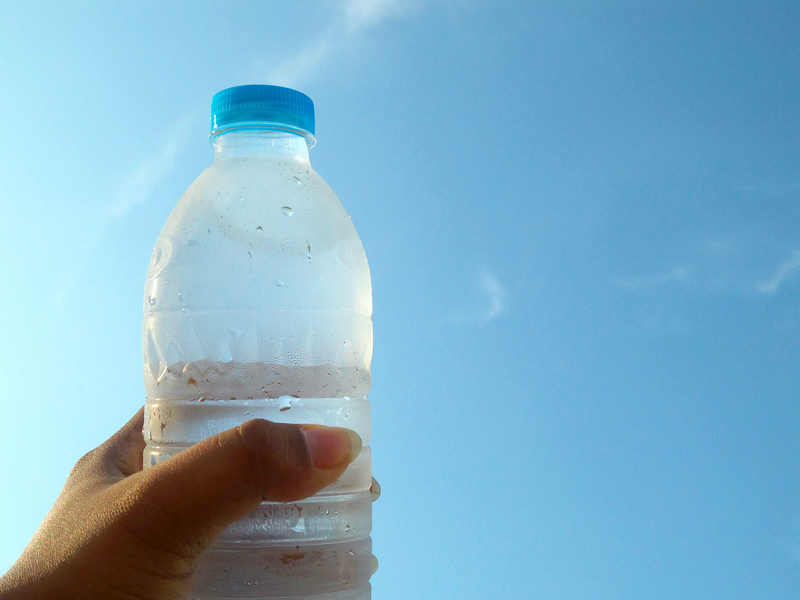 While reading health blogs, I came across a product called PeriCoach. I was instantly intrigued!
PeriCoach – A Personal Trainer for My Pelvic Floor Muscles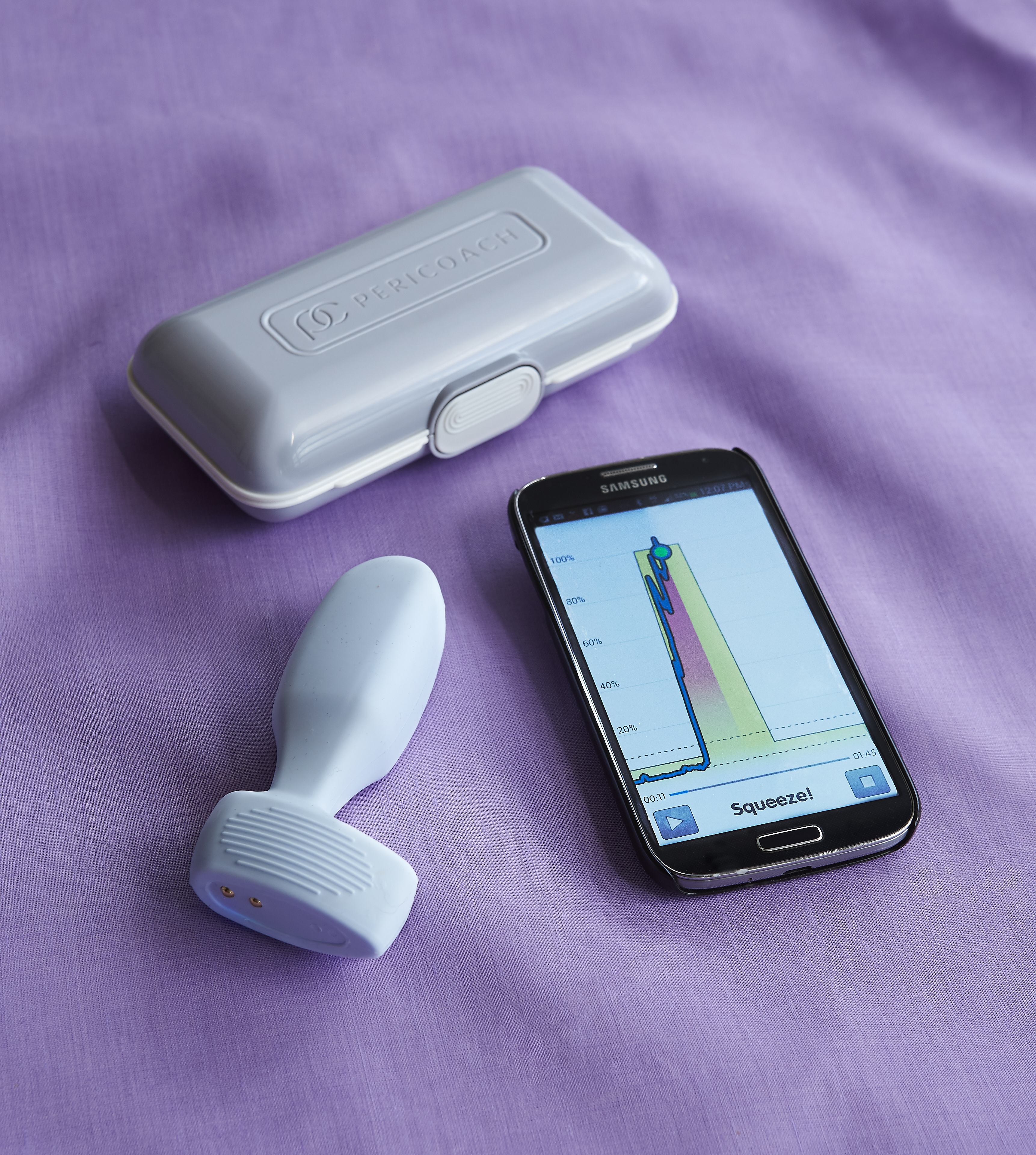 It's like a FitBit for your vagina! PeriCoach is a tool that will help you isolate the correct muscles with its three sensors. Then with the app (Yes, there is an app for that.) you can actually see how much and for how long you are contracting the correct muscles. Cool! Like I said I was intrigued, so I reached out to the makers of PeriCoach and introduced myself.
They have sent me my own PeriCoach in exchange for an honest review of their product. I have received my PeriCoach and have registered. I have down loaded the app and I have started working with my own personal trainer for my pelvic floor muscles.
https://www.youtube.com/watch?v=eFw-I26PdcY&feature=youtu.be
Kegel Exercises – There's an App for That!
Let me tell you – I love this little piece of exercise equipment! The PeriCoach comes in a little case that is also the charging station. The instructions to set up the PeriCoach are simple enough, charge it up, download the app, and you are ready to go. I did have a little bit of trouble with opening the case at first. Turns out that their child-proofing latch can be a bit tricky. Once I found the sweet spot on the latch, it has opened and closed just fine. I was then ready to try it out.
Inserting the PeriCoach is very much like inserting a tampon. A little bit of water-soluble jell can be helpful. With your phone in your hand just tap the PeriCoach app, and it will automatically connect to the device. The first time the device is used, PeriCoach will run you through an exercise set to get a baseline. From here, it determines your exercising, or squeezing, goals.
PeriCoach recommends three sets a day; I usually get in two. Once in the morning and again once in the evening.  It is really a quick process. The exercise routine only takes two minutes, so with set up and put away – washing it in between each – it only takes four minutes. I wish my cardio exercise could be done so quickly!
So how is it going? Well, I quickly learned that the Kegel exercises that I had been practicing – you know when you are sitting at a stop light – they tell you to squeeze and release? Those were no where near the intensity of what I should have been doing. Turns out all those "stoplight" squeezes were not doing a thing for me. Nada.
The PeriCoach has me squeezing much harder and longer. In order to get that blue line up and staying up on the chart takes more effort than I had ever thought a Kegel exercise required. Right off the bat, the PeriCoach taught me some valuable information. I have found it very motivating to see what is happening in real time via that blue line. Trying to squeeze harder and longer just to make that blue line shoot up and stay up until it is time to relax is my goal with each squeeze. The results are visible right there on the screen.  I love looking at the data and seeing what the strength was of each squeeze as well as my overall average strength for each session. Some days and some sessions are definitely more successful than others.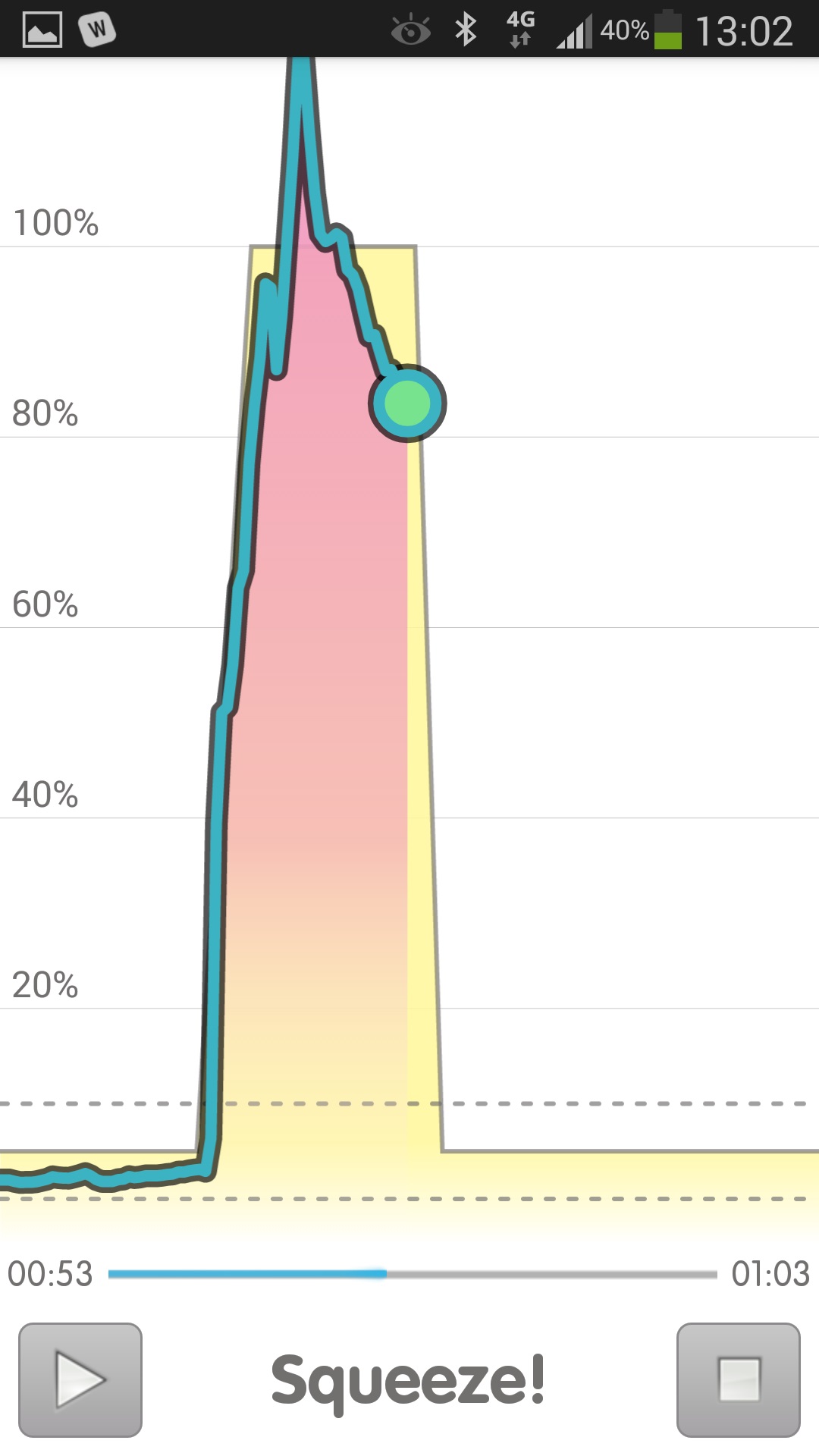 I have only been using my PeriCoach for a couple of weeks, but I already feel like it is making a difference. The program comes with a diary, and my goal is to start recording the liquid that I take in and the number of times I visit the restroom. I am a person that loves to compare statistics and review data so I want to see the data.
In the meantime I know that I am feeling much more confident about drinking water during the day and not worrying about getting myself to the bathroom. That in of itself is a win for me!
I will keep you posted – as I said, I am a data girl and I will share with you the changes that doing effective and consistent Kegel exercises with my PeriCoach can bring. In the meantime if you want to find out more, please visit PeriCoach.

Thank you to PeriCoach for providing me with this great exercising tool!  As always, all opinions are 100% honest & completely my own.