A weekend away in Las Vegas with my girlfriends? Sure, sign me up! We had an amazing weekend! The only downside – it was way too short! I flew to Vegas on a Friday night after work. That is a whole story in of itself…
Our weekend away was mid -June, beginning on the last Friday that I had students before summer break. They day was jam packed with parents, students, an award ceremony, and lots of hugs and good-byes. My day was already a whirlwind of activity before I ever even drove out of the school's parking lot. After parking my car in long-term parking and racing to the gate I was met with a flight cancelled sign and a long line of confused and anxious passengers.  After waiting my turn in line, I learned that my only option to get to Vegas that day was to drive to second airport. Just think of Friday afternoon traffic in the San Francisco Bay area! But it was my only choice. So back to long-term parking I headed to retrieve my car.
Traffic was bumper to bumper. The only light point of the seemingly interminable drive to Oakland was that my daughter and I passed each other on opposites sides of the center cement barricade. She was traveling south, I was traveling north  – we both rolled down our windows and waved a huge hello to each other!
I arrived in Oakland, parked the car again, raced to my gate to find that the second flight was delayed. Finally, after a glass of wine, it was time to board. Only to discover that the ticket counter issued boarding pass was no good! The told me I had to go back and get a new one printed. I said, "No!" Maybe I even yelled a bit. This was Southwest. I did not want to go back to the ticket counter and then end up at the end of the line to board the plane. I had really already had had enough. I started digging through my bag handing them every paper the counter person had given me, something worked, and they let me through.  When I finally sat down in my airplane seat I thought, "Oh my gosh, God has just tried to tell me three times that I am not to go to Vegas this weekend – and I ignored every single sign!" I closed my eyes and said a few prayers! I arrived seven hours late – but I made it 🙂 All my friends had flown out in the morning, the plan was to meet up with them in the afternoon. But I was there – safe and sound. Vegas is a town they never sleeps, and when I saw the bright lights of the Vegas strip, all my tiredness vanished – so it was all good!
This was the first weekend that I have gone away with girlfriends since before I had children! It has been 26 years since I have had a girls' weekend away. I am not sure why – other than the fact that as the mom – it is really hard to get away. My girlfriends and I put this on the calendar months ago just so that we would all be able to make it. Nine of us planned on going, but because one friend came down with pneumonia only eight of us made the trip.
I know what most people think of a girlfriends' trip to Vegas, but we are not your young 21 year-olds. Our trip was a relaxing. It gave us hours of time to just hang, talk, and throughly enjoy each others' company without the normal interruptions of family life.  We enjoyed some amazing food, a fun show, shopping, and we spent hours lounging in and out of the pool all day Saturday. It was perfect!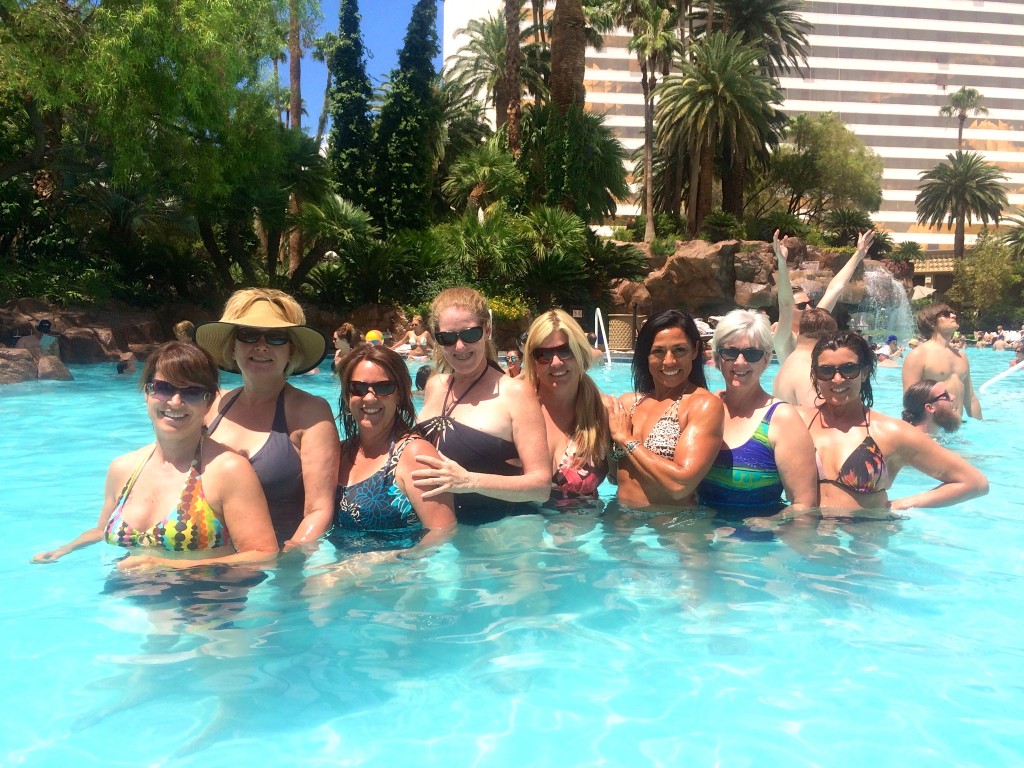 June weather in Vegas is hot! With 100+ degree weather the pool was a must. The misters, shade umbrellas, and a specialty Pina-Colada along with a good book made the heat enjoyable.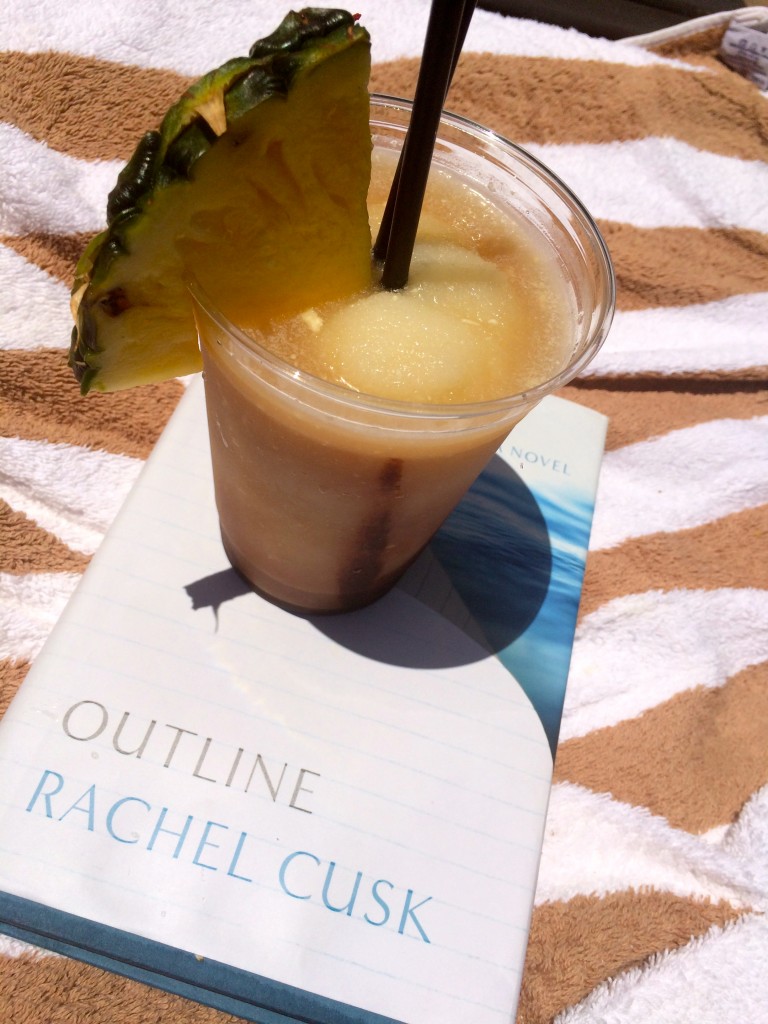 But I am getting ahead of myself. Back to Friday night. Once I arrived, I dropped my bags off at the hotel and met up with my friends for a drink. Four friends opted to go to a nice dinner, albeit a late dinner, and four of us headed out to see the 11:00 p.m. show of Thunder From Down Under – this is the Aussie male revuew show at the Excalibur. I was in the show going group. Those Aussie boys on stage had us swooning! Some of their antics on stage had us cringing. Oh boy! This show was fun and there was a whole lot more to it than any of us had ever expected. As one friend vehemently stated, her daughter is not having a bachelorette party in Vegas – no way! No pictures or video are allowed inside, but we snapped this one outside.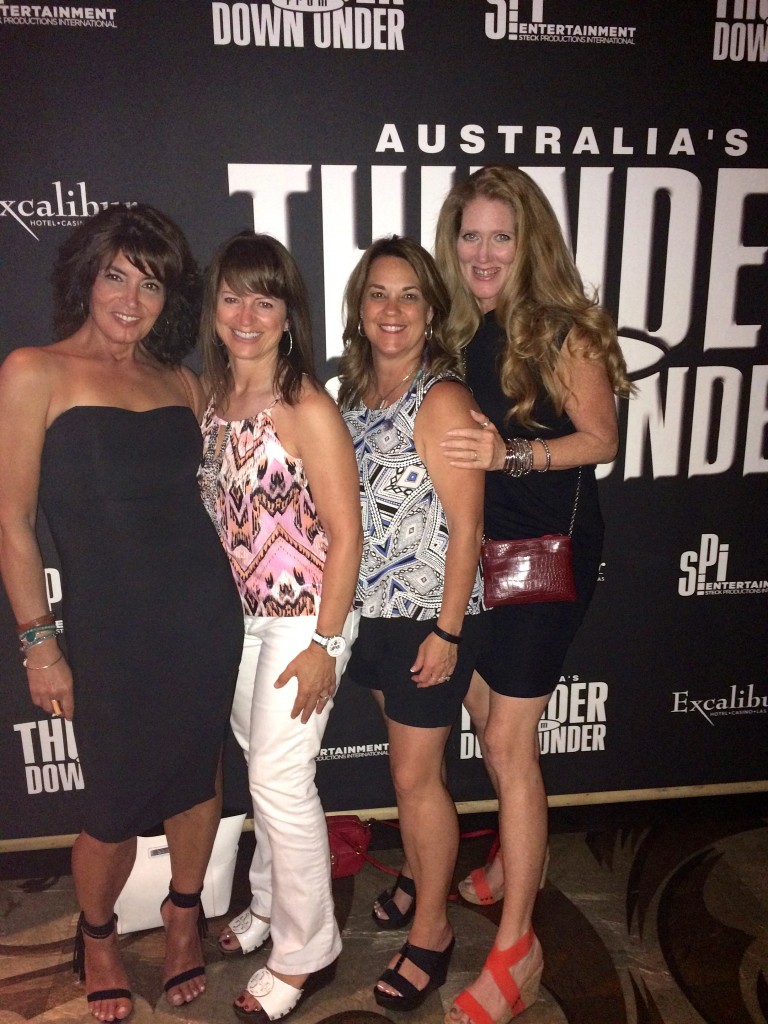 As I said, Saturday was spent entirely lounging at the pool. We had to get up early to get some great lounge chairs, but we were successful! Our day started with coffee poolside.
On Saturday night, we saw the Criss Angel Believe Cirque du Soleil show – that unfortunately was a huge disappointment. Because the show was billed as a Cirque du Soliel show, we are all looking forward to how they would marry the circus arts and theatrical style of Cirque du Soleil with the illusionist take on a magic show. This was just your standard magic show – no Cirque theatrics and mostly Criss Angel telling us how wonderful he is. Oh well, live and learn. We should have consulted Yelp.
The highlight of our weekend was an amazing dinner that we had Saturday night at AquaKnox at the Venetian. This dinner was over the top delicious with over the top food presentation and service. We were treated with extra attention because my friend Nusheen's cousin is the executive sous chef there. But every bite we enjoyed was straight off the menu. AquaKnox is a seafood restaurant with an amazing menu! Every bite that I tasted was delicious. Every. Single. Bite.
Starting with these bacon-filled crème fraîche topped potato bites..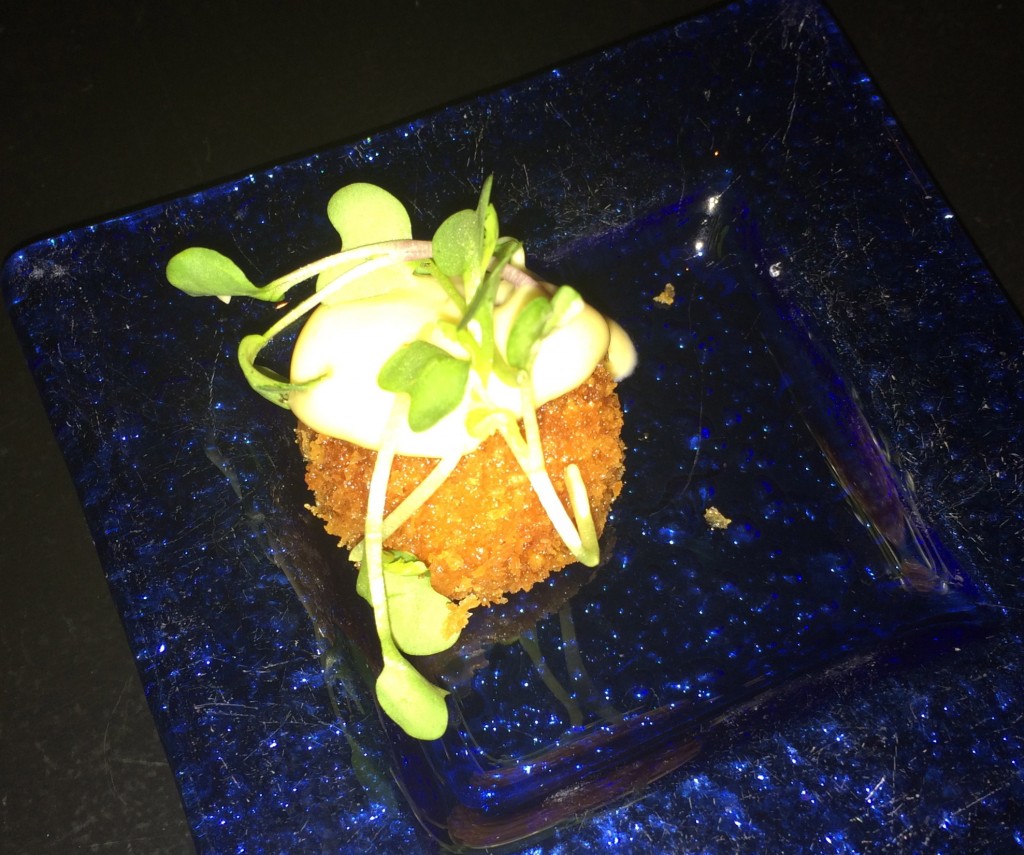 Followed by warm octopus carpaccio…

And a third appetizer was delivered by Chef Jimmy himself.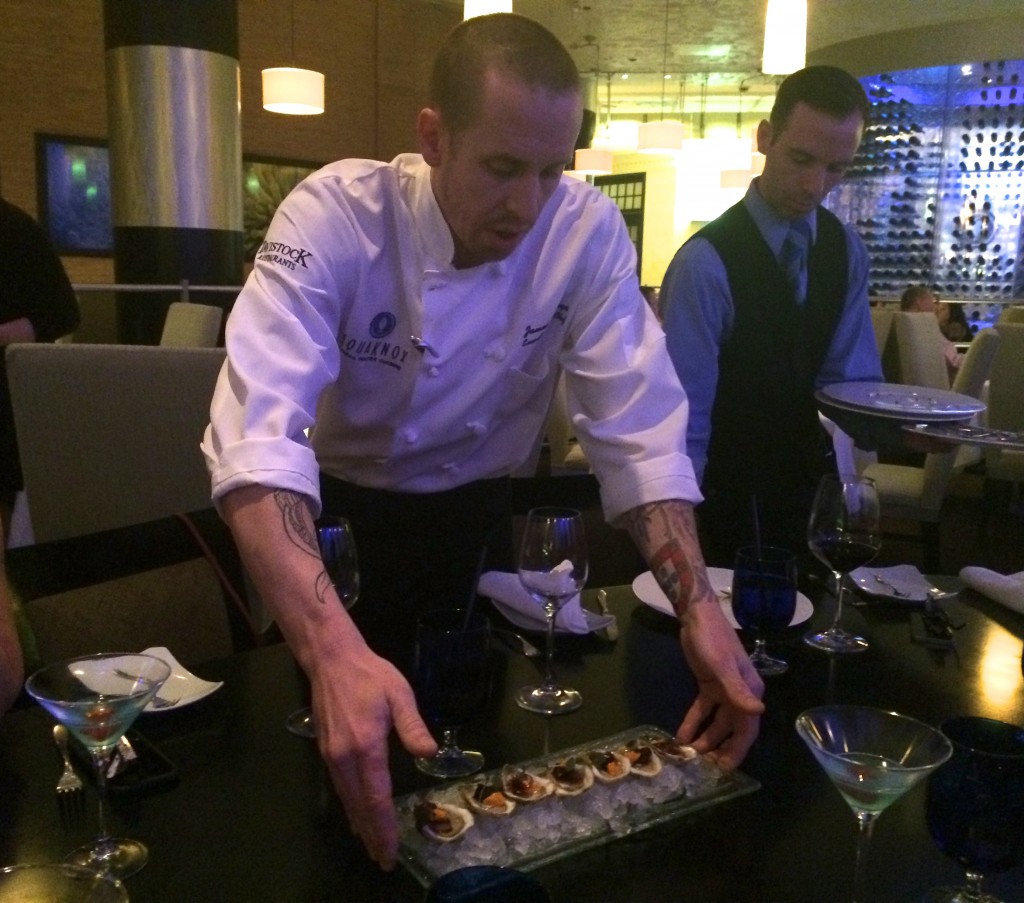 Fois Gras topped oysters…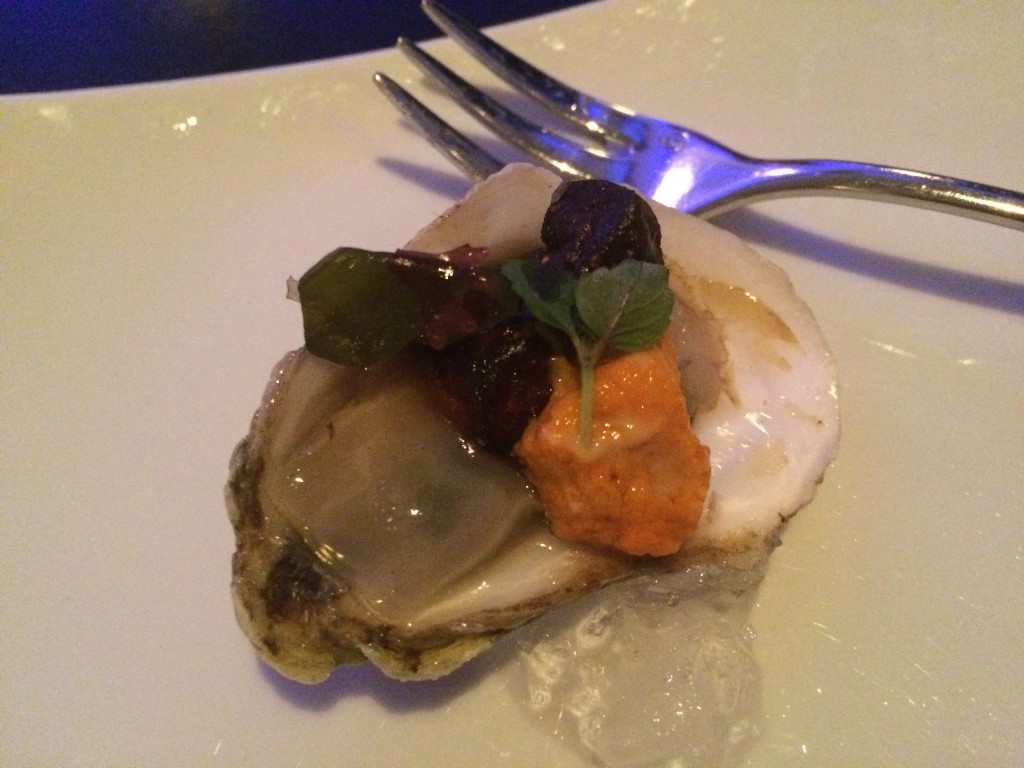 And that was just the appetizer round! I ordered their roasted cauliflower for the table – I adore roasted cauliflower. Since there was sooo much food I ordered the Wild Blue Crab Cake and Lobster Bisque Soup off the appetizer menu. All of it was beyond delicious!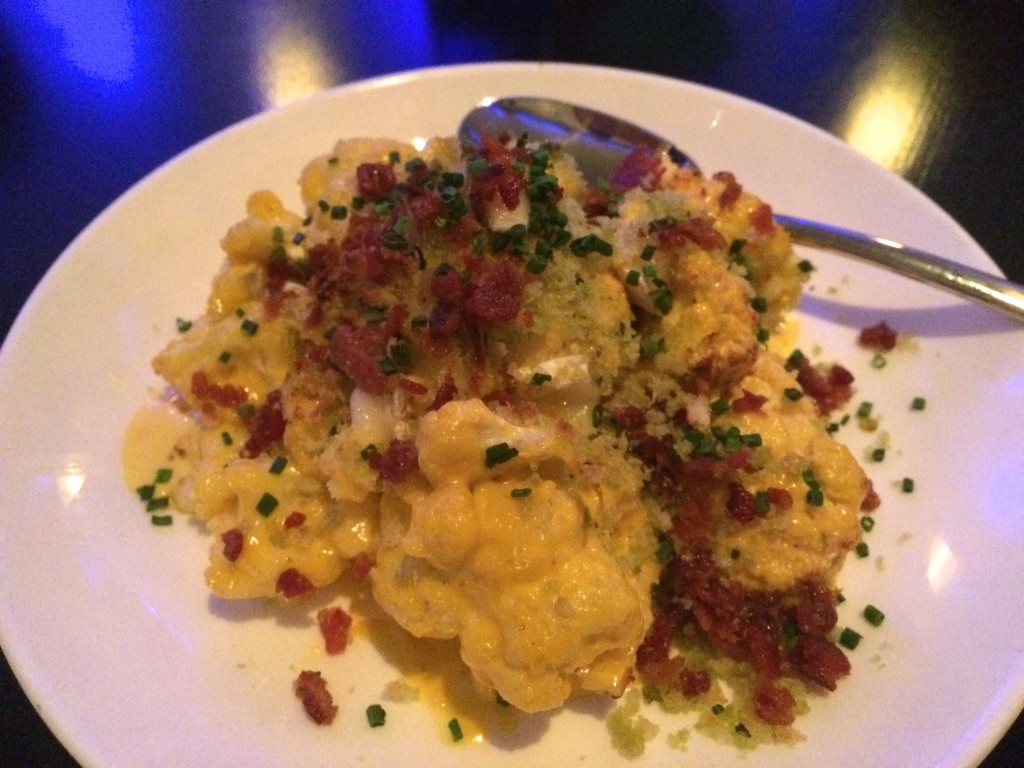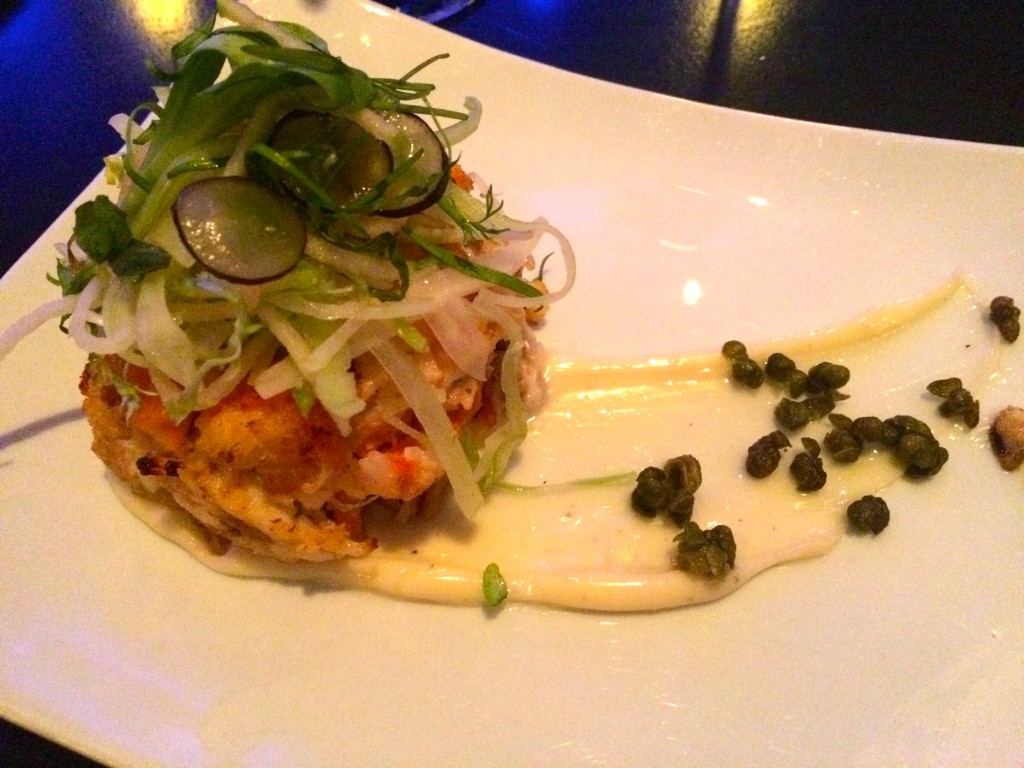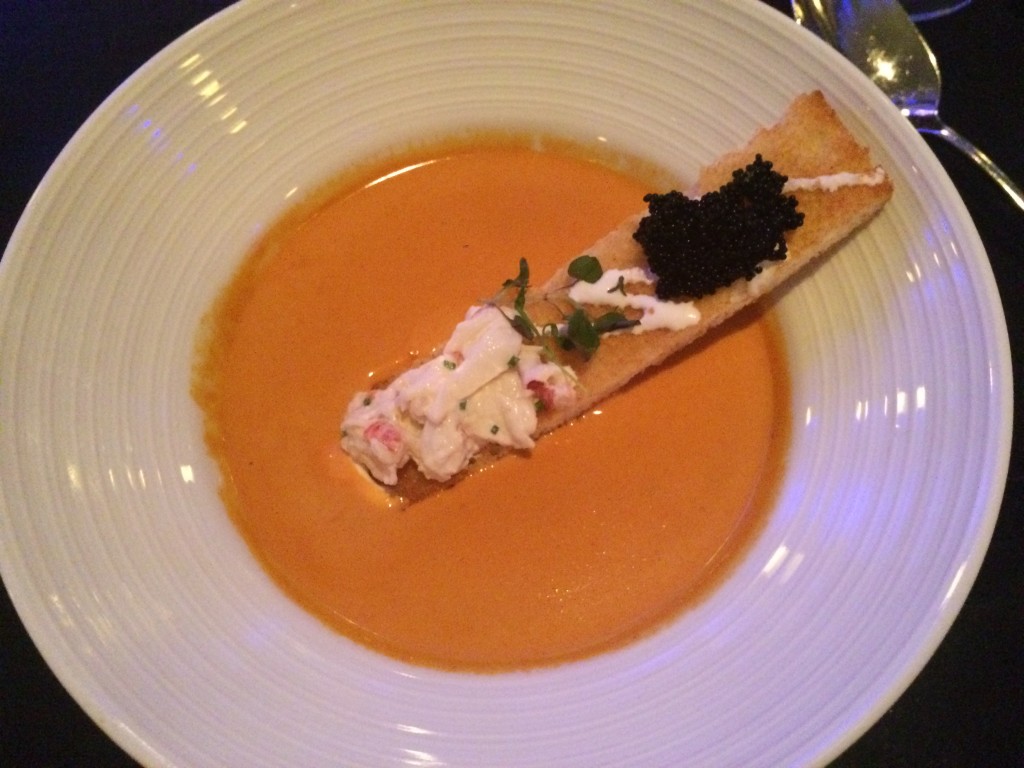 To the right of me, My friend Nusheen ordered the New Bedford Scallops…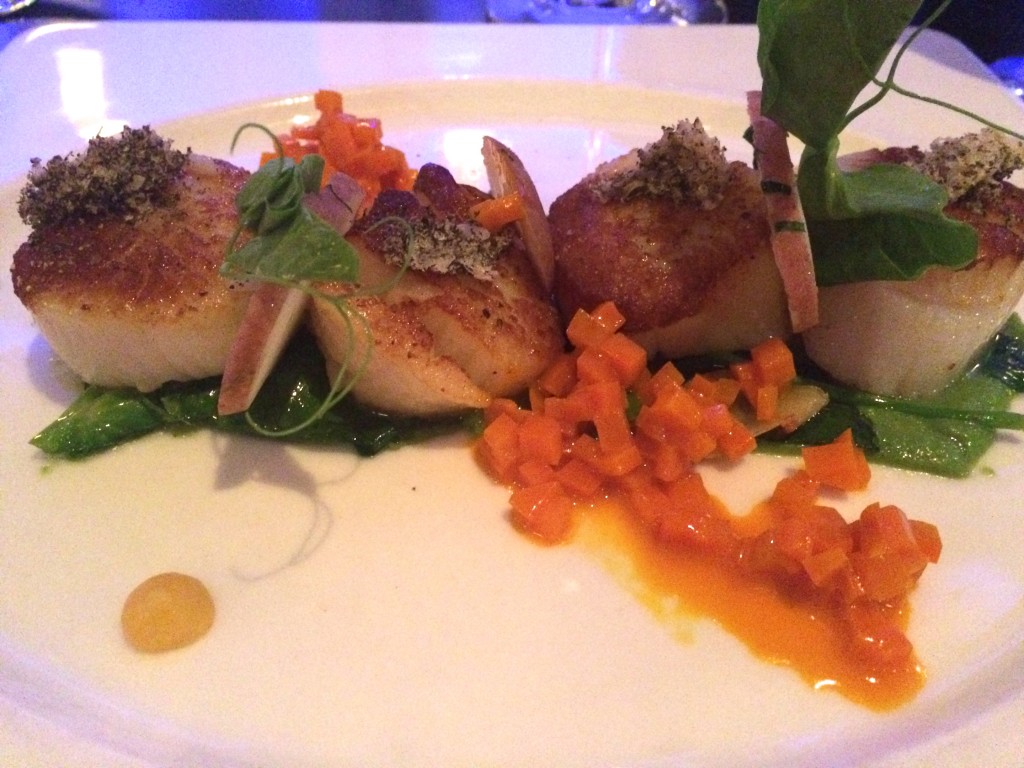 And to the left of me, Jen ordered the filet mignon. Even though it is a seafood restaurant they do offer a number of "land" items.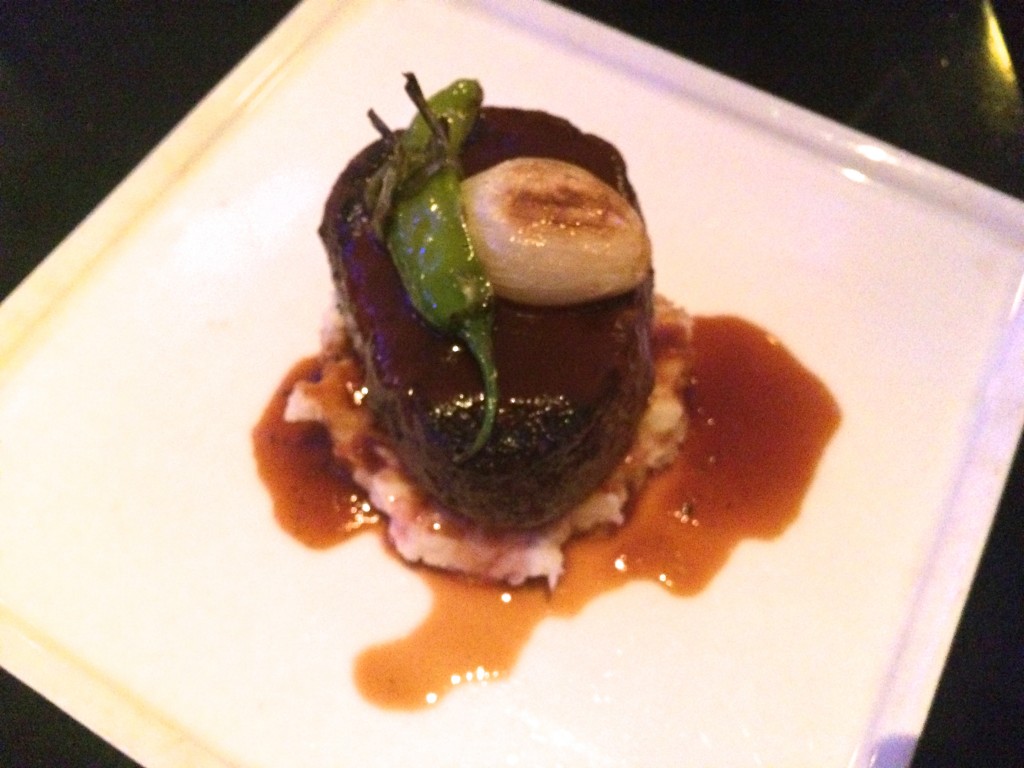 And to top off that wonderful meal, Chef Jimmy sent us dessert! Bite-sized chocolate layered spice cake and a shot of a yummy drink made with Amaretto. What else was in there I do not know, but it was GOOD!
The two combined were perfect! So many layers of yummy sweetness and just the right size. I need to figure out how to make both of these delicacies!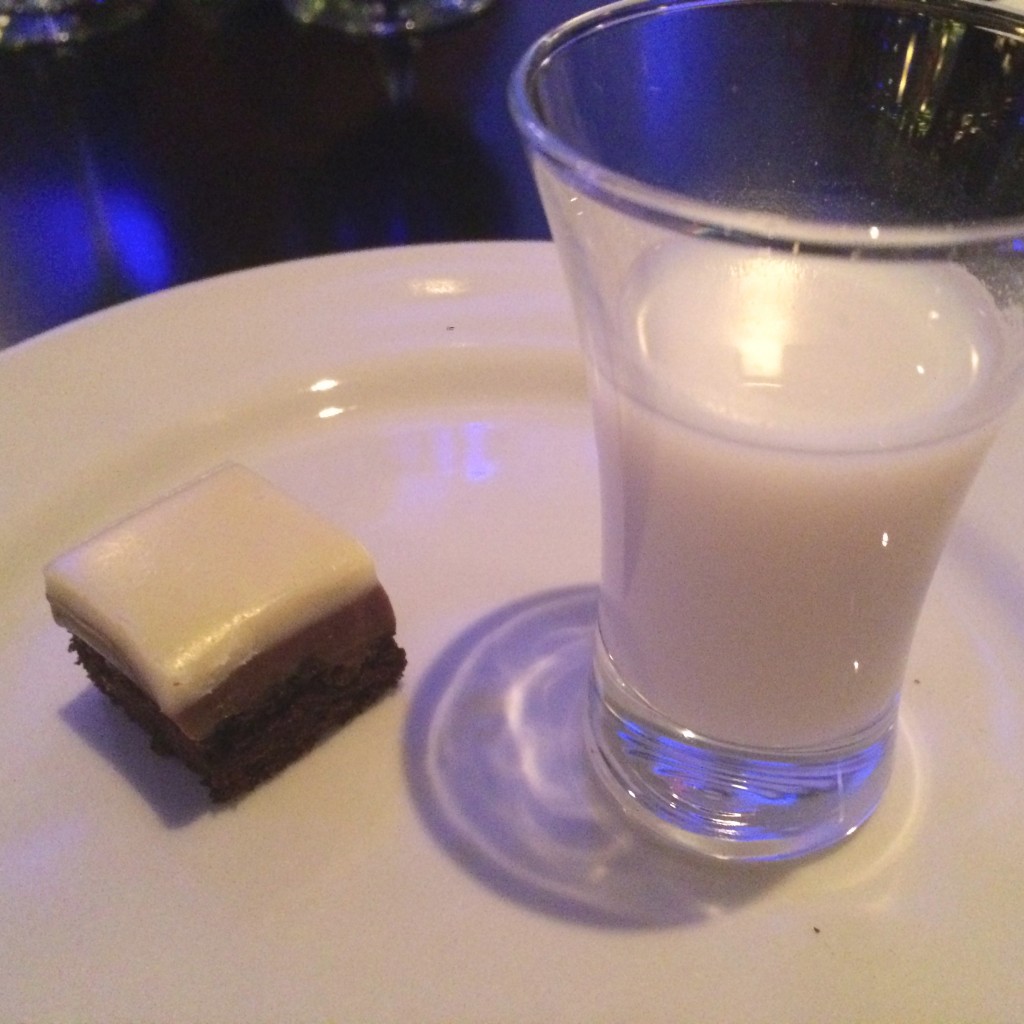 Thank you Chef James Defraga! The meal was beyond delicious, the service was over the top impeccable – we felt like royalty, and the ambience was fun, fresh, and modern! I loved the decor!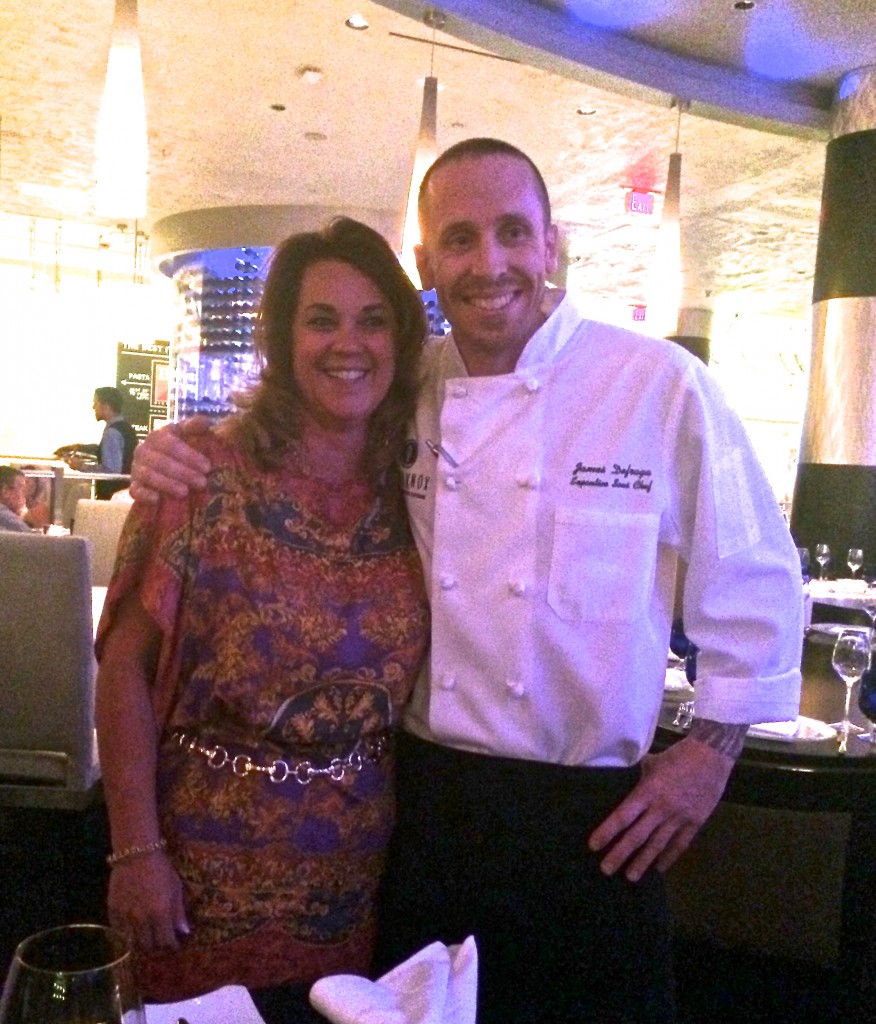 Dinner at AquaKnox was the highlight of the trip! And to think that we ran out of there to get to the Criss Angel show – that was a mistake. We should have sat, relaxed, and talked even more! Whenever you get to Las Veags, you really do need to visit AquaKnox at the Venetian – so worth it!
Another great bite to eat? Pink's Hot Dogs! Right out on the strip you can find Pink's world famous hot dogs! And they are goooood! They have so many to choose from. We split these two and they were gobbled up in no time!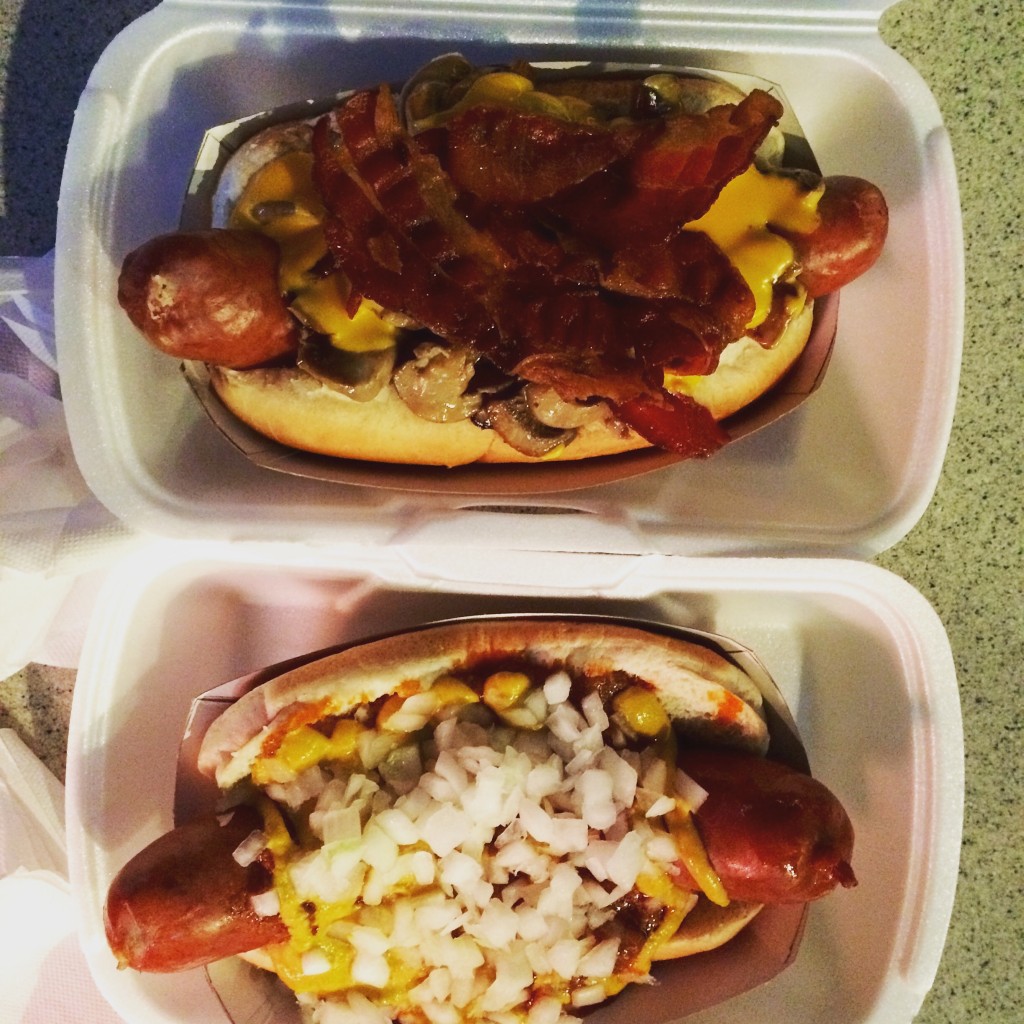 One of the great things about Vegas is that you can wander and walk for miles without even realizing it. We walked through many of the large hotels and malls. Did some shopping, but mostly just people watched and checked out some interesting sights. I loved the paper cranes we found.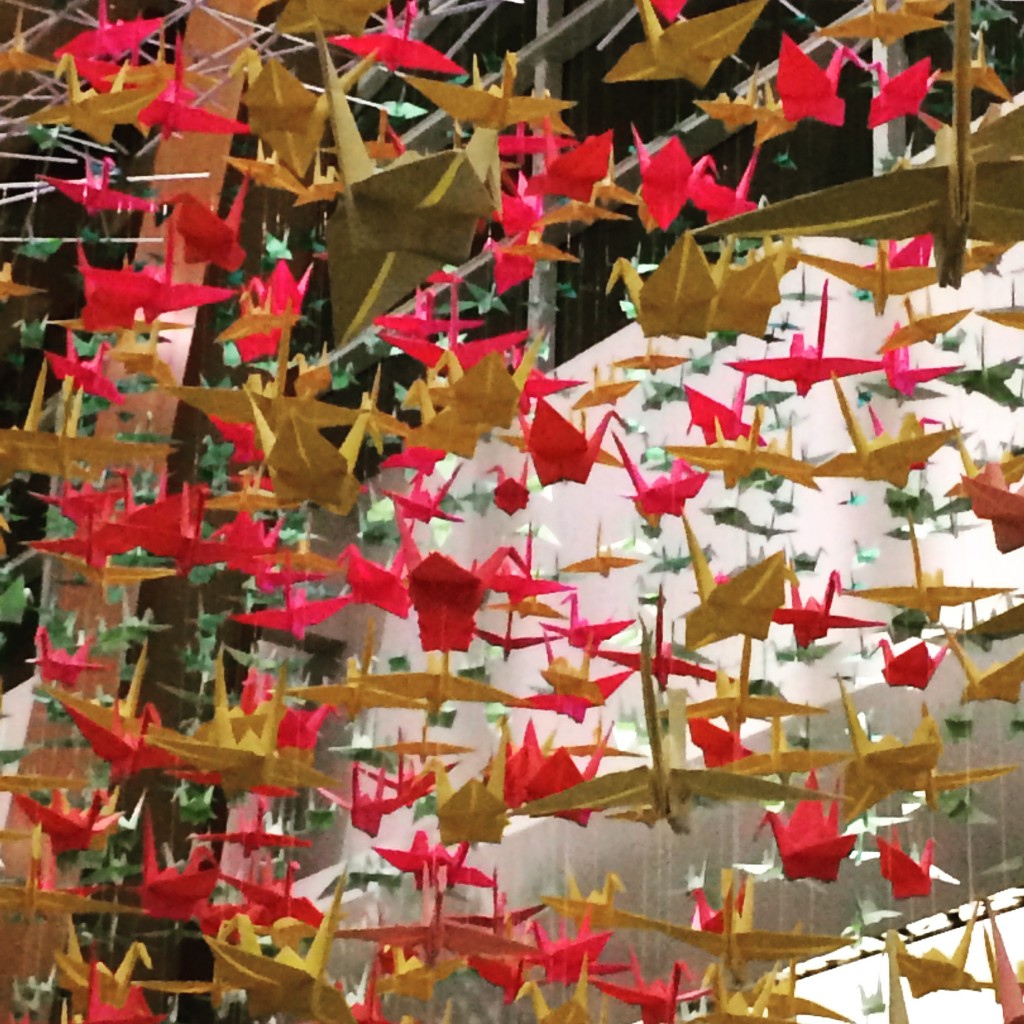 Some fancy drinks at the Chandelier Bar at the Cosmopolitan.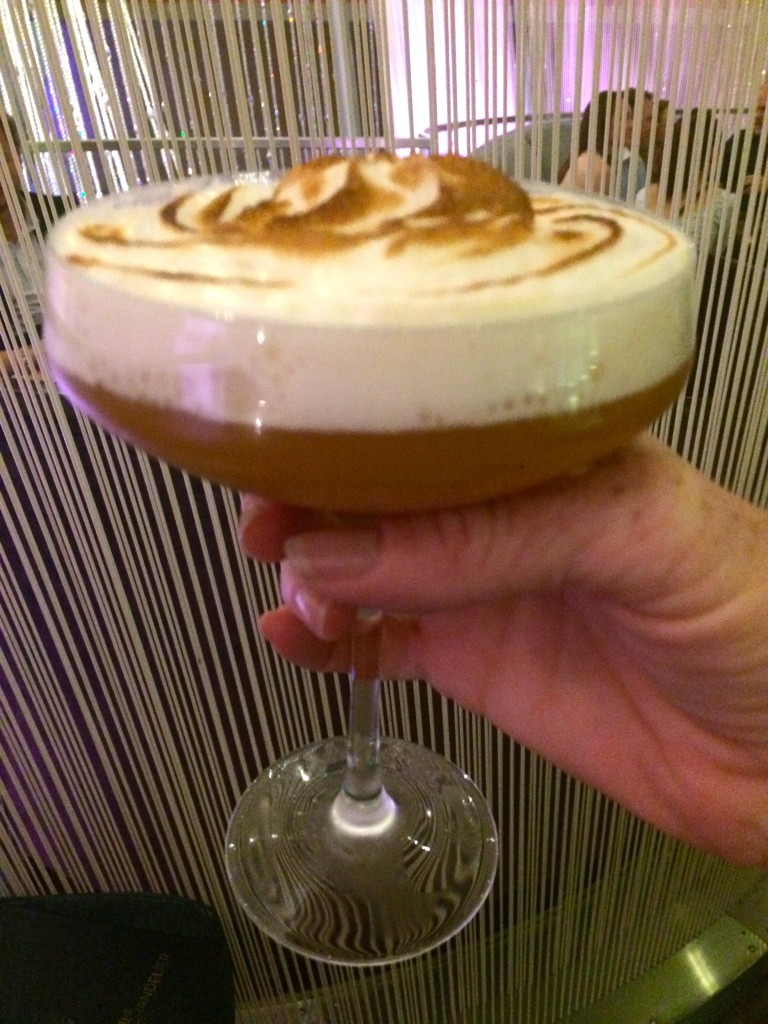 And that in a nut shell was our girls' weekend in Las Vegas! Lots of girl time to hang out, relax, talk, eat, drink, gamble (just a bit), and see a couple of shows. As I said, this trip was way too short. I was there for only 36 hours – not really a weekend if you ask me. These girlfriends have been with me through thick and thin. I don't know what I'd do without them. Since one friend had to miss the fun, we are scheduling another ladies' weekend away. We are thinking maybe the wine country next time.
There is a saying, "What happens in Vegas, stays in Vegas." Well… not always.
I got a tattoo in Vegas and it most definitely came home with me 🙂 More on that another time.
Interested in ordering prescription remedies over the internet