I would love to title this post, The BEST restaurants of Park City, but since I have not been to all of the restaurants there – I truly cannot name these the best. But I gotta' tell you they were TOPS! If you consider our group of six adults and how much we all enjoy dining out, I think we can say that we are unofficial experts on good dinning 🙂 Or more aptly put – unofficial foodies on vacation having a great time and enjoying some of the best dinning we have had anywhere!
So where did we eat? Lot of places, but here are our tops.
Great Restaurants in Park City, Utah
1. Talisker on Main
Not only is the food here divine, but the whole dinning experience was par excellence. We were very lucky in that there was a large party cancellation and we were able to get a table for the six of us last minute upstairs in front of their beautiful fireplace. From the moment I spoke to the hostess about a possible dinner reservation to celebrate an anniversary to the last morsel savored the entire night was an utopian experience. Leon our waiter took very good care of us! Even adding to our food order when we missed something he believed was a perfect compliment to what was already ordered. He added a buttermilk biscuit to my friends order of fried chicken, and brought me the House Coffee as an after dinner drink. Both times were spot on!
What we ate:
Lobster and Crab Beignets
Brussel Sprouts with pomegranate, bacon, and chestnut
Truffled Tater Tots
Sugarhouse Pork Rib Chop
Fried Chicken
Roasted Duck Breast
Char
Custard Fondue
Every last bite was delicious – and since we all like each other – we shared bites with each other.  Be sure to call ahead and make reservations. You will not want to miss this one!
2. High West Distillery and Saloon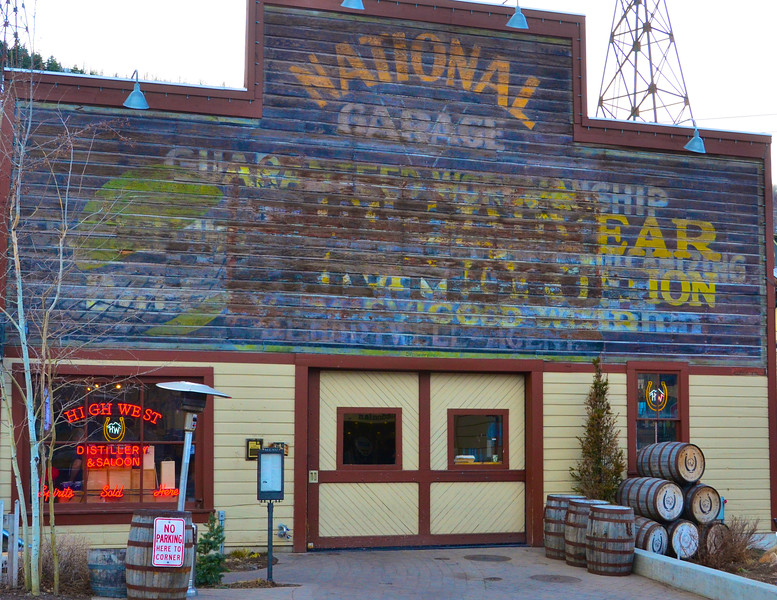 This was a fun place to end a ski day with the kids. High West does not take reservations, and as we were there during President's week it took us twice to get in. The first night we just simply did not want to wait the 2+ hours. The second night we headed straight over from the ski run – wearing ski clothes and all. We simply wanted to enjoy a drink and some appetizers. Even with our early arrival time we still had over an hour wait! The good thing was that they have an outdoor seating area with heaters and fire pits and they serve drinks: hot cider for the kids plus drinks for the adults. As we were a group of 12, we opted for two tables of six so that our wait would be a bit shorter. We needed to have adults at both tables, so we mostly split ourselves into a boys' table and girls' table.
The food was delicious and we even ordered seconds of the Mac and Cheese. Sooooo yummy! As I said, we ordered off the small plate menu. At our table we ordered Deviled Eggs, Corn & Chips, Wild Game Sausage Roll, House Pretzel & Beer Cheese, 3-Bean and Bourbon Chili, Mac and Cheese, and an order of soup.
High West was once a livery stable that was converted to a whisky distillery and then they added the restaurant. The whisky, according to our whisky connoisseurs was nice and smooth. My husband brought a bottle home. Be sure to check out the distillery through the windows on the way to the restrooms.
 3. No Name Saloon
This was a happening place, and the buffalo burgers were delicious! The only draw back to this place was that you need to be 21 to dine here. Yes, it is a saloon, and they serve great bar food with a full menu. Eight of us (the first to arrive to Park City) headed on in; we were quickly stopped at the door because we had the kids in tow. Our first thought was, "Oh well." Then on second thought it was, "Kids eat across the street and let's go to No Name Saloon!". The kids were not too happy with this plan because they wanted to try the burgers as well, but we made sure they were happily set up across the street, and we headed back to No Name Saloon for a burger and beer. This was a great spot for lunch. I ordered the slider sampler so I could try three burgers, but I gotta' say my favorite was the Saloon Burger. They have much more than buffalo burgers on the menu; they have sandwiches, salads, soups, appetizers, hoofless burgers (turkey, veggie, chicken), fish and chips, and fish tacos. We were there for lunch; I imagine being a saloon that it is even livelier at night.
Park City is full of amazing restaurants! We did dine in more that these three establishments, but these three were most definitely our most memorable dining experiences. We look forward to returning not only for the skiing, but we would love to revisit each of these restaurants! Plus try a few more…
Verify an online drugstore before you purchase medications