Headed to the big Island of Hawaii? Well, let me tell you about a little known secret – Lava Lava Beach Club. This is the best place to watch the sunset in Hawaii! As you may know, I just completed my third Lavaman triathlon in Waikoloa on the Big Island. This was my third Lavaman, but my first time noticing the Lava Lava Beach Club that sits just feet away from the Lavaman finishing line. Really! How in the world did I miss this most awesomest of places in the past?!?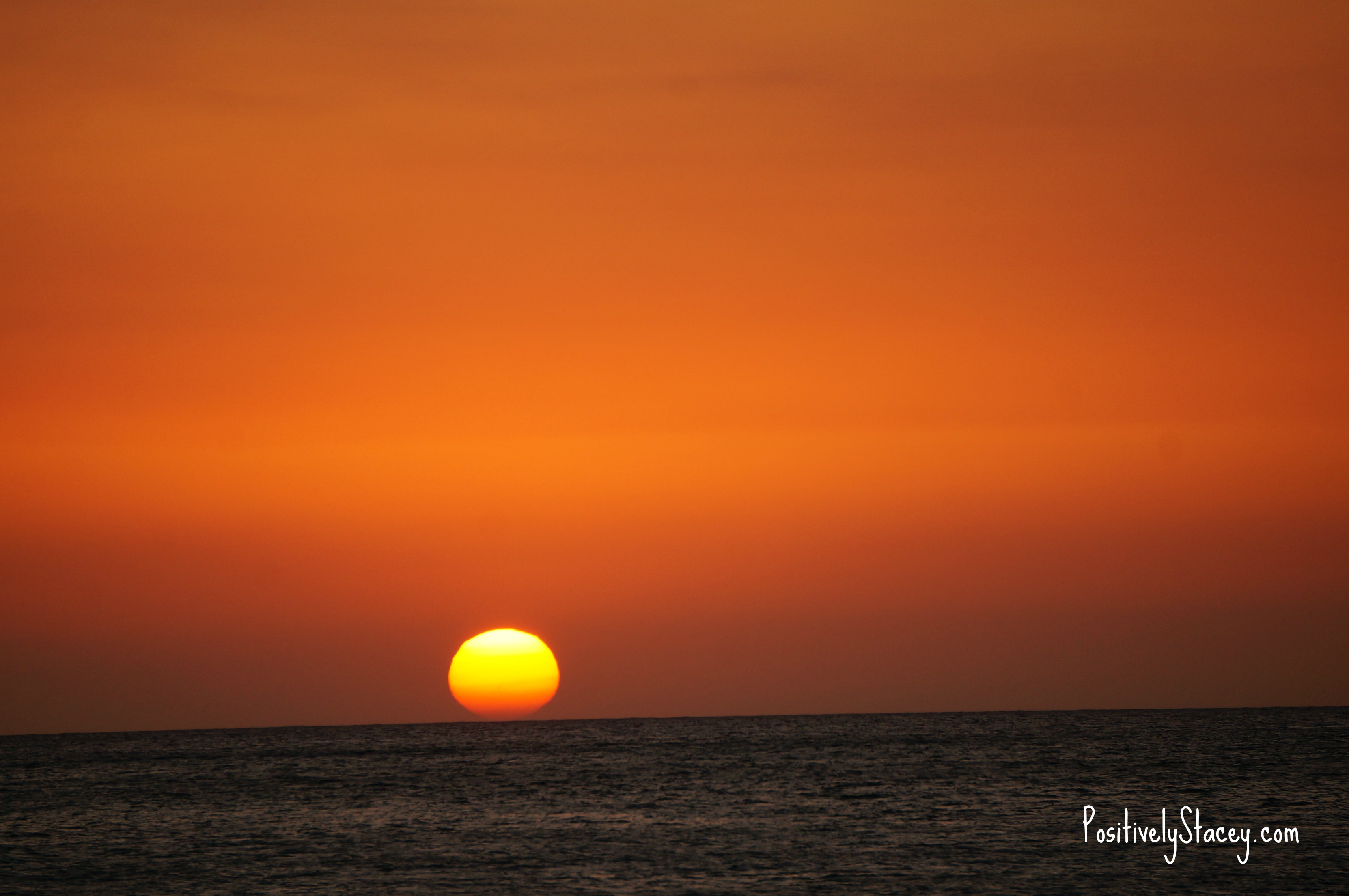 Sitting right on the edge of Anaeho'omalu Bay, this is an open air restaurant with lots of beach front seating.  Friday, our first night to arrive in Hawaii, we met a lot of our teammates here for a bite to eat. With a sunset time of 6:36 we met at Lava Lava Beach Club around 6 p.m. The hostess was most gracious in trying to help us gather our group of 20+ to sit together or at nearby tables.  And let me tell you – the sunset was  spectacular! With live Hawaiian music playing, with watched the sky turn all shades of orange. Absolutely magical.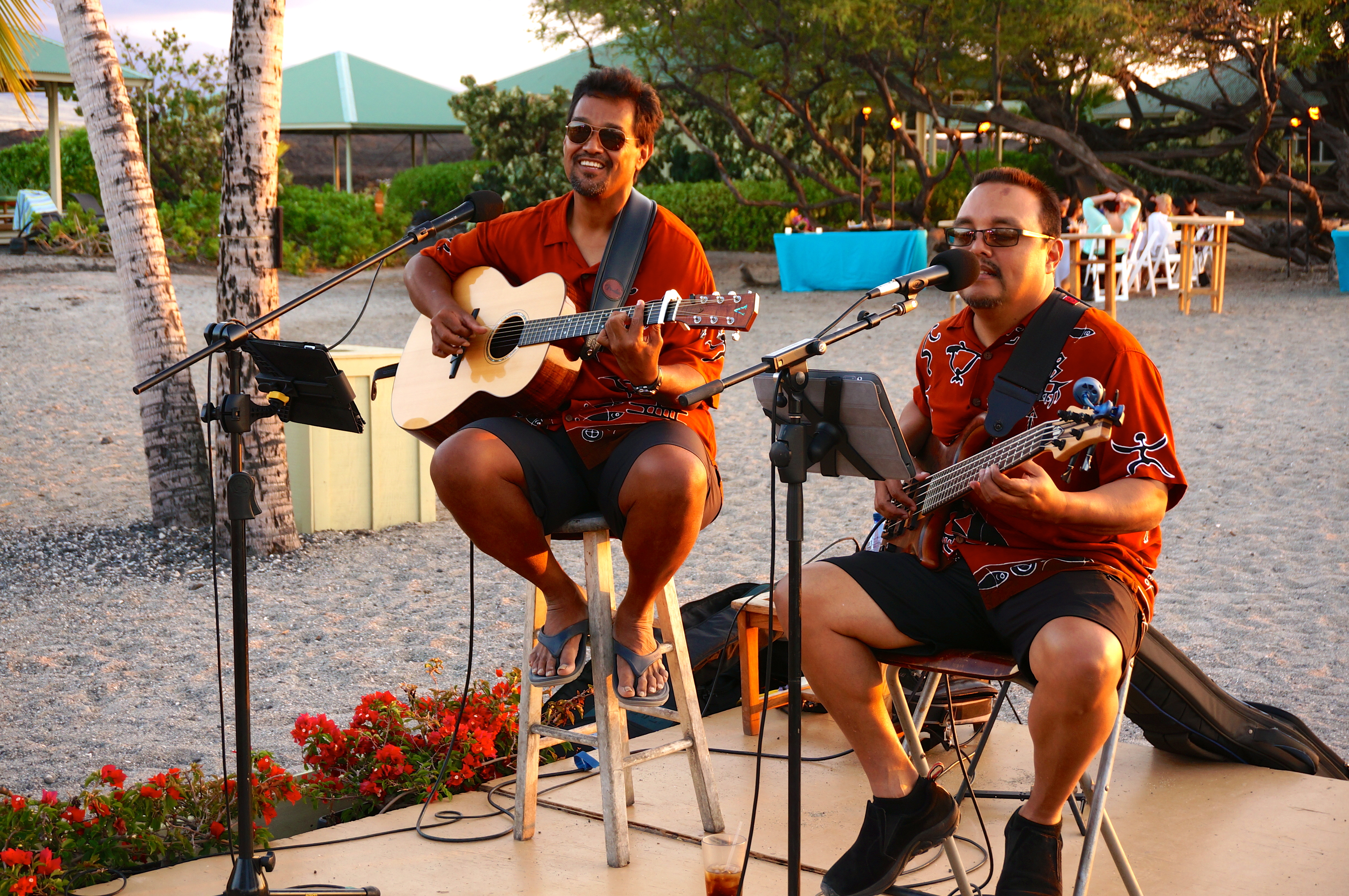 So magical that we opted to spend Monday evening taking it all in again! You see, Friday night was still pre-race time, so for me that means no alcohol and healthy food choices only. Monday was the day after the race – so Monday was our one and only play day on the Big Island.
Monday included a snorkel cruise that left out of Anaeho'omalu Bay. With a dozen or so of our teammates we headed out to open waters on a large catamaran. The cruise was  great! The best part of snorkeling was not seeing the many colorful fish. Oh, we did see lots of fish, but for me it was the fact that we heard whales singing! Really! How cool was that? My husband and step-son like to free dive a bit, and they were the first to notice the whale songs. When they told me what they were hearing, I told them all I could hear was my own breathing while I was snorkeling. Well, duh! I needed to hold my breath. Once I did that, the songs of the whales came alive! I have never heard whales communicating before, and I gotta' tell you it is just like the ambient songs with whale noises that you can hear on recordings. But to hear it in the ocean for yourself, well – that is breathtaking! Mind you, Whale Riders was one of my all-time favorite movies, so maybe I am a bit partial to whales – but I loved hearing them sing!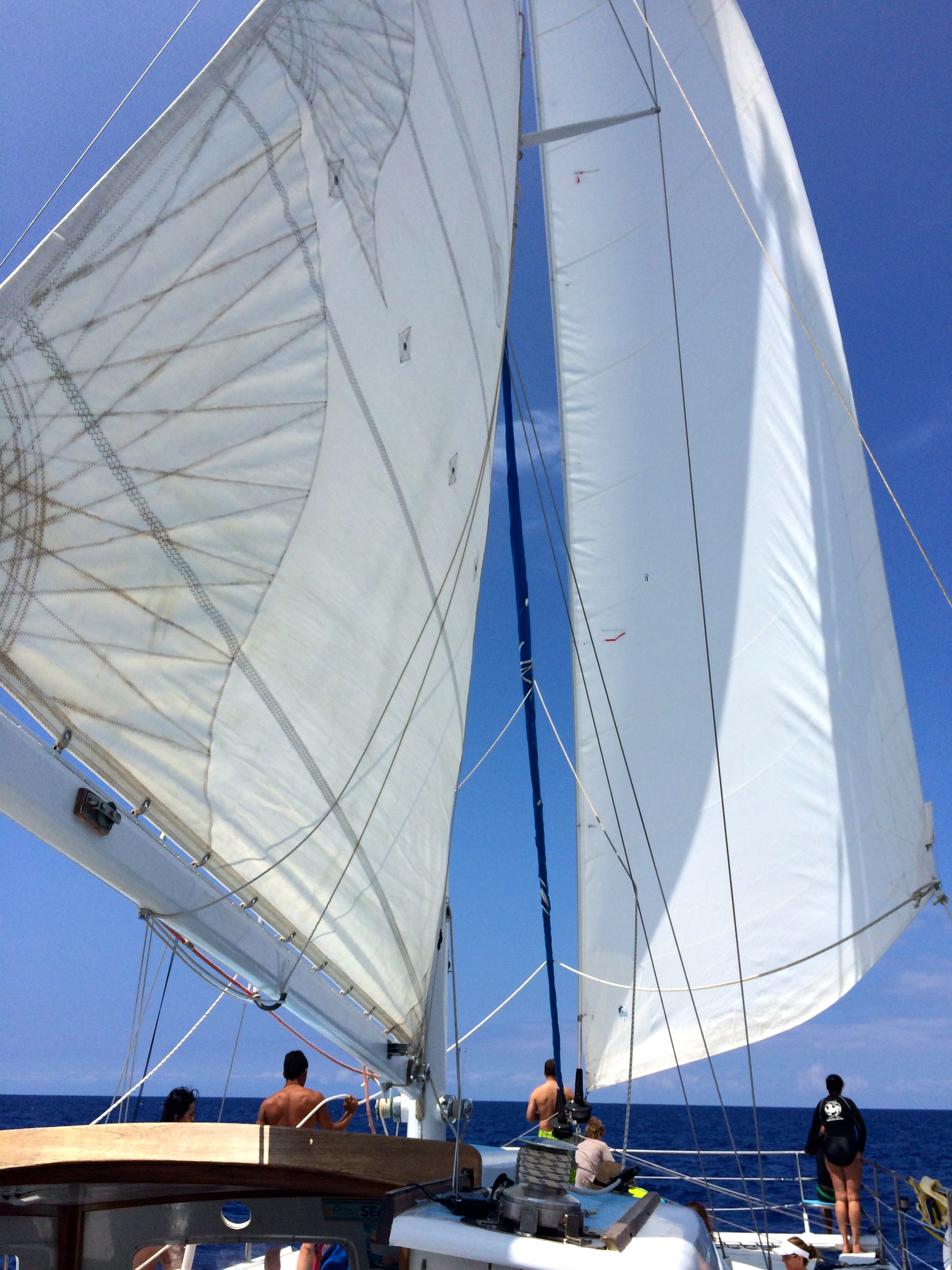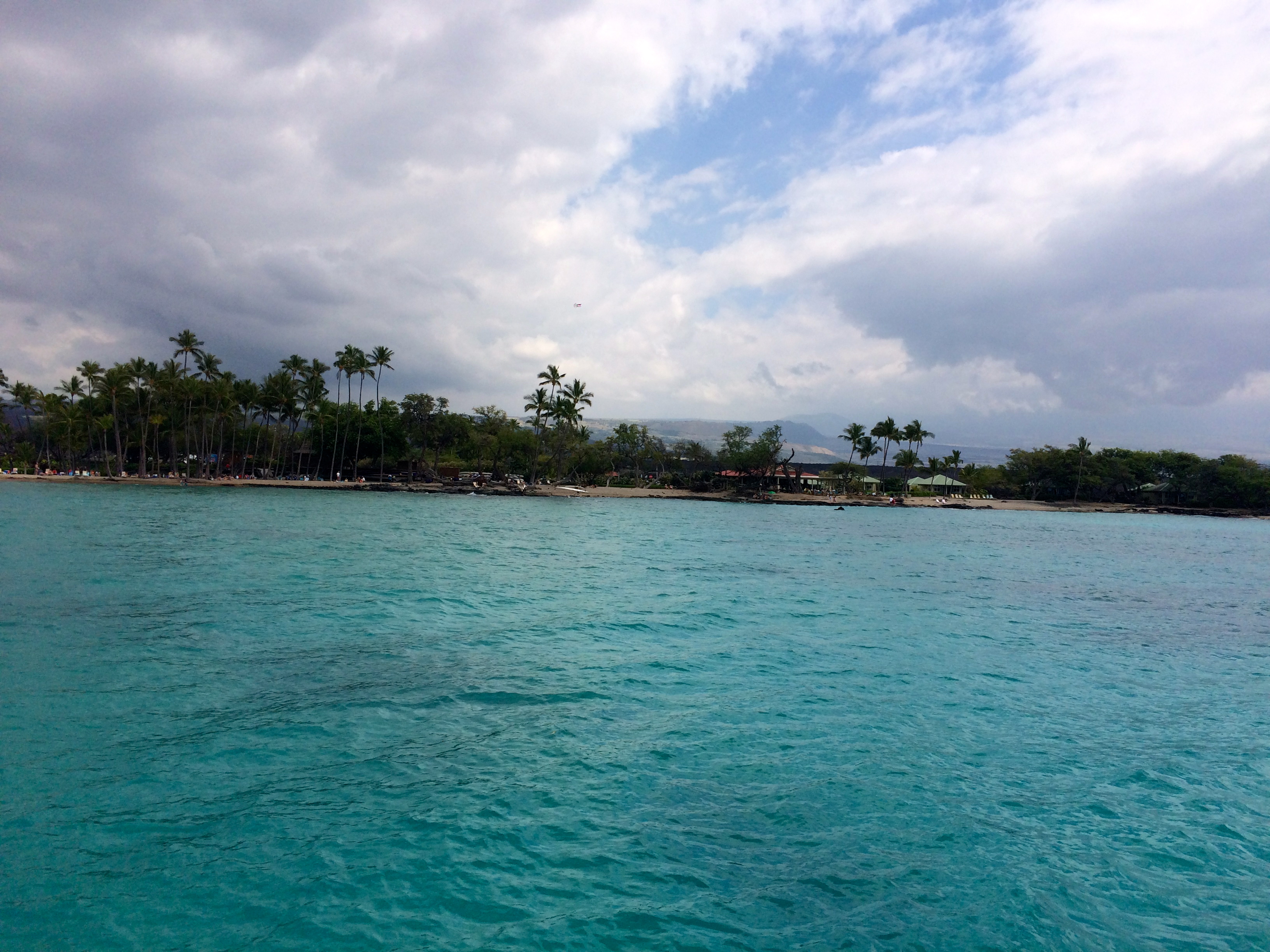 As I said, Monday was our play day in Hawaii so after disembarking from the catamaran, we all trekked over to Lava Lava. This time we all pulled up seats on the sand making a circle large enough to fit the dozen or so in our group. With the race being behind us, I ordered a Lava Lava Flow! Oh – so good! and they flowed easily. The seating was comfortable, the view was magnificent, the company was memorable, and the conversation was lively.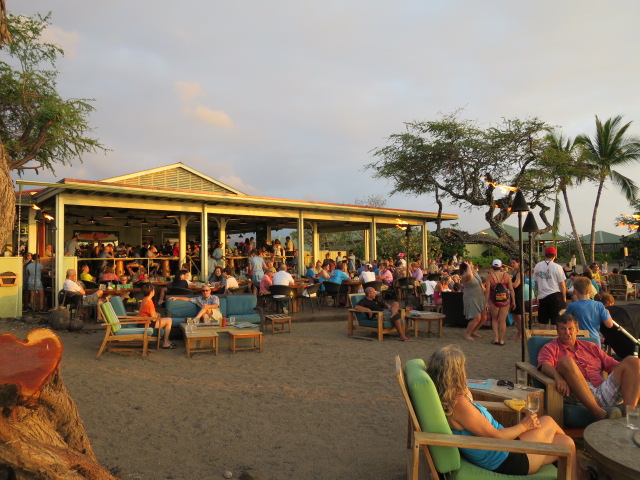 Again, we hung out for the sunset. The live music was playing, the sun was setting, and we were ready with our cameras.  Heading on down to the water to snap a few pics, my fiends and I decided the best view of the sunset would be from in the water. I looked at one friend who was hesitant about getting into the water – remember we still all had on our suits from the snorkel trip – and asked, "Have you ever watched the sunset over the ocean in the ocean?" Well, no, none of us had. This would be a first – so into the water we dove.  Swimming with girlfriends out in the bay as the sun set over us – That was magical!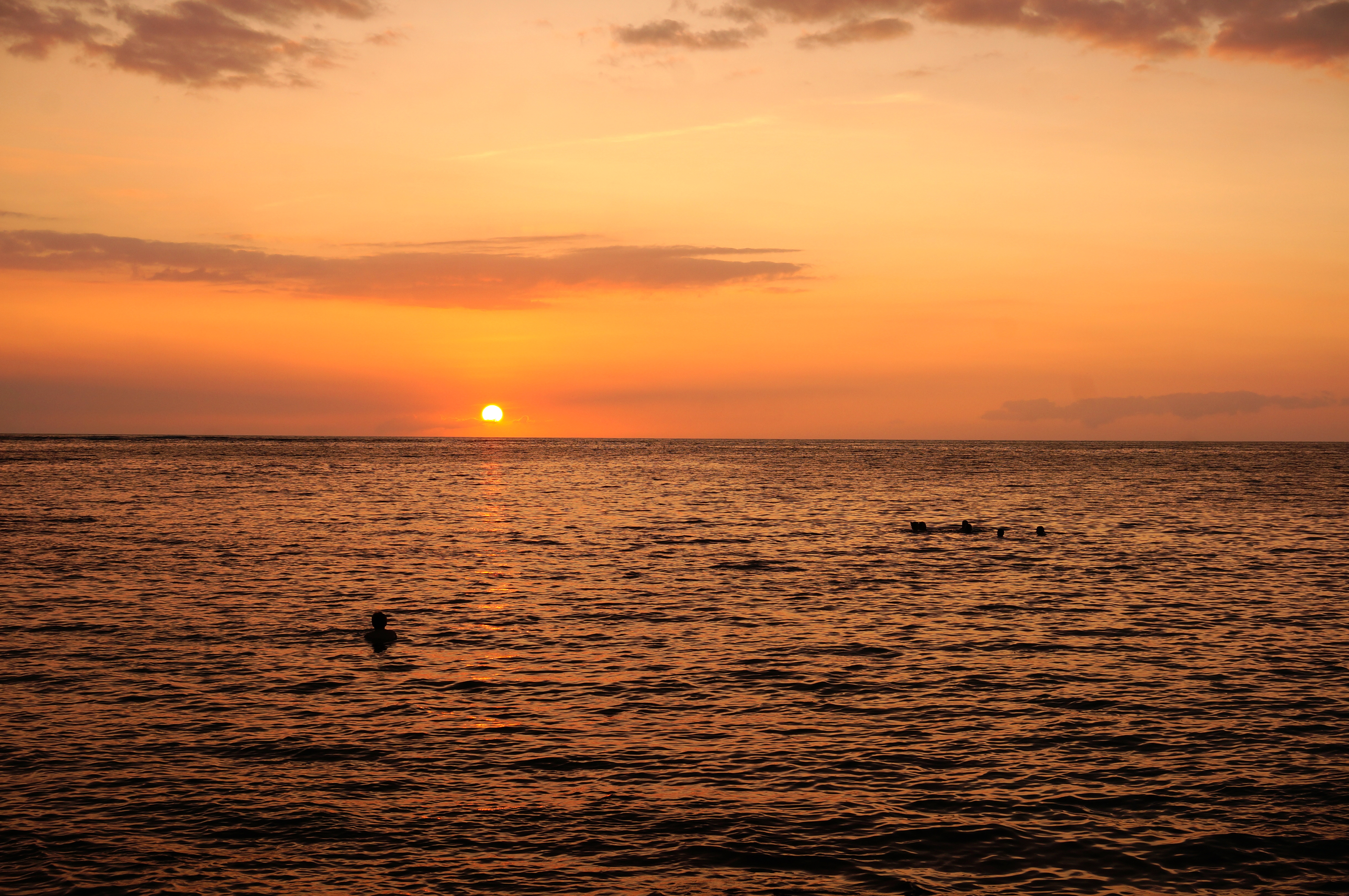 So for the best sunset in Hawaii – head to Lava Lava Beach Club. Really, it cannot be beat!
 Enjoying life to the fullest!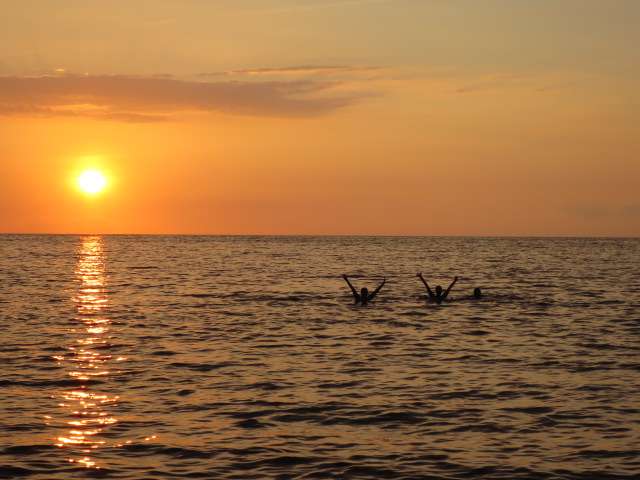 If you want to visit:
Lava Lava Beach Club
69-1081 Ku'uali'i Pl
Waikoloa Village, HI 96738
And I love that Hawaiian Airlines has direct flights!
In the spirit of full disclosure, this post contains affiliate links, which means that I may get a small commission if you decide to book with Hawaiian Airlines. I only recommend products & systems that I use and love myself, so I know you'll be in good hands.