Before I went to Ireland I had no idea that this beautiful country was also a foodie's paradise.  Yes, we have all heard of the potato famine, and if you are like my family you celebrate St. Patrick's day with a giant slab of corned beef and a side of boiled cabbage, potatoes, and carrots. Tasty, yes, but certainly nothing gourmet. Well what a treat we had when dining out in Ireland. Every city we went to had oodles of great restaurants. But rather than listing a boatload of places, I decided to whittle it down to five of our top choices. Yes, my husband was in on these decisions – because they were hard choices to make.
In no particular order – well, in the order that we traveled around the country, here are our top selections.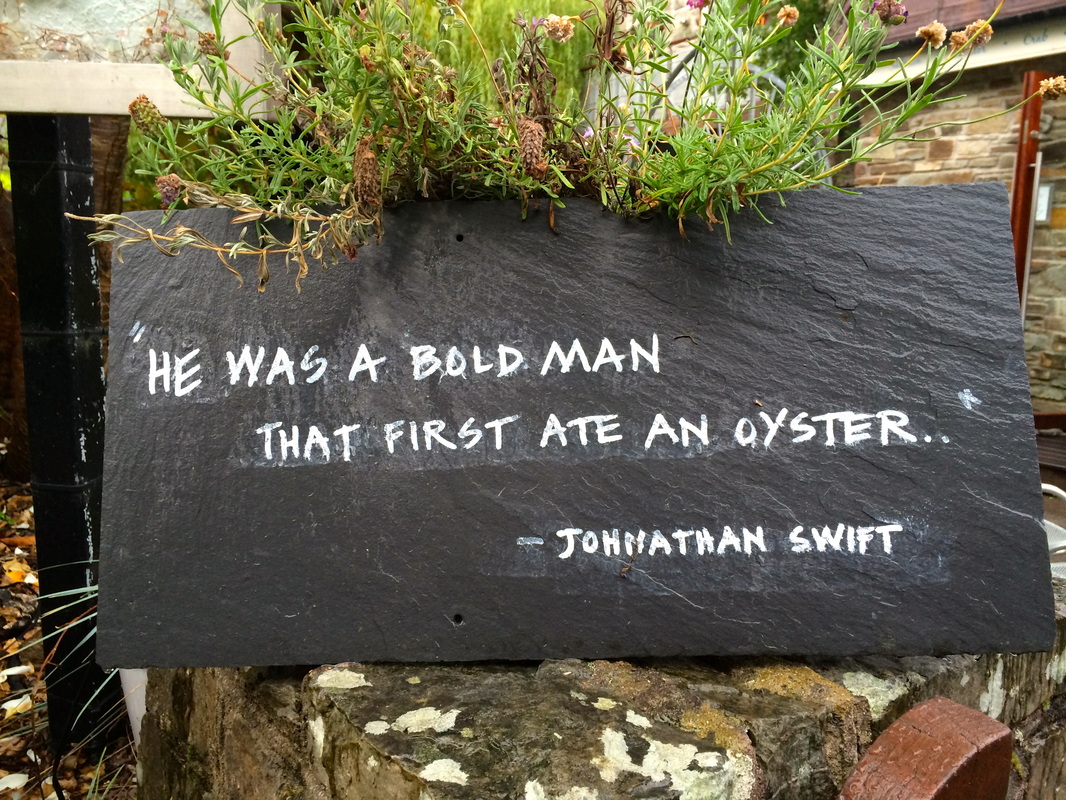 This was in the heart of Dublin. While we were wondering in the rain along the streets off Grafton Street we stumbled upon this restaurant.  Not only was the service excellent the menu was full of amazing choices. And they have specialty cocktails! Ireland is a country of beer – but a nice cocktail can really hit the spot.
We shared a bowl of spinach and ricotta gnocchi with Gorgonzola cream – so delicious and creamy! Rich and decadent. I then ordered seared yellow fin tuna with a Nicoise Salad. and Gavin loved his crispy pork belly, mustard potato, black pudding and apple jus. The whole meal was out of this world. When in Dublin, be sure to visit Coppinger Row!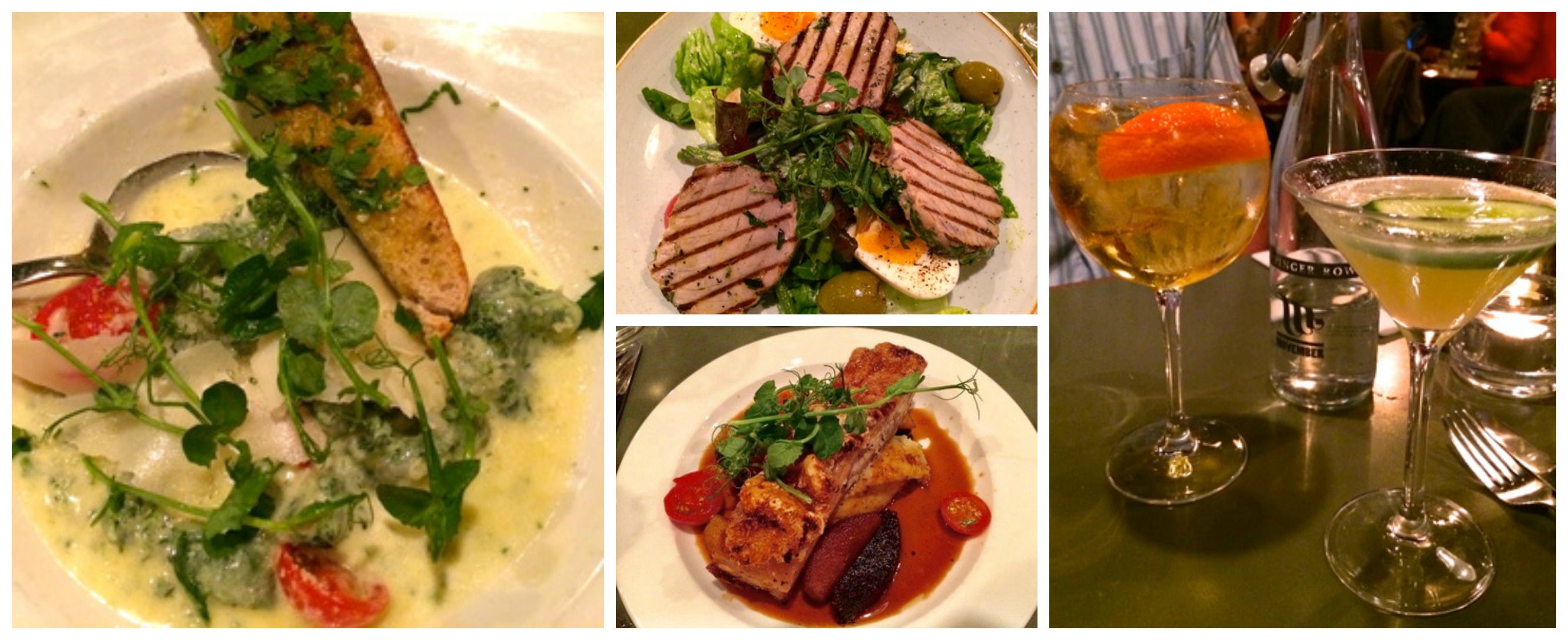 This was a complete fluke of a find. How lucky we were. We overslept on our last day in Dublin so we got a late start on our drive to Kinsale. That meant that we were hungry as we were driving past the town of Kildare. So we thought we would make a quick stop in town for a quick bite to eat. This was an unplanned venture off our planned path. Driving through town we found a parking lot, walked past a church, and the first restaurant we saw was named Harte's. It looked good (and we were starving) so we ventured on inside. It was a bit fancier than we had planned, but as I said, we were starving and Paudric greeted us as we entered.
The restaurant itself is very charming with dark woods, a black chalkboard announcing the day's specials, green banker lights emitting a soft glow, and brass fixtures. A pint of Metelamn, a local brew, and a cup of tomato bisque was just the start.  Based on Paudric's recommendations Gavin ordered the Harte's Irish Stew which is braised and pressed shoulder of lamb, potatoes, carrots, thyme, and soda bread. I had a Shepard's pie of sorts; a creamy chicken with vegetables topped with a heaping of mashed potatoes and a green salad.
Fishy Fishy in Kinsale
This was a recommendation from Paudric at Harte's. Sine this was a planned dinner, we actually had reservations. That was a good thing as they were packed. I loved the manager's daughter, the ten-ish year-old little blonde haired girl that served as the restaurant's hostess. There was nothing sweeter than a little cherub smiling and seating us with the utmost proper etiquette. I was impressed! What a sweet way to start off an incredible meal.
Fishy Fishy prides themselves on their fresh fish, and sitting right across the street form the Kinsale Harbor you can understand why. This is an award winning restaurant so reservations are highly recommended. We had a wonderful evening enjoying delicious food and a lively ambiance. They have an extensive wine list as well.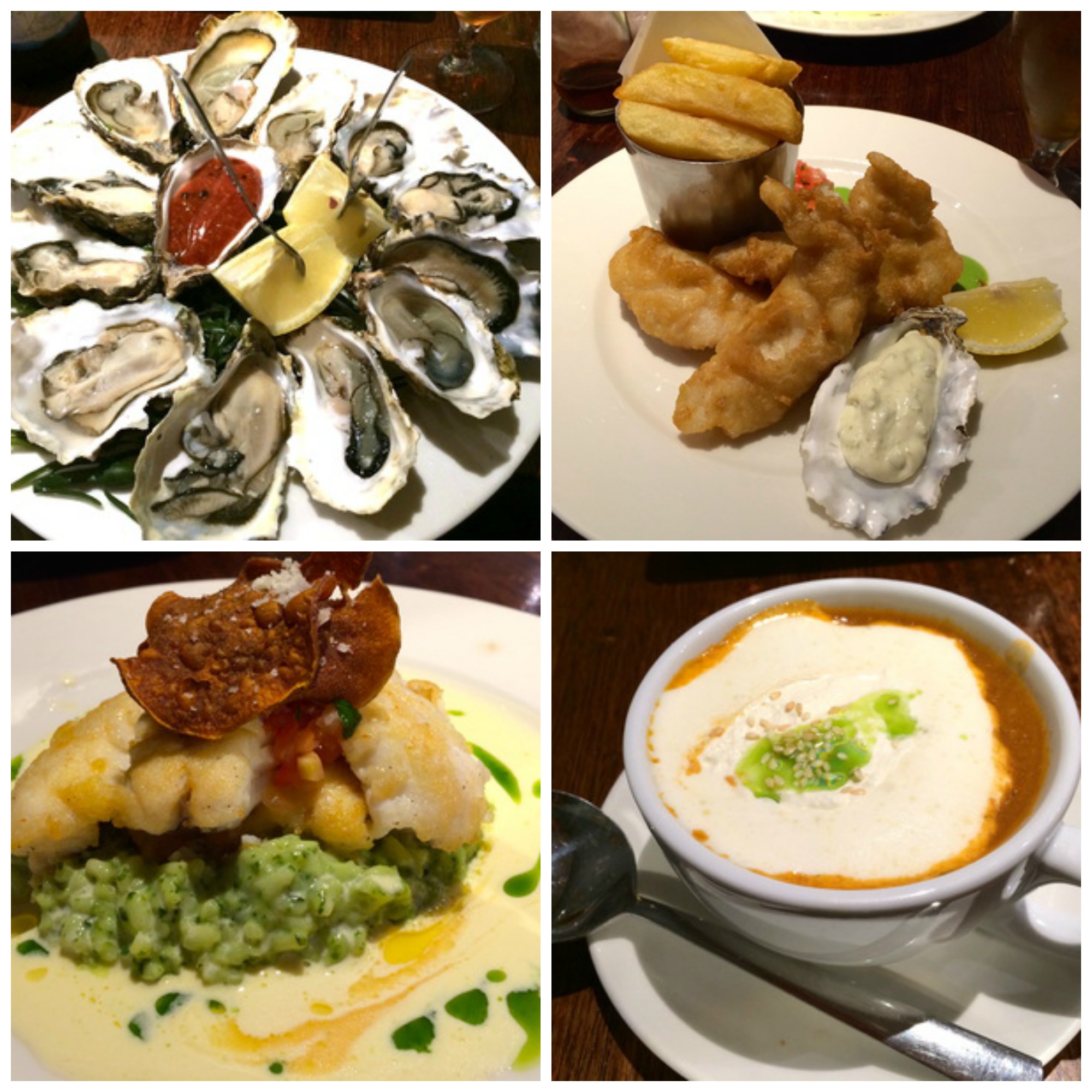 Ashes Bar and Restaurant in Dingle
This was another find as we walked down Main Street. We were actually headed to another nearby restaurant, but without reservations they were unable to accommodate us in their small place. So walking further down the street we came upon Ashes, looked over the menu, and decided this was a place to try out. The service was wonderful. I love the Irish, and Ashes was a warm and welcoming place for a delicious dinner.
There was a bit of a wait for a table, but they had a great bar to sidle up to and we started with a drink. Dinner was wonderful. Really, Ireland is a foodies delight! I ordered Steamed Ventry Bay Lobster, and my husband order the Roasted Scallops & Pork Belly ~ Scallops topped with poached apple & vanilla froth, slow cooked pork bell. We really splurged and ordered TWO desserts to try. I loved the refreshing vanilla pannacotta, blueberry jam, granola, tarragon and rocket granita and the potted carrot cake was equally decadent!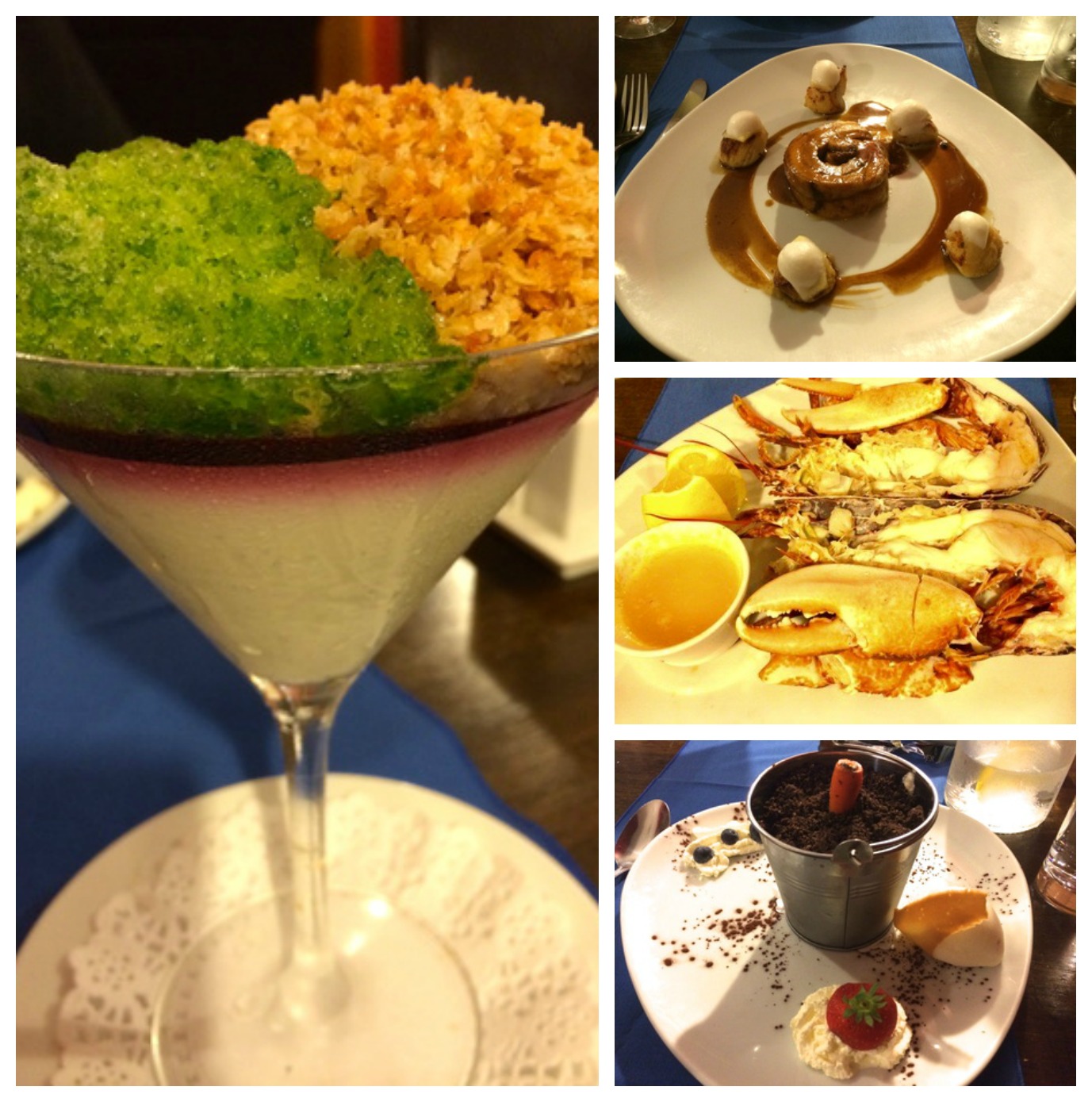 McDonagh's in Galway
This is right in the heart of the Latin Quarter, and it has both a walk-away fish and chips bar as well as a sit down restaurant. We choose to sit down and eat as the restaurant menu offers so much more. But I will say, those walk-away fish and chips looked might yummy! Again, another lively restaurant serving some of the freshest fish I have ever found anywhere.
McDonagh's is a causal restaurant and decorated with fishnets, rope entwined poles, and walls filled with painted murals. We were there on a rather busy night, so the service was a bit slow and haphazard. But the fish – divine. I had a turbot that literally melted in my mouth. I was unfamiliar with the turbot; it is a flat fish native to the North Atlantic Ocean, Baltic Sea, and Mediterranean Sea. I appreciated the paper placemats that showed the fish and an map the highlighted where they came from.  A little fish education while I waited for my meal 🙂
As you can tell from my eating habits as I ate my way through Ireland, I love fish. I was truly in foodie paradise on the Emerald Isle. I had no idea that there would be so many out-of-this-world top-notched restaurants. Before visiting when I thought of Ireland, I thought of corned beef, potatoes, Guinness and Irish coffees. Well, there is so much more. I can now tell you that I will be revamping my St. Patrick's Day dinner to include lots of fresh fish!