Jump to recipe
This Fresh and Zesty Burrito Bowl is oh-so delicious! Love the freshness of the corn right off the cob, zesty lemon, cherry tomatoes, and avocado – what more is there to ask for?!? It's like a trip to the farmer's market in one bowl! Ok, to be honest – this is not a fast meal to put together. Plan on 45 minutes to put together this Fresh and Zesty Burrito Bowl! One of the beauties of grain bowls is the quickness and ease of tossing them together. This one is so full of fresh ingredients – that you need a bit more time to put it all together. If you are looking for something faster, try my Southwestern Burrito Bowl.
But don't give up on this one! This Fresh and Zesty Burrito Bowl is totally worth the time and effort. Plus a super bonus… this burrito bowl travels well. I made up a few bowls, packed them into our backpack picnic cooler, and headed down to the Village at Northstar to enjoy dinner while listening to the music. Enjoying a plant-based dinner full of fresh ingredients, sitting outside, and listening to a jazz band – summer doesn't get much better than that!
Ingredients
2 cloves garlic, minced and separated
Finely grated lemon rind and juice of two lemons, separated (tip: grate lemon first then squeeze juice)
5 teaspoons taco seasoning, separated
1 jalapeño chili, seeded and diced
1 1/2 tablespoons red wine vinegar
1/3 cup extra virgin olive oil, separated
16 ounces firm tofu, pressed and cut into 1/4 inch thick slices or bite-sized pieces
Salt and pepper to taste
1/4 cup quinoa
4 corn cobs, husks and silks removed
8 ounces cherry tomatoes, halved
2 scallions, thinly sliced
2 medium avocados, cut into bite-sized chunks
1 cup fresh cilantro leaves, roughly chopped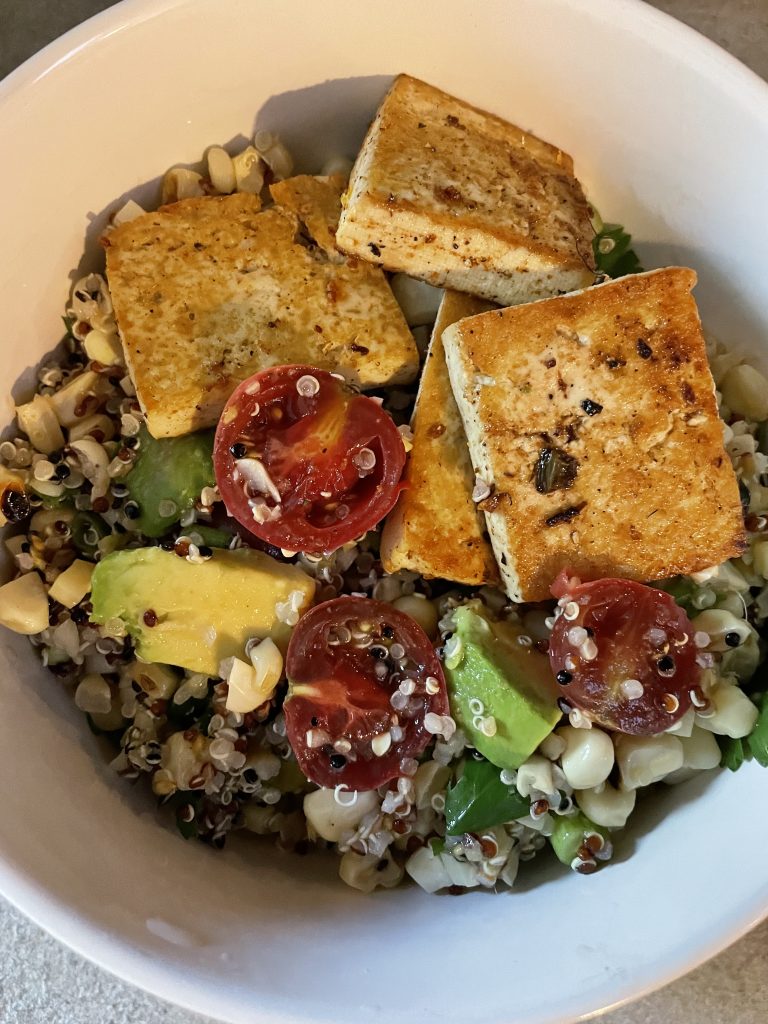 Directions
Start by pressing the tofu. Wrap tofu in clean tea towel, set into a colander and place a heavy object on top of the wrapped tofu. Or use a tofu press.
Rinse quinoa in a sieve. Place the quinoa in a small sauce pan and cover with one cup of water. Bring to a boil. Reduce heat, cover, and let simmer for 15 minutes or until the water is absorbed and and quinoa is tender. Or set quinoa and water into a small rice cooker.
Make the dressing: combine the lemon juice of two lemons, one clove garlic, vinegar, 2 tablespoons of olive oil, and 2 teaspoons of taco seasoning. Whisk ingredients together and set aside.
Make the marinade: Combine the diced jalapeño, lemon rind, remaining garlic, 3 teaspoons taco seasoning, and olive oil. Season with salt and pepper.
Slice pressed tofu and add to marinade. Turn pieces to coat and set aside.
Cook the corn on a heated grill pan over medium-high heat, turning occasionally and brushing with a touch of the marinade. Cook for about 12 minutes or until browned to your liking and corn is tender. Set aside to cool.
Reduce heat to medium and cook tofu. Cook tofu until golden brown on each side. Roughly 3-4 minutes per side.
With a sharp knife cut corn off the cob. (For a messy-free corn removal use a bundt pan! Place the end of the corn with the stalk into the center hole of a bundt pan. Hold the top of the corn cob firmly. Using knife slice downwards removing corn kernel and letting corn fall into the bunt pan.)
In large salad bowl, toss together the cooked quinoa, corn, tomatoes, scallions, avocado, and cilantro.
Drizzle corn mixture with dressing and fold to combine.
Divide the mixed ingredients between four bowls. Top with the golden tofu. Enjoy!
A few items that help make this recipe go a little it faster and a super backpack picnic cooler! The backpack makes transporting and enjoying meal outside so much easier!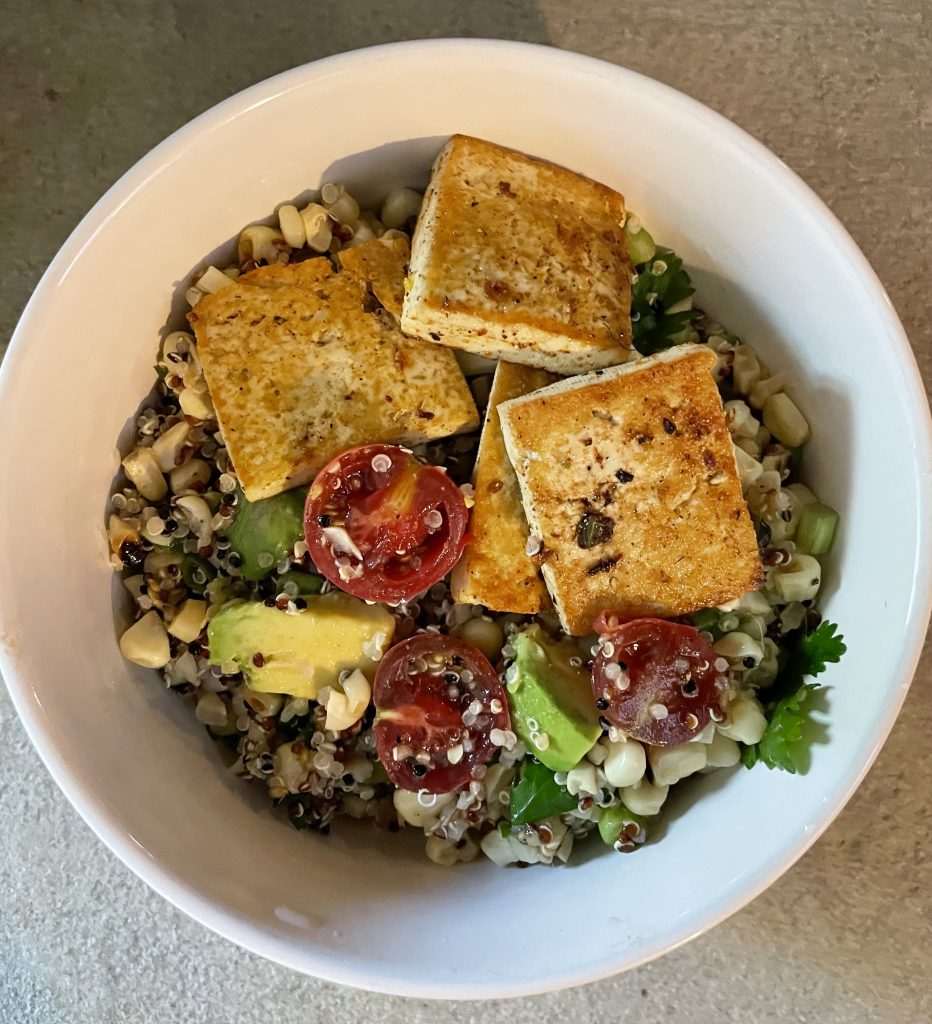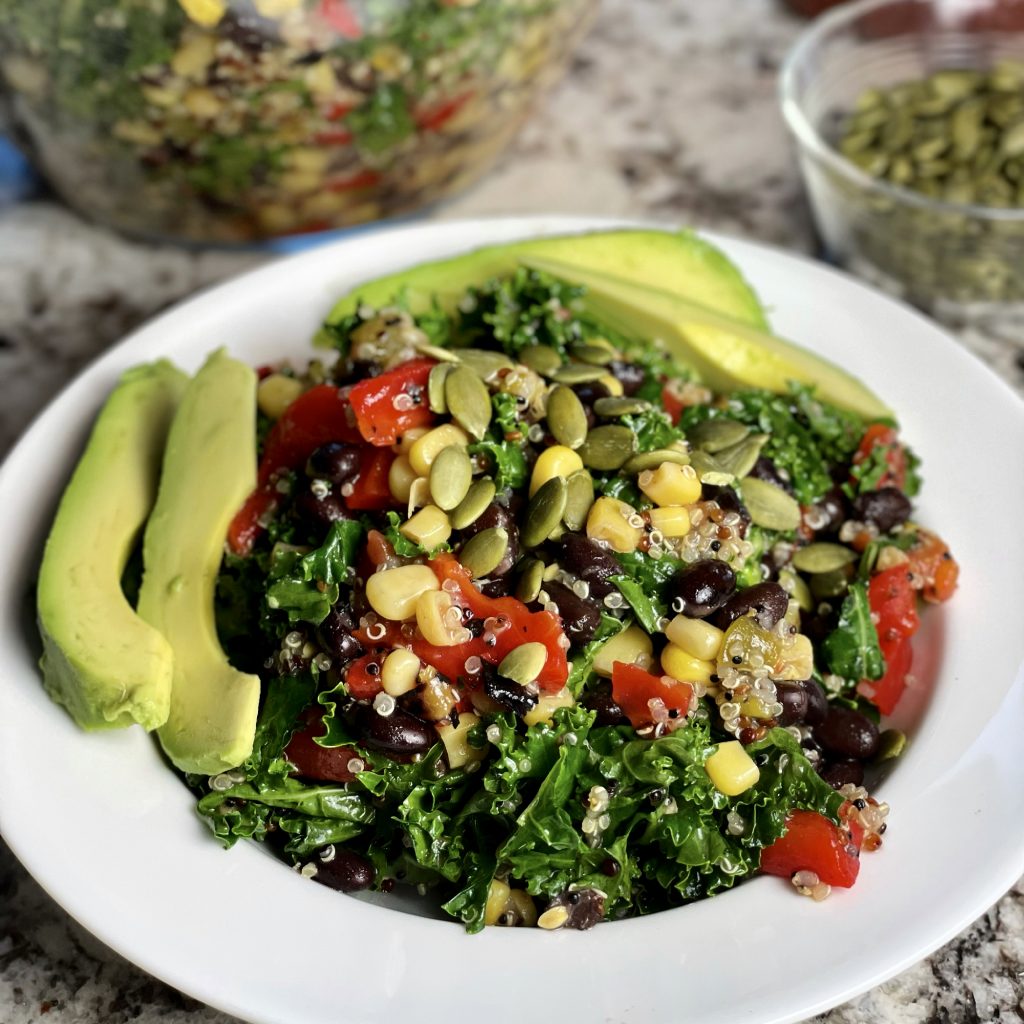 In full disclosure to all of my grain bowl loving friends – this post contains affiliate links. Which means should you choose to click on a link and purchase any of these items from Amazon, I will receive a very small percentage of the sale.