I did it! After much deliberation, with my husband voting no and my mom giving me the go-ahead, I took the plunge and painted the sewing machine cabinet, passed down to me from my grandmother, white.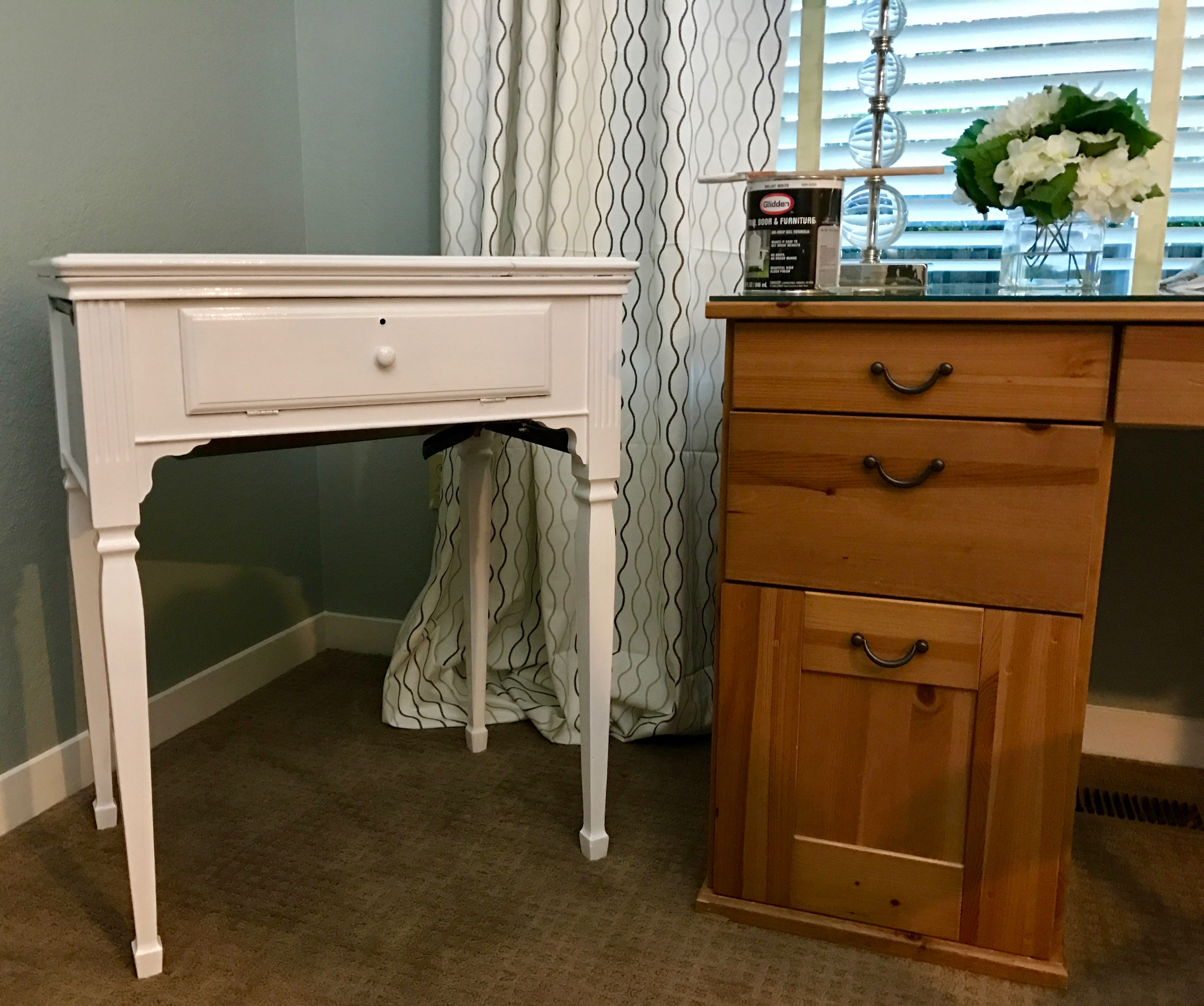 I love it!
As you can tell from the before photos, it was in pretty bad shape to begin with. My hubby really want me to refurbish it to its original state, but I wanted one more corner of white in my home office guest room makeover.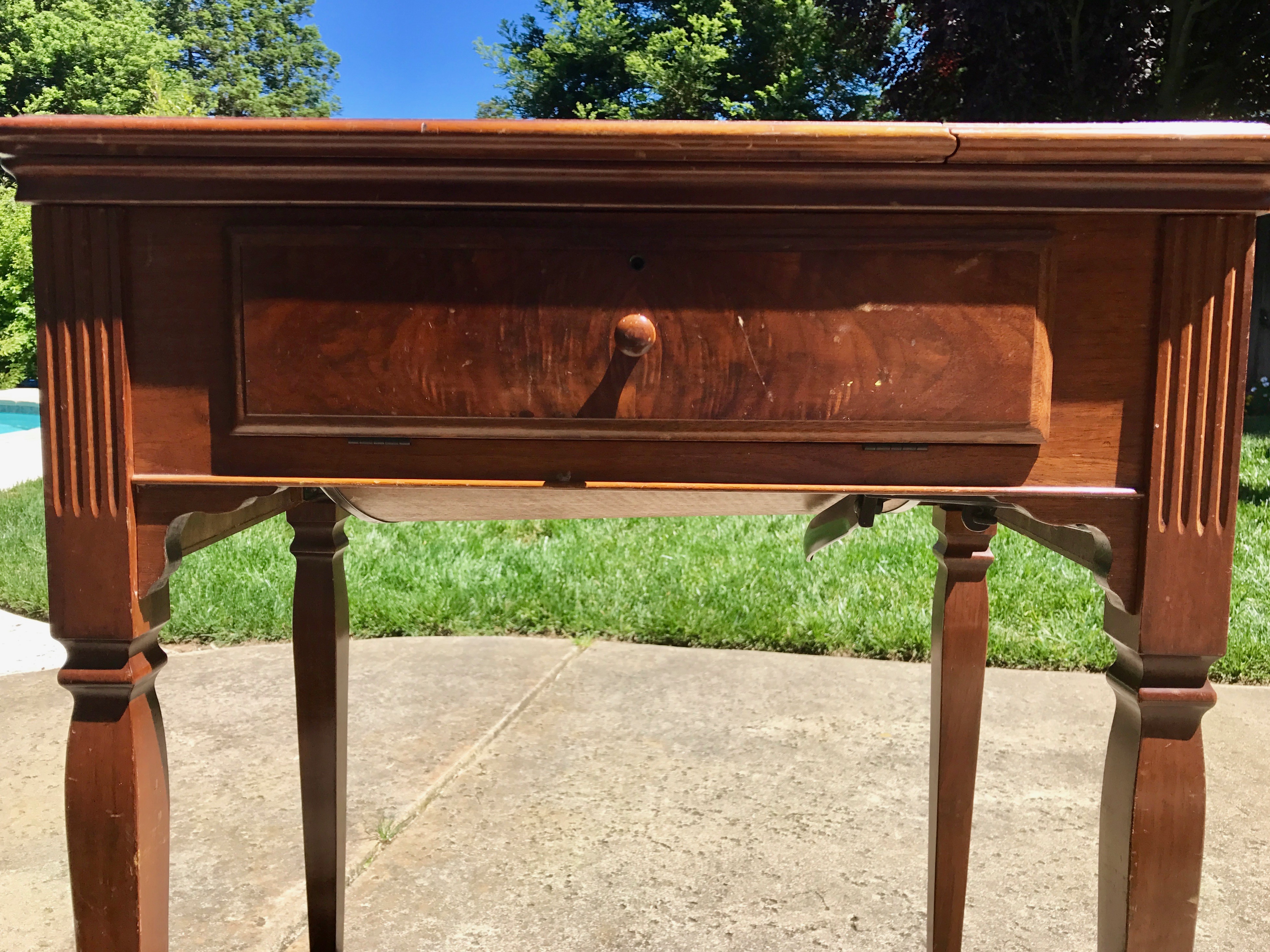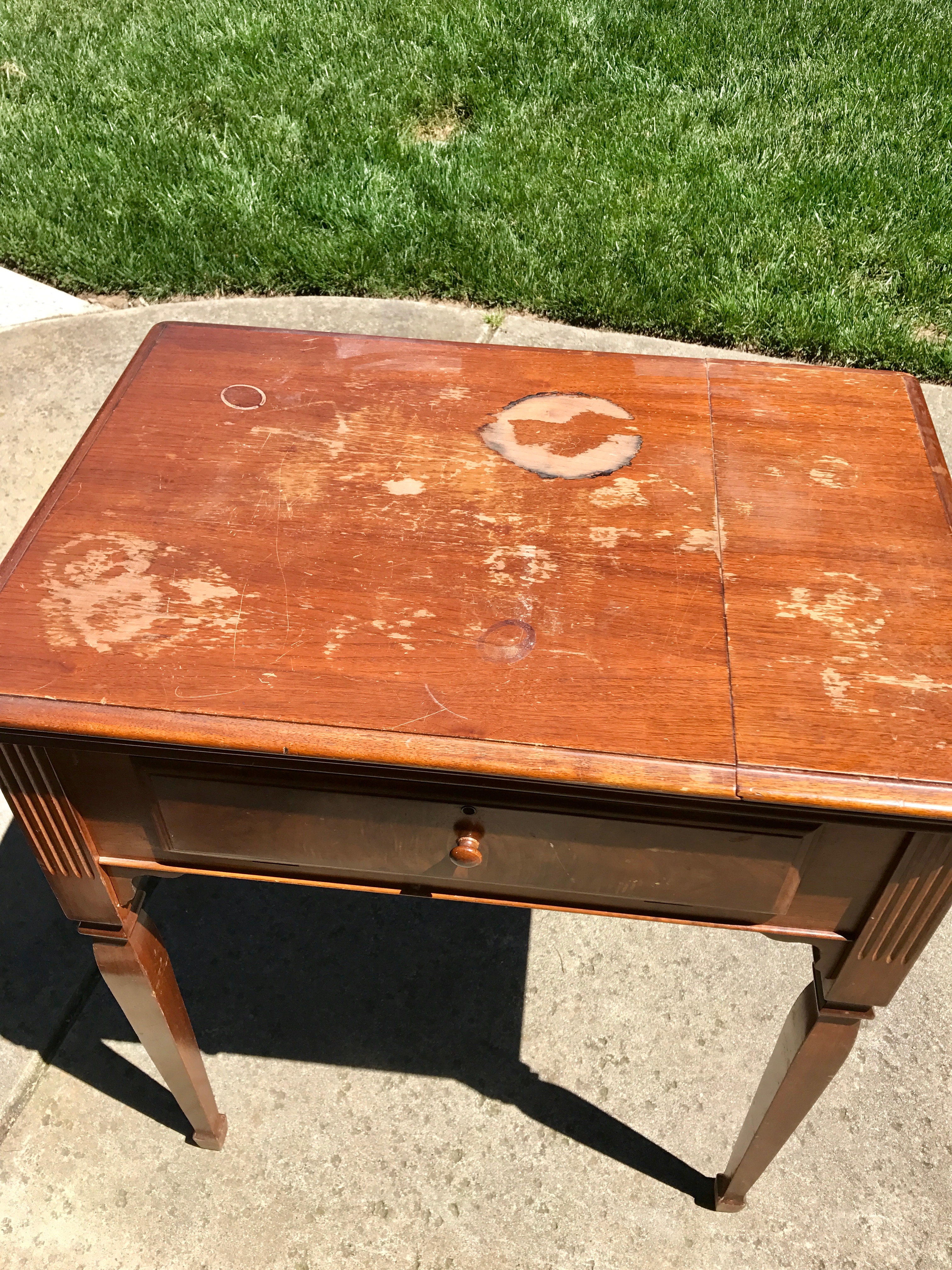 If you have been following along you know that I am currently in week five of a six week One Room Challenge hosted by Calling it Home. I took on the challenge (finally) of finishing off my home office guest room that we renovated last year by moving a door. This is the original starting point – before the French door was removed and changed to a solid wall. Now – we ware in the home stretch.
I gotta say – for only one week remaining – I have a lot of little ends that need to be tied up. So many details that need to be completed in order to pull it all together.
ORC: The Home Office Guest Room Week 5 – Painting the Sewing Cabinet
But this week – I painted the sewing machine cabinet white. And like I said, I love it!
The process has been a little slow since I spent last Saturday enjoying another Saturday in San Francisco. This last weekend Gavin and I headed to the Legion of Honor to see the exhibit, Monet: The Early Years. There is nothing like beautiful art to get you in the mood to paint 🙂 So on Sunday, I pulled out my little sander and got busy!
The cabinet needed a good sanding down. The stains and messy finish needed some some cleaning up and evening out. The cabinet opens up and once the outside was done, I tackled the inside.
I could have taken it all apart and removed the sewing machine, but I opted for the easier way and just worked around it. When I was standing it, I covered the machine with a towel to protect it. Once sanded, I washed it all down with a clean, damp cloth. Moved it into the garage to paint (It was windy outside and our spring pollen is blowing fierce here.)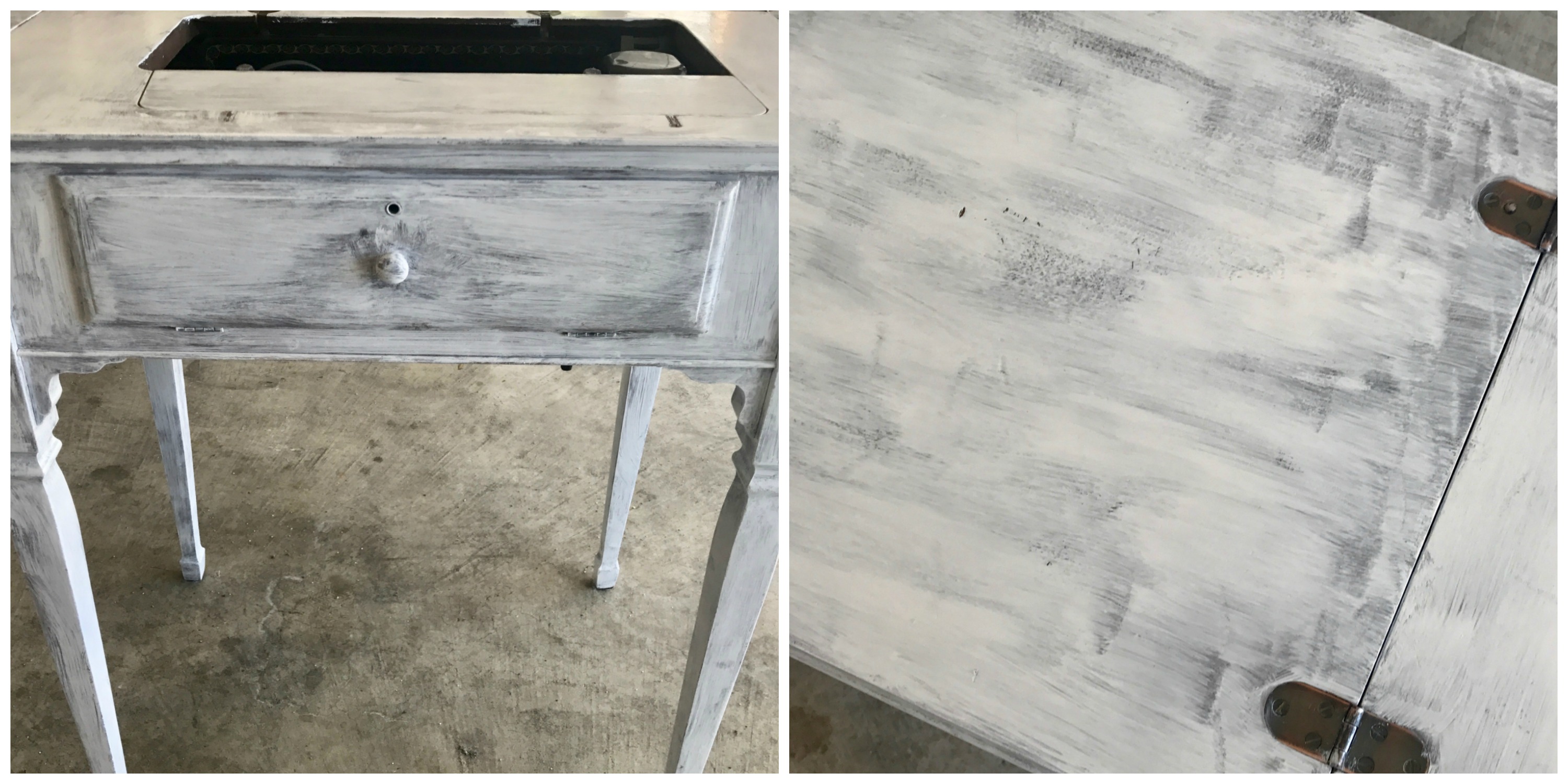 The cabinet ended up needing three coats of the paint. This was a new paint for me. It was an oil based and had a very thick, gel-like consistency. I went with this because it promised to be no-drip. Working with the legs and sides, I wanted to get a smooth and even finish without brush strokes. In the past I have used spray paint, but with the machine, I wanted to stay away from spraying.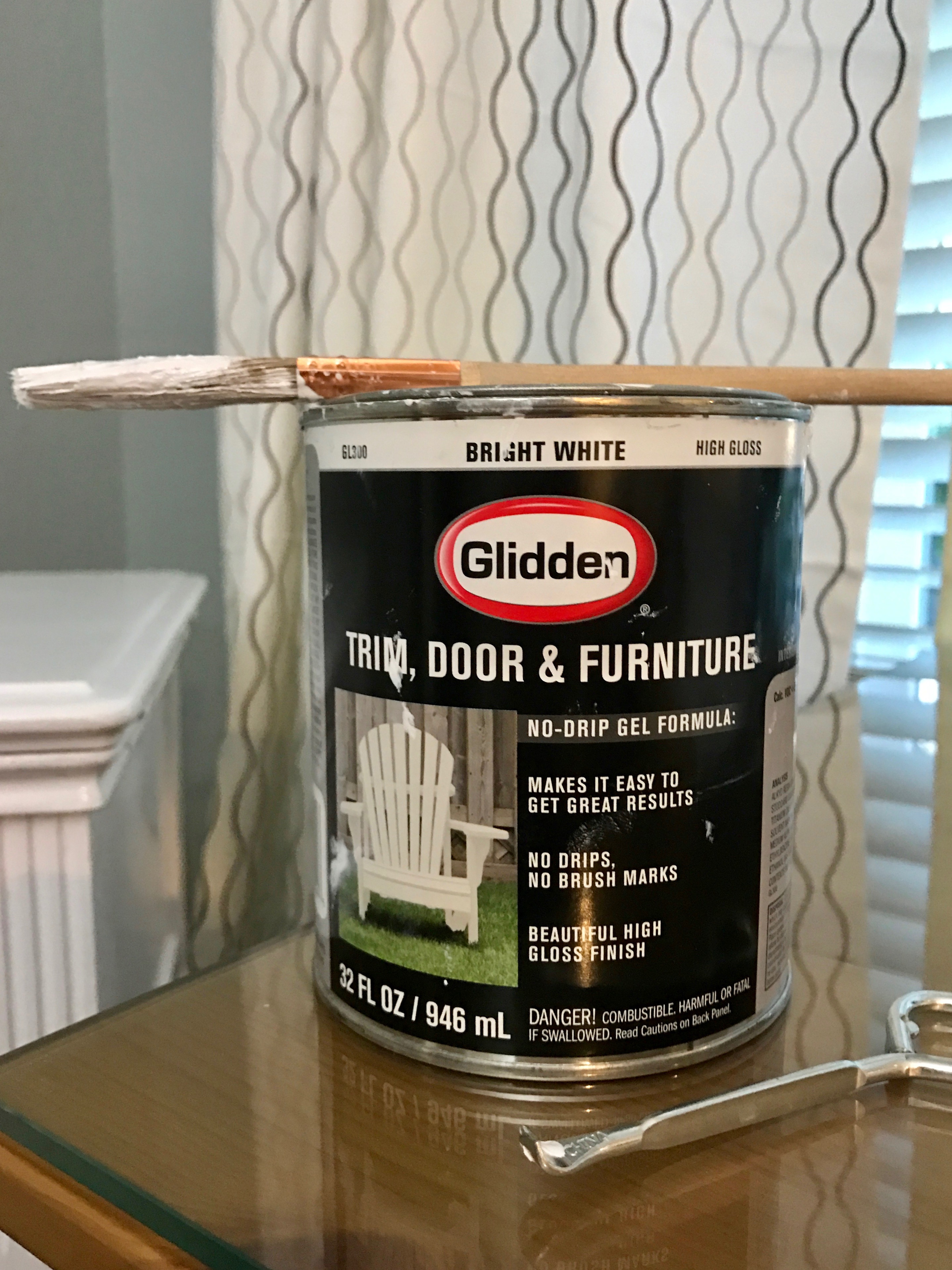 I am very happy with the final results! The high gloss finish is perfect for what I was going for.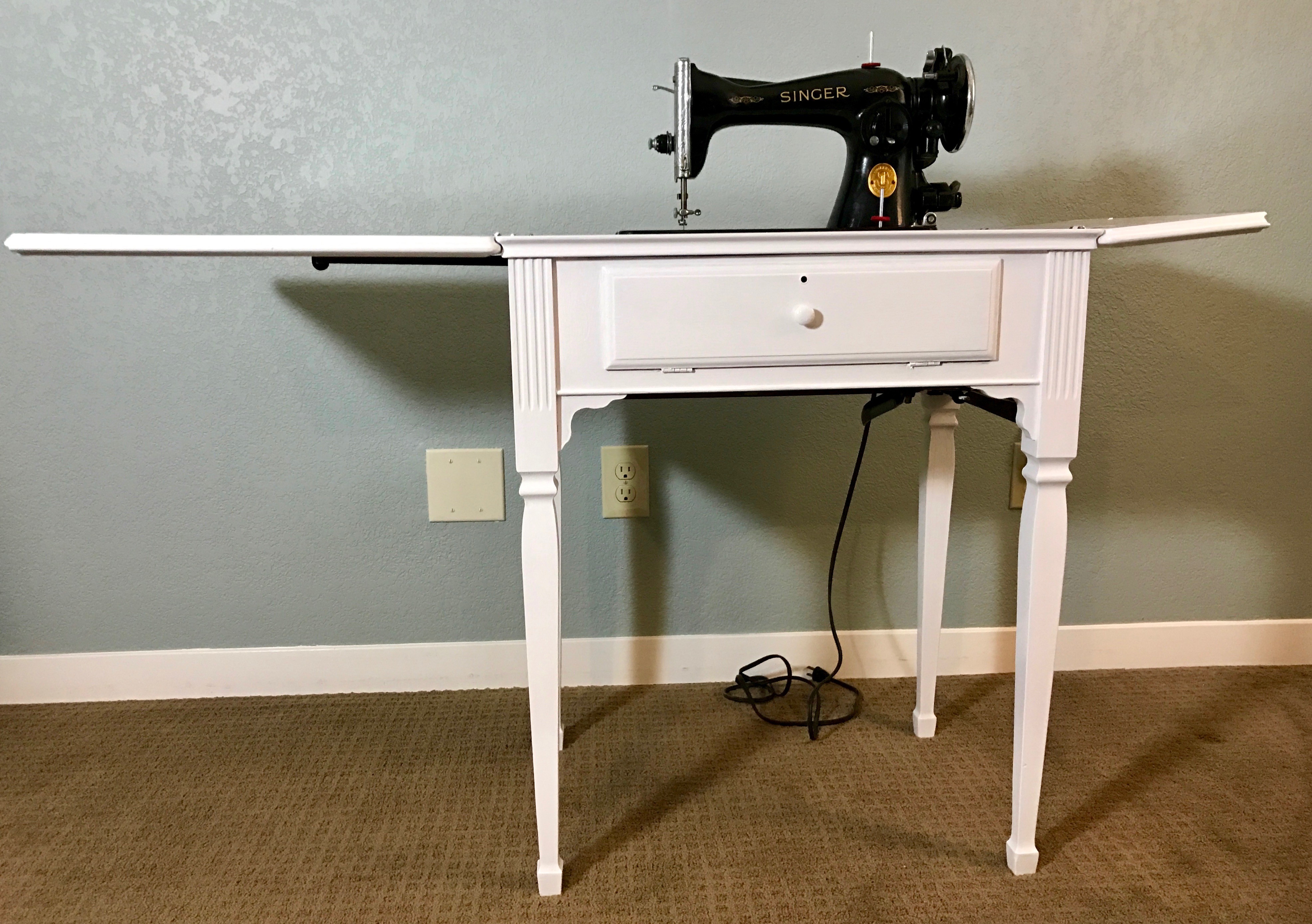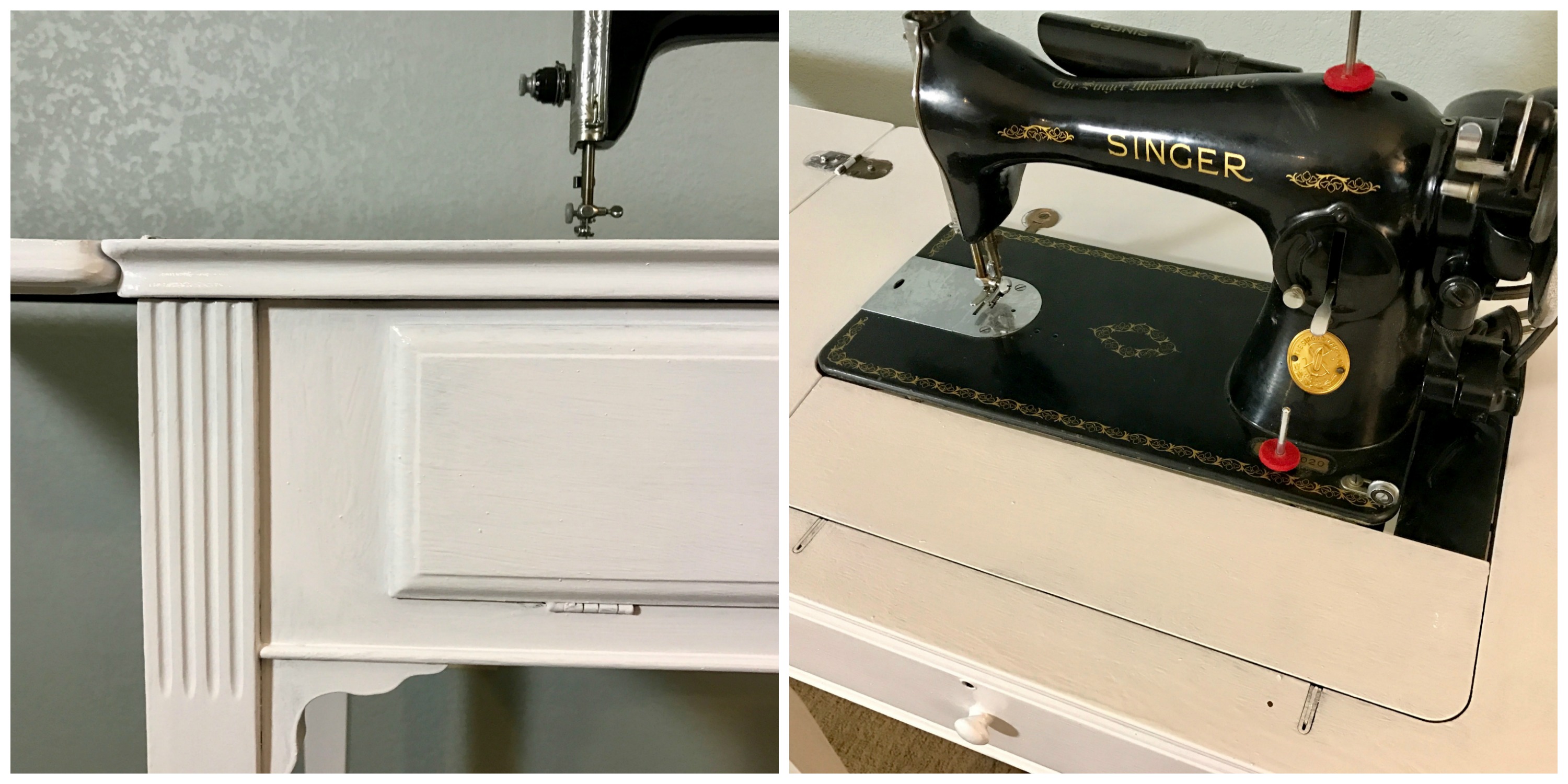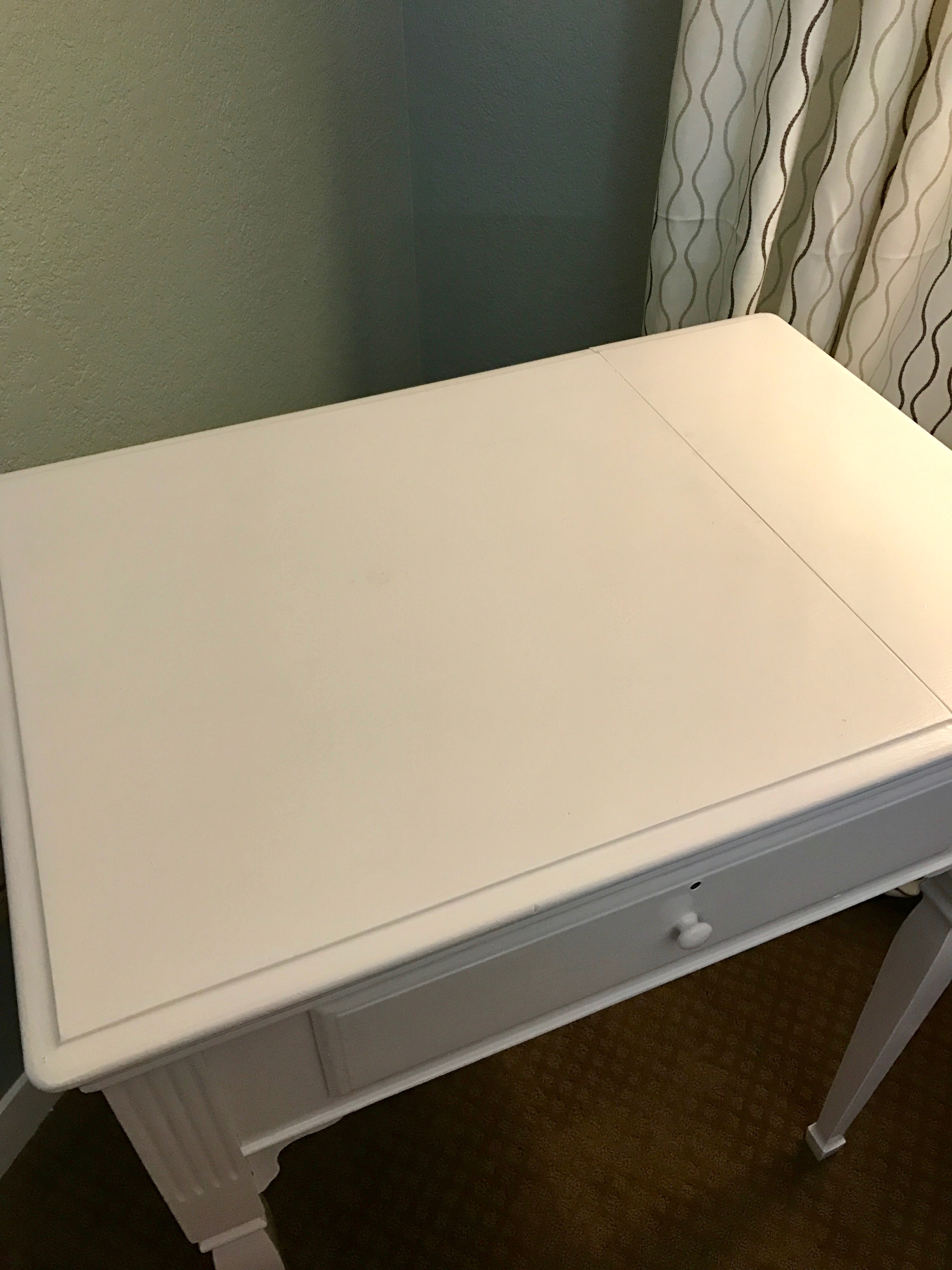 The room now has three points of white – creating a triangle. The sewing cabinet that serves as a printer stand sits next to the desk in one corner.  A white filing cabinet serves as an end table next to the couch along with whites shelves hung above. The third point of white is the IKEA dresser that lines the wall opposite the desk. This give the room three points of white. Just enough to brighten the room without making it too stark.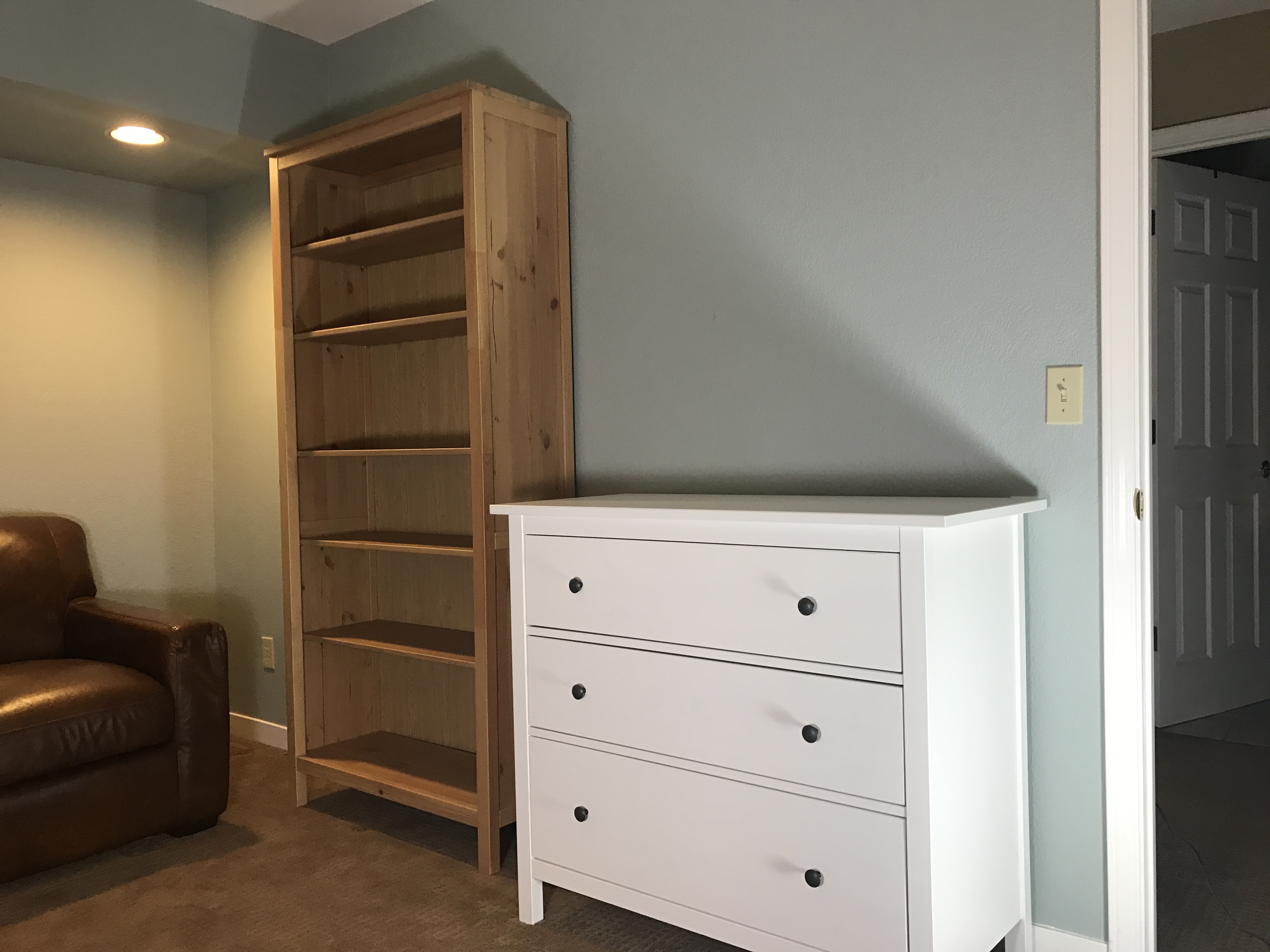 While this cabinet holds a sewing machine – I use it as a printer stand. Once the paint sets up for a few more days, I will place the printer back on top. While I changed it up from its original state, I think my grandmother would approve.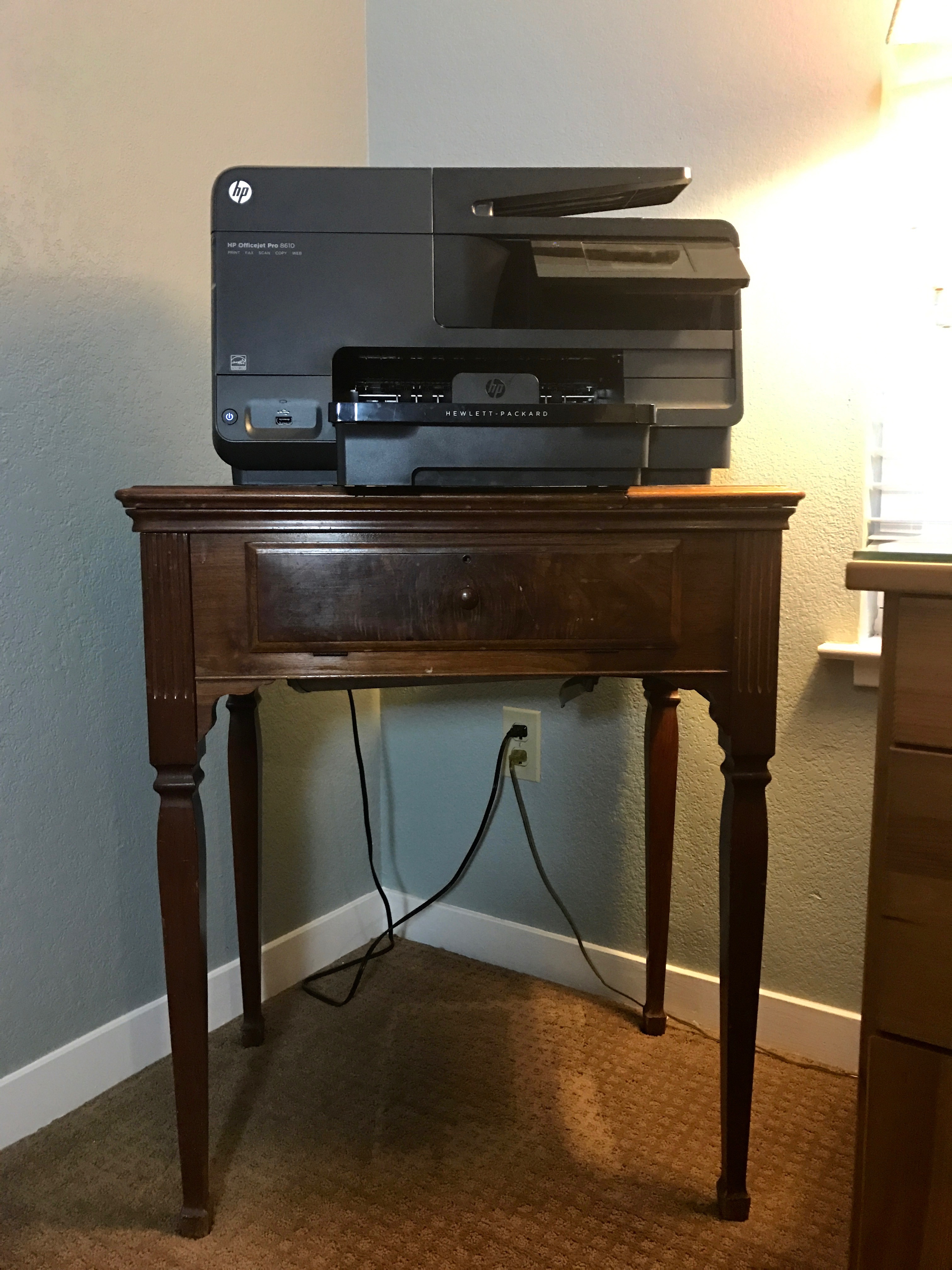 This week I will be working on the finishing touches. I have a couple of favorites to share with you next week. There is not a lot of time left, we are in the home stretch.
Thank you to the One Room Challenge that is hosted by Calling It Home! Because of them, I am getting this done!  You can see the progress I have made here:

As a guest participant I love seeing what all of the other bloggers are doing! There are some incredibly talented bloggers out there that have me drooling over their room transformations. Be sure to check them out here: Guest Participants, Week 5. There is a lot of great designing going on right now. Be sure to come back next week to see grand finale!