Yes! I have made it to week six, and if all goes well you are reading this post today. Wow, this has been a busy six weeks, and this last week has been the busiest. So while I am calling this the Reveal of my Home Office / Guest Room, you really need to stay tuned for the Epilogue, and right now that Epilogue's date is TBD.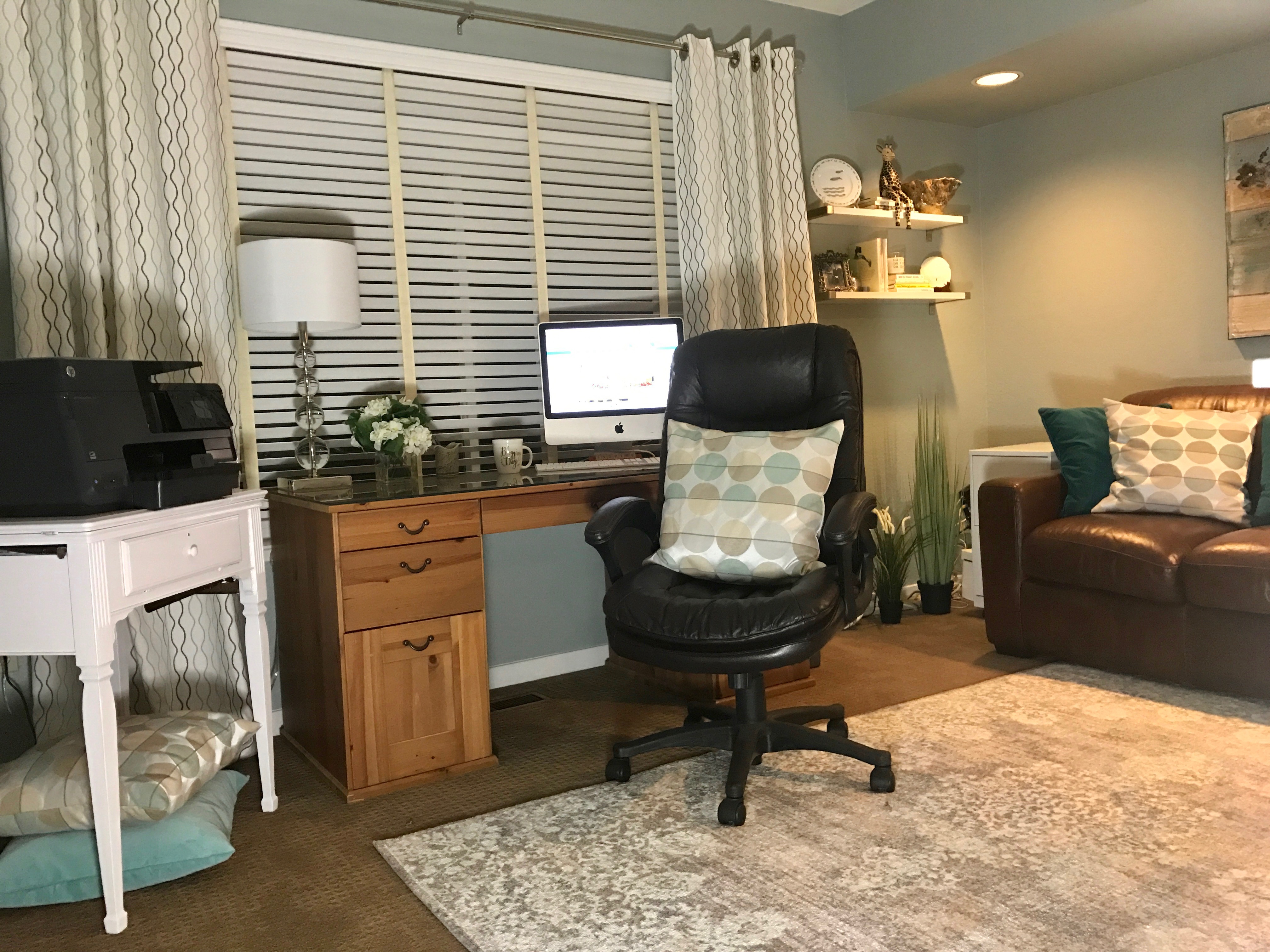 Why is that? Well in a couple of hours I will be sitting on a plane heading to child #4's college graduation! Yippee! Olivia is graduating tomorrow morning from Loyola University Chicago. Be sure to look for photos on Instagram. That's the big news in our home right now!
Plus tonight is Exhibition at my school, so yesterday was a 12 hour work day getting everything finished up and planned for my absence for the next 2 days. Little known secret – when a teacher takes a day off work, the work is still planned for and corrected by the teacher. It takes half a day's work to take one day off. We just finished up our studies of Ancient Greece with the last three days devoted to looking at how ancient Greece has influenced our world today. This was three days of group presentations, a theater production, a working agora, a Greek Olympics, and feast. Whew!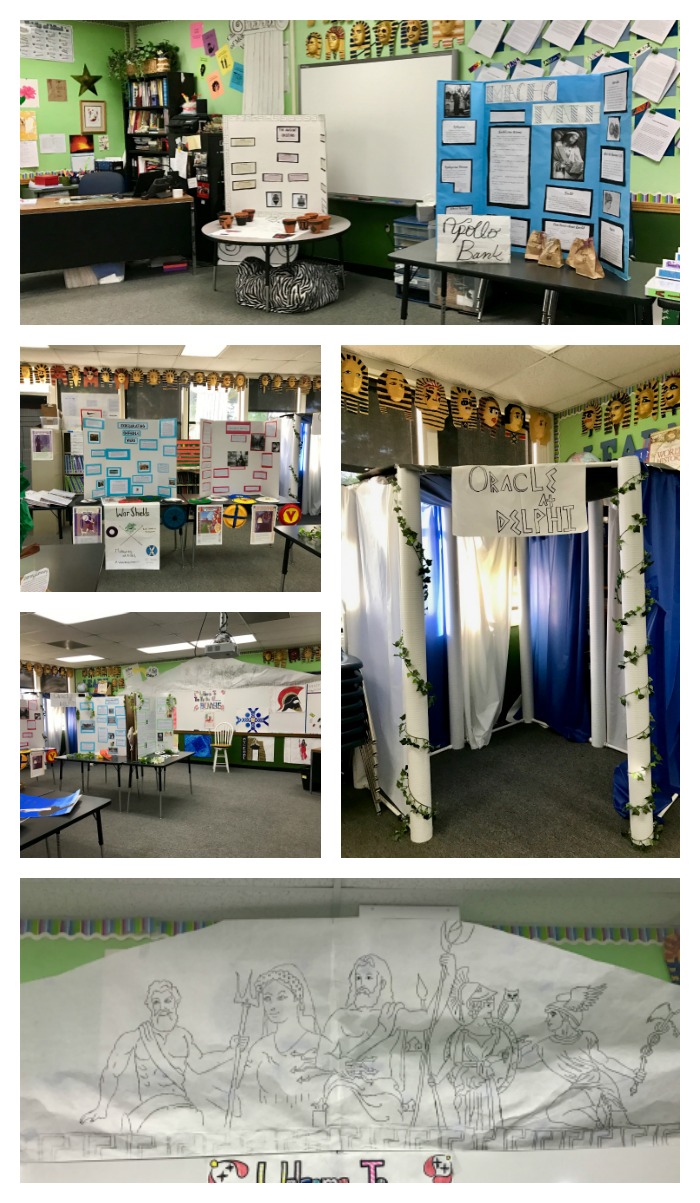 I know, I am totally off track right now, but as much as I LOVE my new home office, I am most proud of Olivia graduating college and my 72 sixth graders.
So onto the office…
ORC: The Home Office Guest Room Week 6 – The Reveal
A French door was removed last year and made into a solid wall with the door being moved to an adjacent wall, giving the room more usable wall space.
The room was painted with Kelly Moore's Cyprus Spring.
A large wall unit was removed, and I purchased a book shelf and white dresser from IKEA. I also purchased the curtains (still needing to be ironed and hemmed), the white shelves, the lamp, and a few pillows.
I painted the sewing machine aka the printer stand white.
This week I added some of my favorite pieces, the print I brought home from the Women's March on DC and the Monet print I just picked up at the Legion of Honor from the exhibit. I also swapped out the dark knobs on the white dresser for these pretty blues glass knobs from India.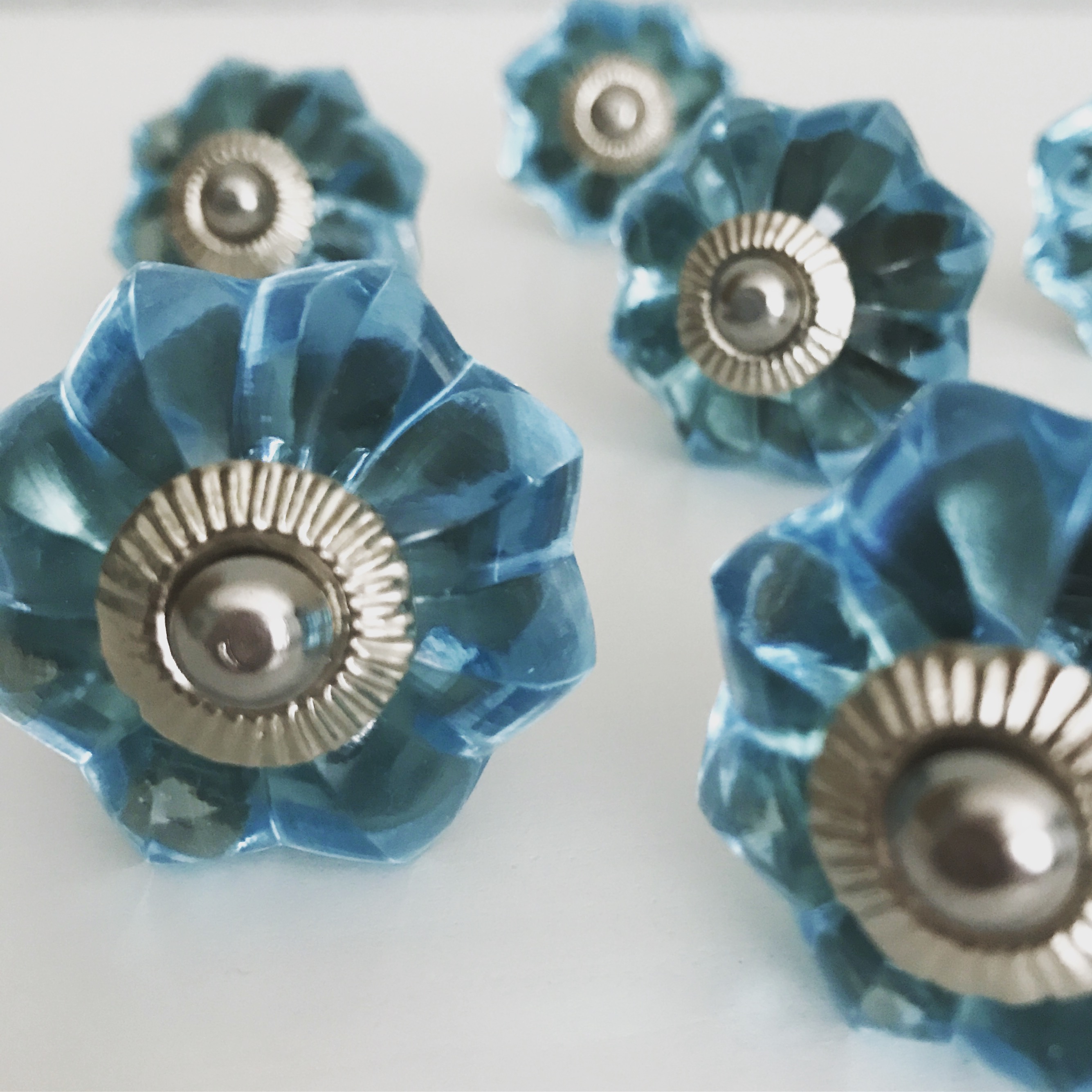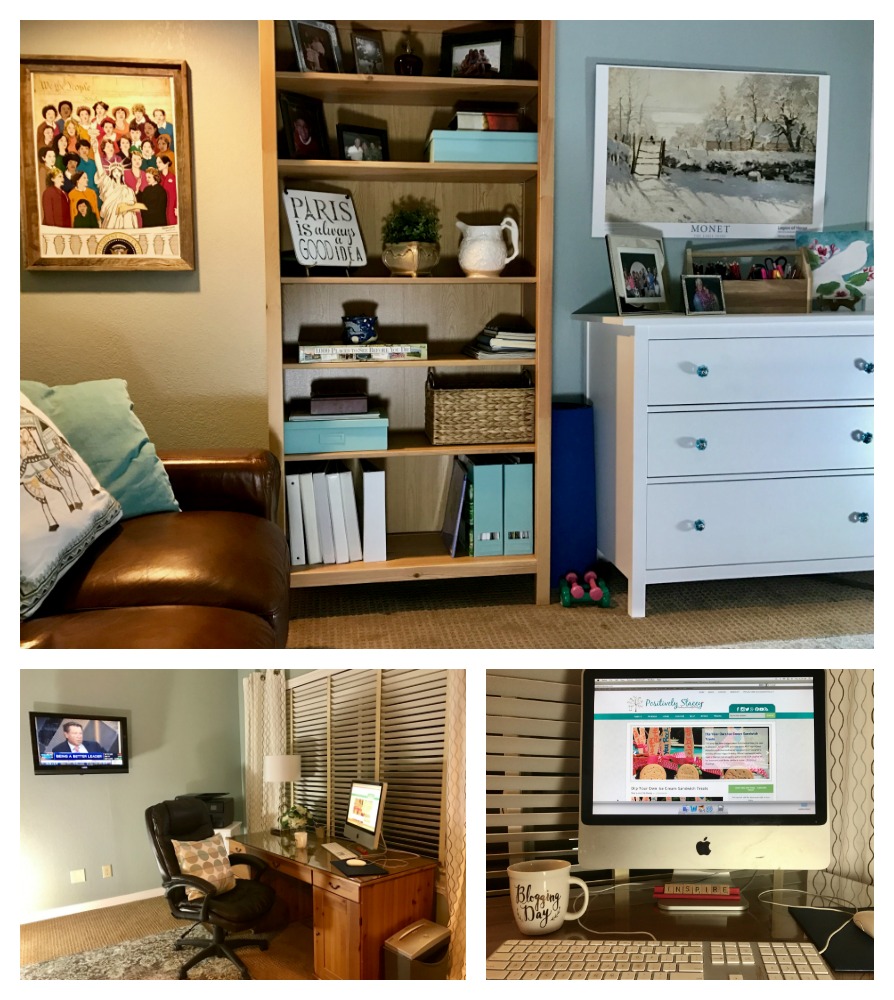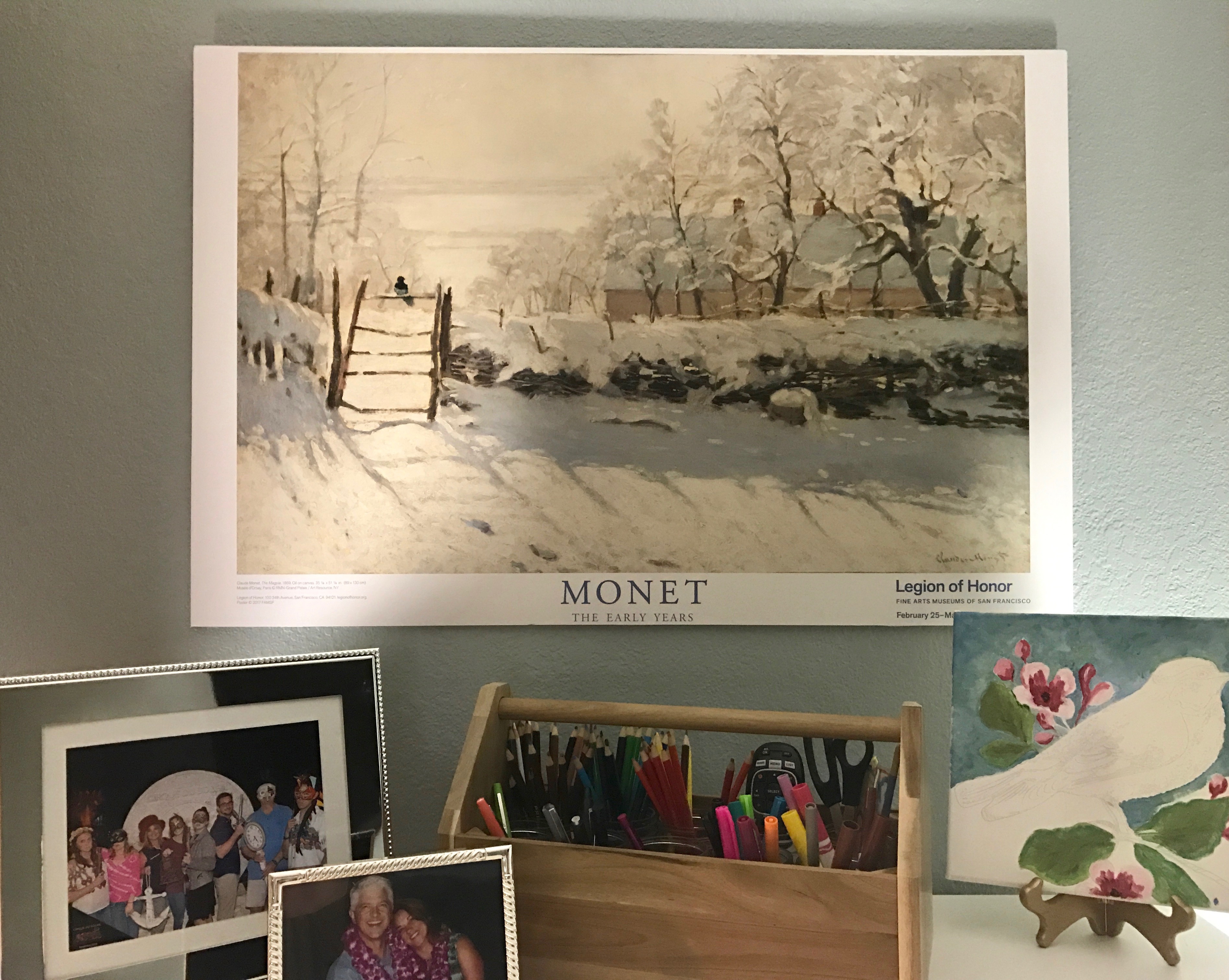 This is where we are – I LOVE it!
As you can tell I snapped the photos in the dark. Mmmm… it is early in the morning. This is now my favorite room to work in! I love sitting at the desk and looking out the window, and I also love sitting on the couch with my lap top while also listening to Squawk Box (my morning finance show).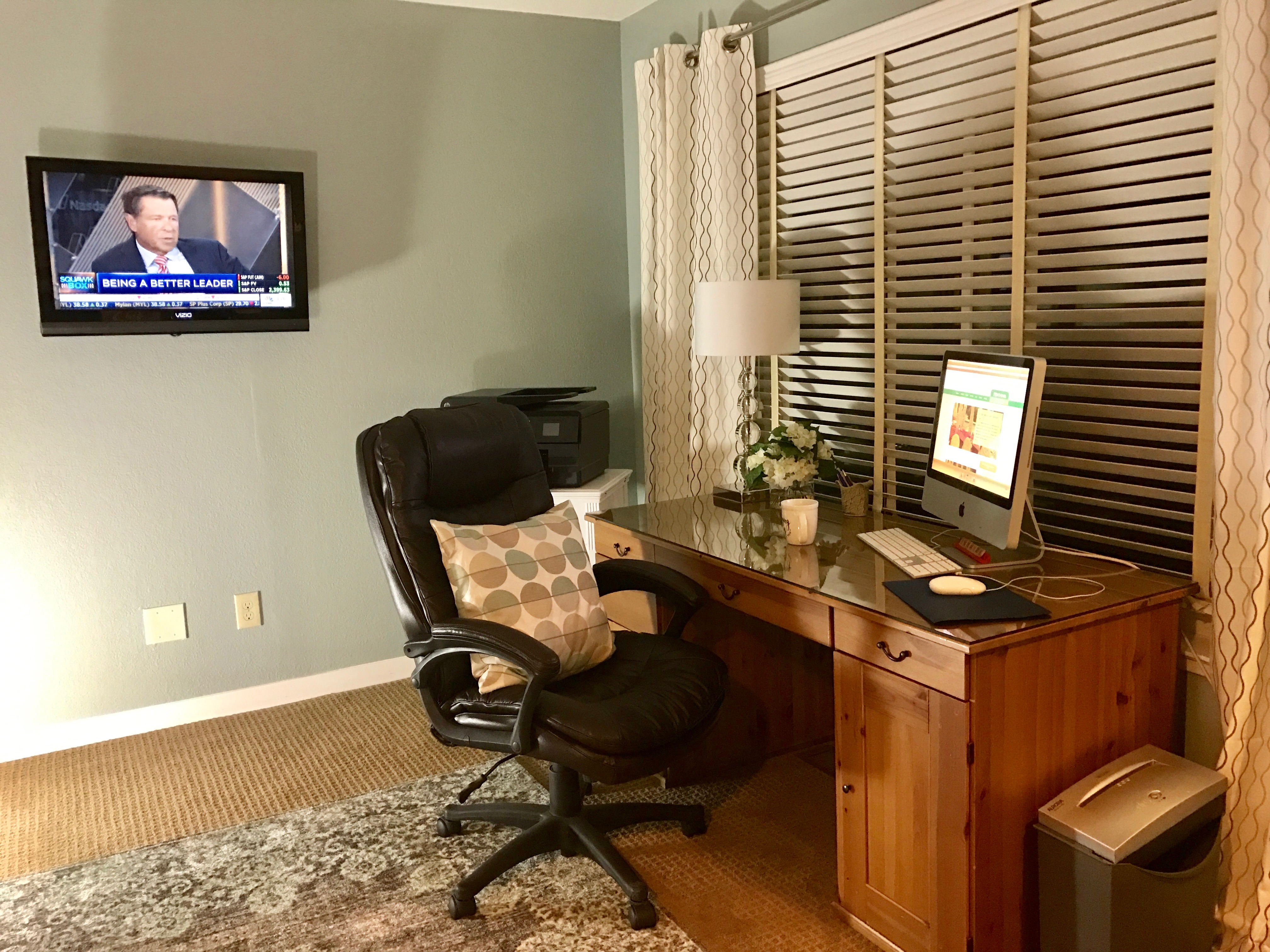 So this is what I have for you today. Be sure to come back for the Epilogue – I am still going to deal with the cords and iron and hem the curtains. Plus I still need to revamp the files! It is going to happen – Really!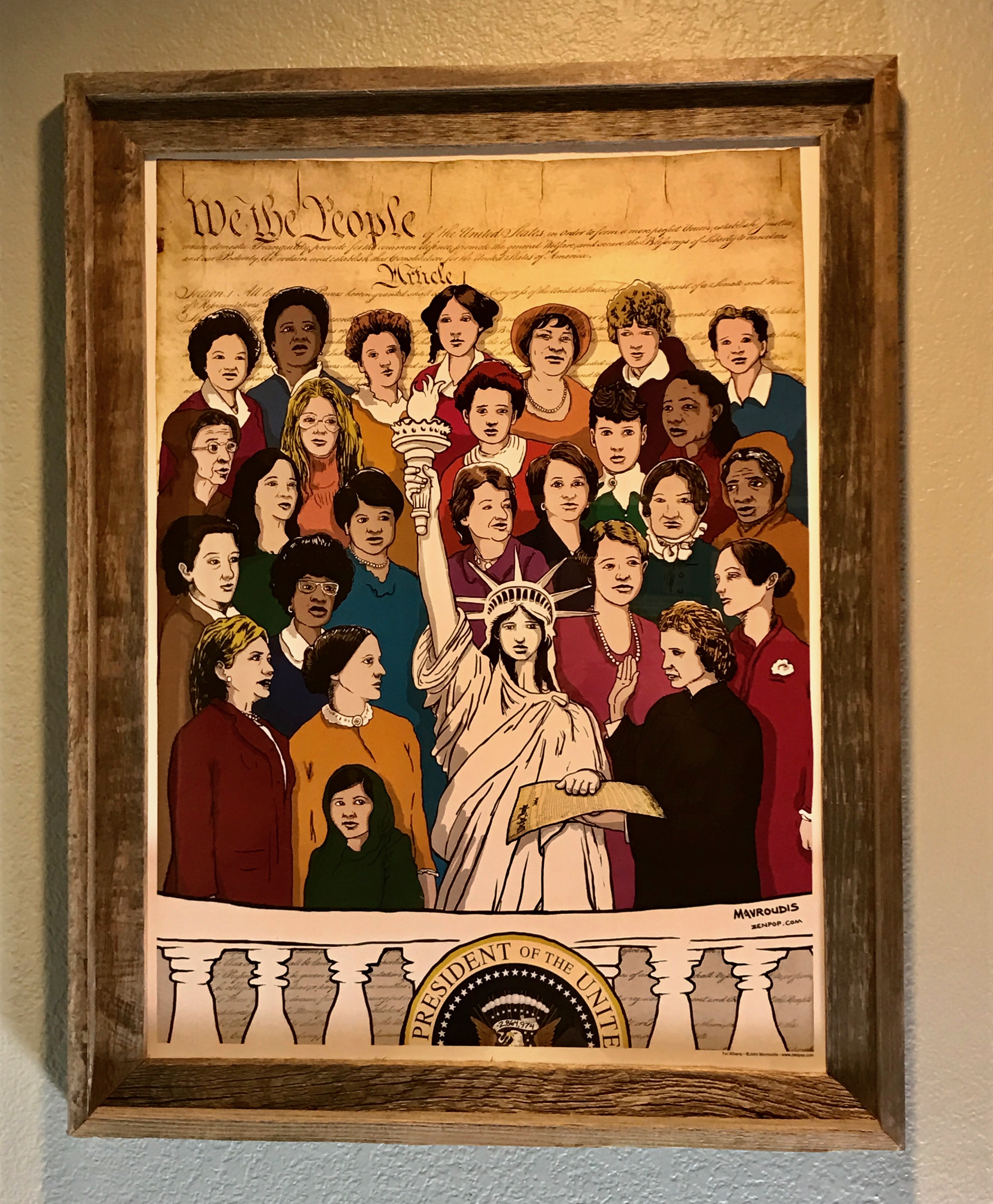 Thank you to the One Room Challenge that is hosted by Calling It Home! Because of them, I am getting this done!  You can see the progress I have made here:
Home Office Renovations!As a guest participant I love seeing what all of the other bloggers are doing! There are some incredibly talented bloggers out there that have me drooling over their room transformations. Be sure to check them out here: Guest Participants, Week 6. There is a lot of great designing going on right now. Be sure to come back next week to see grand finale!