Jump to recipe
This shop has been compensated by Collective Bias, Inc. and its advertiser.  All opinions are mine alone. #PotPiePlease #CollectiveBias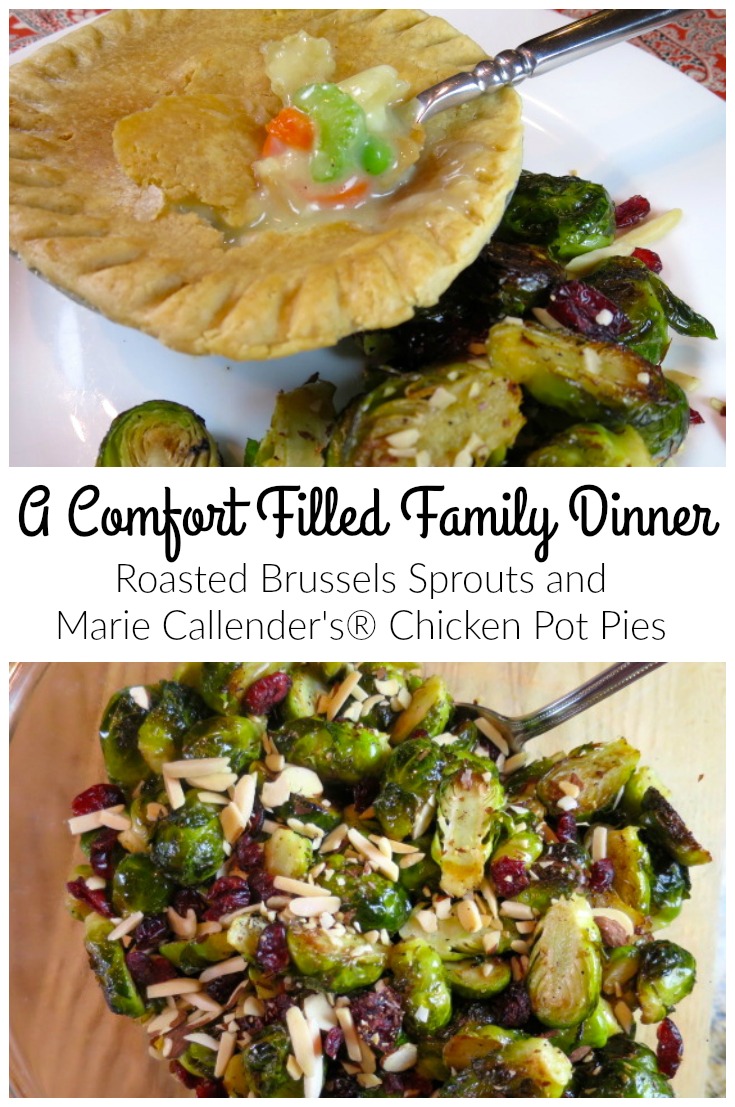 It's so good to be home! If you follow me on Instagram you have seen some amazing pictures from our trip to Copenhagen, Denmark; Malmö, Sweden; and Amsterdam, The Netherlands. It was a wonderful ten days full of travel visiting my daughter who is studying abroad!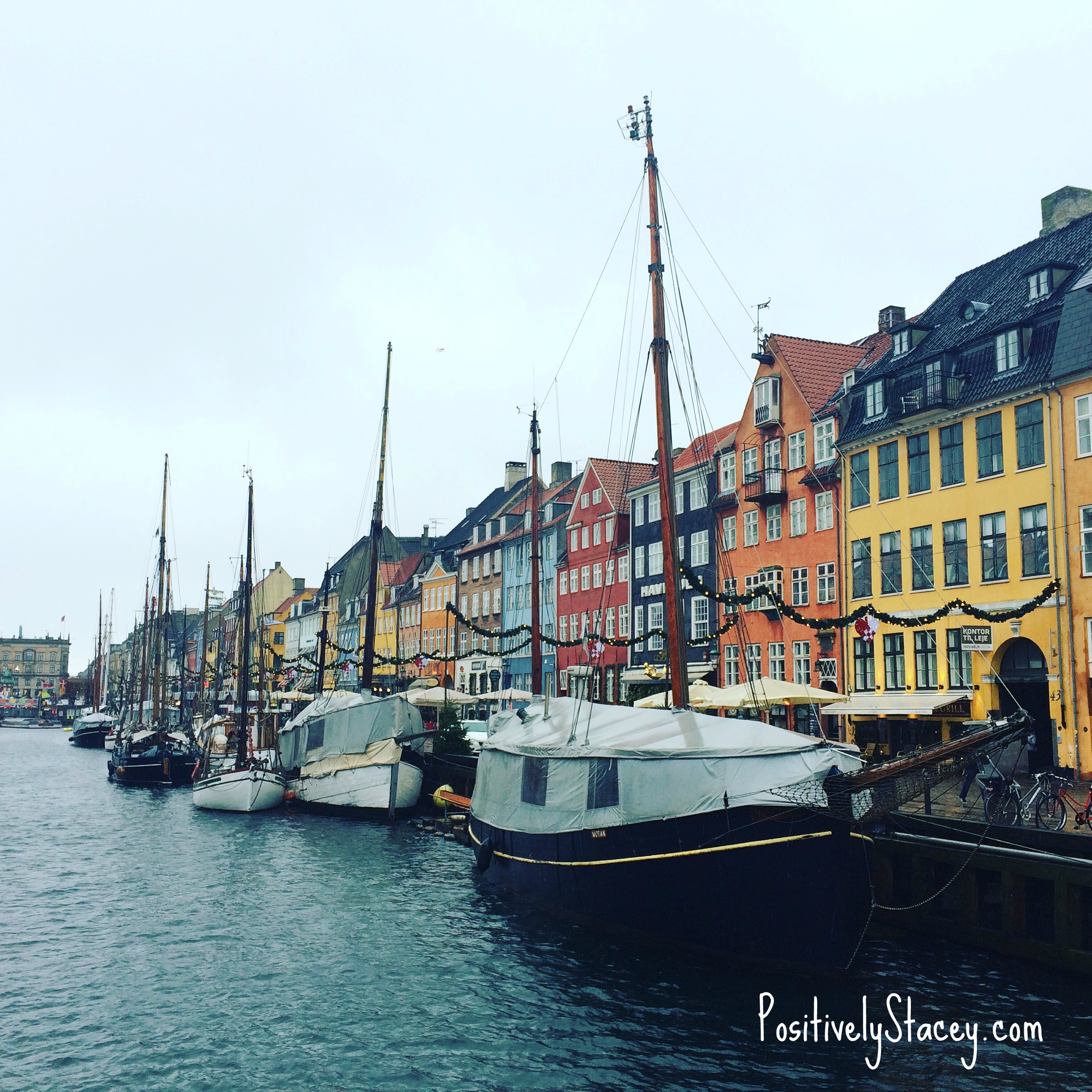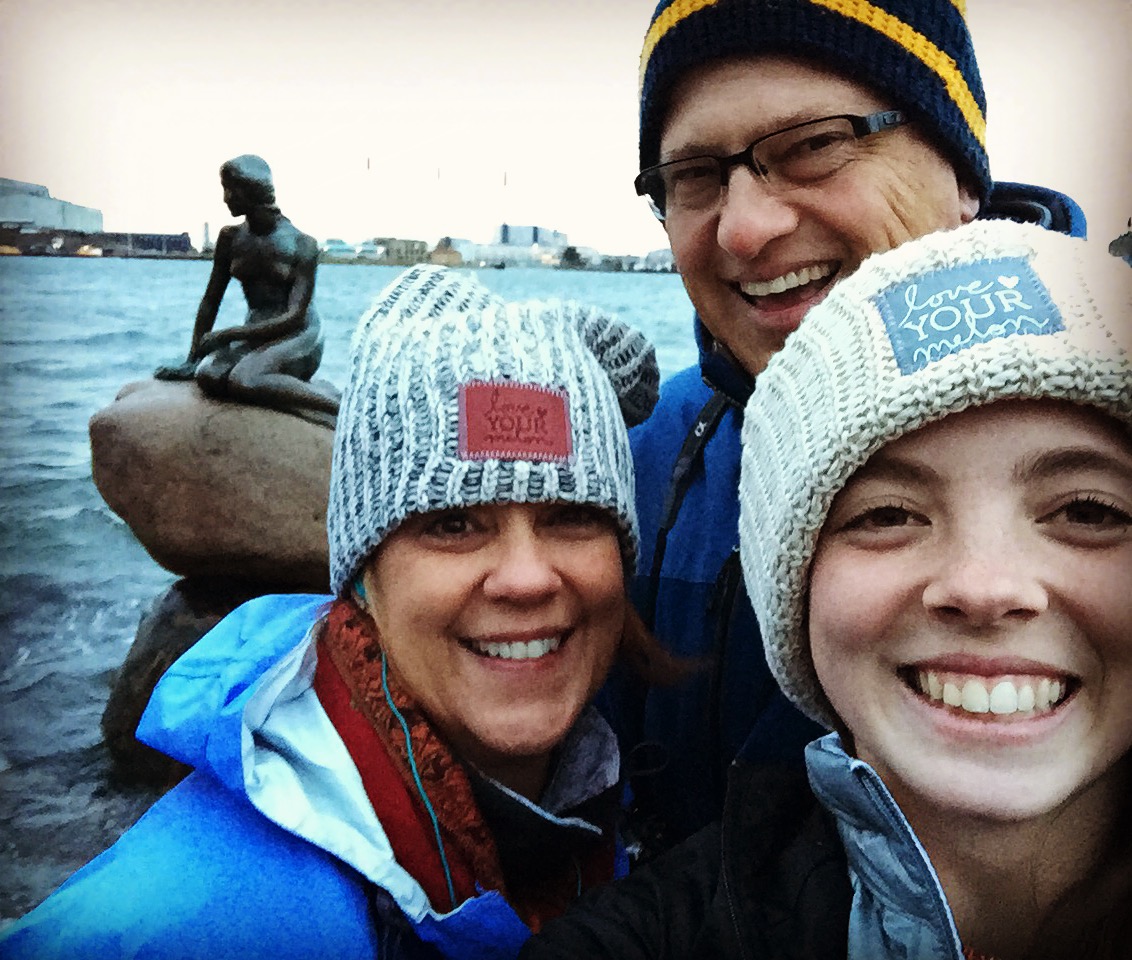 But there is something to be said about coming home and sleeping in your own bed once again.
After a 12 hour flight and a nine hour time difference, it is back to reality! For me, my reality is back into the classroom teaching (and sharing some awesome photos of the early man exhibit from the Danish Historical Museum with my students) and a home void of groceries! To open the refrigerator and pantry to soooo little food late Sunday night meant a rather large shopping trip on my way home from work on Monday. With unpacking the suitcases, piles of laundry to wash, grocery shopping to be done, and dinner to be made all while enduring the waves of jet-lagged induced exhaustion means my Monday night dinner needed to be easy, wholesome, and comforting.  After 10 days of travel I was craving warm and creamy comfort food.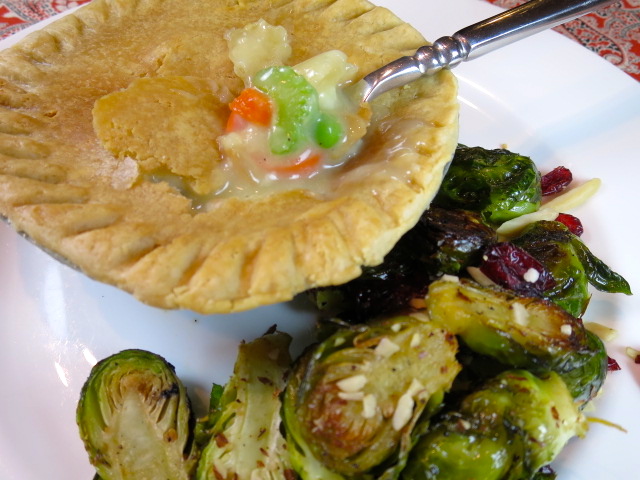 I loved the hygge (that's a Danish word meaning cozy) of Denmark and I needed our first dinner back in the U.S.A. to be an American version of hygge. What fits the bill better than chicken pot pie? Chunks of chicken and vegetables in the creamy sauce is comfort in a golden, flaky crust! Served with a side of roasted Brussels sprouts, this was the perfect dinner.
And oh so easy!
There were only four of us for dinner, but I wanted a variety of pies so I picked up both the Marie Callender's® Chicken Pot Pie in a four pack of single servings and two of the 10 oz. Marie Callender's® Beef Pot Pies. Yes, this was more than enough, but leftover pies are perfect for me to take to work for lunch. Once baked these pot pies are just like my mom used to make!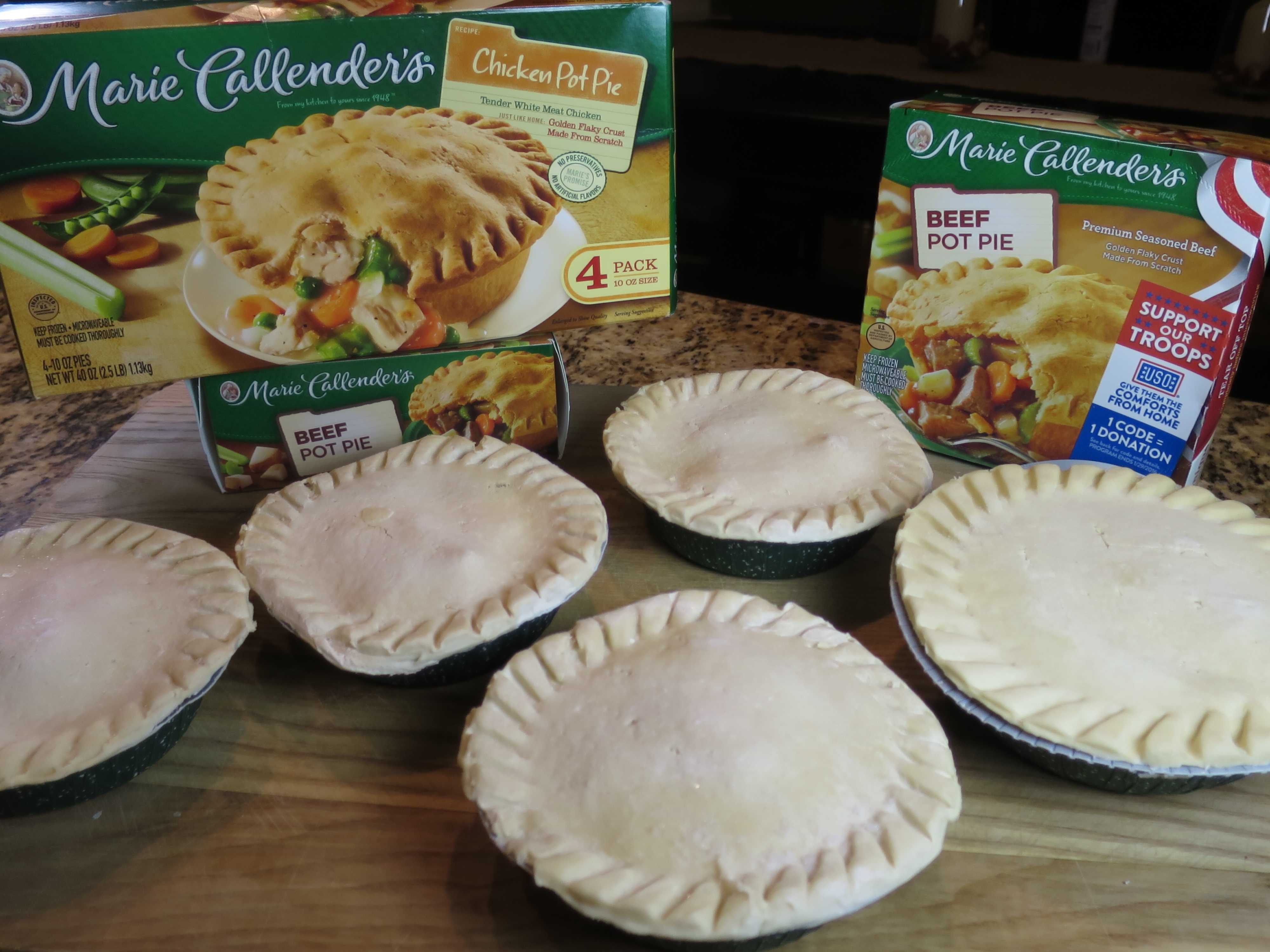 My family adores roasted Brussels sprouts! I love that they are so healthy, delicious, and easy to make. I also love that I can pop them in the oven right underneath my pot pies and this way everything is done at the same time.
The pot pies bake in the oven at 400 degrees and they need a bit more time than the Brussels sprouts. So I simply place the Marie Callender's® Pot Pies onto a baking sheet and place them in the preheated oven.  Once they are in, I get started on the Brussels sprouts.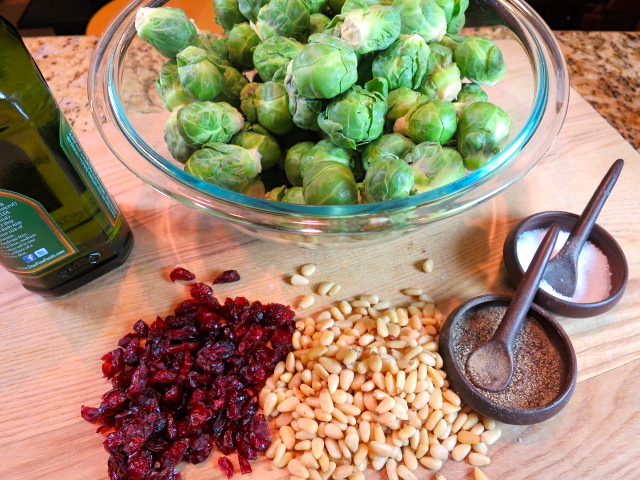 I usually make a double batch of Brussels sprouts because my family really does just gobble them up, and if I am lucky I will have some leftovers for my lunch.
I simply slice the Brussels sprouts in half lengthwise and toss in a large bowl with olive oil, kosher salt and fresh ground pepper.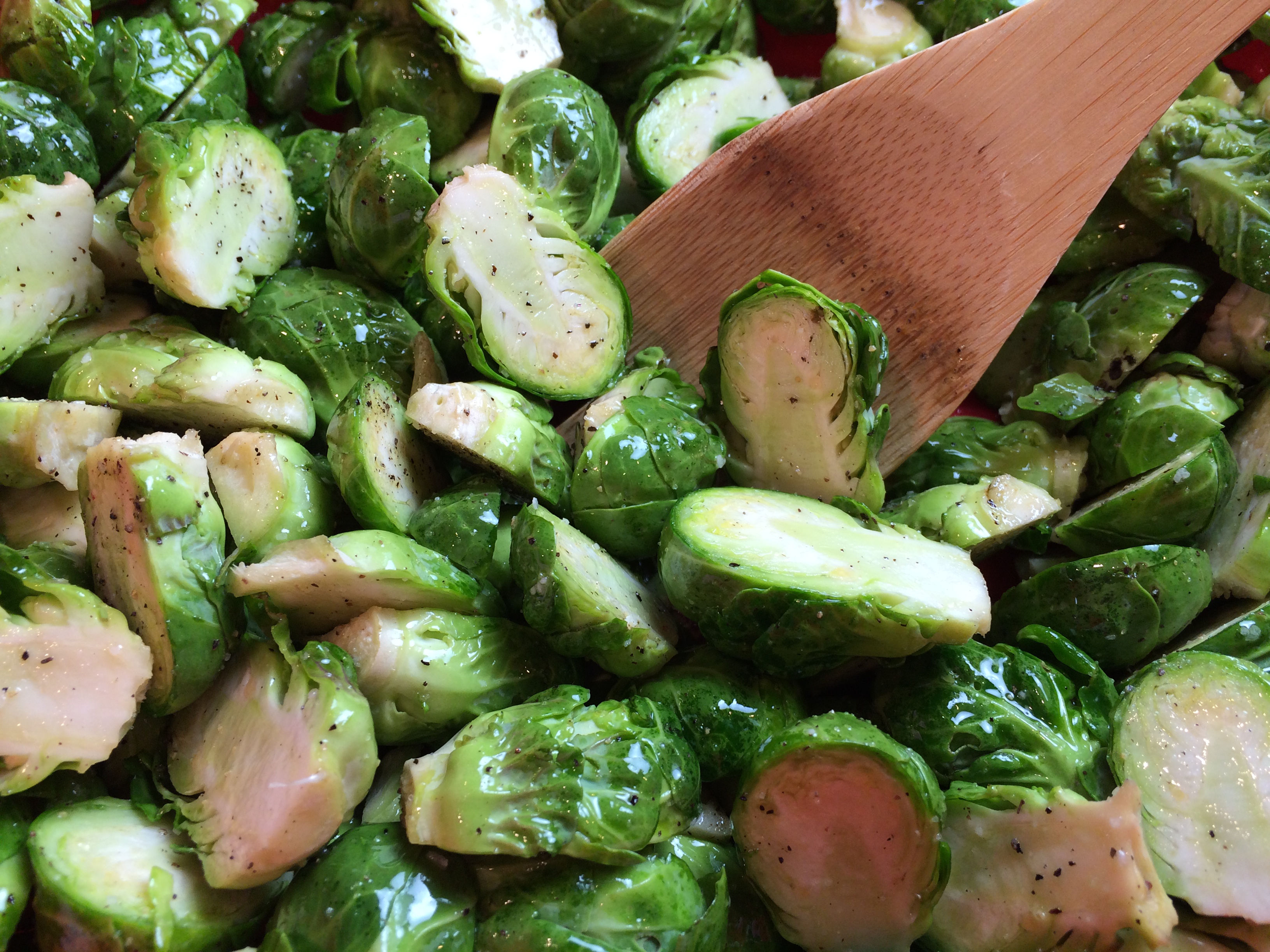 I spread them onto a cookie sheet and then place the cookie sheet in the oven on the tray below the pot pies.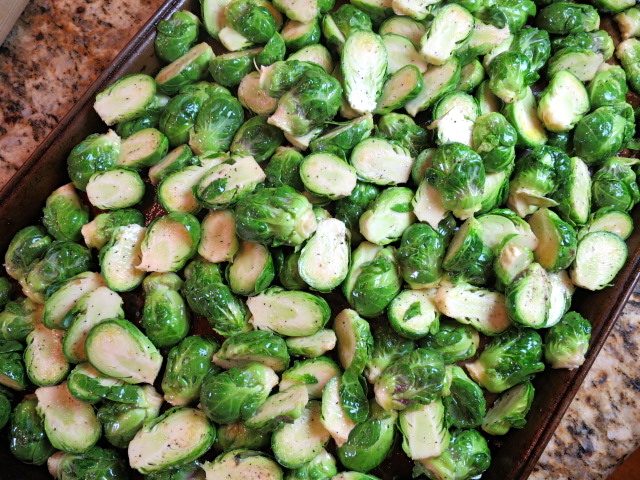 The Brussels sprouts take about 25 − 30 minutes to get a golden brown. This times just right so that I can pull everything out of the oven at the same time.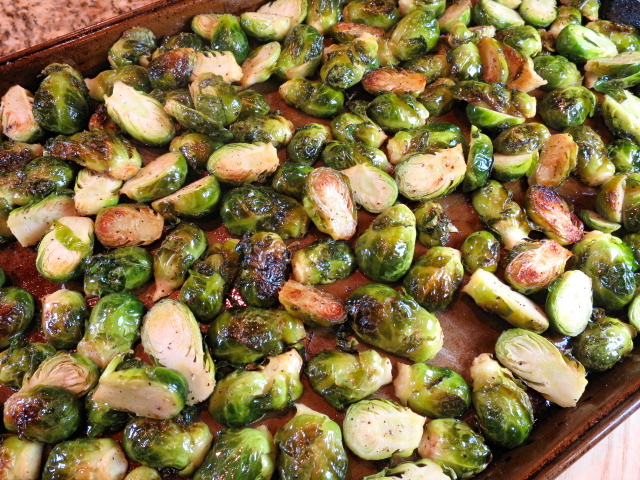 I also toasted some nuts and and tossed them along with some dried cranberries into the roasted Brussels sprouts. Totally not needed, but it does add another flavor dimension – a bit sweet and earthy crunch.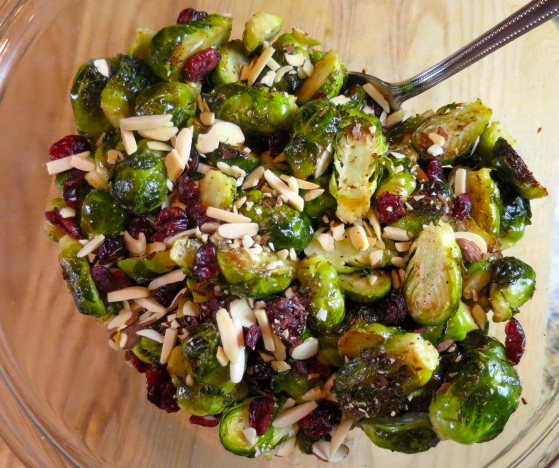 Now if you are very observant, you might have noticed that in my ingredient photo I had a handful of pine nuts sitting alongside the dried cranberries. Yet in photo of my finished roasted Brussels sprouts you can see that they are tossed with the dried cranberries and toasted sliced almonds. Yes – there was a slight kitchen disaster in the making of dinner Monday night.
I tossed the pine nuts into my small sauté pan and turned the gas onto low. As I was setting the dinner table, I would walk on by and swish the pan a bit to toss around the pine nuts.  This went on for a few minutes and then my husband came home from work. I took a break – after all dinner was in the oven and the table was set – and I sat on the couch with him to hear about his first day back at work after our travels. He made a comment that something was burning, I told him I had just checked the oven before I sat down and all was well. So we continued talking. The smell was growing worse so into the kitchen I went. I opened the oven and peered inside. The pot pies were turning a beautiful golden brown and the Brussels sprouts were sizzling and roasting up nicely. All looked great. Back to the couch I went. It wasn't until I wandered back into the kitchen to open a bottle of wine that I saw the pan of blackened pine nuts sitting on the stove still on the low flame. Yuck! Into the garbage they went! I can only blame it on jet-lag! While it was only 6 p.m. in my kitchen, it was 3 a.m. in Copenhagen!
It was a long day! We traveled to Northern Europe without our youngest two (they celebrated Thanksgiving with their mother this year) so it was really nice and very important to me that we all sat down to a delicious family dinner our first night back together. This dinner of Marie Callender's® Chicken and Beef Pot Pies along with the roasted Brussels sprouts and time with family was my American version of hygge – comfort at its best!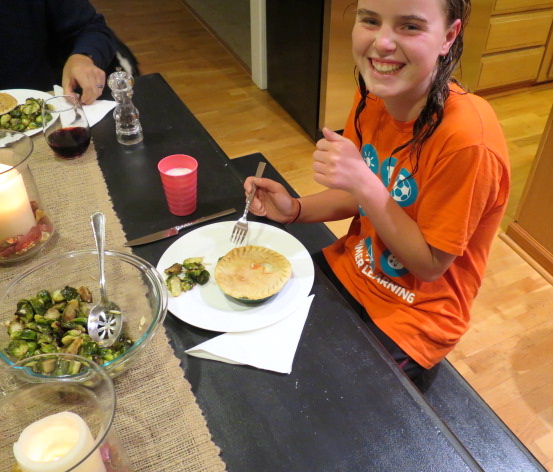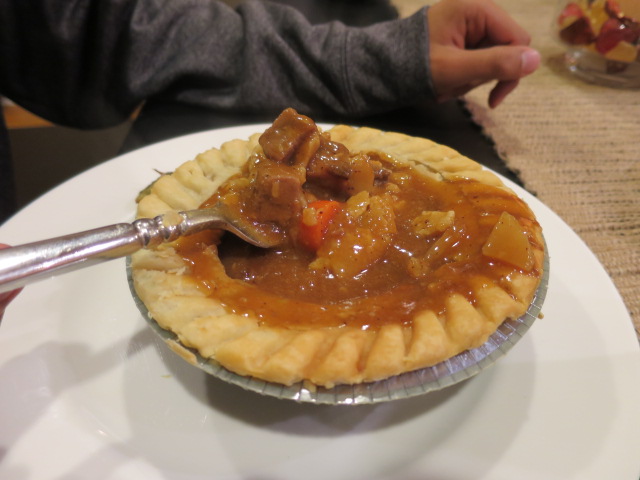 I really appreciate the fact that Walmart is on my way home from work, so it is super easy to stop and get groceries. I generally avoid the grocery store during what I call the witching hour – that's the time everyone hits the store on the way home from work – but in this case necessity was calling! They always have everything that I need! The Marie Callender's® Chicken Pot Pies were exactly what I was looking for! They taste homemade with the ease that I need right now! You can even get savings on Marie Callender's Pot Pies here. And check out the new Family Size Chicken Pot Pie!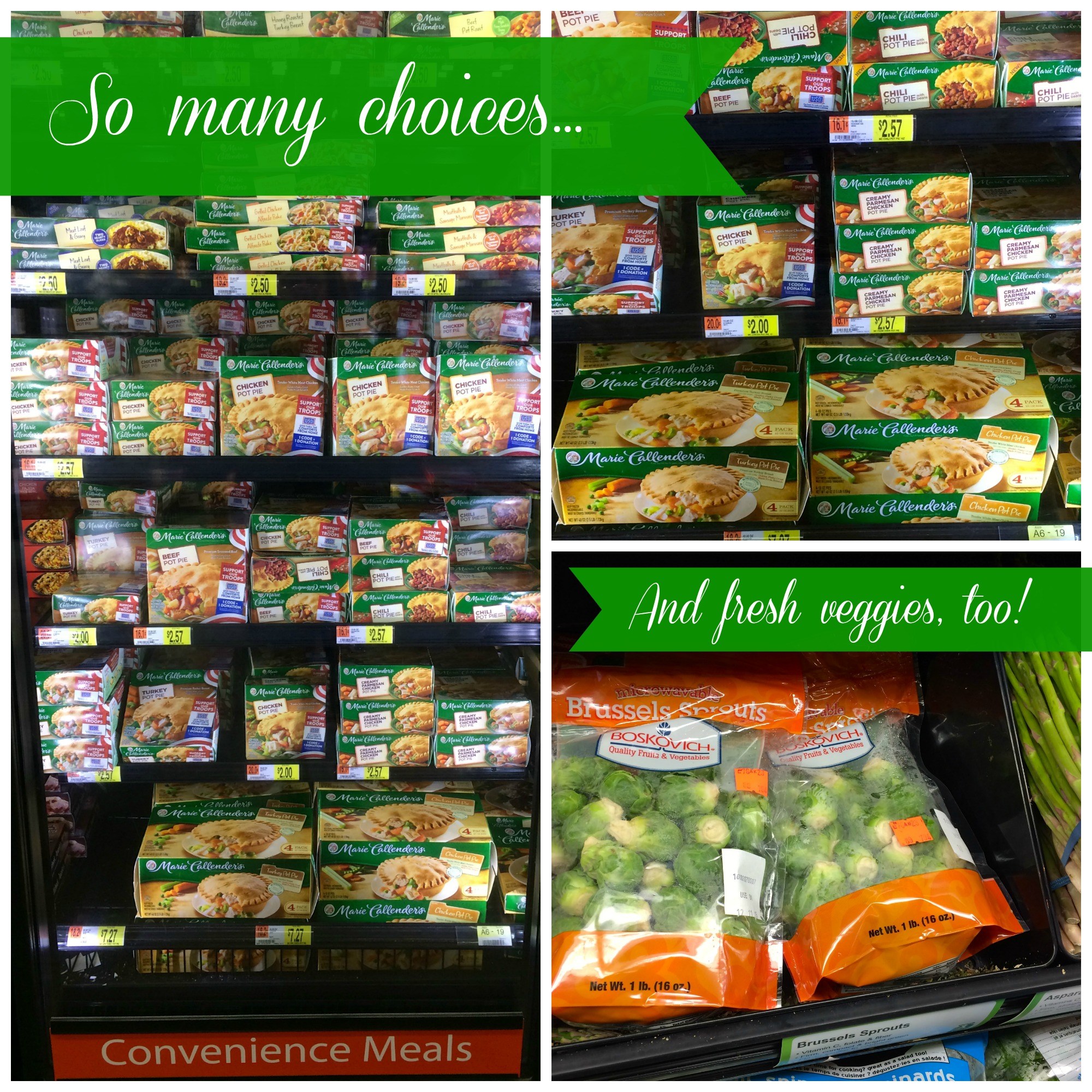 Here is a printable version of the roasted Brussels sprouts. They are so easy and delicious!
Roasted Brussels Sprouts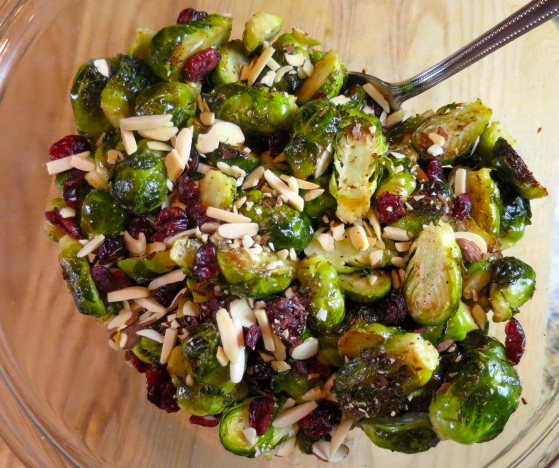 Ingredients
1 pound Brussels sprouts
3 tablespoons olive oil
1/2 teaspoon fresh ground pepper
3/4 teaspoon kosher salt
1/4 cup cranberries
1/4 cup toasted nuts (pine nuts and slivered almonds work well)
Instructions
Preheat oven to 400 degrees.
Trim off brown ends of Brussels sprouts and cut each sprout in half lengthwise.
Toss Brussels sproust in a bowl with olive oil, salt and pepper. Mix well to evenly coat Brussels sprouts.
Spread onto cookie sheet.
Roast for 25 - 30 minutes or until crispy and golden on the outside and tender on the inside.
While roasting occasionally toss Brussels sprouts to evenly roast.
Remove Brussels sprouts from the oven and toss with cranberries and toasted nuts in a bowl.
Serve immediately.
© 2023 Positively Stacey
While a Marie Callender's® Chicken Pot Pie has everything you need in one simple and delicious dish, click on the link to find many more sides to serve up along with the pot pies to create a truly Warm and Hearty Chicken Pot Pie Meal. 
When you are craving comfort what is one of your easy-to-prepare favorite family sides that you would serve with a pot pie?