Each day our home is getting quieter as our older children head to back to their colleges. Yesterday one flew off to Colorado, the day before the destination was Illinois, and tomorrow the last of the college-aged kids will depart for Massachusetts. With our oldest child having been back to work in Los Angeles since the second of January, the number of place settings at the dinner table keeps on shrinking – as does the grocery bill!
Yesterday, I pulled out an old recipe that I have not made in years for a spinach gratin. I was looking for additional ways to add vegetables to the plate for my vegetarian daughter. This recipe was a favorite of my kids when they were smaller. Spinach with cream and cheese – what's not to love! I roasted an assortment of vegetables along with a pork loin and with the tossed green salad, there were a lot of food choices for a vegetarian.
Spinach Gratin


From Ina Garten
Barefoot Contessa Parties!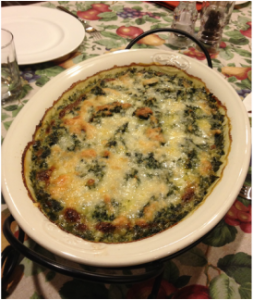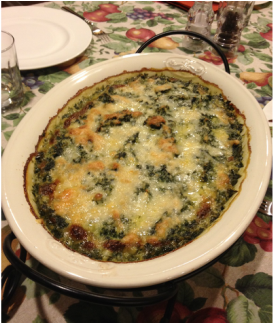 Ingredients
4 tablespoons unsalted butter
4 cups chopped yellow onion (2 large)
¼ cup all-purpose flour
¼ teaspoon grated nutmeg
1 cup heavy cream
2 cups milk
About 3 pounds frozen chopped spinach, defrosted
1 cup freshly grated Parmesan cheese
1 tablespoon kosher salt
½ teaspoon freshly ground black pepper
½ cup grated Gruyere cheese
Directions
Preheated the oven to 425 degrees.
Melt the butter in a heavy-bottomed sauté pan over medium heat. Add the onions and sauté until translucent, about 15 minutes. Add the flour and nutmeg and cook, stirring, for 2 minutes. Add the cream and milk and cook until thickened.
Squeeze as much liquid as possible from the spinach and add the spinach to the sauce. Add ½ cup of the Parmesan cheese and mix well. Add the salt and pepper and season to taste.
Transfer the spinach to a baking dish and sprinkle the remaining ½ cup Parmesan cheese and the Gruyere on top. Bake for 20 minutes, or until hot and bubbly, Serve immediately.
Makes 8 large servings
The roasted vegetables consisted of potatoes, yams, carrots, cauliflower and Portobello mushrooms.  I cut all the vegetables into larger size chunks and tossed them with olive oil, salt, and pepper.  I started roasting the potatoes, yams, and carrots first (they take the longest) and then added in the cauliflower and mushrooms 20 minutes later for a total for 45 minutes roasting time.