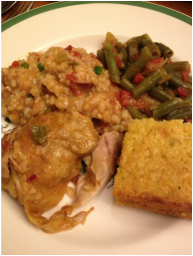 The feast has continued! With our house bustling for the holidays, both my husband and I have enjoyed cooking for the masses! Last night we enjoyed a Cajun themed dinner of jambalaya, Creole green beans, cornbread, and sweet potato pie. My husband actually made two versions of jambalaya, the traditional recipe that follows and a vegetarian version made with vegatable stock and minus the meats. I sautéed some shrimp to be added for the pescetarian. Yes, a lot of cooking, but it is not often enough that the older ones are home for dinner. The meal was delicious! And with so much food, my son is able to take a care package home with him.
---
Chicken and Sausage Jambalaya
From The Gourmet Cookbook
Ingredients
5 1/2 Lbs. Chicken Parts (we use all thighs for evenness of cooking)
Salt
4 tablespoons vegetable oil
1 1/2 pounds andouille
3 medium onions, chopped
2 celery ribs, chopped
1 green bell pepper, cored, seeded, and chopped
4 large garlic cloves, finely chopped
2 cups chicken stock
1 (14 -16 oz.) can whole tomatoes in juice, drained and chopped
1/4 teaspoon cayenne
2 1/2 cups long-grain white rice, rinsed and drained well
1 cup thinly sliced scallion greensDirections
Pat chicken dry and season with salt. Heat 2 tablespoons oil in a 10 – 12 inch heavy skillet over moderately high heat until hot but not smoking. Brown chicken in batches, without crowding, turning once, 6 – 8 minutes per batch. Transfer to bowl and add remaining 2 tablespoons oil as needed between batches.
Reduce heat to moderate and brown sausage in 4 batches in fat remaining in skillet, turning occasionally, 3 – 4 minutes per batch. Transfer to paper towel lined bowl.
Pour off all but about 1 tablespoon fat from skillet. Add onions, celery, and bell pepper, and cook over moderate heat, stirring occasionally, until onions are golden brown and softened, about 8 minutes. Add garlic and cook, stirring, for 1 minute. Add 1 cup stock and cook, stirring for 1 minute. Transfer mixture to a wide 8-quart heavy ovenproof pot.
Add chicken, water, tomatoes, cayenne, and remaining 1 cup stock. Bring to simmer and simmer partially covered, until chicken is tender, about 30 minutes.
Meanwhile, put rack in middle of oven and preheat oven to 325 degrees F.
Transfer chicken to clean bowl. Measure cooking liquid with vegetables and add additional water if necessary to measure 7 cups; return to pot. If you have more than 7 cups, boil to reduce. Stir rice into cooking liquid. Arrange chicken over rice (do not stir) and bring to a boil over high heat, uncovered, without stirring.
Cover, transfer to oven, and bake until rice is tender and most of liquid is absorbed, about 30 minutes. Let jambalaya stand, covered, for 10 minutes. Gently stir in scallion greens, sausage, and salt to taste.
Green Chili Cheesy Cornbread
This cornbread recipe has been in my personal collection for many years. In fact, the hand written recipe in my folder is a list of ingredients only. And it is a very sketchy list at that. For this post, I have written out the instructions of how I prepare the cornbread. I would hate to see the calorie count of this recipe, but since we have it only a few times a year, it is totally worth it!
---
Green Chili Cheesy Cornbread
½ lb. softened butter
1 cup sugar
4 eggs
1 can diced green chilies (I use 7 oz. Oretega fire roasted)
1 can cream style corn (14.75 oz.)
½ cup grated Monterey cheese
½ cup sharp cheddar cheese
1 tablespoon honey
¼ tsp salt
1 cup flour
1 cup yellow cornmeal
4 tsp. baking powderHeat oven to 350 degrees. Prepare 9 x 11 glass pan with Pam Baking spray.
Mix together dry ingredients (salt, flour, cornmeal, baking powder) and set aside.
Cream together butter and sugar.
Add eggs one at a time, fully incorporating each one and scrape down the sides of bowl as needed.
Fold in green chilies, corn, cheeses and honey until fully mixed in.
Fold in dry ingredients in batches.
Bake at 350 degrees for 5 minutes. Reduce heat to 300 and bake for another hour or until light golden brown.
And to finish off the meal… Sweet Potato Pie!
Sweet Potato Pie
from Taste of Home
Ingredients
1/3 cup butter, softened
1/2 cup sugar
2 eggs, lightly beaten
3/4 cup evaporated milk
2 cups mashed sweet potatoes
1 teaspon vamilla extract
1/2 teaspoon ground cinnamon
1/2 teaspoon ground nutmeg
1/4 teaspoon salt
1 unbaked pastry shell (9 inches)
Directions
In a bowl, cream butter and sugar.  Add eggs, mix well.  Add milk, sweet potatoes, vanilla, cinnamon, nutmeg, and salt; mix well.  Pour into pie shell.  Bake at 425 degrees for 15 minutes.  Reduce heat to 350 degrees, bake 35 – 40 minutes longer or until a knife inserted near the center comes out clean.  Cool.  Store in refrigerator.