Rockin' in the new year ~ Welcome 2014!
Today is a day to watch the Rose Parade; Roast a Cuban pork; prepare some Hoppin' John black-eyed peas and rice; and watch football with friends!  Today is also a day to reflect on 2013 and look forward to 2014.  Yes, I am one that believes in resolutions!  I am a goal setter and have been for as long as I can remember, even as a child I would write down a list of goals in my journal.  Of course over the years I have learned ~ life does not always go as planned!  But I try to do what I can.
My simple resolutions for the year are:
1. Live a healthy life (physically, mentally, spiritually)
2. Keep it organized
3. Spend time with family and friends
4. Travel
5. Grow professionally
1. Live a healthy life: This is a three prong goal. For this year it means to eat a more plant based diet.  I have been dealing with inflammation in my leg, and this has sidelined my physical activities.  I hope that eating less animal based protein combined with the physical therapy I am doing will get me back running, biking and swimming! This last year I set a few PRs (half iron, half marathon, 5k).  I also competed in more events in 2013 than 2012.  So when all is working again, I hope to continue on this course!
2. Keep it organized: closets, laundry room, finances, garage, menu planning. With a family this size, organization is key.
3. Spend time with family and friends: Plan those get togethers! Cherish family dinners. Make it happen.
4. Travel: Plan the budget and work the plan! Ireland? NYC?
5. Grow Professionally:  Invest in the time needed to read and grow.  Attend the NTCE conference this fall in Washington, D.C.  (Fills the travel category as well!)
So as the year transpires, you will see how all of this comes together.  But for now, I gotta go and get ready for the game.  Friends will be coming over soon.  See resolution #3.
Roadster Cocktail
One of our good friends that came to watch the game today is a master of specialty cocktails. He brought us a cocktail that he learned of from the Waterbar in San Francisco called the Roadster. It was a light, refreshing, less sweet cocktail. Made with equal portions of Plymouth Gin, Russian Vodka and St. Germain Elderflower. Shake well with ice in a martini shaker, serve up in a martini glass. Enjoy!
Hoppin' John
I used the recipe right off the package of Melissa's Vegetarian Blackeyed Peas
Ingredients

1 tub Melissa's Blackeyed Peas, cooked
1 medium onion, finely chopped
2 tablespoons olive oil
3 cups vegetable stock
1 teaspoon garlic powder
1 teaspoon celery salt
pepper to taste
2 cups rice, cooked
Directions
Saute onion in olive oil until tender.  Add cooked Blackeyed Peas and remaining ingredients, except rice.  Cook for ten minutes and serve over rice.
I stirred my rice right into the peas.
---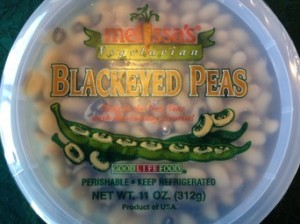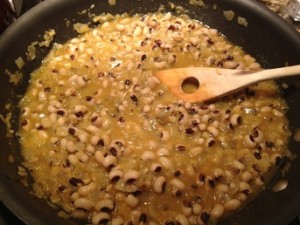 Roast Pork Shoulder Cubano
from the Gourmet Cookbook
Ingredients
1 cup fresh lime juice (about 6 limes)
8 garlic cloves, minced
3 tablespoons salt (my husband used half this amount)
1 tablespoon dried oregano, crumbled
1 tablespoon ground cumin
1 (8 lb) bone-in fresh pro arm picnic shoulder with skin
3 cups water
6 tablespoons distilled white or cider vinegar
Directions
Put rack in middle of oven and preheat oven to 375 degrees F.
Stir together 3 tablespoons lime juice, garlic, 2 1/2 tablespoons salt, oregano, and cumin in a small bowl. Pat pork dry. With a small sharp knife, make 1-inch-long by 3/4-inch-deep incisions 2 inches apart all over pork skin. Push about 1/2 teaspoon garlic mixture into each incision and rub remainder on meaty ends not covered by skin.
Transfer pork, skin side up, to a nonreactive roasting pan and pour remaining lime juice around it. Roast, uncovered, until most of juice has evaporated and brown bits are beginning to form on bottom of pan, about 30 minutes.
Stir together water and vinegar in a bowl and pour around pork. Cover pan tightly with foil and roast for 1 hour.
Using a small ladle, baste meat only, not skin, with pan juices. Cover and roast for 1 hour more.
With a sharp knife, gently loosen skin from meat without cutting through skin and leaving fat layer attached to skin, and, using a spoon or baster, baste meant under skin with pan juices. Sprinkle remaining 1 1/2 teaspoon salt over skin. Roast pork, uncovered, basting meant, not skin, every 20 minutes, until skin is crisp, about 1 1/2 hours more (about four hours total roasting time). Transfer pork to a cutting board and let stand, loosely covered with foil, for 20 minutes, skim fat from pan juices.
With two large forks pull and shred pork.
Serves 8
Active time – 45 minutes
Start to Finish – 5 hours