It has been a long time since I have posted a recipe! That is because for the last month or so, there has been very little cooking in my world.  With a two week trip to Ireland, followed by a week-long, cross-country drive with my daughter – I had zero access to a kitchen! Then I was immediately back in the classroom teaching, cooking other than for necessity has been put on the back burner. And yes, I have missed my time in the kitchen.
It was a joy to put together this tasty frittata!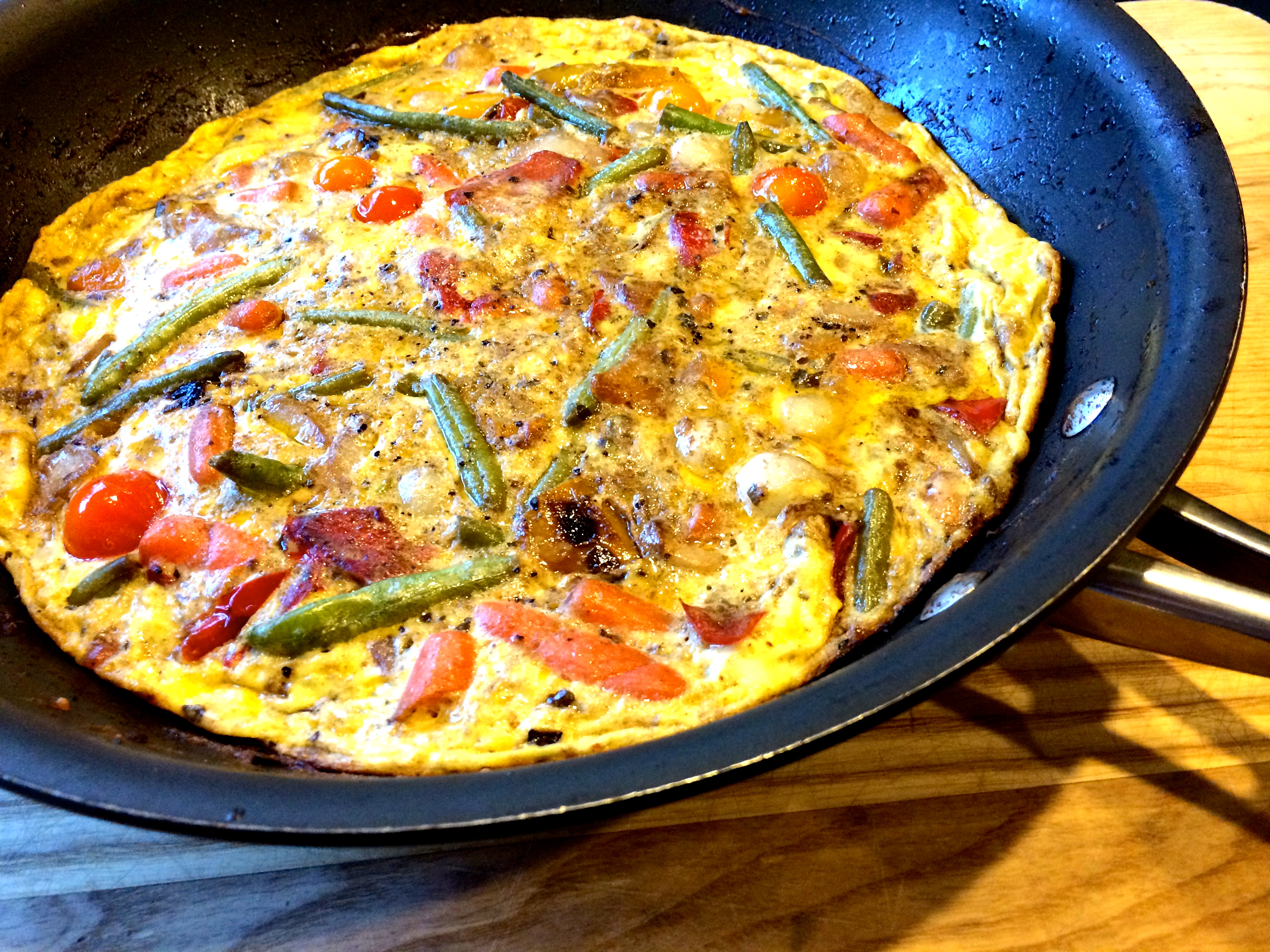 Well, I'm still getting back into the routine of work (teaching), blogging, training (that little swim from Alcatraz Island to San Francisco), and oh yes, parenting – you can't forget the kids :). This has been a month of transitions, especially with our youngest in a new school this year.
Last night was dinner for just my husband and me. Since the  beginning of the school year, I have been working long hours at school, and my trips to the grocery store have not been as bountiful as usual. That is for two reasons: one, because of time. I'm tired after work and weekends have been full. And two, I am trying to purposefully eat up the pantry and freezer items. I am trying to empty out the cupboards for a future budgeting/grocery shopping experiment. Stay tuned – that will be shared in the next couple of weeks.
Back to dinner last night…
I made a really simple and delicious frittata.  I had a bag of fire roasted vegetable in a balsamic butter sauce in the freezer. This is a Trader Joe's item, and the mix includes baby carrots, red and yellow bell peppers, mushrooms, green beans, onions, pearl onions, and cherry tomatoes. I thought this flavorful mix and eggs would make a fast and easy frittata. It was yummy! I loved the way the balsamic butter sauce added to the depth of flavors.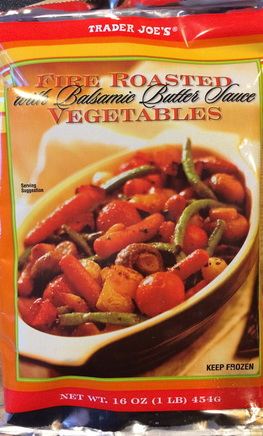 Egg Frittata with Fire Roasted Vegetables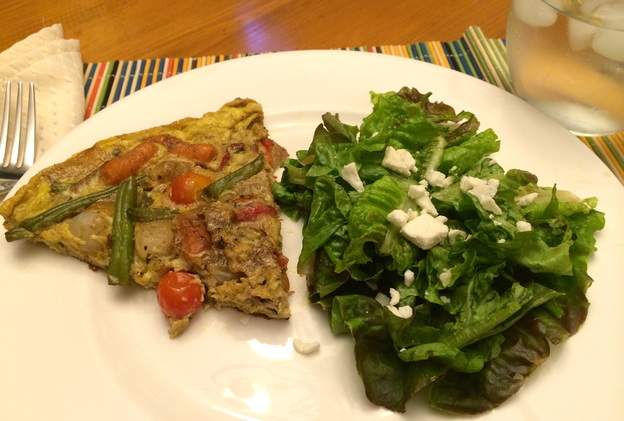 Ingredients:
One bag of Fire Roasted Vegetables with Balsamic Butter Sauce from Trader Joe's
6 eggs
1/4 cup milk
Salt and Pepper
Vegetable oil
Directions:
Preheat oven to 375 degrees.
Cook vegetables according to directions (heat 1 tablespoon of vegetable oil in large sauté pan. Add vegetables and 2 tablespoons of water. Simmer over med-high heat, stirring occasionally until heated through. 4 −5 minutes.)
Crack six eggs into a separate bowl and beat with whisk.\
Whisk in 1/4 cup of milk.
When Vegetables are heated through and water has evaporated a bit, pour eggs directly into pan with the vegetables and sauce.
Stir to mix.
Add salt and pepper to taste.
Cook on stove until the bottom is set.P
lace pan into heated oven for 10 minutes (or until cooked through)
Serve alongside a salad for a light and healthy dinner!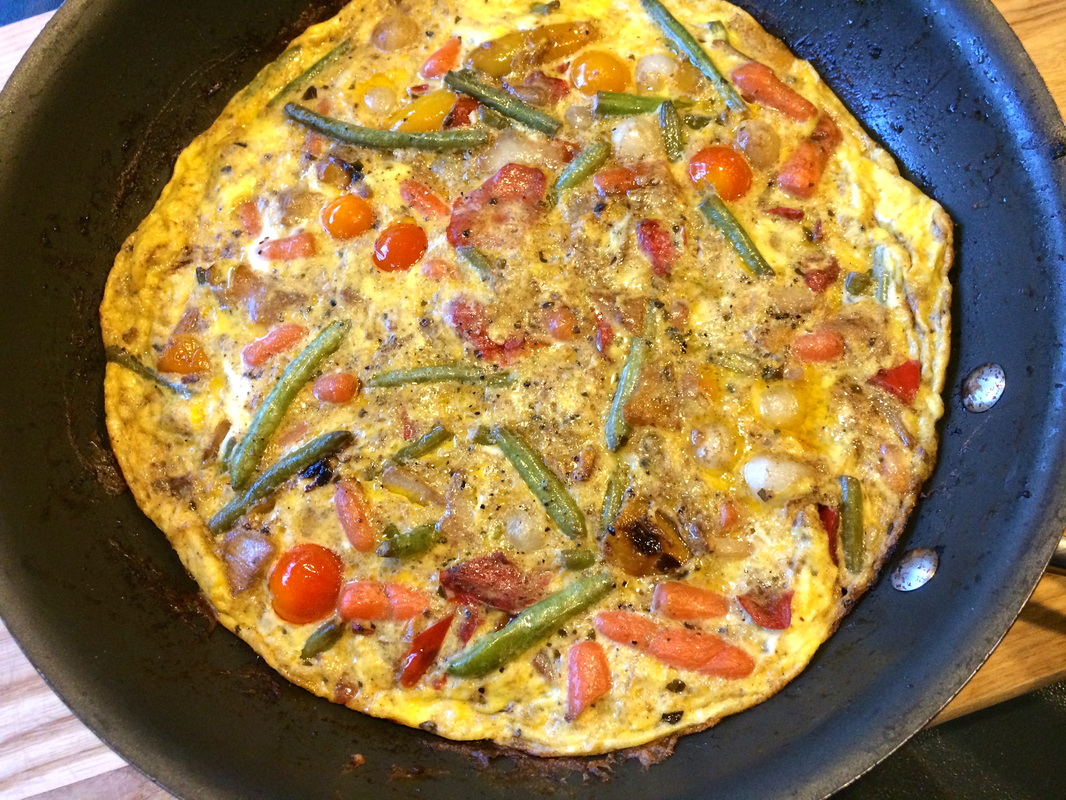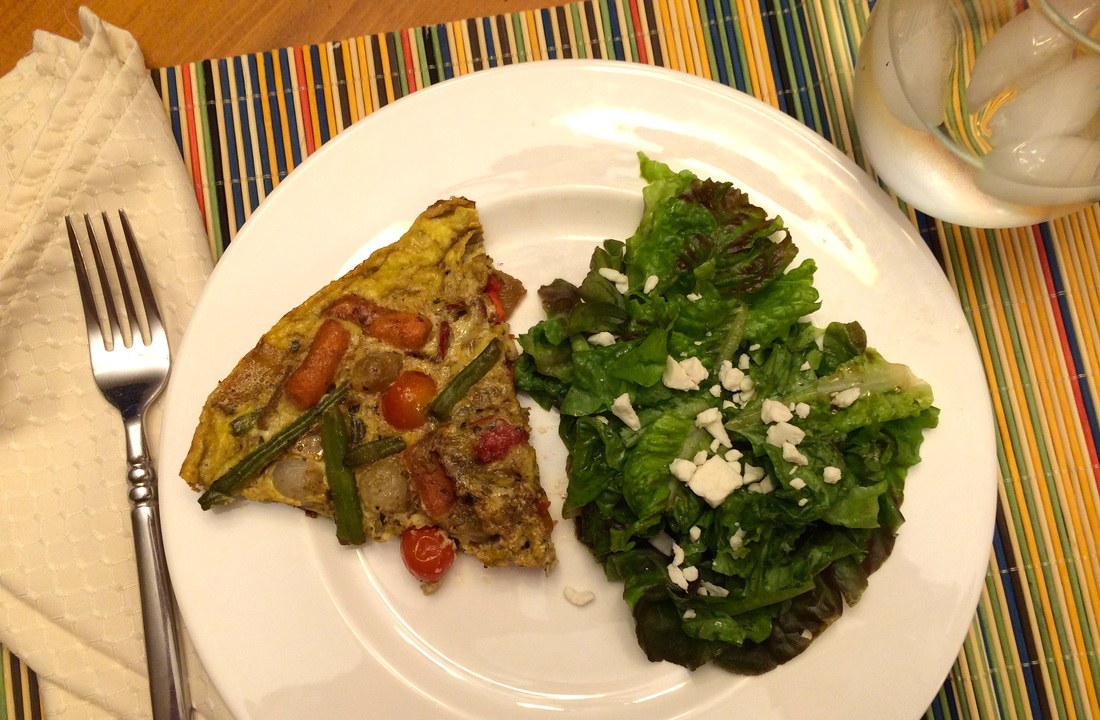 Dinner in 20 minutes, one pan, delicious, healthy, and full of vegetables.
What more is there to ask for? Yummy!