I was thrilled to have the opportunity to talk with Laura Vitale a self-taught home-cook and the host of an interactive YouTube cooking show called "Laura in the Kitchen" and the host of  "Simply Laura" on the Cooking Channel. She was here to share with me and my readers an easy and delicious romantic dinner at home! If you have ever seen her show, you know just how engaging Laura is as she takes us through wonderful recipe after wonderful recipe. And if you haven't seen her show? Get on over to YouTube and check out her channel!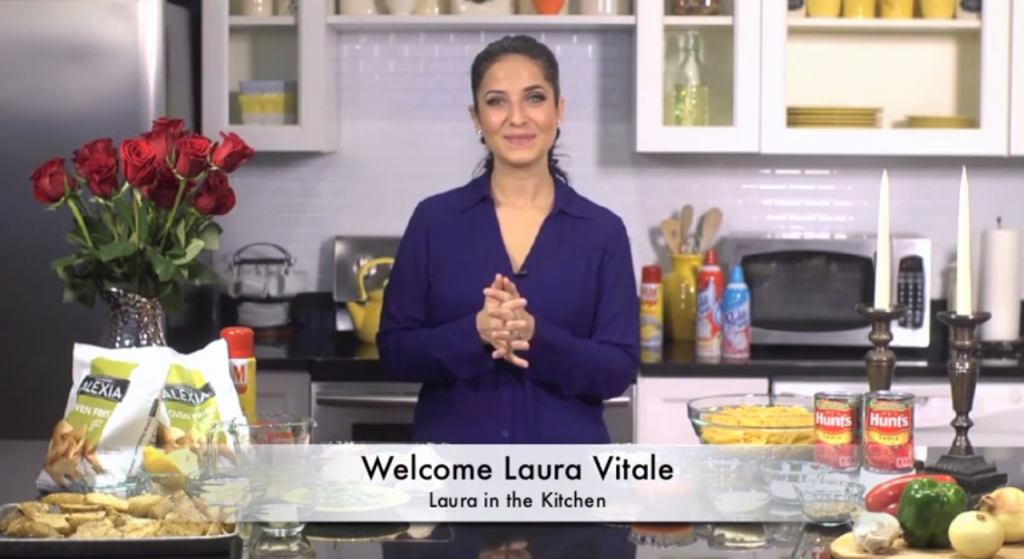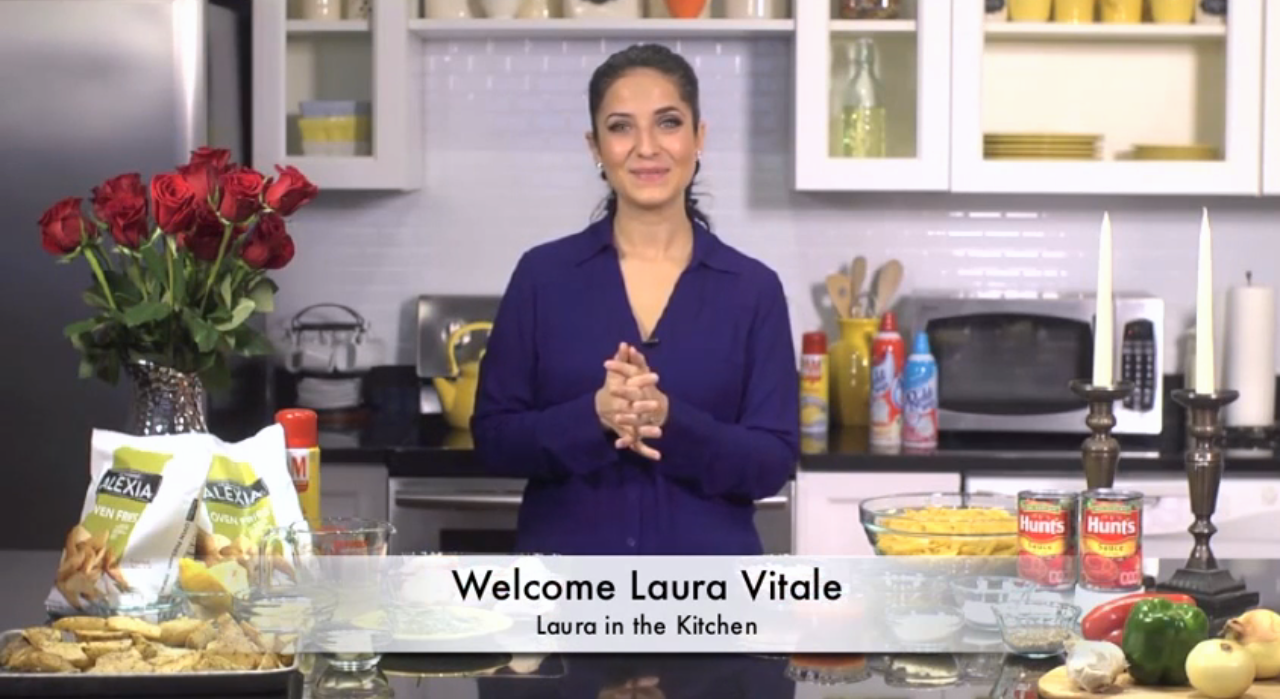 Laura spent time with me the other day to share a very easy, yet very romantic, dinner for Valentine's Day or any other special occassion dinner.  As I said in my last post, not all date nights need to be spent out of the home. Sometimes the best date night is having a night in. Stay-at-home dates can be as romantic as time spent in any special setting, as long you take the time to set the scene using creative ideas and preparing a meal intended to woo your sweetheart.  Light candles in the entrance of your home as a surprise. Set the table with a tablecloth, cloth napkins, nice dinnerware, crystal, and flowers.  Also, choose the wine and soft music you want to listen to ahead of time and have it playing in the background.
Now, it's time to decide on your romantic dinner menu, wine and cocktail pairings and dessert.  Laura is here to share with you a simple yet delicious dinner menu.
 A Romantic Dinner at Home from Laura Vitale
http://https://www.youtube.com/watch?v=XmMBPCuvOJM
After my interview with Laura I searched through her recipes and decided to make her Pasta with Cream and Pancetta. This is a very close cousin to the recipe that Laura talked about in the video, Pasta with Pancetta and Cherry Peppers, there are just a few minor differences. Let me tell you this pasta was to-die-for-delicious! The kids, hubby, and I gobbled it all up. It was also super-duper easy! Sophia helped me out in the kitchen, and the two of us had this put together in no time.  I really think Sophia was helping simply because the whole house was filled with the sweet aroma of the pancetta and garlic sautéing on the stove.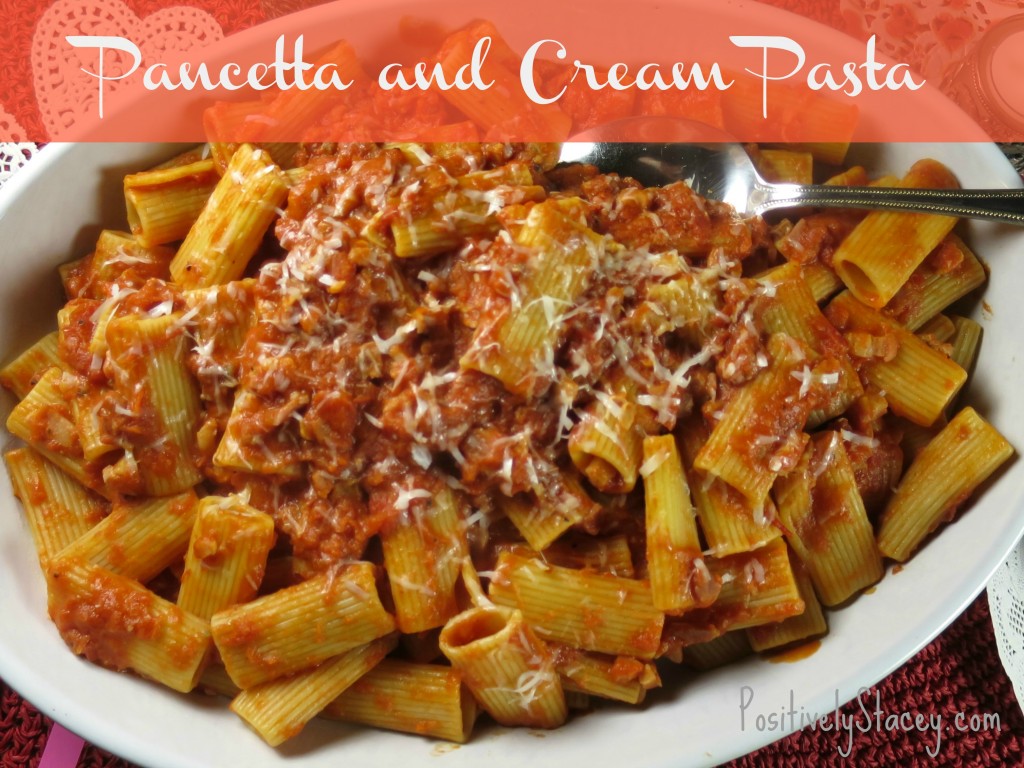 Pancetta and Cream Pasta
INGREDIENTS:
8 oz of Pancetta, cut into small pieces
2 Cloves of Garlic, minced
1 28 oz of  crushed tomatoes
1 lb of Pasta, preferably a tube shaped pasta
1 Tbsp of Fresh Parsley, chopped (I didn't have any)
½ cup of Heavy Cream ( I used 1/2 cup of 1% milk – it's what I had)
½ cup of Parmiggiano Reggiano, freshly grated ( I used Romano – again, it is what I had)
DIRECTIONS:
1) Fill a large pot with water and give it a generous sprinkling of salt, bring to a boil.
2) In a large skillet with high sides over medium high heat, add the pancetta and cook for about 5 minutes or until golden and crispy around the edges, add the garlic and cook for 30 more seconds. Add the tomatoes and cook for about 10 to 15 minutes or until the sauce has thickened (this is the perfect time to add the pasta to the boiling water and cook according to packaged instructions, drain a set aside.)
3) Once the sauce has thickened, add the heavy cream and cook for a couple more minutes.
4) Taste the sauce and season with a bit of salt and pepper, add the parsley and parmiggiano and give astir, add the cooked pasta and stir until the pasta is all coated with the creamy sauce. Enjoy!
Recipe By: Laura Vitale
Verify an online drugstore before you purchase medications