One of my favorite weekend rituals is to head downtown early on Saturday mornings, meet up with a friend or two for a cup of coffee, and then to walk across the street to our local farmers market. The morning coffee enjoyed sitting outside and catching up with friends is the prelude to the main event – shopping for locally grown fresh foods. Simply walking amongst the vendors with their vibrant stands, hearing the live music played by the musician of the day, and smelling the sweet kettle corn is a feast for the senses.
I have learned that to do our market right, I need a plan. Beyond the coffee and friends, I need to bring my own bags and have cash on hand. And I need to get there early!
Our Famers Market is small, but it carries a huge variety of foods! While I definitely have my favorite farmers and vendors, I always do a complete walk through before I start buying anything. Seasons come and go, produce and products change, and not all of my favorite vendors are there every single week. I need to know all of my options before I get started shopping.
Some of my must haves are:
Fresh Santa Cruz fish from Debbie
A whole chicken from Pasture Chick Ranch
Vegan Tamales from Oaxacan Tamales
Hummus from Hummus Heaven
And all my seasonally fresh produce: kale, spinach, broccolini, chard, cauliflower, beets, zucchini, lettuces, leeks, carrots, potatoes, peppers, apples, oranges, blueberries, and so much more.
Kimchi when it is there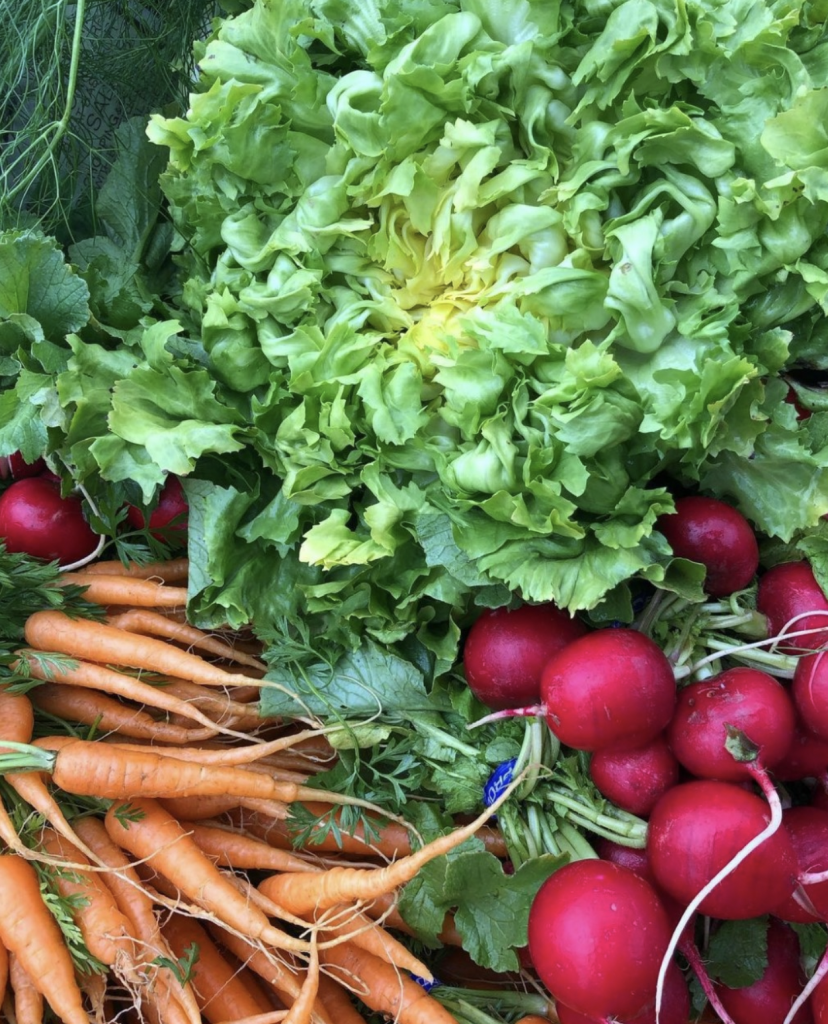 There are a few outstanding bakers! The French Bakery always has a line. I have yet to purchase anything there, but everyone raves about their baked goods. Beckman Bakery has delicious Sourdough bread. When I want a treat, I tend to buy a mini loaf of Vegan Pumpkin Bread from Alonso Foods. They also make a hearty multi grain loaf of bread that I really enjoy. Occasionally I will treat myself to flowers. But the flower line is always long, and I am really there to do the bulk of my weekly shopping.
Shopping the local Farmers Market is always a treat. I love knowing that I am getting locally grown foods, I am supporting local businesses and land stewards, I am able to talk with the growers and learn about new-to-me produce (I still want to try making something with lemongrass!), and I am outside getting fresh air and running into friends and acquaintances as I shop.
If you are not a regular shopper of your local famers market, I highly recommend it!
Tips to make the most of your trip to the Farmers Market:
Bring your own bags.
Bring a wagon if you are shopping for a family. This collapsable wagon is my favorite! I have two, a read and a blue, they are strong, sturdy , and easy to pack!
bring cash. A lot of vendors do take cards or use Venmo, but as a small business owner, I know they appreciate the cash transactions.
Walk the aisles before you purchase
Be curious and ask questions – I often hold up an item and ask, What's this?
Get to know the vendors – I loved hearing the story about how one man started an olive oil company and the olive trees that he planted. I learned about the newest guardian dog at Pasture Chick.
Be willing to try new things.
Purchase from a variety of vendors. Even when it comes to my produce, I spread my purchase around. I love having a variety of vendors, and I want to see them coming back, so I do my best to support as many local farmers as possible.
Learn your seasons. This is pretty easy since everything is harvested locally. I look forward to those fresh blueberries and strawberries every year!
Go early. Our Famers Market opens at nine in the morning. This give me plenty of time for coffee with friends before hand, but I have gotten caught up in conversation and missed the fresh halibut. Lesson learned.
I really believe that I am making healthier choice for myself, my community, and the environment when I shop at our local farmers market. Oh, and it all tastes delicious!
And one of my favorite desserts to enjoy during apple season! Award Winning Apple Crisp Recipe