Jump to recipe
It has been a long time since I have shared a recipe! Life this last year has been super busy – teaching online and then returning to the classroom this past fall (with a hybrid structure) has just been more time consuming than my normal life. Like many of you, Covid upended our lives and how we spend our days. The good news, for us, is that my husband and I have both remained actively employed during this time. So I have no complaints about the added workload.
One day, life will settle into a new normal. Vaccinations are beginning to open up to teachers. I am hopeful that I will get my vaccination in early March. Since I do spend my days with 24 students and by extension their families, I am very much looking forward to vaccination day! In the meantime, both my husband I and have hunkered down and are trying to live a very healthy lifestyle.
Living healthy means that I have been making a lot of yummy and healthy meals! I have made these turkey meatballs with marinara zoodles quite a few times. In fact they are on the dinner menu for tonight. They are delicious, full of flavor, and made with good-for-you ingredients. They take a bit more time to put together, but not too much more, and believe me – the flavor is worth the bit of extra time. I do use a favorite jarred marinara to add a bit of convenience.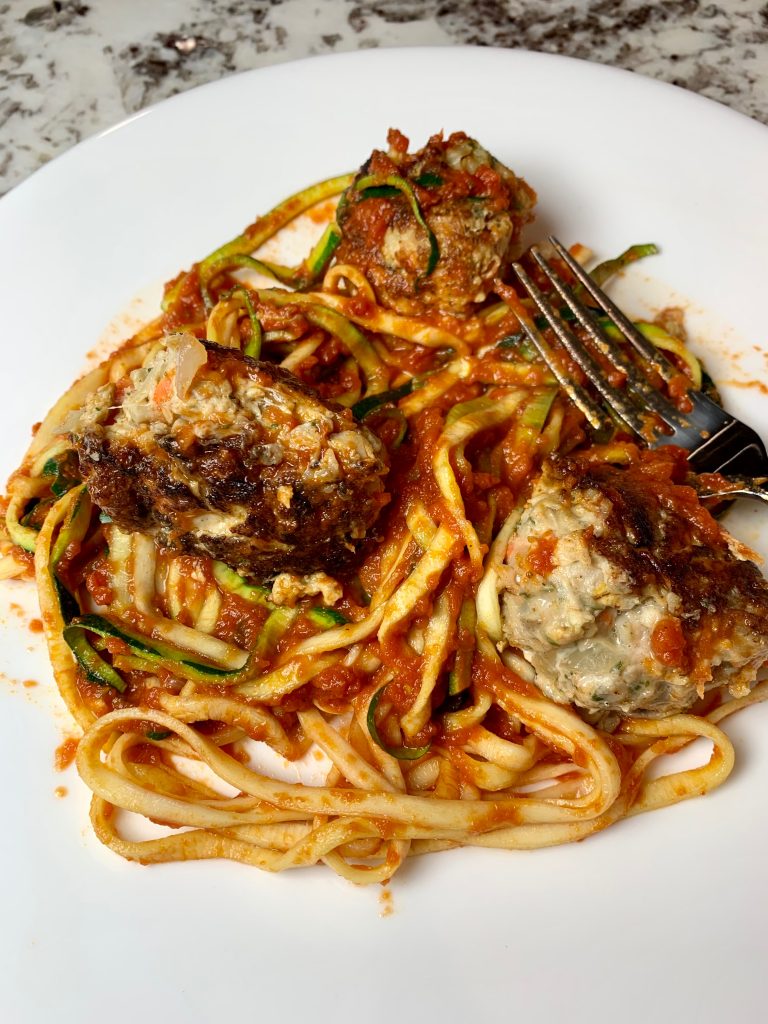 I hope you enjoy these turkey meatballs with marinara zoodles as much as we do. Enjoy!
Turkey Meatballs with Marinara Zoodles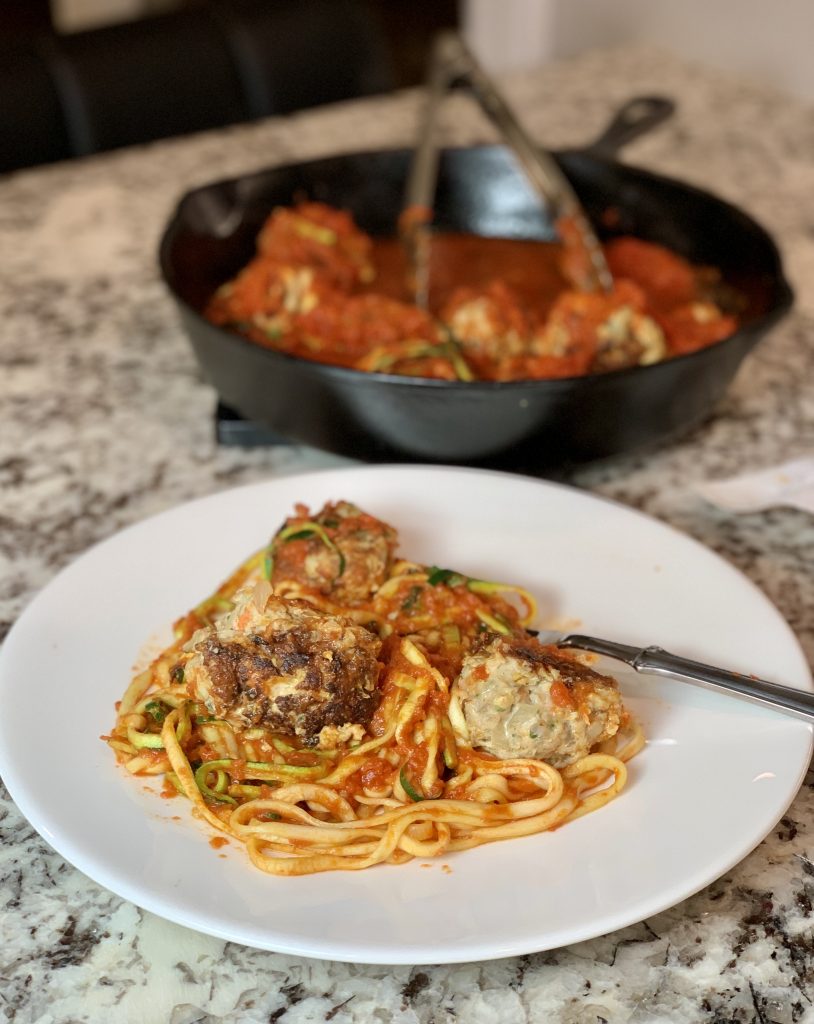 So gather the list of ingredients, and add this scrumptious dinner to your repertoire.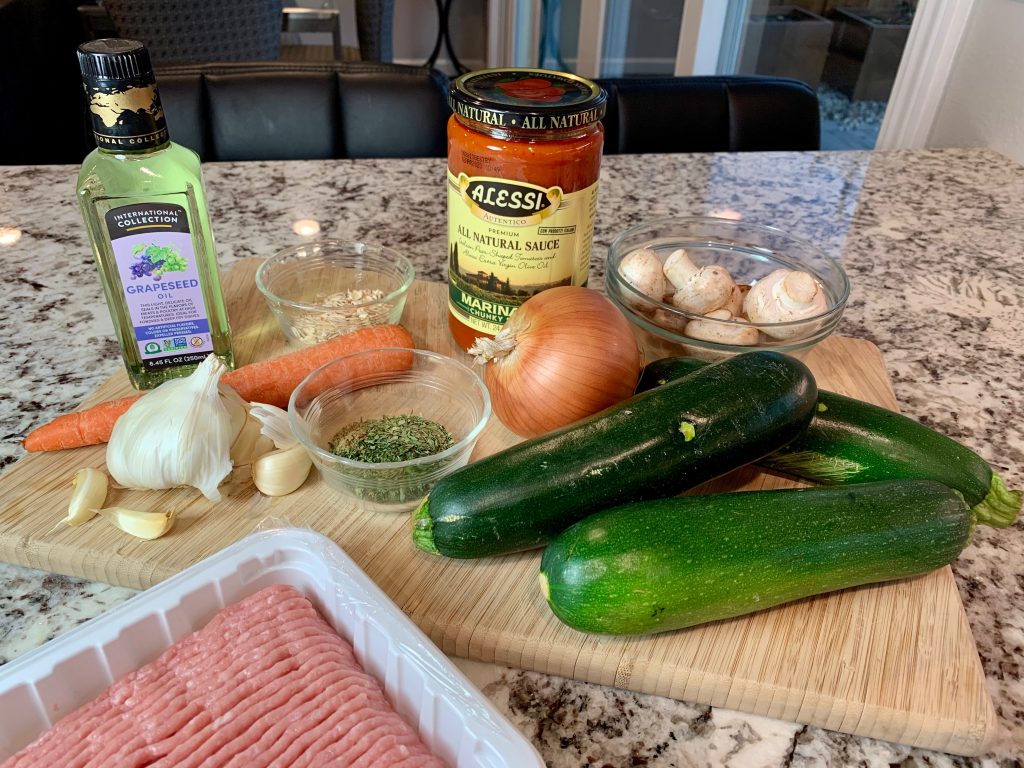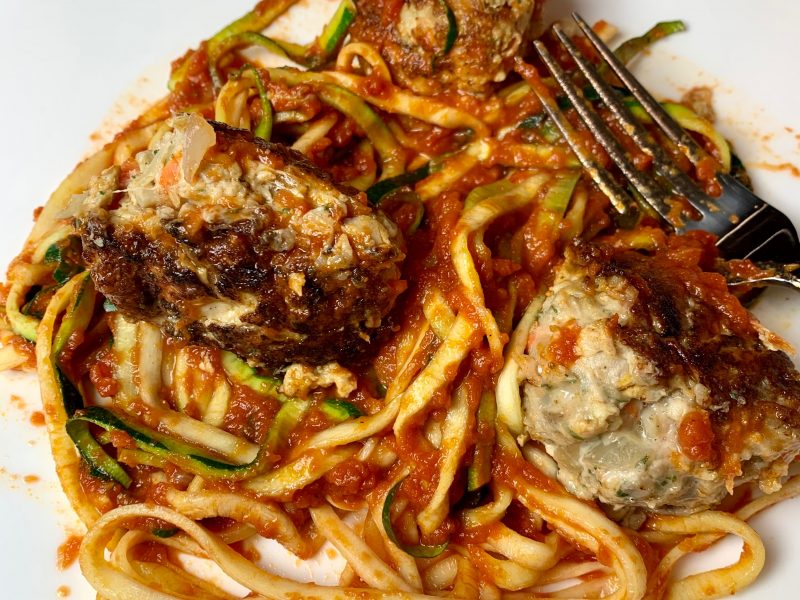 Ingredients
1 tablespoon extra-virgin olive oil
1 small yellow onion, diced
6 button mushrooms, finely chopped
1 1/2 teaspoon sea salt, divided
1 clove garlic, minced
1 pound ground turkey
1 egg, lightly beaten
1 carrot, shredded
1/4 cup rolled oats
2 tablespoons, dried parsley
2 teaspoons dried tarragon
1 teaspoon dried sage
3 medium zucchini
1 tablespoon grapeseed or sunflower oil
1 (18-ounce) jar marinara sauce (no sugar added)
Instructions
Preheat oven to 375 degrees F.
In a cast iron skillet or dutch oven, heat olive oil over medium heat. Add the diced onions and saute for about 5 minutes or until the onion begins to soften.
Add in the finely chopped mushrooms and 1/2 teaspoon of salt. Saute for another 3 minutes.
Fold in minced garlic and remove from heat.
Mix together the ground turkey, egg, shredded carrots, and oats in a large bowl. Once combined, mix in the sauteed mushroom mixture, the remaining teaspoon of salt, parsley, tarragon, and sage.
Use your clean hands to fully combine the ingredients together. Roll the turkey mixture into small (1-inch) meatballs.
Cut the ends off the zucchini and use a spiral vegetable slicer to slice them into noodle-like strips.
Use the same skillet or dutch oven from the mushroom mixture. Wipe pan clean and return to medium-high heat. Heat the grapeseed oil for one minute. Carefully arrange the meatballs into the skillet and cook for 2 minutes. Turn and cook for another 2 minutes. Using tongs, continue turning and cooking until meatballs are evenly cooked on the outside.
When the meatballs have a nice crust on the outside, top with zucchini zoodles. Then pour your marinara sauce over the top of the zoodles.
Transfer the skillet to the oven and bake for 20-minutes, or until the the meatballs are cooked through.
© 2023 Positively Stacey